When you want to lighten up your hair for the perfect sun kissed highlights or you want the ever-popular ombre, then you have two options: foils or the newest technique, balayage. Balayage is also known as "hair painting" because the stylist 'sweeps' the color onto the hair with a paddle.
This gives the colorist more freedom – and control – to place color when they choose, unlike foils, which are more precise, and often more segmented. This technique is perfect for cover grays, adding highlights or lowlights and adding ombre. The balayage technique gives you more natural look, longer-lasting results and it grows out more naturally. If you're looking for some new color ideas to try on with the balayage technique, check out some of these looks!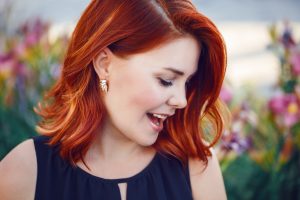 Balayage on Curly Hair
Regardless of the color that you're option for, if you have curly hair or you wear your hair curly, then balayage is a must try! It's a natural and sexy look on spiraled tresses. On your curly hair you can use thick and thin sections and even use different shades of colors to really enhance your hairs color.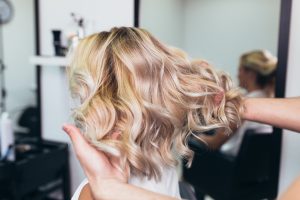 Light Blonde Hair with Natural Balayage
Highlights don't have to be a big change. Balayage is the perfect technique for giving your natural hair color a few shades lighter look. If you have a naturally 'dirty blonde' or light brown hair then adding in some blonde ombre or subtle balayage highlights will give your hair that spruce up it needs.
Heavy Blonde Highlights
Have you been thinking about going blonde? Then balayage can be the perfect technique for the complete transition. You should never dye your hair all-over blonde unless you've been blonde for a while. The natural hues in your hair color breaks up the blonde dye so that it's not so intense and adds a more natural look to your dyed color and it really just helps give your hair dimension. Best of all, the upkeep isn't as much either.
Add Caramel Highlights to Your Brown Hair
Balayage is great for adding light highlights or ombre to darker hair. You can use a hair lift tint before the balayage and this will prevent unwanted tones from seeping into your new hairdo. If you want to add some caramel highlights or if you have darker hair perhapschestnut brown is a better option, then balayage can easily give you the desired look without the awkward grow-out time.
Shoulder Length Bobs with Subtle Ombre
It's no surprise that the rise of ombre also brought the rise of balayage hair coloring techniques. This natural looking color and 'painting' effect really have a great look on curly hair, fine hair or thick hair. Sticking with the latest trends, the long bob haircut is the most popular look right now. When colored with a subtle ombre near the tips (perhaps 2-4 inches) it gives your hair a dynamic and flowy look. Especially if you had some texture!
Balayage Highlight Ideas for Short Hair
A lot of the balayage highlights that you see are often painted on long wavy locks, but short hair is also perfect for balayage. This highlighting technique adds natural dimension and depth to any hair texture and length. So, if you want to give your shorter hairstyle a make-over that will give it body and intrigue, try these balayage highlighting ideas for short hair.
Bob with Razored Edges
One of the best ways to add movement to a chin-length bob is to add long layers with razored edges. By adding balayage highlights, strategically painted on the hair that is layered, will add plenty of movement to your shorter hairstyle.
Graduated Bob with Thick Balayage Highlights
The graduated bob haircut already has plenty of volume due to the shorter layers in the back making it lighter. Thicker balayage highlights can create that optical illusion of depth with both straight and curly hairstyles.
Heavy Balayage on a Long Pixie
If you have the short and chic long pixie, then it is easy, affordable and fun to try new hair colors. Adding balayage highlights will give your hair a feminine, edgy and fun update.
Balayage Asymmetrical Bob
Asymmetrical bob's are already edgy and unique. Asymmetrical bobs are usually cut with plenty of layers to create volume and style. Balayage highlights will brighten up this haircut and you can use it to make this hairstyle completely expressive of your personality.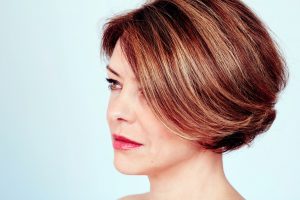 Balayage Highlight Ideas for Medium-Length Hair
The long bob is the trendiest haircut of the year. If you have this length, you're debating it or you're growing out your bob to achieve this chic hairstyle, balayage highlights should definitely be considered! Medium-length hair can be styled in more ways than you might expect and adding balayage highlights will make those braids, up do's and beach waves look even better.
Fine Highlights with a Wavy Texture
Subtle highlights are an easy and cost-effective way of lighten up a darker hair color. By adding thin highlights around the crown and back of your hair and going heavier in the front, you won't have a high-maintenance lighter hairstyle.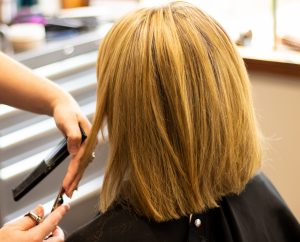 Multi-Dimensional Blonde Balayage
If you want to go really blonde, then it's a good idea to add plenty of different hues of blondes and light browns. Balayage highlights are the perfect way to achieve this look on your medium-length hair.
Light Blonde Balayage on Dark Brown Hair
Balayage is one of the best ways to dye dark hair without damaging the roots and healthy lengths of your hair. By doing an ombre with the balayage, you only have to bleach the ends, saving you money and your hairs health.
Top-Layer Balayage Highlights
If you don't want to damage your hair or your wallet then just adding balayage highlights is a great compromise. It will lighten your hair without having to worry about over-processing your entire head of hair. It will still look gorgeous in updo's too.