Having an amazing beard shouldn't cost a ton of money. We get it. Not everyone has a $100 extra bucks to spend on premium grooming products. Frankly, even if you have the spare cash, are there other things you would rather spend it on?
But, you don't want to make your beard go cold turkey on the grooming products either. Your beard oil is the main source of moisture and nutrients for beards over 2" long.
Rather than risking the split ends, difficult brushing, and overall harder management of a poorly conditioned beard, let's look at beard oil substitutes.
Fortunately, there are a lot of great options out there, ranging from plain oils to DIY beard oil just as good as the premium stuff. We'll also go over options for stubble.
Ready to save some cash without giving up on your dream beard?
What is Beard Oil
Before we talk about substitutes, we need to talk about what beard oil actually is. Given the prices of pre-made luxury beard oils (there are some cheaper versions, thankfully), you could be forgiven for thinking that you're buying liquid gold.
The reality is that most of the price of beard oil is branding and markup. None of the ingredients in beard oils are rare, expensive, or difficult to handle.
There are three basic ingredients you can expect to find in a beard oil:
Carrier Oil
Vitamin Oils (usually vitamin E or D)
Essential Oils
Sounds pretty simple, right? That's because it is.
Carrier oils make up about 98-99% of the finished product. Depending on the beard oil, you may have a single carrier oil or a blend of several. Vitamin E oil is the most common vitamin oil, but you might also see vitamin D, or, rarely, vitamin A.
Essential oils have some benefits. The main use of essential oils is to provide scent. They also have nutrients that your beard and skin appreciate. Some essential oils can also encourage good circulation, collagen production, and other beard-growth benefits.
There isn't a huge difference between DIY beard oils and the premium brands. They'll have the same basic ingredients, and you can get similar quality ingredients at home for a lot less.
Even if you don't want to go to the effort of blending your combination of oils, you can get a good, cheap, and effective substitute for less. Remember that carrier oil is the vast majority of beard oil, so you can use a carrier oil by itself and get a lot of the same benefits.
Are Single Oils or Oil Blends Better?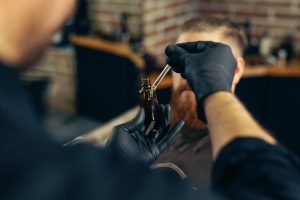 Even if you prefer a scented oil, you may be wondering if it's worth it to make a blended and scented oil if carrier oil does most of the work.
Ultimately, whether you want to make a DIY beard oil substitute or just purchase come carrier oil and call it good, is up to you. We can provide some information to help make that decision for you.
Carrier oils are the simplest option. They'll still provide a lot of moisture and protection for your beard. Many will also have nutrients your beard and skin need. The best carrier oils can be absorbed all the way through your beard, while others may sit more on the surface.
Essential oils add their benefits to your oil, in addition to adding scent and changing the texture slightly. Every oil is different, and we'll talk about some of the best/most popular options a little further on.
How to decide?
Adding Essential Oils
Well, essential oils can be hard for men with sensitive skin to tolerate. Some oils will work better than others, and you can use a lower concentration. But that may not be enough for some men. If you have sensitive skin, are prone to getting a beard rash, or have acne, it might be easier to stick to a carrier oil.
On the other hand, a low concentration of some essential oils can actually help fight some forms of acne.
Essential oils can also help make your beard oil more pleasant to use. It's about more than just scent. A little peppermint oil, for instance, can add a pleasant cooling tingle to your beard oil. Not to mention it will keep you smelling fresh all day.
While others, like Rosemary oil, stimulate circulation and provide key nutrients to your skin and beard.
Just Carrier Oil
Even if you decide to go with carrier oil exclusively, you need to decide if you're going to use 1 carrier oil or several.
Carrier oils have different textures. Some, like cold-pressed jojoba oil, feel silky and smooth against most people's skin by themselves. Others might be too thick on their own, or too liquid. Your skin will also benefit from different compositions of oils.
Jojoba oil and coconut oil are both great for moisturizing and conditioning your beard. But a thicker oil like castor oil can help make your beard appear thicker and healthier. All three have different benefits that can help your beard grow faster.
So, if you decide to go with carrier oil by itself, you still have some blending options. Blending can also help minimize oils with a strong scent of their own.
Vitamin Oil
Chances are, if you're using a beard oil substitute, or making your own DIY beard oil, there's only one vitamin oil you'll be able to get. Vitamin E oil is readily available in the skincare section of most stores. It can also be bought in bulk online.
While there are liquid vitamin D supplements available, they aren't designed for topical use. So you shouldn't try adding those supplements to your oil.
Vitamin E oil is a good option for men with thinner beards, or whose facial hair is prone to damage and breakage.
But, vitamin E oil can also be scented and will change the texture of your oil. If you're looking for a growth booster, vitamin E oil should be part of your blend.
Non-Oil Substitute
Of course, beard oil isn't the only option for keeping your beard moisturized and healthy. There are lots of other products you can either buy or make for yourself.
Beard Balm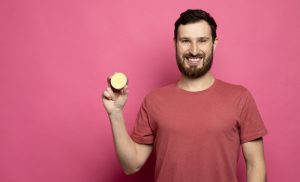 Beard balm is one of the most common replacements for beard oil. It's a little harder wearing, much more protective, and can help with shaping and maintaining your beard as well.
Beard balms have a lot of the qualities of an oil, but with the added protection of beeswax (or another wax). Many beard balms are essentially a beard oil emulsified (mixed) with a wax. They're a good substitute for beard oil.
In fact, beard balm can be a better option than beard oils in some situations. If you live somewhere with lots of wind, particularly cold weather, or very intense sunlight, you'll probably want the added protection of a balm.
The problem? Beard balms suffer from the same price hikes that beard oils do. A small tin of beard balm can be an expensive product to own. Fortunately, beard balms are only a little more difficult to make than beard oils.
You'll need the same 3 ingredients for beard oil, plus beeswax, and, optionally, a butter. Not dairy butter, that stuff can go rancid. Think a shea or cacao butter.
The butter helps break up the texture so that it's easier to spread through your beard. Adding a higher concentration of oil to your wax can help accomplish the same thing, but the texture will still be different.
Take a look at Tools of Men's article on making beard balms for an in-depth process article. Or Soap Queen's recipe for a quick idea of how to make a balm, with a minimal (but slightly more expensive) ingredient list.
Other
Other beard grooming products can also help in a pinch, but they shouldn't be used as a full-blown substitute.
Beard conditioner, watered down slightly, can be used as a short-term leave-in conditioner. That will give you a few days before you need to have a replacement handy.
In an emergency, you can also use watered down regular conditioner. User beware, this solution can cause acne in some people since regular conditioner isn't designed to sit on or next to your face.
Pomades and beard gels can also be used in a pinch. But, while these can be a short-term solution that helps protect your beard, both products can cause problems used in the long term. Pomades and gels are both best used for special occasions.
Used for too long, and you'll likely start having to fight back against skin irritation, product buildup, and dryness. So, like using a conditioner as a replacement, these should be considered short term solutions.
Moisturizing Stubble
So, we don't mean 5 o'clock shadow. Stubble, in this case, is going to be anything less than a 2″ beard. That's because of that 2 inches is about the maximum facial hair length that your skin can moisturize.
Under 2" you don't need to use a beard oil (and probably shouldn't), and you certainly don't need a beard balm or heavier product.
But you should still be doing something to boost the moisture in your beard. Regular face creams and moisturizers are your best option at this phase in beard growth. Just massage a little extra moisturizer through your beard.
Avoid products with acne-fighting ingredients like salicylic acid since they can damage your facial hair over time and make it more brittle.
Beard Oil Replacements
In this section we're going to look at the different oils and options you have for beard oil replacements. We're going to focus on ingredients you can easily get your hands on. There are some oils that are a fantastic carrier oil, but that can be hard to find. We won't include any of those.
There are also tons of carrier oils we just don't have space to cover here. So, if you decide to use a carrier oil or make your own DIY blend, don't worry if you don't see your oil on this list.
We'll also discuss some essential oil options after the carrier oils. There are even more essential oils than carrier oils, so we're going to stick to some of the most popular options for scenting and boosting your carrier oil.
Carrier Oils
Jojoba Oil
This oil is kind of a new kid on the block, at least in western grooming practice. That doesn't mean that it's difficult to find, but it can be a little more expensive than the other carrier oils on this list.
Like all carrier oils, jojoba oil gets less expensive the more you buy. It's reasonably shelf-stable, especially stored in an opaque or dark-colored container.
If you're looking for a single oil that you can use as a full-time beard oil replacement, this oil is a good choice. It's one of only a few that we recommend using on its own as being just as good as using in a blended oil.
Why? Jojoba oil is very molecularly similar to the oil your skin produces naturally, sebum. That similarity makes it easier to soak into your skin and facial hair, which means you'll get more benefit from less oil.
Jojoba oil is easy to find. But if you want to order a bulk container, you'll probably have to go online not to your local beauty supply store.
Coconut Oil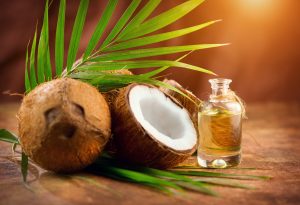 This is another oil that works well to use on its own, though coconut oil is more heavily scented than jojoba oil. Just enough to be recognizable, but not enough to be overpowering.
Like jojoba oil, coconut oil soaks into your facial hair and skin and provides more moisturizing power for less oil. It's also incredibly shelf-stable thanks in part to its structure, but it also has some anti-fungal and anti-bacterial properties.
It's a slick oil, and it's easy to massage into your beard and jawline. But it may not be the best choice for a solo oil since it tends to stick around on your skin a little longer than some alternatives. If you don't like the feeling of oil or lotion on your skin, try blending coconut oil with other oils.
Olive Oil
This is one oil that we don't recommend using by itself. There are a few reasons for this, but mostly it's about the heavy scent in a good olive oil. Like other oils, you want to look for an olive oil that's cold-pressed, and ideally, extra-virgin.
That's because oils that were extracted that way, and from the first pressing of the olives, are going to have much higher nutrient counts and more benefits for your beard and skin.
This oil works. But it's not the best grooming oil. By itself, it's a good option in a pinch, especially if you already have some in your kitchen.
But, olive oil is a little thicker and doesn't absorb as quickly or deeply as some oil alternatives.
As an added oil in a blend or a filler oil, so you don't have to spend as much on the more expensive oils in your blend, it works well.
If you don't want to smell like olive oil, you'll need to scent your oil with essential oils. Otherwise, you'll probably smell like you've been to an Olive Garden recently. Not always a bad thing… but not necessarily a good thing, either.
Apricot Oil
This is another popular option, but not one that's carried in most stores. You'll be able to get it online though.
Apricot oil is a particularly good option for men who are starting to show some signs of aging. Used on your skin, apricot oil helps to smooth fine lines, in your beard, it provides a lot of quick moisture. Apricot oil can help soften your beard and prevent it from developing the brittle whiskery texture of aging facial hair.
Apricot oil also provides a nice luster to your facial hair, which helps you look younger. It doesn't matter what color your beard is, even if you're starting to get some gray hairs. So long as the hair looks healthy, you'll look both younger and distinguished.
Sweet Almond Oil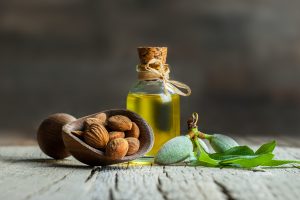 Sweet almond oil is another fantastic carrier oil, whether used in a blend or on its own. Sweet almond is also often used with vitamin E oil, so if you want to use both, you might be able to find a combination product.
Sweet almond oil is also known to boost collagen production. That's a huge benefit to your skin and hair follicles, and will result in stronger, healthier, and longer facial hair. Collagen is one of the most important components of your skin, which also means that your hair follicles get better support.
It is also mildly UV resistant, so you'll get a little SPF protection when you include sweet almond oil in your beard oil.
Sweet almond is also one of the few carrier oils that has been shown to increase circulation in your skin.
It's shelf-stable, like all the oils on this list. But it will last longer stored in a dark bottle or in a dark place.
There are lots of other options for oils out there, but this is a good starter list for the most common and most effective oils that can be used as a beard oil substitute.
Essential Oils
If you want to add essential oils to your blend, there are dozens to choose from. You should never apply essential oils to your beard or skin without diluting them into a carrier oil. Usually, you need between 1-10 drops of oil per standard bottle of beard oil.
Since you'll probably want to make more than one bottle's worth of oil at a time, you'll probably use more than 10 drops of essential oil in a batch. You can use less if you have sensitive skin or want a more subtle scent.
Essential Oils Primarily for Scent
These oils can have some benefits for your skin, but they're not used specifically for those benefits. These are scent oils, for the most part.
Forest Scent
Cedarwood oil
Blue Cypress oil
Balsam oil
Sandalwood oil
Sage oil
Earthy Scent
Ginger oil (also has skin benefits)
Vetiver oil
Sage oil
Carrot seed oil
Citrus Scent
Lemon oil
Blood orange oil
Lime oil
Sweet orange oil
Grapefruit oil (use with care if you take medications)
Ginger (adds depth to citrus blends)
Fresh Scent
Peppermint oil
Spearmint oil
Lemongrass oil
Soothing/Relaxing Scent
Ginger oil
Lavender oil
Chamomile oil
Spearmint oil
Jasmine oil
Lemon oil
Bergamot oil
Sandalwood oil
Oils that Benefit Your Skin
If you're looking for something that has a little more benefit (and you'll see some of the oils listed above listed here), these oils smell good but are more likely to be used for their benefits on your skin and facial hair.
Rosemary Oil
Rosemary is packed full of critical minerals and nutrients. It's also a stimulating oil, which means that it will help bring more circulation to your skin. That circulation is critical for keeping your skin and beard healthy and looking younger.
Rosemary also smells good and works well with the woodsy oils we already listed. It can also work to add depth to the fresh scent oils.
Mint Oils (any)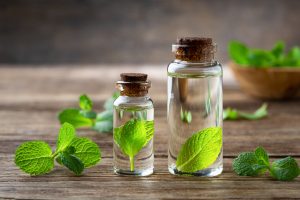 Mint oils are also good for your skin. They can be anti-microbial, which means that they actively help keep your beard and skin clean.
Mint oil is also a stimulant, and will immediately perk up your skin and beard, and will also help with long-term circulation.
Peppermint is the strongest of the mint oils and should be used extremely sparingly. Spearmint is milder. Wintergreen tends to have a stronger scent, but fewer active effects on your skin.
Lavender Oil
Lavender oil is more on the floral side, but it also blends well with almost any of the essential oils we listed in the scent section. Lavender helps calm stressed skin and can reduce itchiness. It is also stimulating and will encourage circulation.
Better yet, lavender oil used on your beard can have a therapeutic effect. In aromatherapy, lavender helps promote calm, reduce depression, and fight headaches. The effects are different for lavender by itself and lavender combined with other oils, but you'll get benefits either way.
Clove, Ginger, and other Warm Spice Oils
This group of oils as a family has a couple of benefits. All of them help promote circulation and bring more oxygen and other nutrients to your skin.
But they can also all produce a mild and comfortable warming sensation. Clove, cinnamon, and similar spice oils can also be mildly numbing, which is helpful for men struggling with an itchy beard.