If you're a lady who wears glasses then you know the big impact they have on your look. Finding the right frame is about as difficult as it gets because glasses become a part of you, an extra limb and equally as important. This means that you need a short hairstyle that compliments your glasses. As you choose glasses that look best on you, chances are that your hairstyle already emphasizes your best features and your glasses will only add to the look.
Short hairstyles are the best way to show off your frames. A few general guidelines include:
Avoid small frames if you have short wavy hair
Avoid large frames if you have short edgy hair
Short hairstyles with strong lines look great with wide frames
Face Shape Guideline
Oval face shape: Any frames
Round face shape – Narrow frames with angular lines
Square face shape – Narrow frames
Oblong face shape – Frames that add width
Diamond/Heart face shape: Narrow frames.
Narrow eyes: Wide frames
High Cheekbones: Narrow frames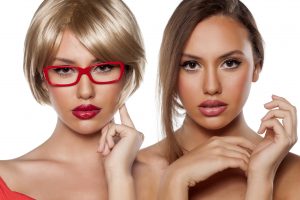 If you're somebody who opts for shorter hair because it works for your face shape, lifestyle and maybe your age, then here are some short hairstyle ideas that look great with todays trendy glasses.
Long Side-Swept Pixies with Big Frames
If you have (or want) a long pixie (or short bob) then you've already established you're bold and confident. You can show off that dynamic personality with your frames. Big, square, maybe multi-colored glasses are a great option for this feminine and edgy hairstyle.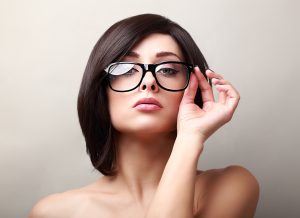 Chin-Length Bob with Bangs and Glasses
Chin-length bob boarders on the line of short and long but you don't have to be on the line with your glasses. Big frames that are rounded at the bottom but have a straight line at the top to compliment your bangs but a rounded edge to soften the more severe hairstyle is a charming and endearing look. This hairstyle also works well with rectangular glasses because it offers symmetry.
Short Layered Pixie with Glasses
If you've got a short pixie then your frames are going to be the centerpiece of attention. Although you might be compelled to rock big frames – and we're not suggesting you don't – a good pair of frames with this look are often slightly smaller and narrower to offer balance with your short and simple hairstyle.
Pointy Cat Eye Frames with Short Layered Edgy Hair
The cat eye frames or pointy frames are definitely a unique pair of frames. That makes them perfect for the girl who wants to stand out from a crowd and has a hairstyle that proves it. Whether your edgy layers are short and in a Mohawk and tousled in a bob, pairing your edgy look with cat-eye frames will have you ready for the cat walk, meow!