We don't want to call this shoulder length because it's a couple inches shorter. A collarbone length haircut is also often considered a long bob or a "lob". It's still a short haircut but has enough length to pull your hair back in a low ponytail or a higher ponytail with a few clips and bobby pins. This length can work with every hair type and face shape, it just has to be done slightly differently to fit your individual characteristics. Here are some of our favorite collarbone length haircuts.
Collarbone Length Hair with Long Layers
This haircut is perfect for ladies with fuller hair with a little bit of texture. A few long layers in the back of your cut will lighten up your hair without causing a lot of poof in the shorter length. It will also help give your hair that beautiful texture that you're probably used to in longer locks.

Get an oh-la-la chic look by adding blunt bangs to your collarbone length haircut. Blunt bangs can be high maintenance and don't always work with every face shape, so make sure that it works with your natural face shape and if you're really up to the challenge of daily bang maintenance.
Graduated Collarbone Length Haircut
Who said the entire haircut has to be collarbone length? Just the front of your new haircut can sweep the collarbones for a bold and sexy haircut. The back will be a few inches shorter than the front and gradually get longer so that the front sections are collarbone length.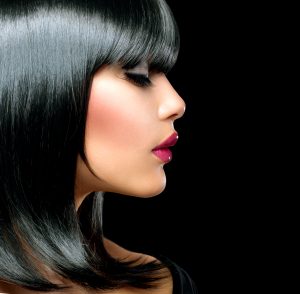 Collarbone Length with Deep Side-Part
You can make this shorter cut the sexiest cut you've ever had with a little strategic styling. Train your hair to fall in a deep side-part. If you don't have the natural texture then you can easily add it with sea-salt spray or your curling iron. This carefree and effortlessly sexy hairstyle is perfect for your everyday look. Best of all, it's so easy to maintain!