Prominent chins can be a common feature of a long face shape or even the heart shaped face but the fact is, it can be found on every face shape. Often called a strong jawline this facial feature can be found on many well known celebs and models such as Jennifer Anniston and Heidi Montag who even had her chin reconstructed to give her a more prominent Jawline. Infact, Chin implants are one of the fastest growing forms of plastic surgery as women are striving to have a a stronger jawline. Often associated with power and the model look you are probably looking to combine this feature with a great hairstyle. The goal is to generally make the chin appear smaller and more proportionate. Here are our styling tips for a prominent chin:
Our Hair Tips to Soften your Chin
Add volume around your cheeks and chin to create more width around the narrowing and prominent chin area.
Long luscious layers will add dynamic movement to your hair and width around your face which all take attention from the chin.
Wispy side-swept bangs can minimize the size of your forehead, creating more proportion with the chin. They also move the eye towards the side rather directly down the middle.
Keep your hairstyles swept to one side to draw attention asymmetrically rather than looking directly towards the center lines of your face.
Our Hairstyle Ideas for a Prominent Chin
Adding Layers can help add width around your face and help balance the length of your chin. Jennifer Anniston who has a prominent and square chin, has always kept the same hairstlyle as she knows that it perfectly balances her facial features.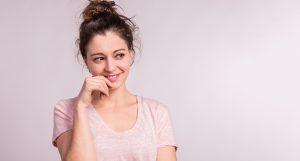 Shorter Hairstyle for a Prominent Chin
If you prefer to have shorter hair then the long bob (lob) is our suggestion. You will still have enough hair to play with so that you can add volume around your cheeks and chin and this will offset any strong angles that you wish to soften. Notice that both the lobs below are also asymmetrical and have a side part rather than straight down the middle.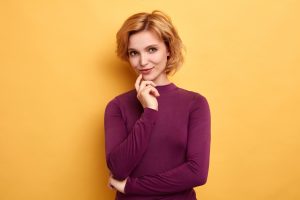 Side Swept Bangs Work
Here's a little secret! Side swept bangs can help reduce the size of your chin in many ways, Not only do they create a softer look but they will also shorten your entire face length and the asymmetrical look takes the focus away from the center of your face. Make sure you do keep your bangs to the side as a central part can give the opposite effect. If you are also looking for a hairstyle that helps shorten a large forehead then click here.
Side Swept Hair for that Softer look
There are many different hairstyles that are swept to one side. If you have a strong jawline then the asymmetrical / side part look that can be achieved with a variety of different hairstyles is recommended.