If you've chopped your hair, you might not like your natural hair texture at a shorter length and you might be wondering how to get that beachy texture long bob from Pinterest. We recommend you use your hair straightener to get a nice "wave-curl" rather than the traditional curling iron look. Here's how to easily curl your shoulder-length cut.
1. Collect The Materials
Flat iron/hair straightener
Hairbrush
Hair clips/hair ties
Hairspray
 2. Prepare Your Hair
If your hair is wet, grab a blow dryer and dry your hair completely. Brush your hair and untangle any knots.
Optional: We recommend that you use a heat serum to protect your hair from heat damage. Place a quarter size amount (unless serum specifies otherwise) in the palm of your hand and apply evenly from root to tip.
 3. Part Your Hair
Now that your hair is completely untangled, make a center part down the middle of your scalp. Use a clip or hair ties to secure both sections of your hair.
This is important because it ensures that your head gets an even curl. You can complete one side and then move to the next side.
 4. Curl Your Hair
Now that your hair is dry, untangled and parted in two even sections, it's time to start curling your hair.
Starting at the base of your neck, you want to grab a section of hair from one side about .5 – 1.5 inches wide. Remember:
Smaller sections will give you Tighter curls
Larger sections will allow you to make larger more loose curls
Run the straightener down the section of hair to help tame any flyways and give your hair a nice manageable texture. Then place the flat iron as close to your scalp as possible without touching yourself and clamp down on the section of hair.
Starting at the base of your neck, section off approximately a inch of hair. You can vary the size of the section based on the size of curl that you want:
The sectioned piece of hair should be directly in the middle of the hot places of the hair straightener.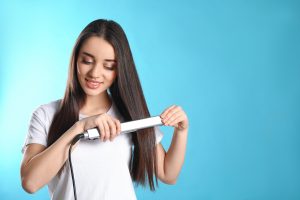 Grab the section of the hair that is not clamped in the flat iron and wrap it around the flat iron once. The hair should be wrapped under the flat iron. The rest of the hair should be left to hang straight down.
Rotate the entire flat iron 360° (with the hair still clamped tight in the flat iron).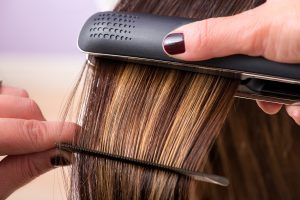 Note: Rather you rotate the hair towards you or away from you is up to ease as well as preference for a type of curl.
Once the flat iron has been completely rotated one time, slowly begin to pull your hair through the flat iron the whole way through to the end of your hair. (You might have to lightly release the clamp to allow hair to move through easily).
Repeat until you've curled each section of your mid-length hair!
5. Enjoy
Add lots of hairspray and enjoy your textured beachy long bob hairstyle!