If you want to get perfectly smooth and straight hair, then you have come to the right place. Nicely done do's with a sleek and straight style can help you look and feel more polished whether you are at the office, or going out on a date. Even if you just want your hair straightened for a special occasion, and not every day, straightening your hair can be a process.
Waking up with well-styled hair is a dream that we would all like to come true, but the fact is that getting the hairstyle you want will take a bit of work and a whole lot of time. However, if you want to have the look that you have been loving, then you will likely be up for the challenge.
If you want to put in the time and effort to get your hair to stand at attention, then we can help you get and maintain the style that you want.
When You Think it is Impossible
First things first, it can seem like those with a ton of hair, or hair that is very curly or kinky may never be able to get the sleek styled do that they want. That isn't the truth. Women and men who have naturally straight hair are blessed, but they too need some help taming the flyaway's and frizz.
Don't feel like the hair that God gave you is a curse, and start thinking of what you can do to prepare your hair for straightening so that you get the best results possible. Not everyone will be able to have beautifully straightened hair in minutes, but everyone can get the straight look that they want.
Doing all you can to help prepare for straightening can make a big difference in the final result, and knowing how to make your job easier can move the process along much faster than you might think.
Also, understanding the techniques that are used when straightening hair can also make your hairstyle look much more natural in the end. So, what do you need to get started?
Prepare Your Hair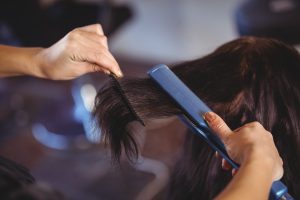 Styling your hair may be the final goal, but that is not the only part of the process. You want to prepare your hair as much as possible for straightening so that you get the final style that you were hoping for. If you have textured or frizzy hair, then these preparations are especially important.
So, the first thing that you should do is not wash your hair the day that you plan to straighten it. Although this may seem like an improper thing to do, styling clean hair is much harder and will actually take you longer.
Hair that has recovered some of the natural oils from the scalp overnight will be much more pliable and willing to hold onto the style that you give it. Using flat irons and hair dryers will dry out the hair and make it tougher to work with, so getting the hair as easy to work with as possible is the best thing you can do for yourself.
Secondly, you want to add some protectant to your hair and let it soak into your hair overnight. Sprays like HSI Professional will help to coat your hair with argan oil, which helps to hydrate your hair and protects it from the heat.
When using a flat iron or blow dryer to straighten your hair, you want to use a heat protectant spray so that your hair will not sustain damage. If you don't use a protector, then you may cause split ends and end up having to cut your hair to keep it healthy.
Using a spray with argan oil as an ingredient will allow your hair to retain its elasticity so that you can continue to style it the way that you want without your hair getting brittle and dry.
Lastly, if your hair is long enough to put into a braid, then textured hair should be loosely braided and slept in. If you have hair that is naturally on the straighter side, then you may need to do this, but those with textured hair will want to do this.
Braiding the hair loosely will keep the full texture from coming through. So, for curly hair girls, your ringlets won't fully form and your hair will just be wavy. This will be much easier to start with and cut down the time it takes to straighten your hair quite a bit.
Getting a Straightener
One of the most important pieces of this puzzle is the straightener or itself. Getting a good quality product that will help you create the hairstyle you want can affect how well your hair comes out in the end.
If you opt for a cheaper choice, and it turns out to be a dud, then you could risk damaging your hair and wasting a good chunk of your hard-earned money. So, make sure that you look for an option that comes highly-rated and has great customer reviews.
There are also a few different options that you can choose from that can get your hair looking the way you want. With choices like flat irons, hot combs, or an ionic hairbrush, you have a number of different options to look into.
Let's take a look at the different choices that are out there:
Flat Irons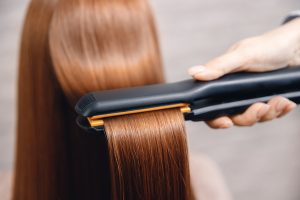 Most users who have seen a friend or family member straighten their hair has likely seen a flat iron in use. These options are made to hold the strands of hair in between two ceramic plates and straighten the hair as you move it through them.
Flat irons are simple to use and can be found for a cheap price at most drug stores, grocery stores, and hair supply outlets.
You can also find many online that will work great and won't cost a fortune. Products like the Kipozi Flat Iron offers you high heating power for a low price. Irons like these will smooth out your hair and won't cause damage while it works.
Although these flat irons are easy to use, they require you to detangle and brush hair as you go. You won't fully be able to straighten the hair if the strands aren't brushed out, so you will need to use a brush in one hand with the flat iron in the other.
This can be tough for those who haven't done it before and will take some time to get used to it.
Hot Combs
Although these options are not as widespread as flat irons are, these are still a very popular tool for straightening hair. Hot combs are typically used for women and men who have extremely curly, textured hair because it detangles as it goes.
When you use these combs, you start at the tops of the hair and run the comb through the strands of hair to straighten them while detangling. This cuts down on the time taken to brush through the hair.
Hot combs are also able to get to the very top of the root so that people with stubborn curls can straighten every part of the hair.
Though these combs detangle while they straighten the hair, they can be more dangerous to use because the heated section is the entire length of the comb. Unlike flat irons, which have unheated areas that you can touch, hot combs can only be held on the handle.
This requires you to wear protective gloves if you need to get close to the hair so that you don't burn yourself. Hot combs also get to a very high heat, which could burn you severely. Products like the Andis Hot Comb reaches as high as 450 degrees, so you may need gloves to keep your hands protected.
Ionic Hairbrushes
A newer product that has recently hit the market is the ionic hairbrush. These brushes do the work of three tools together by offering drying, straightening, and detangling, all at once.
These ionic hairbrushes are commonly built as a round brush that blows hot air to dry and straighten the strands at the same time. With this tool, you can cut down on your styling time so that you don't have to do each of these steps at a time.
Although many are round brushes, there are some options, like the MiroPure Brush that is flat and looks much like a regular hairbrush.
These hairbrushes release negative ions into the hair that close the cuticle and prevent heat from causing damage and split ends to occur. This is said to help the hair stay healthier and turn out silkier and healthier than other heating options.
However, these ionic hairbrushes work more like a blow dryer and round brush would, which means that the straightening effect that you get is much fluffier and more voluminous that straight and sleek like the hot comb and the flat iron.
How to Straighten Hair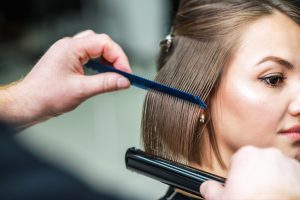 Now begins the fun part: watching your creation come together. When you are beginning the straightening process, you need to have a few items on hand to make the process smoother. You want to have a few hair ties or clips, a hairbrush, and a bottle of hair protectant spray.
If you are using the hot comb, then you may also want to have a pair of gloves nearby.
You will want to begin by taking out the braid if your hair was long enough to braid and brush it out completely. Even though you sprayed the protector in the night before, you want to spray a light mist on your hair a second time and work it into the hair with the brush.
Next, you want to section off the hair so that you can get four to six equal sections. Use either a hair tie or clip to hold the sections of the hair in small buns so the other areas are out of the way while you straighten one part.
You will start with one of the front sections, the one that is closest to the bottom of your ear is recommended. What you want to do is take whatever tool you choose, and grab the root of the section with it. Then, you will slowly work your way to the end of the hair, moving at a slow but consistent pace.
You don't want to move too slow and cause the heat to stay on a small section too long, or else that could cause unnecessary damage to the hair. You also don't want to move too quickly or you will have to continually go over the section again and again. Just move steadily.
Once you have made your way to the end of the hair, you can grab the top of the section with your hands so that you can go over it again. You will likely do this two or three times to get them perfectly straight look that you want.
After you have finished with that section, you will unclip or untie the next closest section. This should be the front of the hairline near the forehead. Begin the process again and work your way from the root to the ends of the hair.
If you are using your hands to help you out, you want to make sure you are grabbing the hair at the root once you have moved the heat to the ends of the hair. This will keep your hands from being singed by the heat, which will stay with your hair for 30 seconds or so after moving the heat to another area.
If you grab the end of the section after you just went over it with the iron, you will feel like you have just touched the iron itself.
Ouch!
Pay attention to what you are doing, or wear heat resistant gloves.
Repeat this straightening process around the entirety of your head until every section of your hair is done.
Finishing Touches
You are done with the whole head of hair at this point, but you want to put the finishing touches on your hair to make the final product look perfect. This means that you will need to add some volume to the roots and smooth out the flyaway baby hairs around the front of the face.
Though you want your hair to be straight, you don't want it to be flat. There is a big difference.
Volume
If you want to add some volume to the roots of the hair, you will want to take your heating tool and run it through just the top layers of your hair. However, instead of bringing the tool down towards your body, you will lift the hair up so that you are bringing your arm above your head and out towards the sky.
Doing this will lift the roots slightly so that the top of the hair is not flat against the scalp. Do this to the entire top layer of the hair until you are satisfied with your volume.
Smoothing Out the Flyaways
Then, you want to smooth out the baby hairs and flyaways that are around the face and ears. These small areas are the toughest to reach and can cause you to burn yourself if you're not careful. So, take precautions.
The small hairs around the ears must be done extra carefully, but it is a similar process. The biggest difference is that you will find yourself using a different angle at every section around the ear. The section behind the ear will cause you to work in a downward direction.
The section in the front will likely cause you to bring the heating tool close to your face and then push it out and away from your body.
However, you do it, just work slowly and take care not to touch your ear with the iron.
Around the face, the baby hairs can be easy to do, but you can also burn your forehead quite easily. Ask anyone who has used a flat iron or hot comb and they will tell you the tale of when they burnt their head straightening their hair.
So, what you want to do is hold the hairs out as far as you can. Your fingers should be at the very end of the strands of hair. Then, you will take the flat iron and clamp it shut as close to the root as possible – keeping the tool up and away from the forehead – and then slowly run it through the rest of the hair. If you are using a hot comb, you want to put the teeth under the hair and work it upwards.
This is a very quick process because you don't need to stay on the hair for more than a second or two, no matter what tool you are using.
Holding Your New Style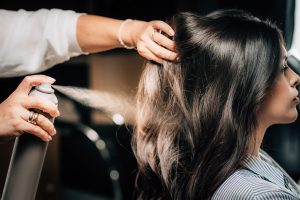 You're almost done. Now that you have the finished look, it's time to lock it in and keep it frizz-free to keep your do looking fresh all day long.
What you need to do is get yourself a good anti-frizz spray. Many of these sprays act as hairspray and anti-frizz serum in one, so you get the best of both worlds.
The hairspray will lock in the straight style so that stubborn curls and moisture won't start to texturize in the middle of the day.
The anti-frizz serum will keep the small hairs in place and make sure that your hair stays sleek and polished.
Aftercare
If you don't want to redo this style every single day, especially if you have really long hair, then you want to make this look last as long as possible.
To do this, you need to keep your hair as straight as you can throughout the night. So, you will want to do the same thing you did the night before you straightened your hair. Braid it.
Again, you will take your hair and put it in a very loose braid so that it won't create waves in the hair. Loosely place a hair tie – or a ribbon, which works better because its softer – at the end of the hair so as not to make indentations.
When you wake up, you will take the braid and tie out and brush through your hair. This will keep your hair straightened throughout the night so you don't have to redo this whole process the next morning.
You will have to do some touch-ups to make the style look freshly done, but this will just take some light run-throughs with the heating tool in areas that need it.
Don't Wash Your Hair
If you want to keep this straightened look for more than a day, then you will have to deal with not washing your hair. For those of you with an oily scalp, this may seem like a nightmare.
However, it is better for your hair to have your natural oils. So, on days when you don't wash your hair, you want to brush the oils from the scalp to the ends of the hair to help keep it hydrated. This is especially good after using heat on the hair.
Most people can go a day or so without shampoo and conditioner, but if you want to keep your style for the rest of the week, then you'll need some more help.
This is where dry shampoo comes in.
After you have brushed all the natural oils to the ends of the hair, you can use dry shampoo to keep the roots of your hair from looking and feeling greasy.
Dry shampoo will soak up the oils that are left on the roots of the hair from not washing it and will leave your style looking like new.
To use this spray, you will need to shake the bottle vigorously. Then, you will spray the roots of the hair and anywhere else that looks too oily. You will leave the spray overnight, then brush it out in the morning.
You will wake up looking like you just took a shower, and you won't even have to sacrifice your straight and sleek hairstyle.