Some men just have enviable facial hair. It's thick, it's long, it's well-styled, and it says something about who that man is. Of course, it's perfectly normal to want to have facial hair to match, just as good, just as well suited to your style and personality, just as attractive to women.
The problem?
Sometimes growing out your facial hair can be downright uncomfortable. It's not just a matter of patience. It's working through the prickliness, the itching. It's figuring out how to take care of your new beard and what kind of grooming routine works for you.
Fortunately, you don't have to just suffer through the discomfort of a growing beard anymore. There are lots of potential solutions out there that will help you get the facial hair of your dreams, without the discomfort along the way.
We'll not only talk about your options, but we'll also discuss why your beard is itching in the first place. Knowing what's causing the problem will help you figure out a way to fix the problem.
Why Do Beards Itch?
Everyone with facial hair knows what it feels like. It's not a sting, it's not a tickle, and it crawls across your skin, demanding all of your attention. It makes you want to itch and scratch, but of course, you don't want people to know that your face itches all the time. There are solutions, and we'll talk about them in a few minutes.
Before we get to possible solutions for an itchy beard, let's look at why your beard can itch in the first place.
Growing Out
This is one of the most common causes of an itchy beard. Your beard can start itching anytime, even after years of growing it out without a problem. But, growing your beard out from shaved skin is one of the most common causes of itchy skin.
There are a couple of reasons. For one thing, your beard itself is itchy against your skin. As your beard grows in it's short enough to be moved around quite a bit. But the ends of our beard will also prick against your skin as it grows in, especially if you have some curve and curl in your facial hair.
A new bear also changes how much air gets to your skin, how long your skin stays wet, and your skin's access to the normal grooming products you do every day.
All those changes at once can understandably make you skin feel pretty different.
There's also a balance you need to strike at this phase between making sure your skin gets what it needs, and making sure your beard gets what it needs. Later on, those two things will be incredibly similar. But in this early growth phase, your skin and your beard want different treatment.
It's incredibly common for all these factors to cause an itchy beard in the early phases. There are some things you can do to treat early beard itch. But, even with all the treatments and options out there, you should plan for some beard itch.
Beardruff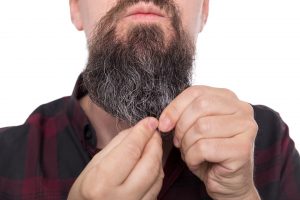 Beardruff is another common cause of an itchy beard. While you can have beardruff without an itch, just like you can have dandruff in the hair on top of your head without it causing itchiness.
But, most of the time, if you have beardruff, it will cause an itch.
There are a few different causes of beardruff. The first cause, and the one that takes the blame most often, is dry skin. Dry skin flakes are a characteristic of beardruff, but they aren't always the cause. Moisturizing may be a good answer to this problem, but it may not be the only solution.
The other common causes of beardruff are an imbalance in your normal skin microbiome. There are lots of bacteria and other single-cell life that lives on your skin. These bacteria are important. Many of them serve important functions for your health.
But, when there are harmful bacteria or an imbalance in the good bacteria, you're a lot more likely to see skin irritations like beardruff.
Even if you don't have acne, rashes, or other signs of a skin bacterial imbalance, beardruff can be a sign that there's something off. Especially if moisturizing doesn't make fast improvements in the itchiness and beardruff.
Acne
Acne is another common problem. It can be caused by some of the same things that cause beardruff and other itchy conditions. If your skin is too dry, has a bacterial imbalance, or isn't getting access to the things it needs, you're more likely to develop acne.
Ance may not be obvious, especially if you have an established and thick beard when it develops. You may not get a more noticeable form of acne-like pimples, but small blackheads and enlarged pores around your facial hair can cause itchiness.
Acne can come from several different problems. One of the most common is not cleansing your skin and beard enough. Another common cause of acne is product build-up, or a mild product reaction getting worse over time.
If you suspect that acne may be a cause of your beard's itchiness, it's important to identify that that's what you're dealing with. Try to part your beard so that you can see the skin around the base of the hair. Do this in a couple of places and look for small blackheads and whiteheads.
You should also feel the skin under your beard and look for pimples and larger acne problems.
Don't try to pop any pimples or blackheads you find. We'll talk about real solutions a little later. But popping your acne is likely to spread harmful bacteria, the same bacteria that caused the problem in the first place, through your beard.
Skin Rashes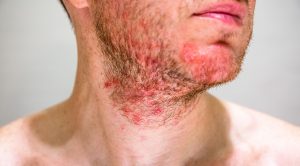 Beards can hide skin rashes so that you don't notice that something is wrong until you have that uncomfortable itch and other symptoms. If you have skin conditions that commonly cause rashes, you need to keep a close eye on the skin under your beard.
If you seem to develop an itchy beard rapidly, and without warning, it's a good idea to check the skin under your facial hair for an unusual texture or color.
Most of the problems we'll talk about here, we'll also discuss solutions. Skin rashes aren't one of those things. If you notice a skin rash under your beard, you need to see a doctor or dermatologist to find out what's causing the rash.
Your doctor will also be better prepared to address the issue and help you keep the rash from coming back later.
Product Reactions
This is one of the more common causes of beard itch in beards that are already established. Unfortunately, while bad product reactions are less common in products that you've already been using for a long time, they aren't impossible.
If you've recently changed your beard grooming products, or notice that your beard itches more shortly after applying a grooming product, you might be having a negative reaction.
It's important to pay attention to when your symptoms start since that can give you a better idea of what is causing the reaction.
While reactions are more common with new products, existing products can also cause a reaction. Don't assume that because you've been using something for a long time that you're not reacting to that product. Formula changes and changes in your skin's sensitivity to certain chemicals can both have a role to play in a few reactions.
Allergies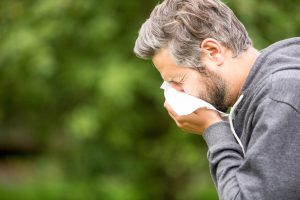 This goes hand in hand with product reactions, but there are other causes of allergic reactions as well. Namely, if you're allergic to certain types of pollen, its very important to keep your beard and facial hair clean when that pollen is in season.
Your facial hair can actually protect your sinuses from some of the pollen in the hair. The extra hair is essentially just an external filter.
But, all that trapped pollen can still cause a histamine reaction on your skin. You should try to rinse out your beard at least once a day in pollen season. It's also a good idea to avoid products that stay in your beard and can become sticky (like pomades and waxes) and instead stick to oils and other products that will be absorbed by your beard.
That's because pomades and waxes can trap more of the pollen in your beard. If you don't wash the products out completely every day you're much more likely to have a histamine reaction to the pollen.
Weather
This isn't something you have a lot of control over, but you can change how you treat your beard day to day based on the weather.
Unfortunately the kind of weather your skin reacts to can be highly individual. Some people do poorly in dry weather and cold weather, while others notice that a drier climate is more beneficial to their skin than high humidity.
One way to catch when your beard is becoming itchy thanks to weather is to pay attention to seasonal differences in how your beard feels. You may also notice a month to month change, and it's valuable to look at what kinds of weather shifts were happening when you noticed those differences.
What You Can Do About Your Itchy Beard
Now that we've covered a lot of the reasons your beard might start to itch (without, hopefully, making your beard itchy) let's cover some of the things you can do to reduce the itchiness.
Washing Regularly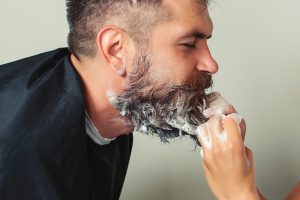 One of the first things you should try to do with an itchy beard is to wash it more often. You may be able to get away with washing your beard once a day or only once every other, but you may also need to rinse your beard out both morning and night.
To fully wash your beard you should use specific beard shampoo and conditioner, or at least the kind of shampoo that is designed for your head. You should never use hand soap or body soap to wash your beard.
Not only are these soaps too potent for your facial hair, causing damage and making the hair more brittle, they'll also be too strong for your skin.
The skin on your face is relatively thin, much more so than the skin on the rest of your body. That means that it's a little more delicate and that you need a gentler cleanser along with better moisturizing properties.
You can also just rinse your beard with warm water more often if you don't want to go to the trouble of using a shampoo and conditioner. Your results won't be as good as if you used shampoo and conditioner, but your skin and beard will still benefit. And that means less itchiness!
Try not to rinse with water that is either cold or uncomfortably hot, both can have negative effects on your skin and hair. Water that is room temperature or warmer is preferable.
Whether you're just rinsing, or completely washing your hair, you need to make sure you're washing all the way to the skin.
Your skin is where many of the particles that collect in your beard end up. It's also the source of that itchy feeling. A plain water rinse will at least bring more moisture to your skin while washing away dust, pollen, food particles, and other debris that can collect in your facial hair.
Beard Shampoo & Conditioner
If you want to take the beard to the next level, beard-specific shampoos and conditioners are a good addition. They'll also help to cut down on the debris in your beard by lifting the particles further away from your skin and hair before rinsing.
But more importantly, shampoo and conditioner will help break through some of the product buildup from other grooming and care products. That means that your hair will be cleaner and smoother. But, you'll also have less skin irritation and clogged pores.
Beard shampoo and conditioner can also be particularly important for men who struggle with acne in and around their facial hair. If you're one of these men, you should look for a gentle moisturizing formula that will cleanse your hair and skin, while also maintaining a good pH balance and moisture.
Beard shampoo and conditioner is essentially your first line of defense against itchiness. It addresses a wide variety of problems, can help improve the overall health of your hair and skin and works to keep harmful allergens and debris away from your skin.
Beard Oils, Balms, and Waxes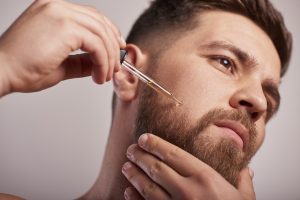 Most people with an already established beard will be familiar with these products. If you want to shape and control your beard at all, oils, balms, and waxes are an important tool.
Beard pomade is also included in this category, although it should be used with a little more care. Especially when your beard it itchy. That's because pomades are generally heavier, may have more ingredients, and can be harder to wash out of your beard than other grooming products.
All of these products address the same basic problems. They all bring more moisture into your beard, which addresses skin and hair dryness, as well as the itch that comes from prickly sharp facial hair.
They do this three main ways. They provide some moisturizing ingredients themselves, allowing your skin and facial hair to absorb important nutrients from the product.
Waxes and balms also provide a protective layer around your facial hair that prevents dry air and other irritants from damaging it. Waxes and balms can be especially important for men who are sensitive to certain weather conditions or changes in the weather.
These products can also help with pollen and other allergens when used properly. If you don't wash the product out of your beard often enough, they will increase the itch. But, if you're washing the product out of your beard every day, or sometimes several times a day, it will catch additional pollen and keep it further from your skin.
Then, the pollen and other irritants just wash out of your beard with the product.
Mint
Mint and mint products don't address a specific cause of beard itch. Instead, they address the symptom itself.
If you want to use mint to help with beard itch, you should combine it with some other treatment that actually addresses the root of the problem. Mint will help you feel better in an immediate sense, but it won't make the original itch any less troublesome.
Mint is effective because of a high concentration of menthol in the plant and all the products derived from it. There are some other effective components in the plant, but none are as significant as menthol.
Because menthol is a fairly potent chemical, men who know that they are sensitive to menthol, or who usually have sensitive skin in general, should avoid mint and other anti-itch beard medication that includes menthol.
Mint works because menthol mimics the feeling of being cold, which is a priority signal for your nerves. If your skin sense heat or cold, those signals are sent before anything else. They crowd out the other signals, like pain and itchiness, that cause discomfort.
That's part of why heating and ice packs, icy hot, and other heat/cool products work. Your nerve literally cannot process other information on top of temperature signals.
So, while the source of the itch is likely still going to be a problem, you won't be uncomfortable. Plus, mint makes you smell fresh and clean, and there is some evidence that mint can even help you stay awake and concentrate through the day.
This is a good solution for men who are in the itchy growing out phase (it can also help improve circulation in your skin, which speeds beard growth). Or, it may be a good choice for you if you just don't want coworkers family and friends to know that your beard is itchy.
Medication
There are many medication options for itchy beards. Some of the easiest are medicated beard balms and oils, usually using mint, plain menthol, and similar ingredients to cover and mask the itch, while a few have antihistamine or anti-inflammatory ingredients that directly address the problem.
Medication, though, usually just address the symptom but not the problem itself.
The exception to that rule are medications that treat skin rashes. If you're getting a beard itch thanks to a rash or other skin condition, and sometimes even acne, medicated beard products will help bring the problem under control.
The problem is, depending on the source of the issue, you may have to continue using them. Skin conditions, acne, and other common beard+skin issues may be chronic, meaning you need to treat them constantly or they come back.
Brushing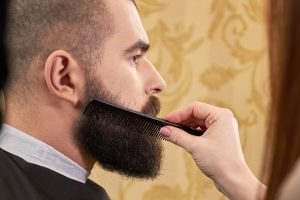 Another solution is to add brushing to your normal beard care routine. Brushing does a few things that benefit your beard and skin. For one thing, it helps hairs that have already detached from your skin escape your beard.
Those hairs can be a major source of itchiness since they get tangled in your beard, and the root-end of the hair may still prick against your skin occasionally.
Brushing can also be a good way to remove other debris from your beard.
The stimulation on your skin is also beneficial. It will help remove dead skin cells and other causes of beardruff. But it can increase circulation as well, preventing some of the dry skin from building up and helping to encourage faster and healthier beard growth.
Even if you don't shape or style your beard, combing and brushing through it is an important part of keeping your beard (and other facial hair) healthy and itch-free.
Facial Massage
The last option, and one that primarily treats dry skin and skin that is struggling with less airflow, is facial massage. Usually used to help relax muscles, prevent aging, and encourage better circulation and skin health.
All of those things are still true of facial massage for an itchy beard. Plus, you don't have to go to a massage therapist to do it.
Simply massage your skin in slow smooth circles, with the level of pressure that is most comfortable and soothing for you. You can also tap your fingers across your jawline and anywhere covered by your facial hair to gently stimulate the skin.
This process may tingle a little bit, especially the first few times you do it, but it can create long-term relief from some common sources of beard itchiness.
Final Thoughts
Hopefully, if you suffer from an itchy beard, this article has given you a few ideas for how you can get relief. We've covered common causes of beard itchiness, some common solutions to the problem, and helped to match which problems are best solved by which solutions.
Of course, if your beard is and remains itchy no matter what you try, it's a good idea to consult with your doctor and see if there are other options available to you.