In the last few decades, the focus on men's looks has become more and more prominent. As a result, grooming items for men have made a major splash in the beauty industry in a way that it never has before.
Men can finally find razors, hair color, and even beard oils and combs that they can use to look their best at all times. However, there are many different products out there now, which can make it difficult for you to decide what ones you want to purchase.
But, one of the most used items by men is the electric razor. This item can be used for a large beard or for shaving off that 5 o'clock shadow. This is a simple choice that can be used for many things and is a toiletry staple that every man should have in their bathroom.
Although this is a pretty simple option, you do still have to take care of an electric razor to ensure that it lasts as long as it should. These items will last a long time, and doing some routine maintenance will help keep it that way.
Lubricating your electric razor is one way to keep it working to its full capacity. So, we will discuss the ways that you can do about this lubricating that will help make your electric razor last as long as possible.
Electric Razors Lubrication Oils Comparison Table
There are multiple things that you can use to lubricate your electric razor, and each one offers the same type of outcome. However, these options can be a bit different, so it is worth it to look at the comparison between them.
| Lubrication Type | Oil Type | Dispense Method |
| --- | --- | --- |
| Multi-purpose light oil for lubrication | Light oil | Drip nozzle |
| Hair clipper oil | Hair clipper oil | Spray head |
| Sewing machine oil lubricant | Sewing machine lubricant | Drip nozzle |
| Manufacturer's lubricant – included in package with shaver | Lubricant oil made by manufacturer | Drip nozzle or spray head (depends on manufacturer) |
Some Things To Consider
When you are searching for a good electric shaver, you want to get a good product. However, you also need to know what you are doing with it. We will go over how to lubricate an electric shaver properly so that you make it last longer.
Why is it Important to Do?
Also, before we get into the steps that you should follow, we want to talk a little bit about the importance of lubricating your electric razor and why it helps so much. Many users might think that an electric razor doesn't need to be lubricated at all.
Well, actually, there are several benefits that you get from continually lubricating your electric razor that make it an important part of your routine maintenance. So, if you thought that this wasn't something that you should be doing, take a look at these benefits and see how much it could be helping you.
Lengthens the Life of the Blades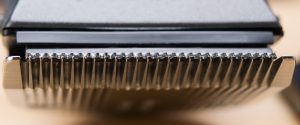 Lubricating the blades of the razor ensure that the blades slide smoothly against the skin without having as much resistance. This makes the blades do less work to cut the hair, allowing the blade to stay sharper longer. This also lets you switch out the blades much less.
Lowers the Amount of Heat
Using a lubricant on an electric razor will lower the amount of heat that is produced while you're shaving. This can reduce skin irritation, blemishes, and lowers the risk of getting razor burn due to the heat. This is due to the friction between the foils and blades, which is reduced by the lubrication.
Takes Stress Off the Motor
Lubricating the blades of your electric razor allow your blades to work better, and with less friction. This takes stress off of the motor to make the blades do what they need to, even when they have lots of friction. Instead of having to use the motor to power through the friction, it will be used to cut through your hair.
Gives You a Closer Shave
After some time, you will eventually have to replace the blades and the foils, but this can be put off for a while with proper lubrication. With lubrication, the blades will not have any friction against the skin and will be able to use all of the motor's power to cut through your hair. This will allow for a closer shave for a longer time without replacing the blades often.
How To Lubricate Your Electric Razor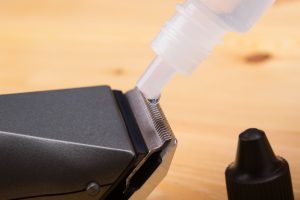 Now that we have gone over why lubrication is important for your electric shaver and the benefits that you can see when you lubricate your razor often, we want to let you know how to go about it the right way.
You can do it sloppily and still get decent results, but if you really want your razor to last, then you need to follow these instructions to get the best results possible. We will also discuss the different options that are available to you, so you can choose how you want to go about it.
Using Light Oils
The first option that you can use for lubricating your electric razor is to use light oils to do the job. These multi-purpose oils can work on several different items and all have the same purpose; to lubricate moving parts to run smoother.
There are two main options that both give you great results and are fairly inexpensive to buy.
Hair Clipper Oils
These oils are meant for automatic clippers and work great to reduce friction and make your blades last longer. They often come with a drip nozzle that allows you to easily ration out how much you want to use each time so that you can make it last a while without needing to replace it.
Sewing Machine Oil
It might sound a bit strange to use something made for a sewing machine for your razor, but both have moving metal pieces. So, the same type of job is completed with this lubricant. This type of oil is also very easy to find in stores, so you can get in whenever you need it, which isn't always the case with the other options mentioned.
Manufacturer's Included Oil
When you buy an electric razor, some manufacturers will include a small bottle of lubricant inside the package for you to use. This oil is usually a small amount and can be used for a short time. However, some people tend to use the same oil every time, which means that they continue using the light oil they prefer.
If you choose to use this oil, it can vary greatly from between manufacturers, so it is best to have another option on hand if you decide that this oil isn't doing the trick.
Types of Lubricant
Lubricant Sprays
This type of spray nozzle is often given to hair clipper oils, which is designed to make the application process easier. However, there are good and bad to this method. Although the method of dispersion is easy to do, it tends to get on a larger surface than is needed. This can make the process messier than it has to be.
Also, very little is used when you have a drip nozzle, which dispenses oil one drop at a time, so you end up using more each time you spray.
Drip Nozzles
A drip nozzle is different from the sprays because it requires you to tip the bottle upside down as a single drop drips from the nozzle. This method is slow, which is ideal for some units that require very little oil. This is a great option for electric razors because they need very little oil at a time and the drip nozzle will make the oil bottle that you have last a long time.
It also ensures that the area you want the oil on is the only area that is covered. Unlike the spray, which can get all over the handle and other parts of the unit easily. This requires you to take off the head of the razor to avoid getting it anywhere else on the unit.
How To Apply The Oil
Depending on which type of lubricant you use, spray or drip nozzle, you will have a different process for applying the oil to the blades. So, let's start with how to apply the spray lubricant.
Spray Lubricant Application Method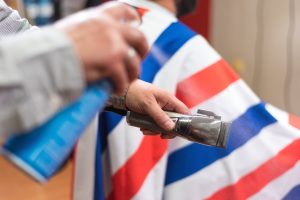 When you are ready to apply the lubricant to your electric razor, you will want to use a brush to help remove any larger particles of dust or dirt that have gotten onto the blades. If you tend to use lots of shaving cream when you use your shaver, then you will also want to run the blades under hot water and soap before using the lubricant as well.
Then, you will want to wipe the electric razor clean so that it is completely dry before you spray on the lubricant.
You will then want to take the head of the electric shaver off the handle or base and place it on a clean paper towel or rag. If the blades can be taken out of the head, then do this also, and lay them on the towel as well.
Once all the pieces are spread out and dried, you will take the lubricant spray and cover all the pieces. You should aim for the direct pieces so that you don't end up spraying a lot of oil onto the paper towel, but this can not be completely avoided. So, just do your best.
Drip Nozzle Lubricant Application
When you are applying a drip nozzle lubricant to your electric razor, you will see that this method is very simple. All you have to do for this application is place a drop on each of the foils and blades while the head of the razor is still attached to the handle of the unit.
After you have added a drop to each blade and foil, you can then turn on the device and allow it to run for a minute or so to let the oil droplets to spread across the whole surface area.
Once you have the oil spread across the blades, you can take a Q-tip or paper towel and pat down the area to ensure that any excess is soaked up and not sitting on the metal blades afterward.
When Should You Lubricate Your Electric Razor
Knowing that you need to do something is good, but if you aren't sure how often this needs to be done, then you might find out that you are not doing it enough to get the best results. Lubricating your electric razor a few times a year might help a bit, but you won't get the same use out of the blades if you don't do it more often.
So, how often should you be lubricating your electric razor?
Well, this actually depends on how you typically clean and use your razor. Do you always use shaving cream and wash the razor with soap and water, or do you typically not use any cleaners or soaps on your razor?
If you don't use any soaps or shaving creams, then you should probably lubricate your electric razor one or two times a week. You don't need to do it more often because there is no residue left from shaving creams or soaps, so you have less to clean off.
If you use creams when you shave and soap to clean it off, then you should probably be lubricating your razor every time you use it. This helps to keep build-up from soap residue to impact the effectiveness of your razor and keeps the blades running smoothly.
What Oils You Should Not Be Using
Although this may seem like a job that many different oils can do, there are reasons as to why these particular oils are used for lubrication for electric razors. You don't just want to use any oil that you have around the house, as there are several issues that can arise from doing this.
So, here are some oils that people often ask about, and why they should not be used for the purpose of lubricating your electric razor.
Coconut Oil
There are many benefits to using coconut oil for cooking, using for your hair, or skin. However, this type of oil is thick in consistency and tends to leave a thick residue on whatever it is put onto. When used on hair or skin, it is absorbed. This means that there is no issue with any residue.
When it comes to a razor, nothing will be absorbed. This means that you will be left with a thick layer after you are done that will need to be wiped off, which defeats the purpose of lubricating it in the first place.
Olive Oil
This oil is great for cooking, but this is definitely not ideal for use as a lubricant. This is because of the same issue as coconut oil as there will be a residue left. Olive oil is essentially a liquid fat that is used for cooking, and because there is fat in the oil, that fat causes the thick residue to be left on the blades of the razor.
This will cause several issues if left on, including causing the blades to not work as well. And, if you decide to wipe off the residue, then the lubrication is taken off as well.
Grapeseed Oil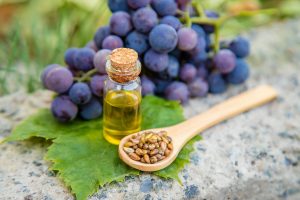 Though this type of oil is a healthy alternative to vegetable oil when cooking, this oil is not suitable for use as a lubricant. This oil is made from grape seeds that are leftover in the winemaking process. The oil is thick and comes with many Omega-6 fatty acids. These fatty acids are very good for your body, but they are not great for lubrication.
The fatty acids cause the oil to have a thicker consistency, which leaves behind residue and makes it less resistant to heat. Although this might not be a major issue since an electric razor doesn't get very hot, it still can cause some lessened power when you use it for a long time. When shaving a whole section of your beard, or trimming up your whole face, this oil could dissipate.
This, of course, would be as if you hadn't lubricated the razor at all.
Castor Oil
This type of oil is made from plants, which might seem like a natural option that you could use. However, it comes with the same issues as the other oils mentioned above. The consistency and residue make it an unsuitable option for lubrication.
Also, just like coconut oil, it can be absorbed into your skin and hair for healthy growth and smoothness. This means that the oil will just sit on the blade, just like the coconut oil, and need to be wiped off. This makes it an option that will not give you any benefits as it will need to be wiped off, which negates the purpose of using the oil in the first place.
WD-40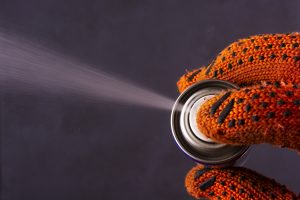 For those who have experience in the automotive or home improvement field, you have likely used WD-40 for several purposes on your job site. Well, as a lubricant that can be used for many things, you might be wondering if a drop or two would work for your electric razor.
Well, this isn't an oil that you will want to use on your electric razor because it is a penetrating oil that will affect the interior of the unit. As an oil that can be used on car parts, electrical units, and rusted metal, it is a heavy-duty option that is meant for larger jobs.
Using this could cause issues with your electric razor and could make using it a bit tougher. The spray is tough on metal, and if it is too much for the small metal blades, they could be damaged.
This spray is not recommended because it is simply too much for a small unit like this to handle.
Other Oils
There are so many other types of oils that could be mentioned, but here is a simplified way to decide if an oil you are looking at would make a good choice for your electric razor.
First, you need to be using a light oil. Any of the oils mentioned above are not light enough to use on these units because of the thick consistency and heavy residue left behind. Oils are classified by from light to heavy oils, and you can pretty easily get the classification off the container that it is sold in.
If you don't see the classification on the bottle, you can always take a quick look online to see where the oil lands on the spectrum. If it is anything but light, then you will want to put it back and look for a better option.
Also, taking a look at your local stores or online retailers for the recommended oils in this article like the hair clipper oil or sewing machine oil will be your best bet because they are pretty easy to find and are available in many stores.
Final Words
When you are trying to find a lubricant that you can use on your electric razor, you not only want to know which oil is better, but you also need to know how to put it on your razor too. You don't want to find the best oil out there only to put it on incorrectly and not get the benefits from it as you should.
So, following the instructions with both spray and drip nozzle lubricants in this article will ensure that you are doing the job right and getting the best out of your lubricant and your electric razor. Just remember to use it as often as recommended before and you will be able to continually use your electric razor for a long time to come.
And, if you ever need a refresher, you can take another look at this article to remind you what oils to get and how to properly lubricate your electric razor.