We all know that genetics has a huge role to play in hair growth. It's the first thing we blame for hair loss on the top of our heads, but it can also get in a way of growing hair on your chin.
When you start to notice thinning hair on top most people reach for Rogaine pretty quickly. It's one of the only FDA approved treatments for hair loss. It's been proven to keep the hair on your head, on your head.
So, if your beard game isn't up to par, can Rogaine help there too?
Many men have used Rogaine to boost their beards. It takes a little know-how, but fortunately, Rogaine stimulates hair growth wherever it's applied. In this article, we'll cover everything you need to know to use Rogaine for a better, fuller, beard.
What is Rogaine
Before we get into how Rogaine works, and how to apply it, you should know what Rogaine is. Rogaine is the brand name for topical minoxidil.
Minoxidil was originally released as a treatment for high blood pressure. But, to everyone's surprise, users quickly began reporting an important side effect. Minoxidil caused hair growth. Used as a blood pressure treatment, that hair growth was a little unpredictable.
The company behind minoxidil brought the drug back to trials, this time for a different use. They wanted to see if the drug would have similar effects used as a topical hair loss treatment. Results take time, but the drug still worked.
So, Rogaine was released in two formulas. 2% minoxidil for both men and women, and extra strength 5% minoxidil for men. They also released a liquid serum version and a foam version. While equally effective, most people find the foam easier to use.
How Does It Work?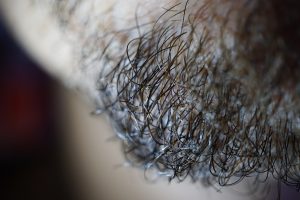 Surprisingly, we don't know a ton about how minoxidil works for hair growth. It helps with blood pressure by improving circulation and helping blood vessels relax and open more fully.
We do think that improving circulation has a side benefit of improving circulatory access for hair follicles, but that may not be the only benefit. Minoxidil doesn't appear to interact with DHT (dihydrotestosterone) in the same way that finasteride, another FDA approved hair treatment does. But that doesn't mean that it isn't having additional unknown effects.
While science is still uncertain what the mechanism is, we can see what the effect is on hair growth and hair follicles.
When you look at hair follicles after several months of regular Rogaine use, vs the same hair follicles before, two things become apparent. For one, the Rogaine treated hair follicles stay in anagen longer. anagen is one of several stages in your hair growth cycle. It's the only stage where your hair follicles are actively growing. Having more hair follicles actively growing at once helps to thicken your hair, and lets it grow a bit longer.
The other major change is most evident if you've started using Rogaine after your hair follicles have already been damaged and are starting to produce less hair. When your hair follicles are damaged, whether it's genetic, the result of scarring or circulation problems, or any other cause of damage, they shrink.
Shrunken follicles grow thinner hair strands, leaving them more vulnerable to damage and breakage as they grow in. Eventually, as the follicle continues to shrink, it stops growing hair entirely. Much smaller, and the hair follicle gets cut off from circulation. Left too long, they can't grow back.
But Rogaine improves the health of your hair follicles. It helps your follicles grow larger, even after they've started to shrink.
While Rogaine can't completely reverse that kind of damage, once it's gone too far, Rogaine will help some hair follicles recover. It also protects the rest of your follicles from suffering the same kind of damage.
Is Rogaine Effective for Facial Hair
All of that is based on how Rogaine works on top of your head, though. Does it work for facial hair as well?
The Science
Unfortunately, facial hair doesn't get the same kind of attention that the hair on tops of your head receives. While the effect of Rogaine on the crown of your head has been studied quite a bit, the effect on your facial hair isn't as well studied.
When it has been studied, the results were inconclusive. It seemed to work for some men, but how and why is no more clear than it is on the crown of your head.
The studies also suggest that, while Rogaine will stimulate hair growth pretty much wherever it's applied regularly, it's less effective for facial hair. That doesn't necessarily capture user experience though, so we'll talk about that next.
User Experience
User experience is that many men who stick to the Rogaine routine see impressive facial hair growth. It comes in thicker, less patchy, and faster than it was without Minoxidil.
Even some trans men have success using minoxidil to bring in early terminal hairs and escape the vellus hair peach fuzz phase.
Vellus hairs, the thinner white hairs you probably first saw some time in early puberty, grow all over your body. One of the effects of Rogaine is to help those vellus hair grow into terminal hairs. Terminal hairs are the thicker darker hairs that form your facial hair.
It also seems to work well for men who have chronic patchy growth in their facial hair. Uneven hair growth shouldn't force you to shape your facial hair differently or limit your beard to a small goatee.
So, while the user experience and the science don't necessarily agree, it seems clear that minoxidil is a viable option for men looking to grow thicker facial hair.
Side Effects
Like any medication, there are some possible side effects. With Rogaine, there isn't much you have to worry about. Most men can use Rogaine comfortably and safely, without experiencing any serious side effects.
The most common side effect is dryness. You'll probably notice that the product dries out your skin just a little and may also dry out your beard. New dandruff is less common but can happen.
Many men also notice some added itchiness from using Rogaine. Once the Rogaine is dry you can use another product to soothe your skin and add some moisture.
If you notice redness, puffiness, or a burning or itching sensation that is too intense to be uncomfortable, those are potentially signs of a more serious reaction. If you have any of these, you should consult with a dermatologist or a doctor before continuing treatment.
Weight gain is also listed as a possible side effect of using Rogaine regularly. While this is possible, it's a rare side effect. Because of the way side-effect reporting works, almost anything that occurs while using a medication can end up listed as a potential effect.
We don't tend to think that the risk of weight gain should be enough to keep you from using Rogaine. But it is important to stay on top of any changes to your skin, hair, and weight. Talk to a doctor if you're concerned or want to know more.
How to Apply Rogaine for Beard Growth
Rogaine application is similar whether you're applying it to the crown of your head or to your chin. You want to make sure that the product gets to your skin, and you need to leave it on for at least 4 hours.
But application works a little different depending on if you're using the serum formula or the more popular foam.
One note for the cat lovers out there. Minoxidil is toxic to cats, so if you're using Rogaine to grow your beard you also need to keep your cat away from your face for at least 4 hours after each application.
Rogaine Liquid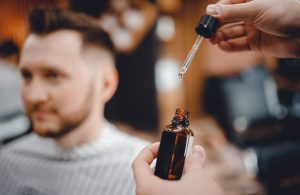 The easiest way to do this is to treat the Rogaine like a beard oil. You'll drop it directly onto your face with the included dropper and massage the serum into your skin everywhere you're looking to encourage growth.
If you have existing facial hair, it's important to make sure you're applying the serum close to your skin. Otherwise, the product might end up on your hair and not on your skin. Since it needs to sink into your skin to nourish your hair follicles and help them.
You need to wash your hands right after application, but it's worth taking a couple of extra minutes to make sure you're getting the serum evenly distributed on your skin. Plus, light massage is beneficial for hair growth, so you're also boosting your results.
Rogaine Foam
The foam is generally a little easier to use. The serum runs and is difficult to control. The foam, on the other hand, mostly stays where you put it. The one time it's more difficult to use is if you have relatively thick hair. It can be difficult to get the foam all the way through to your skin.
The cap on your foam bottle is your measuring cup. Fill it about half-way and apply the foam to your skin with a couple of fingers. It'll melt in quickly, so make sure you're moving relatively fast if you're fighting to get through your existing facial hair.
One way to make it a little easier is to wash your hands with cold water and dry them before you apply the foam. Body heat helps break the foam down into a liquid that sinks into your skin for better results. Cooling your hands off will keep it a foam longer and help make sure you get the foam where it'll be most effective.
Whichever formulation you use, you need to apply at least once a day for good results. You can use it twice a day if you're looking for more dramatic results but using Rogaine more often won't make it work any faster.
When Can You Expect Results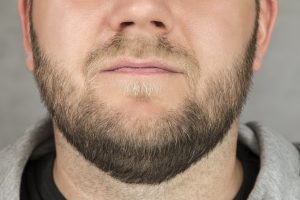 It takes about 3-6 months to start seeing serious improvement when you use Rogaine for any kind of hair growth. That's because Rogaine helps you grow your natural hair. That means it has to work with your hair's natural growth cycle.
While the growth cycle for facial hair is different from the growth cycle on your head, so the pace will be a little different.
Still, it will take a couple of weeks to start seeing hair growth, and up to several months to show full results.
You should also know that hair grown with Rogaine depends on Rogaine. If you stop using the treatment, you'll lose all the hair you've grown as a result. It usually takes about 6 months for that hair to fall out.
What Kind of Results Will You Get?
One common concern with hair loss treatments is that they'll change your hair. That makes some sense, certain medicines can change the color or texture of your hair over time.
However, since Rogaine works with your natural hair you don't have to worry about those kinds of changes. Your hair may have slightly wider strands than you usually have, but otherwise, it will be the same color and texture it grows naturally.
How well Rogaine work for you depends on your natural body chemistry as much as anything else. But you also need to be highly consistent to get solid results. Missing a day on rare occasions may not cause much of a problem.
But if you miss even once a week that will slow down your results and may also mean you don't get the results you're hoping for.
Tips and Tricks
We want to make sure you get the results you're looking for. So, we've investigated the techniques that helped Rogaine work for other men and grabbed the best tips and tricks to maximize your success.
Keep Moisturizing
Just because you're using Rogaine doesn't mean you should stop using your other grooming products.
Moisturizing is incredibly important for hair growth, so you need to keep (or start) using your beard moisturizer.
The actual product is less important. Coconut oil is a good all-natural product. But your regular beard oil, balm, or cream are also good options.
Moisturize after the Rogaine is on and dry. The moisturizer will also help carry the medication into your skin. Depending on what you use, it may also add nutrients your hair follicles need.
Tie Your Rogaine Routine to Some Other Daily Task
Whether it's taking your morning multivitamin, something you do before turning on the coffee pot, or the next step after you get out of the shower, pick something you do every day.
If you have pets you can even give them treats every day before you use Rogaine. Trust us, they'll remember they're supposed to get a treat and they'll remind you.
Tying Rogaine to daily habits will help you be more consistent with both. Since consistency is key to success when it comes to Rogaine use, this will help make sure you get the results you want.
If you've struggled with growing facial hair in the past or are looking for a more dramatic transformation in your existing facial hair, try applying Rogaine twice a day instead of once.
Wait at Least 4 Hours Between Applications
Your box will say this too, but it's worth emphasizing. No matter how dramatic you want your facial hair transformation to be, you shouldn't apply Rogaine more than 2x per day.
For it to be completely effective, you also need to wait 4 hours between applications. That's enough time to make sure the first dose has sunk into your skin and been absorbed fully. Applying more before then and you won't as much benefit from the second dose.
Make Sure You're Keeping Your Beard and Face Clean
One common issue with using Rogaine for your beard is that it can increase the likelihood of breaking out. To help counteract that, you should take extra care to make sure you're keeping your face and facial hair clean.
There are specialized beard washes for your facial hair. But you don't necessarily need a specialty wash. Any good clarifying wash will work. Look for something that isn't too harsh. Salicylic acid is a good option, but not too high a percentage.
If you already have a good clarifying wash, go ahead and continue using that. Monitor your face and beard for dryness, since Rogaine can increase dryness. If you do start to notice flaky skin or brittle facial hair, switching to a gentler cleanser formulation may help.
Don't skip it entirely, however. That's a recipe for irritated skin and compromised results.
Lifestyle: Other Things You Can Do to Boost your Rogaine Beard Results
Your beard is, in part, a reflection of your overall health. While Rogaine can help overcome some challenges with your hair follicles it won't be able to overcome nutrition or other health issues. There are lots of things you can address on a lifestyle level that will help give you better results.
Diet
One of the best things you can do to grow a better beard is to make sure you're eating well. A good diet includes carbs, whole proteins, and healthy fats. Try to get your carbs from whole grains, fruits, and vegetables. Whole proteins are lean meats, legumes, and a few other sources.
Another way to make sure you're getting the nutrients you need is to adopt the rainbow plate method.
Color is a good indication of certain key nutrients in food. Beta Carotene, for instance, turns foods orange. Including foods of several different colors (natural color, not artificial) will help keep your diet more nutritionally complete.
Exercise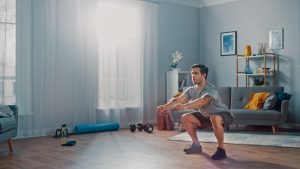 Your overall health and stress levels will benefit from regular exercise, but that isn't the only reason we're recommending it.
For one thing, reducing stress is important any time you're looking to increase beard and other hair growth. Stress causes harmful reactions all through your body, and high levels of stress can also directly cause hair loss.
But, more importantly, regular exercise boosts testosterone levels. Testosterone is critical for healthy facial hair. It stimulates growth and also helps thicken patchy areas for a fuller appearance.
That's a big part of why some men don't get the ability to grow a thick beard until significantly later in life. Once their testosterone has risen high enough, their body begins to produce facial hair faster and more evenly.
Try to use a combination of cardio weights. Building muscle is a more effective testosterone booster than cardio alone.
Avoid Tobacco
Tobacco can reduce hair growth. Regardless of how you ingest it, tobacco is harmful to your hair. That goes for the hair on top of your head and the hair on your face as well.
Even being around smoking can reduce your hair growth, since second-hand smoke gets in your hair and leaves harmful residues over time.
Your best bet, if you are around smoke, is to take a shower as soon as possible after the exposure. If you smoke yourself, try to limit how much tobacco you use. Just switching to another method, like chew or nicotine gum, will reduce the smoke damage to your hair, but not the effect of the tobacco itself.
Take a Multivitamin
Another way to ensure you're getting the nutrition you need when you need it is to take a men's multivitamin.
Multivitamins, while not well regulated, are some of the best-supported supplements you can take. They have a small benefit on a lot of different body systems. One of those systems is your hair.
Some doctors will make a recommendation for the multivitamins they trust. That information is usually based on their own and their patients' experience since there aren't many studies or tests done on multivitamins to see how they perform.
However, because of that lack of studies, some doctors won't be comfortable making those recommendations, it's worth asking.
Conclusion
Hopefully, we've answered most of your questions about using Rogaine for facial hair in this article. However, we always recommend talking with a doctor or dermatologist before using any new medication, even over the counter treatments like Rogaine.
Your doctor will be able to help you decide whether Rogaine is the right treatment for you and may be able to provide other advice to help.
We've covered what Rogaine is, some of the most important side effects, and what we know about how it works. We've also given you some tips and tricks from real users to help jump-start you on the path to better facial hair.
While Rogaine isn't the answer for everyone, you have the information you need to make that decision for yourself.