Static in your hair may have been a fun trick you pulled as a child. Run a balloon through your hair and watch your hair stand on end. However, when those days are far gone, the last thing you want to deal with is a high level of static in your hair. During the winter, when the air gets cooler and dryer, is also we tend to pull out all of those sweaters. Sweaters are naturally full of static already and you put it on
Static, or rather static electricity is a result of an increase in the movement of atoms. As the atoms move, they create an electric charge. This causes the phenomenon known as static electricity. Static electricity results in flyaway hair that sticks to your skin and gets in your eyes. Static in your hair can make for a very bad hair day.
So, how do you get rid of static in your hair? Is there are the cure-all, or is it a lost cause? Don't fret, the answers may be easier than you realize. In this article, we will discuss several options for taming the static without much headache, including some surprising uses for products that are probably near you right now or can be found in almost every home.
What Causes Static to Build Up in Your Hair?
There are actually a few different ways for you to collect a static charge. Static electricity is actually in the air. Depending on the weather, your hair can collect more or less static. Another way that your hair can pick up static is by coming into contact with a material or substance that causes friction that leads to static. This is common when we have to wear a winter hat over our hair.
We can also collect static electricity simply by scuffing our shoes across the carpet. Although this will not lead to a large amount of static unless you really shuffle your feet when you walk. The static electricity can actually move through your body. If you run your hands through your hair the static will transfer to your hair.
18 Ways to Getting Rid of Static in Your Hair
There may be tons of hints and tricks that you may find to help you decrease the static in your hair. We've put together the 15 best ways to help you combat the static and stop that frizz.
1. Drop the Dryer
One of the biggest culprits that cause static build-up in your hair is using a traditional hairdryer. Old-fashioned blow dryers move the hair around rapidly as it dries the hair. This causes the static to increase in the hair. Additionally, a traditional blow dryer can be damaging to your hair over time. Avoid using a basic hairdryer.
Traditional hair dryers are made to blow hot air at a high rate. This speeds up the molecules in the hair causing them to move more rapidly, resulting in static. If you must use a regular hair dryer, especially when the weather may increase static electricity, use regular shots of cold hair to help reduce the static buildup.
Another option is to use your hairdryer ONLY until your hair is no longer dripping, then allow your hair to dry the rest of the way naturally. You should let your hair air dry as much as possible, up to 90% dry. Anytime you can avoid artificially drying your hair will have less static and be healthier.
2. Get an Ionic Hair Dryer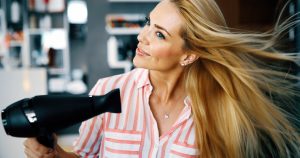 If you must use a hairdryer, then invest in an ionic hairdryer. These hair dryers are specifically designed to decrease static electricity helping to lock in your hairstyle without causing excess damage. Another benefit of using an ionic hairdryer is a natural boost to volume, especially for individuals with curly hair.
Ionic dryers contain a negative charge. Static-filled hair contains a positive charge. Therefore, the negative cancels out the positive charge. Ionic hair dryers will also breakdown water quicker, which may allow you to dry your hair to dry more quickly. Ionic hair dryers help reduce spreads by compressing the hair cuticle when it blow-dries, so you get blow-dried hair so much faster than other blow dryers
3. Give Your Hair a Light Misting
Especially during the colder months of the year, you may want to consider carrying a small misting bottle with you. Just a very light mist will drop the static electricity level in your hair. This will help to smooth the surface of your hair. However, you will want to avoid adding too much water to your hair.
Another option is to use a lightweight hair spray. However, we would suggest not using a hairspray if you will be spending time in a hot or humid environment as the hairspray may cause your hair to become sticky or limp.
4. Dryer Sheet Solution
One common hack for static hair is to run a dryer sheet across your hair. Although many people claim that the chemicals found in dryer sheets may cause damage to your hair if you overuse them. While we cannot confirm or deny that the chemicals in dryer sheets may harm your hair, they are perhaps the most popular way that people combat static hair.
Just like dryer sheets remove the static buildup in your clothing, it will remove the static in your hair. You can also use a dryer sheet to "coat" the bristles in your hairbrush, a quick 2-in-1 step to reducing static electricity buildup.
Just take a dryer sheet and run it slowly through your hair to take out the frizz. Not only does it work, but it also makes your hair smell so good after you do it and it is super quick and easy. Keep one in your care or tuck one in your pocket if you are going out for a night.
5. Change Your Shoes
As mentioned above, shuffling your feet can increase the amount of static electricity in your hair. However, this can be influenced by the type of shoes you wear. Switching to shoes with a rubber sole will prevent the static electricity from building up and transferring through your body. This is an important tip for people who spend the majority of their time on carpeted flooring.
If you are not able to switch out the shoes you wear, avoid running your hands through your hair. You can also make regular attempts to discharge the static buildup in your body by touching a metal object.
6. Use Your Metal Comb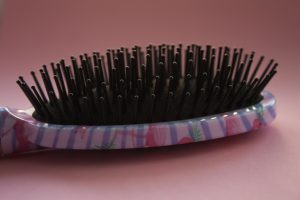 Just like you can touch a metal surface to discharge static electricity buildup in your body, using a metal comb with eliminating the static buildup in your hair by sending the electrical charge back into the air. If you do not normally use a comb, or have curly hair that cannot take a comb, you can even get some benefit from running the spine of the comb over the hair, although not a complete discharge of the electricity.
Unlike metal, plastic combs are usually made from a mold that has a seam that runs along the center. This causes the combs to come out with a raised area. This seam will grab and pull on the hair as you comb through it. As a result, your hair will be harder to comb and end up more prone to static as a result. Save yourself the headache and invest in a metal comb.
If you simply cannot find or do not want to use a metal comb, at least use a wide-toothed comb. This will also help to reduce the breakage and friction more commonly associated with plastic combs; ending up with less static electricity. Either way, you may still want to attempt to discharge any static buildup.
7. Creams or Lotion
In a pinch, you can use a small amount of hand cream or lotion to tame the static. By a small amount, we mean a very tiny amount of lotion. Essentially you will rub the lotion or cream into your hands and run your hand through your hair just before the lotion is completely absorbed into your skin.
Just a quick reminder, most lotions, and creams are not meant to be used on your hair and you should not use this tip unless it is your only option. Also avoid any lotions or creams that contain alcohol, such as a hand sanitizer, as they will dry out your hair.
8. Hair Oil
Hair oils, such as those used to give a deep conditioning treatment is a great option for taming the static in your hair. A good option is to place a small amount of oil in a tiny baggy with a couple of cotton balls. We mean just a few drops of oil. When you need to battle the static, pull out a cotton ball and spread some oil on your hand and run it through your hair. Not only will this tame the frizz from static, but you will also add moisture to your hair. You will not have to worry about harming your hair.
Add some sort of moisturizing routine to your hair once a week. This could be an oil mask-like Moroccan oil or argan oil or whether that's a deep conditioning mask made from your regular conditioner. Adding deep conditioning or moisture treatment will do wonders to cut down on static.
9. Use a Leave-in Conditioner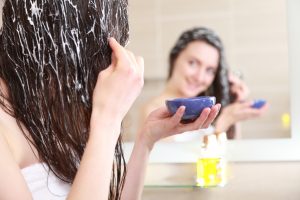 Using a leave-in conditioner not only helps to improve the overall health and softness of your hair it can be a preventative method to avoid static from the beginning. If you do not already use a leave-in conditioner, you can add a few squirts of your favorite conditioner to a spray bottle, shake it well. This makes a great leave-in conditioner.
Other hair products that may be used to help combat hair static include pomades, gels, mousse, and even some hairsprays. Remember to use as little product as possible to avoid unnecessary buildup. However, in a pinch, any of these hair products will effectively combat static electricity.
Alcohol is really bad for dry and frizzy hair, so remember to look at the ingredients. Often, one of the first ingredients is alcohol, if so, then you need to find a different hairspray. You also want to avoid too much hairspray during the winter months because the more hairspray you use the more likely your hair is to be full of static, especially if the hairspray has a ton of alcohol in it.
10. Avoid Wearing Synthetic Clothing
Natural fibers conduct static easily and more quickly, allowing the static electricity to discharge more quickly. Synthetic fibers, such as polyesterusually produce more friction. Therefore, they will result in higher levels of static.
Synthetic fibers are not the only culprit when it comes to clothing. Even sweaters made from all-natural fibers can hold onto static electricity, especially over the months when they are stored. When it comes time to break out those sweaters, take a moment and lightly spray the sweater with a fine mist of water. Then run your hand along the sweater, this will help to remove any static buildup.
During the season you may also want to lay your sweaters and other knit garments flat to dry instead of using the dryer which can add to the static buildup. A great tip for a majority of our heavier winter and cold-weather clothing. If you must use your clothes dryer, remember to tumble on low for the final minutes and avoid over-drying, which can cause even regular t-shirts to hold onto static.
11. Anti-Frizz Spray
A common way to combat static is the same way many fight frizz. Anti-frizz sprays usually have oils diluted in water, a combination of two methods listed above. You can also make your own anti-frizz spray by adding a teaspoon of coconut oil to a spray bottle of water. Make sure to shake the bottle well before spraying on your hair.
12. Avoid Using a Bristle Brush
Bristle brushes, especially those made of synthetic fibers increase the amount of static in your hair. You can use a natural fiber brush to help reduce the static or use a metal comb instead of a brush (see above).
Some of the more open bristle brushes may not cause as much static as a solid bristle brush. Additionally, if you use an open or vented brush when you are blow-drying your hair, you may want to avoid over-drying your hair, as you are basically using two methods that may increase static in your hair.
13. Reduce Your Shampooing Routine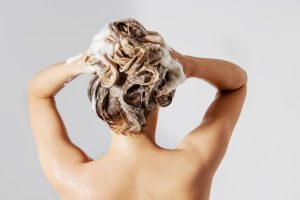 Clean hair is more prone to static than less-than freshly clean hair. Going even an extra day without washing your hair will drastically decrease the amount of static in your hair. We do not suggest going for a long time without shampooing your hair.
Consider occasionally using a conditioner sop without shampoo for a little bit. You can still benefit from the moisturizing aspects of your hair needs about stripping your hair with the shampoo.
You should also use a good quality conditioner each time you shampoo your hair and remember to rinse your hair thoroughly. While the conditioner will help to combat static, product buildup in your hair can lead to other issues beyond static.
14. Use a Heat Protectant
There are several heat protectants available, including oils, sprays, and even wipes (suspiciously similar to dryer sheets). Any of these products will help to reduce the static electricity in your hair.
Keep in mind your hair needs to be deep conditioned. The more moisture you add to your hair the softeryour hair will be; this will also act as heat protectant. Therefore, it is very important that you deep condition your hair. Heat protectors are designed to help protect the hair from heated styling products. They do so by slightly coating the hair. This will also help to reduce the amount of static build-up in the hair.
15. Avoid a Traditional Towel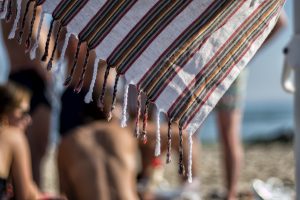 If you do not know already, the towel you use to dry off your body is not the best way to dry your hair. There are several options that you can use to replace that towel. One of the easiest is to use a cotton t-shirt to dry your hair. You can also use a microfiber towel. The best way to avoid adding static is to avoid towel drying your hair anymore than you have to.
Roughly using a towel to get all the water out creates a lot of static and may even create excess breakage in your hair and it can create a lot of frizz. So, what you can do is actually squeeze your hair without friction, and avoid the rough scrubbing of the hair that many people are used to doing.
16. Use a Satin Pillowcase
Sleeping on a satin pillowcase might sound like a weird idea but it is so good for your hair it actually will help cut down on any static or fizziness that may occur when you move throughout the night. As an added bonus it will also help to reduce hair breakage.
A satin or silk blend pillowcase helps to reduce friction that will lead to that positive charge throughout the day, the less the positive charge is in the morning the farther it will have to go to reach the level that will start to frizz and become filled with static.
17. Adding Healthy Oils to Your Diet
Adding healthy nuts to your diets, such as whole cashews and almonds are really good for your hair. Additionally, adding healthy oils, such as coconut olive oil are packed with important nutrients that your hair needs in order to grow healthy and strong. They will definitely help with any static issues that you might have.
While you can add these oils to your diet directly there are also a number of supplements available on the market to help to provide these essential nutrients to your diet and as a result, your hair will benefit. Look for supplements that are high in natural and organic ingredients to avoid consuming any unnecessary toxins.
18. Water
Another easy tip for removing static when you are in a pinch is to run your hands underwater, shake off the majority of the water and run your hands through your hair. If you have curly hair, you may notice that the hair may start to curl a bit more. However, you will have to decide which you prefer curl or static. If you are reading this then we bet that you would prefer the curl.
Final Thoughts
We've provided you with 15 ways to stop the static electricity buildup. All you need to do is keep a few of these tips in mind when that time of year rolls around that tend to cause your hair to be full of static and you will be electric without having to worry about a surprising shock.
We also suggest combining two or more of the suggestions to help achieve the best results. For example, adding the healthy nuts and oils to your diet will take time to affect your hair. This will only work on new hair growth. So, adding in some of the other suggestions, such as a regular deep conditioning treatment, lightly spraying your hair with topical hair oil or water, and sleeping on a satin pillowcase can all be combined for a more effective battle again the static that has been such a pain.
No matter which option, or options, you choose to use, you should always try to avoid over-drying your hair, take extra time, especially in the winter or colder months, and avoid statically charged areas to help keep your hair looking its best. We hope you have found this article helpful in providing you with a ton of hints and tricks to keep your hair from getting out of control with static. As always, we wish you the very best in your hair journey.