Hair weaves are used for various reasons. Some women use them to add more volume and bounce to their hair, while others get them simply to change the way they look. For instance, it is common for women with very curly hair to use straight weaves to get the pin-straight hair look.
After all, chemical straightening can cause massive damage to the hair. On the other hand, heat-based straightening rarely lasts for more than a few days, which is completely unfair since heat-based curls last much longer.
This is the main reason why we believe that straight weaves are more in demand than curly weaves. In fact, we were compelled to create this guide on best straight weaves precisely because of the magnitude of demand for these types of weaves in the market right now.
Therefore, if you've been considering straight weaves and have been wondering what your options are before making a decision, you've landed on the perfect page. Here, you'll learn everything you need to know to find the best straight weaves of all the options available in the market. We've even created the following clickable navigation panel to help you along.
Why Get A Weave
Hair weaves have been gaining popularity in recent years owing to more media coverage. While Hollywood celebrities, pop icons, and sports superstars should largely be credited with the increase in popularity of hair weaves, the inherent benefits offered by these hairpieces have also played a role in boosting their appeal.
In fact, one of the best things about hair weaves is that their benefits are more than only aesthetic because they also help protect the hair in multiple ways. Let's delve into their benefits in a little more detail.
Wide Variety of Options to Choose From
Hair weaves have to be the most versatile option when it comes to artificially enhancing hair. You can get hair weaves in every length, every texture, and every style possible. In fact, if you can't get a particular combination, then you can always modify a basic bundle to have that combination.
The fact that there are so many options to pick from has another connected benefit – suitability. Because hair weaves offer so much flexibility, it becomes easier for a woman to find styles that match her current appearance.
A wisely chosen hair weave will match the existing hairstyle and texture so well that it will look natural to all but the most trained eye. This can take away insecurity and awkwardness that many women feel when artificially enhancing their hair.
Changing Look Without Damage to Hair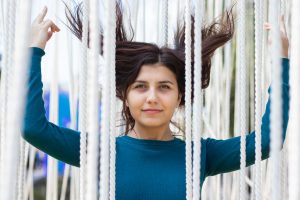 Chemical treatments almost always damage hair. The damage caused not only becomes more visible but also irreversible with repeated chemical treatments. Changing the appearance with hot tools has the same drawback – damage to the hair.
Hair weaves, on the other hand, will not only allow you to change your appearance but also do it without damaging your hair. Moreover, throughout the time that a hair weave will stay in your hair, it will cause no damage.
The reason for this is their simple installation. Hair weaves can damage natural hair only when bonding or glues are used to install them. Bonding can result in a condition called traction alopecia where the hair breaks or is pulled out with the follicle because of physical stress. This is why an expert stylist will always prefer to sew them on to braids of natural hair.
Protection for Natural Hair
Hair weaves will not only help you change your appearance without causing any damage to your hair but, in fact, will protect it. Because your natural hair will be braided and then buried under hair weaves, it will be protected from everything that could damage it in normal circumstances.
This includes everything from changing moisture in the environment and temperature variations to excess sun, pollution, and even daily wear and tear caused by regular washing and brushing.
Even more importantly, you'll gain protection from the damage caused by hot tools. In fact, if you have hair weaves in place, you'll be able to use hot tools on hair weaves as many times as you want to change your hairstyle without worrying about long term damage to your real hair.
Excellent Staying Power
Hair weaves are very long-lasting, especially when compared to other methods of changing hairstyles.
In most cases, a hair weave will stay in place for two months. If maintained properly, it can last for up to three weeks. If it is maintained to an extreme level, it can even be cleaned after those three months and then reinstalled. However, hair weaves that last more than three weeks are very rare.
While this period is almost the same as what chemical treatments provide, it is important to note that hair weaves cause no damage to natural hair while chemical treatments do long-term damage.
If compared to the effects of hot tools, hair weaves are significantly more lasting. The appearance change achieved through hot tools only lasts for one or two washes. This results in their repeated use, which, in turn, causes further damage to the hair.
Best Straight Weaves: By Quality
The quality of hair used in the production of the hair weave will determine its overall quality. In general, there are three qualities – Synthetic, Virgin, and Remy.
Synthetic Hair Weaves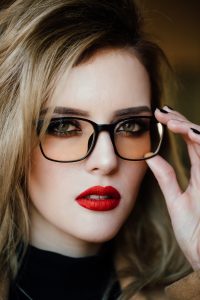 Synthetic hair weaves are either made up of synthetic hair or human hair that has gone through extreme processing.
Synthetic hair is usually made up of plastic or polymer. Extremely processed human hair is also put in this category because the chemical treatment it goes through takes away its natural look.
For instance, during the procedure, chemicals are used to strip away the cuticles of the hair. Subsequently, more chemicals are used to artificially coat the stripped hair, resulting in hair that looks very artificial and unnatural. Whether heavily processed human hair or completely artificial hair is used, synthetic hair weaves are always extremely cheap.
Synthetic hair weaves are better recommended to people looking for short or curly hair weaves in bold colors. In contrast, they're an extremely poor choice for someone wanting straight hair weaves. The reason for this is that short curls and color can hide the artificial nature of synthetic hair weaves while the simple straight style makes them very obvious.
Virgin Hair Weaves
Virgin hair weaves are more suited to people looking for straight weaves because they're made with unprocessed human hair. The hair is taken from the scalp of donors and is closest to its natural state. This is why virgin hair fares much better on straight weaves when it comes to appearance.
Virgin hair straight weaves, as a result, are also significantly more expensive than synthetic hair weaves. While more expensive than synthetic hair weaves, virgin hair weaves can be said to be in the mid-level price bracket.
This is simply because there is another type of hair weave that is even more expensive on account of offering even more quality. We're, of course, talking about Remy hair weaves.
Remy Hair Weaves
Remy hair is the best quality of hair to be found when it comes to artificial hairpieces. As is the case with virgin hair, Remy hair is taken from the scalp of the donor.
The difference between the two is that Remy hair is not only completely unprocessed but also arranged in a way that all the cuticles on all the strands are aligned in a single direction. This means that all Remy hair qualifies as virgin hair.
While it is being collected, Remy hair is painstakingly aligned in one direction. This offers multiple benefits, with the most obvious one being that it makes the hair weave look as natural as possible. The other is that it prevents the strands from tangling with each other.
Getting Remy hair is a time-consuming, effort-intensive task. This is why it is so exorbitantly priced. However, because of the quality of the hair involved, Remy hair straight weaves are easily the best straight weaves any woman can invest in.
How to Check the Quality of The Straight Weaves?
Apart from relying on reviews and reputation, the only way to verify the quality of the straight weaves you're considering is to ask for samples from the seller. If you can get the sample, there are quick tests you can run to check the quality level of the weave. Here are the tests you can run.
The Smoke Test
The smoke test is the easiest way to check if the sample you've been given is of synthetic hair or real hair. The test involves burning a small portion of the provided sample.
When burnt, human hair will always turn to ash and emit white smoke. Synthetic hair, on the other hand, will leave behind a melty residue and will emit black smoke when burned.
Human hair only leaves behind ash because it is mainly protein, while synthetic hair behaves this way because it is primarily composed of plastic.
The Sniff Test
Generally, sniffing the hair should give you a rough idea if the hair has gone through some chemical treatment. If the hair has been processed in any way, the chemicals used or the treatment may leave behind a scent on it.
There is a way for you to verify your findings too. You can use a neutralizing shampoo on a small portion of the sample. If the neutralizing shampoo changes color, then you know that the hair went through chemical treatment of some kind. If you install a straight weave made up of chemically processed hair, then you can expect its appearance to change after some time and a few washes.
In case you didn't know, neutralizing shampoos, are shampoos designed to neutralize the pH of your hair. They neutralize alkaline and acidic chemicals in your hair, balancing its overall pH value.
The Cuticle Test
The first test reveals whether your sample is synthetic or human hair. The second test reveals if the human hair in the sample is chemically treated or virgin. The cuticle test will show you if you're holding a sample of Remy human hair.
All you need to do is run your finger up and down the length of the hair. If the cuticles have been aligned, as happens in Remy hair, the hair should be smooth in one direction but slightly rough on the return. If you face resistance going up and down both, then you don't have a Remy hair sample.
Best Straight Weaves: By Origin Physical Characteristics
Quality is one way to categorize straight weaves. Another variable that can be used to differentiate between various hair weaves is their origin.
Remy hair weaves or virgin hair weaves will need natural hair from real donors. These donors could come from anywhere in the world. Since people of different ethnic backgrounds have hair with different properties, the collected hair will vary from country to country.
Hair for hair weaves is usually sourced from developing nations such as India, Malaysia, Brazil, Vietnam, Peru, Cambodia, Mongolia, Myanmar, and Indonesia, amongst others because it is cheaper. While hair from all these countries is great, only some of them offer hair best suited for straight weaves.
These are India, Vietnam, Malaysia, and Brazil in descending order of their suitability for straight weaves. This means that Indian and Vietnamese hair form the best straight weaves with Indian hair, only pipping Vietnamese hair by a small margin.
So, we'll begin with Indian hair as we dive into specific characteristics of the hair sourced from these nations.
Indian Hair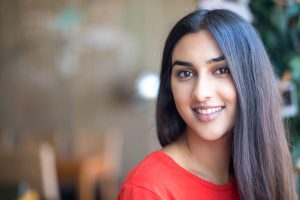 There are multiple reasons why Indian hair is the best option for someone interested in straight weaves, but the primary one is that Indian hair is very dense. The high density of Indian hair allows them to stay straight much longer than hair sourced from other places.
What also helps Indian hair straight weaves maintain their straightness longer is that Indian hair has medium coarseness. Indian hair's level of coarseness, in fact, is perfect for straight weaves. Other types of hair that are coarser or finer tend to lose their straightness much faster.
The medium coarseness of Indian hair helps it in another way, i.e. compatibility. Straight weaves made up of Indian hair are significantly easier to blend with natural hair than weaves made of other hair types. The fact that Indian hair is also quite soft means that it is not only more pleasant to touch but also more natural-looking.
All these qualities, combined with the affordable pricing of Indian hair, have made Indian hair bundles very popular. This has, in turn, resulted in Indian hair bundles becoming widely available. The combined effect of increased availability and popularity is that Indian hair bundles are affordably priced.
The only flaw real flaw of Indian hair is that it becomes frizzy very easily. This can affect the straight weaves greatly if you live in a region with a lot of humidity. The easiest way to counter this problem is to keep your Indian hair straight weaves moisturized as much as possible.
Vietnamese Hair
The only reason we haven't put Vietnamese hair at par with Indian hair when it comes to suitability for straight weaves is that the former isn't as easily available as the latter. In fact, if they became easier to get and more affordable, Vietnamese hair bundles can give Indian hair bundles some real competition not only for straight weaves but for other types of weaves as well.
Vietnamese hair and Indian hair share many attributes. For example, like Indian hair, Vietnamese hair also has medium coarseness. However, it is denser and thicker than Indian hair. This means that it has more weight. The extra weight makes it even better for straight weaves. Moreover, Vietnamese hair is easy to blend with most western hair colors and styles, just like Indian hair.
On the other hand, Vietnamese hair may not be as soft or as silky as Indian hair. However, there can be a lot of variation in its texture. You can fine Vietnamese hair bundles softer and silkier than Indian hair bundles and vice versa, depending on where they were sourced from within Vietnam.
As you're looking for best straight weaves, this may not be relevant to your requirements, but Vietnamese hair holds curls far better than Indian hair.
Malaysian Hair
Malaysian hair is also a good option for straight weaves primarily because of its texture. However, it is the complete opposite of Indian and Vietnamese hair when it comes to its texture because it is very fine.
Its fineness, though, makes it very silky. Both these qualities give Malaysian hair-based straight weaves a very ethereal and attractive look. The silky nature of Malaysian hair also means that it doesn't frizz a lot. This means that Malaysian hair straight weaves are good at handling high humidity locations.
Malaysian hair bundles are as easily available as Indian hair bundles. In fact, they're also incredibly affordable, just like Indian hair bundles.
The biggest problem you'll face with Malaysian hair bundles, though, is their compatibility with your natural hair. Because of their unique texture and properties, western women face a lot of difficulties blending Malaysian hair bundles with their natural hair. In fact, you'll need to have very fine hair for Malaysian hair straight weaves to work for you.
However, if Malaysian hair bundles do match with your natural hair, then you'll get very versatile weaves. While you may start with straight weaves, you'll be able to curl them easily because Malaysian hair holds curls very well.
Brazilian Hair
Hair that is too coarse will not work well when it comes to straight weaves. The reason for this is that coarse hair doesn't stay straight for long. The coarsest hair that can be used for straight weaves is Brazilian. Any coarser and it would be difficult to create a straight weave.
In fact, Brazilian hair is much coarser than Indian and Vietnamese hair. It has a very thick texture as well. Despite its coarseness and thickness, it is still very soft and silky. All these qualities of Brazilian hair make it a great option for straight weaves for women of African descent.
The reason is that African American women tend to have thicker and coarser hair than women from most other ethnic backgrounds. Therefore, Brazilian hair straight weaves blend well with their natural hair.
We should also mention that when it comes to Brazilian hair, there are many color options to choose from. This isn't something that other sources of hair can claim.
Most other types of hair are not suitable for straight weaves because they're thicker and coarser. This includes Peruvian hair, Eurasian hair, Cambodian hair, Mongolian hair, Filipino hair, and Burmese hair.
How Many Bundles Will You Need?
This is a very difficult question to answer because it depends on multiple variables, including the style of the weaves, the length of the weaves, the type of hair bundle, and even the state and type of natural hair. Even so, since this guide is about best straight weaves, the thumb rule you can begin with is that most women need at least two bundles.
Curls tend to occupy more space, which means you need fewer bundles. Straight hair, however, occupies as little space as possible. This is why if you want volume and bounce, you need to start with more hair bundles.
If your hair is thinning or you're getting straight weaves to get more volume, then the number of hair bundles you'll need will depend on the starting point, i.e. the volume of your natural hair and the final result i.e. how much volume you want in the end.
You should also note that the longer you want your hair weaves to be, the more hair bundles you'll need to buy.
How to Wash Your Straight Weaves?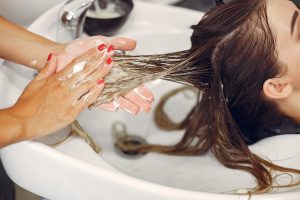 While wigs are mainly used by people short on hair, hair weaves are sewn on to existing hair. It is because of this reason that managing and maintaining straight weaves is slightly more complicated than doing the same with conventional, full-fledged hairpieces or wigs. Besides, you can't take off straight weaves and wash them the same way that you can wigs.
So, the big question is, how do you wash your straight weaves. The answer, to be glib, is very carefully. Also, you should limit the washings to once a week. As to the nitty-gritty of actually washing straight weaves, here are some steps.
The first thing you do is remove tangles from your straight weave. Get a wide-toothed comb and gently run it through your weaves. This should loosen and remove knots and tangles.
To wash your weaves, you'll need a high-quality, moisturizing shampoo that doesn't contain any harsh ingredients such as sulfates, parabens, or even too much alcohol. The moisturizing feature is very important because your weaves don't get the benefit of the oils your scalp produces for your natural hair. This means that they're prone to drying very fast.
Create a solution of shampoo and water to wash your weaves. Remember to start at the top and then gradually move to the bottom without scrunching your hair. Your hands' motion should be side to side instead of top to bottom. Moreover, you don't want to rub the hair too hard or it will become tangled.
You'll also have to make sure that you wash your natural hair under the weaves. Since your natural hair will be braided and covered, it may be greasy and dirty because of buildup. To clean them, pour the shampoo solution straight into the braids. Pour enough for them to be drenched properly before rinsing them out thoroughly.
After you've rinsed your natural hair, you need to condition it. You need to create a conditioner solution in the same way that you created the shampoo solution. Don't rinse away the conditioner solution immediately, though. If you do, your natural hair won't get moisturized.
Next, you should condition your weaves. Use the same solution and the same hand motions. Again, leave the conditioner solution in place to ensure that your weaves get conditioner properly.
After a while, you can rinse out both the natural hair and weaves. Make sure that you're thorough about rinsing out the conditioner. You don't want to leave behind any product as that will cause them to get dirty quicker.
While drying both your natural hair and your weaves, you need to be very careful. You neither want to ruin the braids of your natural hair nor tangle your weaves. To dry both, you need to use a soft, microfiber towel and blot the hair very gently.
Tips to Protect Your Straight Weaves
While washing your straight weaves properly will be very helpful in protecting them in the long term, there are many places other than the bathroom where things can go wrong. A few other things you can do to protect your straight weaves are:
Make sure your weaves dry properly. You should avoid sleeping and wearing headgear while they're still wet as that will lead to tangles.
Always brush your straight weaves using wide-toothed combs. Normal combs and brushes will immediately result in tangles and breakage.
Use a leave-in conditioner to make sure your weaves are moisturized all the time. How often you use the leave-in conditioner depends on your unique circumstances. For most people, using the leave-in conditioner once a week should be enough but, if your straight weaves dry really fast, then use it more frequently.
Your straight weaves are as susceptible to excessive heat as your natural hair, if not more. Avoid using hot tools on them too much. If you do use hot tools, make sure you use heat protectants.
Take special precautions based on the source of the hair. For example, if your straight weaves are made of Indian hair bundles, then you'll need to anti-frizz products as well.