Tipping your barber is important. When you know how much to tip a barber, you are showing them that you value the work that they are doing and establish yourself as a trustworthy client they will be happy to work with again in the future.
When you are a good tipper and are seeing the same barber frequently, you are more likely to get high-quality service. You are also more likely to get extras that are normally an extra charge for new customers or bad tippers. If you have a difficult schedule, good tipping habits will also increase the likelihood that your barber will be willing to work with you to fit you into their busy schedule.
A skilled barber can help you look more professional, and can save you from painful cuts or embarrassing mistakes. Their time and expertise are valuable, and good tipping behavior shows that you are aware of that fact.
However, it can be difficult to know how much you should tip your barber, especially when there are many factors involved. If you need to know how much to tip your barber, keep on reading. We will explain to you how much you should tip in different scenarios.
Services and Tip Amount Comparison Table
Let's go over how much you should tip based on different services. Save this handy table so you always know how much you should tip for the service you are receiving from your barber.
| Service | Tip Amount |
| --- | --- |
| Normal Service | 15 – 20% |
| Extra Perks Added For Free | 20 – 25% |
| Barber Comes To You | 35 – 40% |
| Barber Works On A Holiday | 40 – 45% |
| Holiday Season | 50 – 100% |
| Barber Does Not Do Satisfactory Work | 10% |
| Barber Carelessly Hurts You Or Is Offensive | 0% |
Some Things To Consider
As you can see, many of the tip amounts we have included are ranges. So, you might be wondering how to determine if you should tip on the low end or high end of each scale. This is dependent upon your unique situation, and the situation of your barber. Here are some of the things you should take into consideration when deciding how much you should be tipping your barber.
If You Are Getting A Discount
Many of us see barbers who are our friends and someone that we know personally. When this occurs, you are likely getting a discount from what their standard rate is. If you believe you are getting a discount, or if you value their friendship, you should be tipping at the higher end of the scale.
If Your Barber Adjusted Their Schedule
If your barber came in when they do not normally work, or gave you a last-minute appointment, this means that they value you as a client. You should return the favor in this scenario by tipping at the higher end of the scale.
If You Came In With Dirty Hair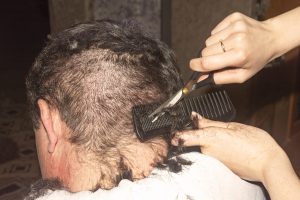 If you came in with dirty hair, your barber is going to have to wash it first in order to get the proper cut. Most don't charge extra for this service, but it does take extra time, product, and effort on their part. If they washed your hair for you, be sure to tip them on the higher end of the scale. And next time, make sure to wash and dry your hair before you show up.
If It's Been Awhile Since You Visited Your Barber
When a haircut grows out, it is going to be more difficult to get it back to the way it looked before. Our hair grows at uneven rates, so getting the same style when you waited too long between appointments is going to take more effort. If you went to your barber looking like a mop, make sure you are tipping them extra.
If You Changed Or Cancelled Your Appointment
If you had to change or cancel your last appointment due to your busy schedule, you should make sure to tip your barber extra. That was time on their books they might have not been able to fill because they were holding the appointment for you. Make sure that your barber knows how much you appreciate their flexibility by tipping them more for their service than you normally would.
If You Live In An Expensive Area Like A City
Working a service industry job while living in an expensive city can be difficult, but these service workers supply us with immeasurable value. If you live in one of the more expensive places in the country, be sure to reflect that in the amount you tip your barber.
These services tend to be more expensive in the cities already, for this very reason. However, you should still add about 5% more than if you got a good cut in the suburbs. The extra cash will help your barber keep their doors open so that you can be sure that you are getting a great haircut for years to come.
When You Have Thick Hair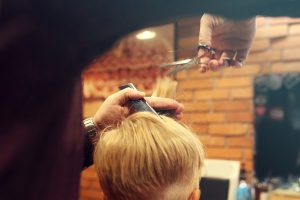 In some barbershops, thick or long hair is already an extra charge as it takes much longer to style. If your barber doesn't charge extra for this service, but you know that your hair takes him or her much longer than a regular customer, go ahead and tip them a little bit more for their time.
When Your Barber Is A Pleasure To Be Around
If your barber really made you feel good and left you in a more positive mood than you walked in with, you should tip them a little more. A barber has a busy day, and a lot of emotional energy is put into making sure that you are happy. For this reason, it is a good idea to go ahead and shoot them some extra money. You'll be way more likely to get this same caliber of experience on your next visit.
When They Are Taking Extra Precautions To Keep You Safe
Now that COVID-19 is here, it can be very dangerous for barbers to stay opened and to keep you looking good. Furthermore, they are spending a lot of extra money for masks, gloves, sanitizer, and more. They are also working at a lower capacity in order to space out clients and keep the shop more empty.
If your barbershop is making the time and effort to keep you, their employees, and their other patrons safe, make sure to tip a little extra. This shows them that you appreciate their safety measures and can go a long way to helping them pay for the extra supplies they need at this time.
The Other People You Should Tip At A Barbershop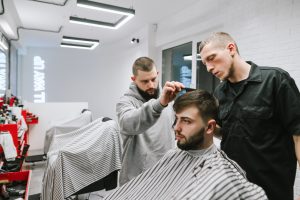 There has been a lot of confusion as to who you should tip at a barbershop, and if you should tip the shop owner if they are the person who is completing your service. The short answer is that you should tip every person who touches your hair or beard, but let's talk about how much you should tip each person.
The Owner
If the owner took part in your service, you should go ahead and tip them. If they completed the whole service, then tip the normal amount. If they were only there for a portion of it, it is okay to do about 10-15%, just make sure that the tip is at least $5.
An Assistant
If you came in with dirty hair or needed another service that an apprentice or assistant completed, it is standard to tip them a flat rate of $5. You can tip them more if they did a great job or it is near the holidays.
These assistants are generally paid very little while they are working on building their expertise, so it is important to make sure you are contributing to their career growth and education. Who knows, maybe they will be your barber one day!
Tipping With Gifts
Now that you know who to tip and how much to tip, let's talk about another controversial subject, which is tipping with gifts. The bottom line is that as long as you are tipping the standard amount of 20% for all services, it is fine to tip the extra amount for great service in the form of a gift or returned service.
Let's discuss some of the gifts that barbers like and what is appropriate.
Tickets To Events
If you have a ticket to a game or a show that you can't use, and you know that your barber likes that team, musician, or comedian, feel free to gift this as an extra tip. Barbers love gifts like this. However, it is best to be careful and to only give them something you know that they like. Talking to your barber during your appointments will definitely help in this regard.
Services From Your Business
If you are in a service industry yourself, it is fine to tip with a free service in addition to the base tipping amount. For instance, if you are a mechanic, a free oil change is completely appropriate. If you own a shop, you can give them a gift card to your store if you think they would like it. These types of gifts have value.
Handmade Items
Handmade items should be proportionate to the service that they are giving you. If you really like your barber and your wife wants to give him or her cookies in appreciation for how amazing you look, don't tip less because of them. The cookies are great, but they don't hold as much value as a service or event ticket.
If you make them something like a custom display case to hold product after hearing that they couldn't find the right one for their shop's aesthetic, you can stick with the standard base tipping, as this is a larger item that took time and money to make.
Barbershop Etiquette
You now know how to tip appropriately, who to tip, and how to tip using goods and services in addition to a regular tip. However, tipping alone isn't going to make you a client that your barber wants to keep working with. A huge tip alone isn't going to make up for the headache of being a regularly bad client.
In order to be one of your barber's favorite clients, make sure to follow the following etiquette standards so you can always get the best service.
Show Up On Time
Barbers schedule their days so that they can see as many clients as possible. They will not have the time to move their schedule around because you are late. Make sure to try to show up about 10 minutes early if you can, and alert them ahead of time if something happens and you are running late.
Most barbers will try to work with you but make sure that you are giving them as much warning as possible, even if you only think you might be late but you're not sure yet. This will give them time to adjust their schedules for the day while they wait on your arrival, instead of having to do it after you have already left.
Wash Your Hair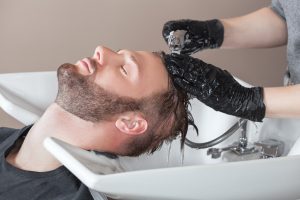 You should always wash your hair before you go to your barbershop. If you go in to get your beard shaped and trimmed, you should wash that, too.
Having product in your hair makes it difficult to get an accurate cut. Furthermore, having sweat and grease in your hair is gross and unsanitary for the people that are working on you. Even if a wash is included in the service that you get, you should make sure that you are going in with clean hair.
The only exception to this rule is if you are someone who gets bleach put on their hair. Bleach can burn a clean scalp, so many barbers and stylists actually suggest going in with semi-dirty hair. They will wash your hair when they finish processing the bleach, which is the first step they will take if you are lightening and styling your hair.
Stay Off Your Phone
Obviously, you aren't going to be able to hold your phone up to your ear if you are at the barbershop, which means that whoever you are talking to is going to be on speakerphone. Your barber is at work all day long and probably wants to listen to their music or talk to you, not be a third-wheel on your work phone call.
Emergencies happen, and everyone understands this, but you shouldn't be calling your friends and family just to have a chat because you are bored. This is rude and disrespectful. Instead, engage in conversation with your barber. You may learn some interesting stories, or be able to vent about your day.
Additionally, if you are putting your head down and looking at your phone, you aren't going to be in the proper position to get your hair styled. Make sure to look straight ahead and keep your eyes off your phone as much as possible.
Whatever you do, make sure that you don't purposefully bring in a tablet or a laptop so that you have something to do while you sit in the chair. This shows that you have no interest in talking to your barber and you are going to make their life more difficult before they even start working on you.
Know What Haircut You Want
A great barber is going to have a busy schedule, and he isn't going to have time to wait on you while you flip through your phone or the stylebook trying to decide what haircut it is that you want.
Make sure that you have made a decision ahead of time. If you aren't sure how to describe the cut, bring pictures to show him. If you have his cell phone number, you can also text these pictures to him the day beforehand so he has time to consider it and ask you any follow-up questions.
Not only will this help your barber save time, but it will also help ensure that you get the exact style that you were looking for. This is what we like to call a win-win.
Schedule All The Services You Need
If you get your beard shaped by the same barber who cuts your hair, make sure that you are communicating every time that you need both of them done. This is particularly important if you are using an online scheduling service or if a receptionist takes your call to schedule your service.
While your barber may know that you always want both services, an automated service or a receptionist may not, and there's a chance they won't put enough time on the calendar for both. While your barber will most likely do both for you, it is going to screw up his schedule for the day. Out of respect for him, make sure that you are booking what you need ahead of time.
Respect His Expertise
It is very rude if you tell your barber how to cut your hair. You wouldn't tell a pilot how to land a plane, would you? Your barber has spent a lot of money and time going through rigorous training in order to become a master at his craft.
When you are sitting in his chair, you need to remember that he is the expert, and that you are not. You probably would be very irritated if someone without any experience told you how to do your job, so make sure that you have the same respect for him.
Be Patient And Still
A good haircut is going to take a lot of time, particularly if it is a more complicated style. If you have asked for something that takes more time, then be patient. Every person's head is different, and even the most experienced and talented barber is going to take as much time as they need in order to give you the best end product.
Furthermore, you need to stay very still. If you are getting antsy, it is okay to ask your barber to stop for a moment so you can stretch and shake off some of the tension. Otherwise, you need to make sure you are not moving your head. Your barber could make a mistake that could ruin your haircut at best, or seriously harm himself or you at worst.
Keep Conversation Pleasant
You don't want to make your barber uncomfortable, so make sure that you are keeping your conversation pleasant. If he brings up a topic that you feel comfortable talking about, then go right on ahead. However, you are in his place of work, and it isn't the time to be talking about politics, religion, or other issues, especially if you think both of you will have differing opinions.
Look at it this way, you wouldn't like it if one of your clients started trashing your ideologies to you, without you being able to speak your mind out of fear of losing a client. Don't put your barber in the same position as a captive audience.
Bring A Mask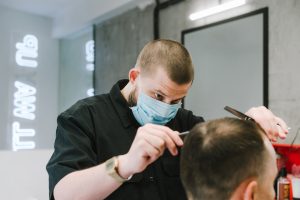 While most barbershops are going to have extra masks for you in order to help keep you safe and to keep themselves safe from you, it is better to bring your own. The disposable paper masks do not work as well as a tight-fitting mask. It also saves them a little money when they do not need to supply you with a mask.
While this might be a no-brainer, it is important that you are making sure you are bringing the right mask for your appointment, as well. Many people like masks that secure around the back of the head as they do not cause as much pain to the ears and are easier to keep in place. However, you might totally forget ahead of time that your mask won't work in this scenario.
Make sure for your appointment that you are bringing a tight-fitting mask that fits behind the ears in order to show respect for the person putting themselves at risk to make you look good. While you may know that you have been socially isolating, they don't know that.