When you're choosing a wedding hairstyle, there are a lot of things you have to keep in mind. You wouldn't buy a dress without considering your body shape, so why would you choose a hairstyle without considering your face shape? You probably wouldn't. That's why you are here.
How do you know if you have a round face shape?
You've probably been told that you look younger than you actually are your entire life.
Your cheekbones are (almost) the same width as the length of your face.
You have a soft jawline and non-angular features
You probably have those adorable "chubby" cheeks
What Hairstyles Should a Round Face Avoid?
Before we jump into hairstyle options for a round face, let's quickly go over the type of hairstyles you should avoid:
Slick backed hairstyles that do not have hair touching your face
Hairstyles that add width around the side of your face, this makes your face appear wider
Straight, flat bangs, this shortens your face
Center parts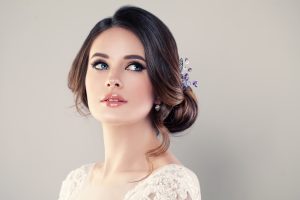 The Best Wedding Hairstyles for Your Face Shape
Deep Side Part and Soft Waves
If you're looking for a down-do for your wedding day and you want a hairstyle that is timeless then this look is perfect. A deep center part will alter the focus point of the length of your face and give you a more oval face shape. The volume from the waves will add length too. The light waves won't add too much shape and since you have that deep part, it will only add width on one side. This is perfect regardless of your hairs length too!
French Braided Crown with Loose Strands
If you want an updo that pulls all your hair off your neck (especially for those hot summer weddings) then this look is great. It isn't slicked back and the crown braid will add volume and length to your face shape. The loose strands will compliment your soft features and soften the emphases on your "chubby" cheeks.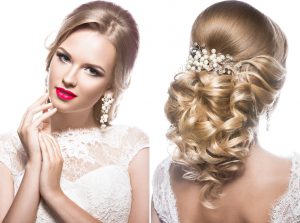 Half-Up Half-Down with Side-Swept Bangs
If you don't have bangs or you want a pulled back look while wearing your hair down, then that's fine. Just make sure that you put lots of volume at the crown of your head to add length. The long length will be slimming enough that the look works flawlessly. However, side-swept bangs and length left down are ideal for slimming a round face. And it's a classic wedding hairstyle.
Side-Swept Loose Updo
This type of wedding hair works well with every dress line and it's perfect for a round face shape. It adds subtle volume all around your face but since the hair is left loose around the cheeks, it helps create a slimmer appearance. The volume on the crown adds the length and together they create the perfect look for a round face shape.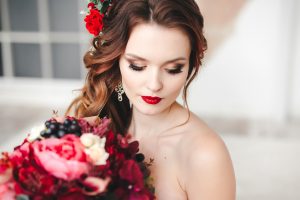 Loose Side-Swept Braid
Lots of people wear loose side-swept braids in daily life, which might make them seem too casual for a wedding. But they are tremendously versatile and can be the soft and romantic hairstyle that many brides love. Whether you choose a fishtail, French braid, classic 3-strands or something more unique, just make sure that you keep the part to the side, keep your bands or front hair sections loose and flowing and don't hesitate to add volume.