Beards are all the rage these days. Men of all walks of life in every profession are sporting longer and fuller beards than ever before from blue-collar labors to corporate CEOs. These beards need to be managed or else they will run wild, ending up dry, brittle, and worst of all the dreaded itch.
Two products that are marketed specifically to men with thicker, fuller beards are beard balms and beard oils. The problem is that most men have never even seen many of these products. Leaving many of us to wonder not only what they are for, but which one should we use.
Well, we are here to help you solve this dilemma. In this article, we will jump into both to uncover what they are, how to use them, and most importantly when each one should be used. That way you will be able to decide for yourself whether a beard balm or beard oil is right for your beard.
What is This Stuff?
If you have never heard of a beard balm or oil, don't be embarrassed. For centuries men have simply worried about keeping crumbs out of their beard and maybe giving it a comb now and then. Both beard balms and beard oils are products designed to help condition your beard, provide important nutrients, and leave it softer, stronger, and healthier. All these helps make your beard more touchable, and don't we all want to get closer?
What is Beard Balm?
Beard balm is a product used to style and shape your beard. Many men experience the annoyance of dry, wiry whiskers that tickle their face or worse drive them crazy with itch. A good beard balm will help keep those hairs where you want them and at the same time provide deep moisture to your beard and skin. Most beard balms are made using wax or wax-like ingredients that are more solid at room temperature but melt easily with the heat of your hands.
How to Use Beard Balm
Beard balms can be used to sculpt and define your beard or as a leave-in conditioner. The choice will determine how you should apply the beard balm.
A beard balm with a higher wax content works best for shaping. Using a very small amount of balm, warmed between your fingers, work the balm into the hairs as you shape the beard the way you want.
Beard balms used for deep conditioning can be a balm with more oils allowing the balm to soften and spread easier. These balms are worked through the entire beard and into the skin beneath; providing all-day softness and protection to your beard.
What is Beard Oil?
It should come as no surprise that beard oil is made of oils. Oils designed to provide deep moisture and leave-in conditioning to your beard. Most good beard oils will work deep into the hair shaft and skin helping to stop an annoying itch or dryness, leaving your beard healthier in the long run. Some beard oils also contain fragrances designed to act as a cologne, though we'd caution against oils with strong scents that can overpower your sense of smell.
How to Use Beard Oil
Using beard oil is super simple, Put a few drops in your hand spread it out and run it through your beard all the way to the skin. Depending on the type of beard oil and your specific needs, you may apply the oil 1 to 3 times a day. Most men find it's easier to use a beard brush to distribute the oil through their hair through their beard to get it evenly distributed. When using all-natural beard oil, you don't even have to worry about rinsing it out, it just soaks into the beard and skin.
How is Beard Balm and Beard Oil Different?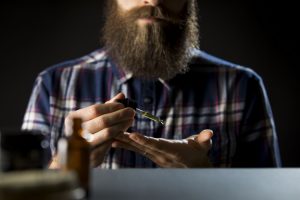 There are slight differences between beard balms and beard oils. Knowing these differences can help you to determine which one will work best for your beard. Also, many men use both products, one to provide deep conditioning and the other for control and style.
| Feature | Beard Balm | Beard Oil |
| --- | --- | --- |
| Oil-based | No | Yes |
| Hydrates the beard and skin | Yes | Yes |
| Highly absorbable | Less than oils | Yes |
| Treats Dandruff and Itch | Some | Yes |
| Weight | Medium to Heavy | Light |
Here are the features explained a little deeper…
Basic Ingredients
Many beard balms and oils contain some of the same oils and nutrient ingredients. Where they are drastically different is that a beard balm is a wax or butter-based, while beard oil contains only oils and maybe some essential oils for additional benefits.
Beard balms often contain some type of oil, but only as a carrier for other ingredients and to provide a softer texture. The oil content varies depending on the level of styling hold the balm is designed to achieve. For example, a beard balm designed for maximum hold may have very little oil and even resemble a beard wax, while a conditioning balm will have more oil content allowing the balm to penetrate easier into the hair and skin.
Hydration/Moisturization
Depending on the formula, most beard balms and oils provide some moisturization to your beard. However, the primary purpose of beard oil is to moisturize your beard, so they are going to penetrate deeper into the hair and skin than most any beard balm.
Beard balms can be a great source of moisturization depending on the formula. Referring to the types listed above the lower oil content balm for sculpting will provide significantly fewer hydration benefits to the beard than a softer conditioning balm.
Absorption
The absorption rate can vary significantly between a beard balm and beard oil. Just the ingredients alone will cause a beard oil to be absorbed easier. In fact, most beard oils, if not using too much at once, will leave your beard soft and supple with regular use.
Beard balms are designed to sit on the hair making it much longer to be absorbed into the hair shaft. This is obviously going to vary between formulas depending on the oil content.
Dandruff and Beard Itch
While both products can reduce dandruff and itch, beard oil is going to be a beardruff (beard dandruff) sufferers' best friend. With the exception of bacteria dandruff, the deep moisturizing properties of beard oils will help to reduce and may even eliminate the itchiness and flaky skin.
Weight
Beard balms will tend to weigh your beard down much more than any beard oil. This is definitely true if too much product is used. However, due to the absorption rate of most beard oils, even using too much beard oil will add less weight to even the longest beard than a beard balm.
What Does Your Beard Need?
Now that we have covered the differences between beard balms and beard oils, it is time to discover your unique beard needs. Both beard balms and beard oils can provide your beard with some great texture and softness, but as we've mentioned they can go much deeper than that.
Men with any type of beard can benefit from good beard oil. Many men start applying beard oil the moment they decide to let it grow. Beard oil's deep moisturizers not only help your beard hair but can work wonders for your skin too. Some beard oils can even improve your beard growth. And a good oil will help deal with that new growth itch like nothing else.
Men with shorter, tightly groomed hair will love the feeling that a good oil provides, and may want to use a beard balm to keep their beard hairs in place as well.
Longer beards can benefit from using both beard oil and a beard balm. As your hair gains length, the hairs will tend to dry out and get a bit out of control. Beard oil will help soften the beard while a balm will keep the hair under control. Beard balm is also the number one product to fight split ends in your beard hairs.
Time to Decide
Unlike other Versus article we have done, the truth is that you really do not have to choose between beard oil and a beard balm, since they work so well together. Although we understand if beard products are a new thing to you if you decide to go with one to start out.
Our suggestion would be for the first time beard product purchaser, definitely go for a good quality beard oil. There is a reason beard oils have been used for centuries, they do a great job of softening and strengthen your beard.
If you are unsure about using an oil, then a beard balm is still a great choice. Go for a softer beard balm that works through the beard thoroughly in order to get the benefits of both moisturization and a little control.
What to look for in Beard Balms and Beard Oils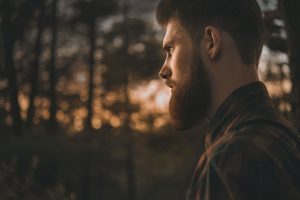 Now is a good time to get into the things you should look for when you are going to purchase either a beard balm or beard oil. Since the two are so close, the specifics are almost identical.
Ingredients
Perhaps the most important thing you can do for your skin and your beard is to make sure you only use products with the most natural and organic ingredients. When it comes to beard balms and beard oils this is extremely important, as both of these products work deep into your beard and even into your skin. Using harsh ingredients like sulfates and parabens can actually dry out your beard and cause severe irritation to your skin so take it from us; pure is best when it comes to your beard care.
A Few Tips for Using a Beard Balm or Oil (or Both)
We figured we would give you a few simple tips to help you get the best out of your new beard products. These tips are great whether you're just starting out growing a beard, or you have worn a beard most of your life. The majority of men find these tips to provide wear them with the best foundation for a great looking beer.
Start Clean
First, and probably most important, is always start with a clean beard. Whenever possible, avoid using a product on top of other products. You'll end up with nasty product buildup; which will cause the dreaded beard itch and can actually counteract the product you are trying to use.
Dry is Best
You will find that both beard oils and beard balms work best when they are applied to try to a dry beard. If you've just jumped out of the shower; towel drying is okay, but it would be even better if you either allowed you beard to completely air dry or use a blow dryer to make sure that your beard is completely dry before applying either product.
A Little Goes a Long Way
A great feature of both beard balmsand beard oils are that a little goes a very long way. This is especially true for beard oils usually no more 2 maybe 3 drops would be more than enough to work in completely through your beard. And even a beard balm, you should use about a pea size to start, if not even less, depending on the length of your beard.
Don't Forget Your Mustache
Both beard balms and beard oils work great for your mustache as well so don't leave it out when you're applying your balm or oil. You will also want to make sure to avoid overusing either on your mustache, especially oils with a high fragrance.
Best Beard Balms and Oils
We've covered about everything there is both the same and different between beard balms and beard oils, so we thought we would give you some ideas of great products that we love. These beard balms and oils are used by thousands of men with all types of beards, and you will see they are the best quality beard products around.
Editor's Rating: 4.6/5.0

View on Amazon
When what you want is a simple quality beard balm Badass Beard Balm is definitely for you. This unique formula is designed to soften your beard, encourage new growth, and helps get rid of that nasty beard itch and beardruff. Made in the USA by veterans, your satisfaction is 100% guaranteed. Trust us you will not be disappointed.
This beard balm is available in 12 scents, including an unscented option to help you find your inner badass. Made of only the best all-natural and 100% organic ingredients, these balms are handcrafted for the highest quality control.
Tech Specs
Product weight: 2.0 ounces
The Pros
All-natural and organic ingredients
Treat Beardruff and Itch
Improves beard growth
100% satisfaction guarantee
Made in the USA
The Cons
Scents may be too strong for some users… go for the unscented if you are sensitive
Editor's Rating: 4.5/5.0

View on Amazon
Another great beard balm is the one from Smooth Viking, this beard balm is a smooth and creamy balm design to provide necessary conditioners to your hair. This lightweight formula also provides a fairly good hold if you are looking for a styling balm. The unique formula may even make your beard appear thicker.
Tech Specs
Product weight: 2.0 ounces
The Pros
Lightweight formula
Leave-in Conditioner
Strong Hold
Smooth, creamy formula
The Cons
Strong smell, lingers
Editor's Rating: 4.6/5.0

View on Amazon
Our last beard balm comes from one of our favorite beard product companies, Honest Amish. Who can possibly know beard better than an entire group of men that have been sporting classic, long beards for centuries? This beard balm is made with only all-natural and organic ingredients. Handmade and packaged in the USA, this balm helps to soften your beard and reduce beardruff, all while smoothing your strands.
For best results, pair this balm with the Honest Amish Beard Oil (see below).
Tech Specs
Product weight: 2.0 ounces
The Pros
All-natural and organic
Smooth formula
Softens and Conditions
Little to no hold
The Cons
The thicker formula takes a long time to absorb
Editor's Rating: 4.7/5.0

View on Amazon
Bossman Jelly Beard Oil is the first of its kind. Bossman offers the advantages of other beard oils in an easier to use jelly formula. Many users claim that the jelly beard formula helps increase the growth rate as well as overall texture and manageability.
The jelly formula in this beard oil provides longer-lasting moisturizing that penetrates deeper into the hair follicles. Also, Bossman offers their jelly beard oils as part of a full kit, including scented balms and conditioners. If you are interested in the kit, check it out HERE.
A master blend of soybean oil, beeswax, castor seed oil, sunflower seed oil, avocado oil, shea butter, cocoa seed butter, tocopherol, and essential oils. Bossman's beard oil formula moisturizes deep into the pores to stimulate beard growth and increase thickness.
Available in multiple scents;
Magic – A rich blend of vanilla and sandalwood accented with bergamot, patchouli, and frankincense
Stagecoach – With a hint of the old west, this scent combines the smells of leather, sweet tobacco, and aged bourbon
Gold – A fresh woodsy scent offering a mix of cedar, spruce, sandalwood with a little lemon, bergamot, lavender, and saffron
Hammer – Geranium and lavender partner with vanilla and patchouli to offer this mechanical like scent
Naked – No essential oils included in this variety
Tech Specs
Product weight: 4.0 oz
The Pros
Jelly formula
A little goes a long way
Economical size (double most competitors)
Multiple scents
The Cons
Some scents may be overwhelming
Takes more time to absorb
Editor's Rating: 4.6/5.0

View on Amazon
Viking Revolution Beard Oil Conditioner is made with simple ingredients offering a simple and effective option for those just starting out with beard oils and conditioners. Made with 100% natural cold-pressed argan and jojoba oils, this beard oil will moisturize the skin and beard with eliminating beard dandruff.
Viking Revolution Beard Oil Conditioner provides a smooth, frizz-free beard experience available in unscented and sandalwood backed by a complete satisfaction guarantee.
Tech Specs
Product weight: 1 oz
The Pros
Good starter beard oil
100% Natural and organic ingredients
Money-back guarantee
Inexpensive
The Cons
Basic
No essential oils
Greasy
Editor's Rating: 4.3/5.0

View on Amazon
Honest Amish Classic Beard Oil is handcrafted using only the purest avocado, pumpkin seed, sweet almond, apricot kernel, golden jojoba, virgin argan, and kukui oils. Crafted by people known for their long beards the Honest Amish company makes each batch from scratch.
There is no one better to craft a fantastic product than someone who knows what a great beard may need.
This beard oil comes with a convenient dropper for easy application. The abundance of ingredients supports strong, healthy beard growth at a basement price. Available in 2 oz bottles, you are getting a great product that will go a long way.
Tech Specs
Product weight: 2 oz
The Pros
100% natural and organic ingredients
High-quality essential oils
Budget-friendly
Hand-crafted
Double the amount compared to most competitors
The Cons
Licorice-type scent
Oils are slow to absorb
Conclusion
Well, that should do it everything you need to know about beard balm and beard oil; how they are the same and how they are different, and even what may work best for you. When it comes down to it, you're the one that has to decide which product is right for your beard. However, we hope we helped you out a little bit provided you with some insight and even giving you a few tips on our fair appear bombs and beard oils, but you might want to give it try.