Close-set eyes are defined as having less than 1 eye width between eyes. If you have close-set eyes then you are in beautiful company. Celebs like Jennifer Aniston, Kristen Stewart and Miley Cyrus all rock close-set eyes and it's an absolutely stunning feature.  However, if you want your eyes to appear wider your hair can be your best tool to creating balance with your facial features. If you're a lady who feels that your eyes are too close together and you want them to appear wider than you can use a few hair styling tricks to create the illusion of wider-set eyes.
Close-set eyes can be found on every face shape but they are more common on longer face shapes. It's more important that a hairstyle will compliment your face shape than your facial features. Especially a feature like close-set eyes because this is something that can be fixed with make-up too. Once you've chosen the best hairstyle for your face shape, you can then start focusing on what facial features you want to emphasize and which ones you don't.
For ladies with close-set eyes:
Close set eyes are better with hair that's back off the face.
Choose hairstyles that add volume around the side and top of your face.
Keep the hair off your face because it will cover the skin on the side of your eyes and make your eyes appear smaller.
Make your hair more voluminous and side-swept.
A fringe that falls a third of the way down your face will balance features that are often with close-set eyes. Also, asymmetrical bangs will draw more attention to your jawline instead of your eyes.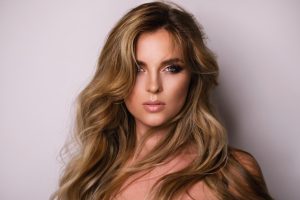 Side-Swept-Hairstyles for Close-Set Eyes
One of the simplest tricks to making your eyes appear wider is by wearing your hair side-swept. It pulls hair off your face and adds volume around the tops and side. Think Kristen Stewart – her hair is always off her face. You've covered all the tips in one simple hair trick. This easy hairstyle is perfect for any occasion and it's easy to achieve.
Hairstyles That Add Volume for Close-Set Eyes
We want hairstyles that are off the face but that doesn't mean that you have to wear a slicked back bun everywhere you go. Keeping your hair down but the front and sides up are some of the best choices you can make. This can mean pulling the front of your hair back and pinning it for a half-up, half-down hairstyle, utilizing the ever-popular crown braid, side-swept braids or just really teased hair.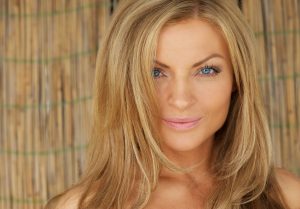 The Best Bangs for Close-Set Eyes
You want to draw attention to your eyes but not necessarily their proximity to each other. A long fringe that falls about a third down your face will draw attention to your eyes shape and color but will also create width using symmetry with your jawline.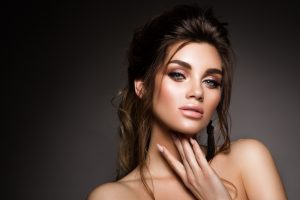 It's important that you remember when you're dealing with a "problem feature" that it's probably a bigger deal to you than it is to other people. You have to embrace who you are and many of the most attractive people in the world have close set eyes. However, one way that you can feel your best is by emphasizing your best features and minimizing the ones that make you feel insecure. Choose hairstyles that bring attention to the features that you love most and you'll rest easy knowing people aren't noticing those "problem features" anyway.