Baseball caps are actually a versatile and trendy accessory. Whether you're wearing skinny jeans and a blazer, workout clothes or your casual oversized sweater and jeggings, the right baseball cap can complete the look. There are many styles of baseball caps out there from wide-brim to quilted texture. If you keep your eyes open, you can find the perfect ball cap for you're every day wear, your workout gear and your ultra-chic looks. Here are some hairstyle suggestions for your ball caps.
Low Wavy Ponytail with a Cap
Unfortunately with a ball cap, top knots and high ponytails are out. But that doesn't mean ponytails are completely off limits. You just have to keep them low (or middle of the crown if your baseball cap has the opening). Add some texture by adding soft waves to soften the look. This is perfect for your casual day out running errands.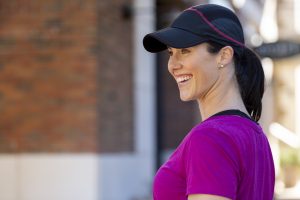 Side Braid's with Baseball Caps
Perhaps the ultimate hairstyle to wear with your baseball cap is the side braid. The ball cap is sporty and almost masculine while the soft side-braid will keep your hair casual, chic and contained under that ball cap. Best of all, they are perfect for bad hair days or second hair days. Opt for a fishtail braid to spice up this look!
Low and Loose Bun
You might steer clear of buns with a baseball cap out of fear that they will make you look too masculine without your locks hanging down by your face. But if you keep the bun low and loose, it's the perfect casual look for when you're out jogging or running those errands that you didn't feel like showering for or those times you simply don't feel like putting make-up on.
Straight Layered Hair with a Baseball Cap
Do you have long layers in your longer tresses that you never really bother to show off? Perhaps you simply put your hair up or you never bother to straighten your hair to get the look of dynamic layers. When you wear a ball cap, straighter hair is easier to manage and it looks beautiful. Whether you're actually going to a baseball game, or simply heading to your friends house party, this is a stylish look that photographs particularly well.
Soft Waves with Baseball Cap for Sophisticated Look
A lot of the looks that we have mentioned have been for the more casual outing. But if you're going out and you want to dress to impress, then match your baseball cap with some soft and elegant waves.