It depends on how many grays you have, your natural hair color and what type of fix you're looking for. Perhaps the most recommended solution for covering grays is a demi-permanent hair color. These last between 4-6 weeks and it doesn't damage your hair as much as a permanent hair dye. You can apply this directly to your entire hair color, as long as the hair color matches and you have a relatively affordable and easy solution to covering grays.
But, maybe you only have a few grays, want something more permanent or you want something less damaging than hair color all together. Here are a few different techniques used to cover grays.
Highlights and Lowlights
If you are going to opt for hair-dying technique but you don't want the at-home or box-hair dye experience, then we recommend going to your stylist and opting for highlights and low-lights. This will depend on your natural hair color, but it's a much more natural-looking option.
If You're a Natural Brunette
As you age both your skin and hair lose pigment, so your dark hair might need to lighten up too because if it's too dark it can cause too much of a contrast with your skin.
Lowlights are the best option against dark hair because they will create the look of highlights by offering a variety of dark hues and will appear like cool, ash streaks rather than gray hair.
If you have a mid-brunette hair color, opt for less saturated shades and choose cool, medium or ash browns. You can also opt for some blonde highlights that will compliment your undertones such as a honey blonde for warm skin-tones.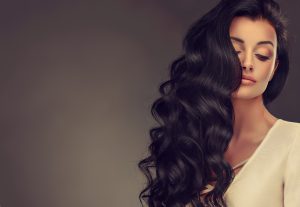 If You're a Natural Blonde
Blondes tend to fend off grays the longest, but there will still come a time when the grays start appearing. It's best to keep with the blonde and add highlights and low-lights of beige and medium blondes or even cool and ash tones.
If you're Naturally Red
If you are a red head head who is starting to notice grays, rather than choosing coppers or burgundy's, try adding warm browns or blondes into your red hair for a more natural look. If you like the bolder red hair colors, then choose the best color for your complexion and natural hair color.
Try Make-Up: Powders, Mascara and Coloring Sticks
Whether you only have a few grays or you're in-between coloring appointments and need to touch-up the roots, there are a few quick-fixes. Some women just use mascara on their crowns, but there are plenty of touch-up sticks, pens, etc. that you can buy too. If you have blonde hair than you can even use baby powder and brunettes can use a brown eye shadow.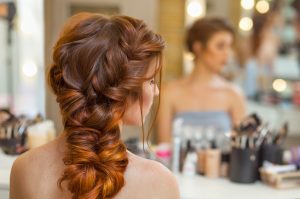 Spray It On
Spray on hair color is no longer exclusive for Halloween night. There are plenty of natural looking products out there on the market these days where you can simply spray on a shade of your hair color to help you get through a few weeks between salon visits, or if you only have a few grays to hide anyways. Sprays are quick and easy to use, especially for ladies with a lot of hair.
Try a Different Hair Style
Depending on where you discover most of the grays are concentrated, part your hair accordingly. If they're at the top of your head, hello side-part, and if they're at the temples, hello middle-part. Also, a blowout or hair style that creates volume and body will help hide away pesky grays. This will buy you more time between color appointments. On the other hand if you wish to embrace your gray hair, here are some hair cut ideas for gray hair.
Cut it Out or Pluck It
The old-wives tale that for every single gray you pluck, three will grow back, has no scientific evidence. If you only have a few gray hairs, don't hesitate to cut it out with scissors or take your tweezers to it, but we're sure you'll be on a gray hair witch-hunt after you find that first gray!
How Can I Prevent My Hair Color from Fading?
If you're going to choose to dye over your grays, rather it's just a root touch-up or you're using a semi-permanent all-over hair color, you want to get the most out of your hair color. Here are a few tips to help get the most out of your gray hair color solutions:
Shampoo your color-treated hair less frequently.
Don't let your hair get wet when you skip shampoos.
Use color-safe shampoos and don't use shampoos with sulfates.
Wait 2-days before you shampoo after you color your hair (or longer).
Avoid using really hot water to wash your hair.
Apply leave-in treatments occasionally.
Protect your hair from heat.
Avoid chlorine, i.e, swimming pools
Hydrate and eat a well-balance diet.
Remember, the type of hair color determines how long it will last:
Temporary hair color lasts for 1 – 2 washes.
Semi-permanent color (without peroxide) up to 12 washes on average.
Demi-permanent color (with low levels of peroxide)  up to 20 washes.
Permanent color doesn't wash out of your hair but it does change shades, the best way to get it out is by cutting it out.
Rock Your Natural Gray Hair Color
At some point, you may find that the grays are increasing but your patience to cover them decreasing! If you are really wondering why your gray hairs are appearing we have a great article showing what causes gray hair. Letting your hair turn gray naturally can be a beautiful experience, some times you might want to let gray be the primary color but add blonde highlights or brunette low-lights to compliment rather than cover the gray hair.