Spring is on the horizon and summer will quickly follow. They never stick around long enough, but you could probably say the same for your hair color too. But, still, changing hair colors with the seasons is one of the best ways to try on new looks and new trends.
If you're somebody with darker hair you know that getting highlights can be an expensive, time-consuming process. The trick is to choose the right color and technique to achieve a natural and low maintenance look.Caramel highlights on dark brunette hair goes together like – well – dark chocolate and caramel. The warmth of the caramel color gives the darker color a much-enjoyed brightness to compliment make-up hues and skin tones. Here's some of the best ways to wear caramel highlights on your dark brunette hair.
Caramel Highlights on Long Flowing Layers
For the ladies with long thick hair, adding highlights is a must. Layered long hair is perfect for highlights because it adds dimension and movement to the already flowing tresses. A warm caramel highlight will brighten and warm this already gorgeous hairstyle.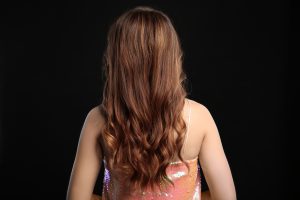 Bright Caramel with Ombre Balayage
We mentioned above that the key to highlights on dark hair is technique. Ombre is a look with heavy highlights on the bottom. This is a perfect way to go brighter without damaging your roots. If you want a more cohesive look then try adding balayage painted highlights on the top for a low maintenance complete look.
Shadowed Roots and Caramel Highlights
If you're looking for an overall highlight that flatters complexion and still remains natural looking the then try this color on for size. The roots are still dark but have been lightened and the highlights are painted on the length of the hair for an overall lightened look that doesn't have choppy or full highlights.
Choppy Bob with Caramel Highlights
If you're looking for a choppy shorter haircut, or you're growing some layers out, then we recommend trying caramel highlights to give this haircut the flirty, feminine and warm look that only caramel highlights can bring to a brunette hair color.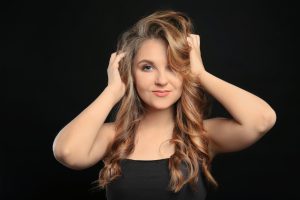 Caramel Highlights with Dark Hair and Makeup
Sometimes you need to choose a hair color based on the preferred shades of make-up you wear. Caramel highlights can compliment a wide variety of make up hues but we really love them with dark hair and darker make up like purples and dark bronzers.
Caramel Highlights with a Hint of Red Undertones
We know that caramel is a warming color and the trendy red highlights can compliment this by adding the warm undertones. Keep the red subtle so that it brings out the richness of the brunette hair color but also compliments the warmth in the caramel highlight color.