We all know that hair loss is no joke. Unfortunately, it's also getting more and more common. Worse, not only is hair loss affecting more people, men and women both, it's affecting them younger in life. It's one thing to accept hair loss that strikes in late middle age and old age, quite another to accept it when it starts in your teens, twenties, or thirties.
With hair loss affecting so many more people and coming on so much younger, it should be no surprise that there has been a huge increase in the number of treatments available. Not only are there more treatments, but the average effectiveness of those treatments is also increasing.
One recent treatment discovery, crazy as it sounds, is micro-needling or derma rolling. This treatment uses very small, fine needles to create small wounds in the skin, stimulating collagen production. Originally used as an anti-aging treatment for skin, it's recently showing promising results for people with hair loss.
Best of all, derma rolling can be done at home, is affordable, and has proven effective even for stubborn and treatment-resistant forms of hair loss.
What is Derma Rolling?
Derma rolling is a form of micro-needling that uses a derma roller, a cylinder covered in micro needles and attached to a rolling handle, to create micro-perforations in the skin.
While normally inducing skin irritation is thought to be harmful, the controlled use of a derma roller has lots of benefits for your skin, scalp, and hair.
How Does it Work?
The exact mechanisms behind derma rolling aren't well understood. While we know that derma rolling induces increased collaged production, exactly how and why is still being explored.
The needles create a small amount of irritation and inflammation. This controlled inflammation is very different than constant and uncontrolled inflammation. Unlike inflammatory skin conditions, it works in your benefit by improving circulation and bringing nutrients and stem cells to your scalp.
The stem cells help promote healing. Additional collagen production is also key for healing, so the extra nutrients in the area are put toward creating that collagen.
In your scalp, all that extra collagen improves the health of the skin while also adding more support for hair follicles.
Hair follicles are highly dependent on collagen production and good circulatory access. But the health benefits of derma rolling extend well beyond the limited effect of additional circulation. The added skin support from both circulation and extra collagen may help stimulate the growth of new hair follicles.
It's also thought that the added support may improve circulatory connection, providing plenty of nutrients and clearing away DHT.
What is DHT?
It's important to take a moment to talk about DHT. If you're already familiar with this hormone, go ahead and skip this section. If you haven't already heard of DHT, it's one of the most important hormones involved in hair loss.
DHT, dihydrotestosterone, is a converted form of testosterone that both stimulates the growth of body and facial hair, and damages hair follicles in your scalp. It gradually shrinks hair follicles in your scalp until they cease growing hair at all.
If you've ever heard someone with hair loss talk about the hair on their head suddenly showing up on their face, back, or chest, chances are they are suffering from a DHT-related form of hair loss.
While there are other forms of hair loss, like traction alopecia, DHT is the main culprit behind most forms of genetic, or male- and female-pattern hair loss.
Additional circulation can help clear DHT from your hair follicles. Usually, however, you need to do more than simply removing DHT from your scalp to see significant hair loss reversal.
How Does it Work – Continued
While we don't have a full understanding of all the moving parts that make derma rolling an effective treatment, the fact of the matter is that it is.
Derma rolling is considered minimally invasive and low risk. Compared to alternatives like hair transplants, derma rolling has few side effects and a quick recovery time. We also know that the use of derma rolling can increase the effectiveness of topical hair loss treatments like Rogaine.
Recent studies have also shown that there are improvements to hair growth in as little as 12 weeks, a remarkably fast turn around for any hair treatment.
While fast results are possible, we do recommend sticking with derma rolling for at least six months before deciding whether it's an effective treatment for you. Depending on the person, full results can take 6-9 months to become clear.
Derma rolling can also be used in combination with other hair serums and topical treatments. Scalp massage, another important treatment for hair loss (and hair health in general), can also be used in combination with derma rolling.
You just may not want to use it for a couple of days after derma rolling, until your skin heals!
Can You Use Derma Rolling at Home, or Does it Need to Be Performed by a Professional?
You can use derma rolling at home. Derma rollers are easy to buy and considered safe for consumer use. However, there are also professional derma rolling and micro-needling procedures available, usually performed by a licensed dermatologist.
Are There Benefits from Seeing a Professional?
One of the first questions people tend to ask when they find out about derma rolling is if there are benefits from seeing a professional over performing the procedure at home.
The truth is, while most people opt to buy a derma roller and use it at home, there are some benefits to seeing a professional.
For one thing, a professional dermatologist will be able to better identify the most important areas for treatment. They'll also be able to target treatments surrounding your hair follicles, focusing the benefits in the most important parts of your skin.
There's also the added security of knowing that their equipment is held to especially high sterilization and maintenance standards. While the wounds caused by derma rolling are very small, they can still be infected.
Seeing a professional may also a good idea if you have long hair. While it's possible to use a derma roller at home, even with long hair, you're more likely to tangle your hair and pull it. Constantly pulling on your hair damages the hair follicles and may mean that it takes longer for the treatment to be effective.
Professionals may also be able to numb your scalp and provide a cream to aid healing and prevent some of the irritation that comes from using a derma roller. If you have a sensitive scalp or are concerned about the procedure being too uncomfortable, getting a dermatologist to help may be a good option.
Another advantage is that your dermatologist will be able to choose the right needle length for you. They'll likely vary the needle length for different treatment areas, targeting different parts of your skin that need the attention most.
Advantages of Derma Rolling at Home
The biggest advantage of derma rolling at home is that it's a more cost-effective solution. If you go to see a professional, you'll be paying for every appointment. You may also be paying for additional supplies, like numbing cream.
The other big advantage is that you can derma roll a lot more often from home. If you're using shorter needles to treat your hair loss, more frequent treatments may help boost your results. It isn't recommended to use more frequent treatments with longer needles.
You can also decide whether you want to treat your whole scalp or only specific sections. If you have low pain tolerance, you can treat part of your scalp one day, and then move on to a different section the next.
Derma rolling at home also gives you more control over the after-treatments. If you're using a specific hair serum or growth oil, you can apply those after derma rolling. If you choose to, you can also use derma rolling as a booster for your minoxidil (Rogaine) treatments.
What to Look for in a Derma Roller for Hair Loss
As derma rolling has gotten more and more popular, for skin and hair treatments both, there have been more products created to fill the demand.
Unfortunately, some of those products are cheap attempts to capitalize on the trend, and they aren't nearly as safe or effective and higher-quality versions.
We'll cover everything you need to know before you buy a derma roller in this section.
Needle Length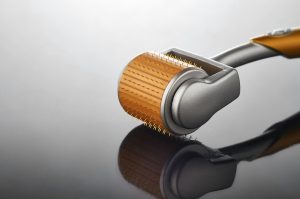 There are a variety of needle lengths produced in derma rollers. You may want to get a couple of different derma rollers for different treatment areas and so that you have some options if your skin starts to get irritated with one length.
Usually, hair treatments are performed with a longer needle. Something between 0.5mm and 1.5mm. anything larger than .5mm will penetrate into the dermis, where your hair follicles live and grow.
The dermis is also the most important layer of your skin for collagen production.
But, shorter needles can also be useful for both hair and skin treatments. Needles ranging from .3mm to .5mm are better for improving the effectiveness of topical treatments than long needles.
You should never buy a derma roller that doesn't list its needle length. Avoid needles longer than 1.5mm as well. Those longer needles will begin causing more serious damage and won't have the same collagen-boosting effects.
Longer needles can also be infection and chemical burn risks if you're using them with topical treatments.
While dermatologists will use needles as long as 3mm in a single treatment, needles that long aren't recommended for at-home use.
Materials
The most common, and safest, material for the derma roller and needles is titanium. However, some alternatives like stainless steel have also been used.
Unfortunately, even stainless steel isn't as hypoallergenic or sanitary as titanium, so you should avoid derma rollers made from other materials.
Avoid derma rollers that don't list their materials as well, since they're a lot more likely to be made of low-quality materials and potentially harmful alloys.
Some people prefer derma rollers that are made of as much metal as possible. But others don't mind if the roller and handle are plastic so long as the needles themselves are high-grade titanium. There aren't significant performance differences between the two designs.
Opting for a derma roller that uses plastic for the roller and handle can also reduce costs. Even the best titanium derma rollers will eventually need to be replaced as the needles dull. The timeframe for replacement varies between single-use roller heads to rollers that can last through many uses.
While it's cheaper to go with a roller designed for many uses, you will also need to clean and maintain that roller to keep it safe and sanitary to use.
How to Use Your Derma Roller For Hair Loss
Like any hair and skin treatment, technique makes a huge difference in your results. While at-home treatments are usually less effective than professional treatments, you can still boost your at-home results with proper technique.
How to Clean Your Derma Roller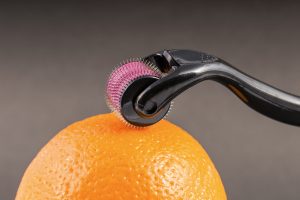 Before we get into how you'll use your derma roller on your skin, let's talk about how to maintain it so that using your derma roller is safe.
Each and every time you use your derma roller, you should clean it twice. Once before using the derma roller, once after using the derma roller.
Cleaning your derma roller before use should make a lot of sense. Cleaning and sanitizing reduce your risk of infections and will keep your skin significantly healthier. But you also need to clean your derma roller after using it.
Cleaning after makes it less likely that there will be something growing on your derma roller after use that can't be cleaned the next time you sanitize it. Since there are potentially long time gaps between treatments, it's also possible that any skin cells or fluid left on the derma roller will be infected with something new between treatments.
Cleaning before and after will keep it cleaner overall, and greatly reduce your infection risk.
You need more than just soap and water to effectively clean your derma roller. There are specific sanitizing sprays available, most of which are pretty effective. You want to look for high alcohol content in the spray.
While there can be other ingredients in the sprays, the more ingredients, the more likely something in your cleaning spray is to irritate your skin.
An alternative, and often a more affordable alternative, is just to use regular isopropyl alcohol you can find at any drug store.
Most derma rollers come with some kind of cleaning dish. If you're using plan alcohol to clean, you'll want to use the cleaning dish. Start with soap and warm water. It can be hand soap, dish soap, or your favorite facial cleanser. Thoroughly wash the derma roller with the soap and water, rinse, and rinse again with the alcohol to finish.
If you don't have a cleaning dish, you can also use a cotton ball or q-tip soaked in alcohol to clean the derma roller. Just make sure you're getting the alcohol all the way to the base of the needles, and over the roller.
If You Have Sensitive Skin
A lot of people worry about using Isopropyl alcohol on their derma roller right before using it because residue may be leftover that can dry out your skin or sting.
It's a good idea to wash off your derma roller with filtered or distilled water before using it, regardless of whether you have sensitive skin or not. But if you have sensitive skin, you may want to do more than that.
While using a moisturizer or oil can increase your infection risk, there are some serums and alternatives that may be safe for use on your skin immediately before derma rolling. We recommend consulting with a dermatologist to find a safe and effective product for your skin before trying those products.
Proper Technique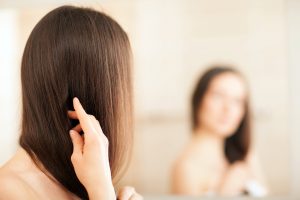 If you have short hair, derma rolling is simple. Your hair should be dry or lightly damp, but clean. Decide what your treatment area will be ahead of time. Your treatment area may only be a small section of your scalp, or it may be your whole head.
Whole scalp treatments are likely more effective than selectively treating a small patch. But, depending on your pain tolerance and how much time you have for treatment, you may only have time to treat the area immediately experiencing hair loss.
When you're first beginning, you should only roll the derma roller in one direction. Usually from the front of your scalp (your hairline) toward the back of your head.
Start by rolling, all in one direction, until you've rolled over your whole treatment area at least once. Then, switch to a diagonal, and repeat the process. Try not to move too quickly, even if it stings a little. If you move too quickly you won't be able to maintain even pressure, resulting in uneven treatments.
You'll ultimately want to go over your whole treatment area 3-5 times from different angles to ensure you've covered the whole space and stimulated your skin enough to produce that extra collagen production and draw stem cells to the area.
Long needle treatments, anything with needles 1mm or longer, should probably only be done about once every two weeks. You can also opt for derma rolling once a month. Any less often and it's unlikely you'll receive many of the benefits of derma rolling.
Short needle derma rolling can be done more often. Generally, it's recommended that you do it no more than once a week. However, you will see some people who use short -needle derma rolling more often with good results. It's all about how your skin and hair responds, and how much it can tolerate.
We will say, you shouldn't derma roll every day, even if it appears to help at first. Derma rolling or micro-needling every day is not only more likely to irritate your skin, it also doesn't give your skin a chance to heal.
The benefits of derma rolling appear during the healing process, so it's important to make sure you give your scalp a chance to rejuvenate and experience those benefits.
Ways to Support Your Derma Rolling
Derma Rolling isn't the only way to improve hair growth, even in stubborn forms of hair loss. It's important to also make sure you're supporting your hair with good shampoo and conditioner, a good hygiene routine, and a good diet.
Consider adding a multivitamin or a hair skin and nails vitamin to your daily routine if you haven't already. Try to make sure your diet is also supportive, with lots of fruits and vegetables and good lean protein sources.
You can also add treatments like minoxidil (Rogaine) to your derma rolling treatment. We recommend consulting with a dermatologist or doctor before combining the treatments, however, since topical treatments aren't supposed to go deeper into your skin where they can potentially access your circulatory system.
Hair serums and growth oils can usually also be used with derma rolling. Castor oil, coconut oil, jojoba oil, and avocado oils are all considered good options for providing the nutrients and moisture your skin and hair follicles need.
You should also pay attention to your stress levels. High stress can be a direct cause of hair loss. Things like scalp massage, lavender or rosemary essential oils, and regular exercise or meditation can address two problems at once. They reduce stress while also encouraging hair growth.
Final Thoughts
Hopefully, you feel more confident in your decision to try derma rolling after this article. Whether you opt for a home kit or make an appointment with your dermatologist, we wish you the best possible results.
Taking care of all of you will help reduce your skin irritation after derma rolling and will help your body reverse your hair loss. So, more than just adding derma rolling to your existing routine, it's important to make sure you're addressing your total health and lifestyle.
While we've laid out some common treatment protocols and how you can make sure you're safe, know that everyone is a little different. While derma rolling is minimally invasive and low-risk, it's important to make sure you're derma rolling in a way that makes sense for you and your hair and scalp.
Feel free to experiment and see what your skin responds to, and what makes you most comfortable.