Dealing with hair loss is not easy. It is difficult emotionally because it hints at aging and makes you face up to your own mortality. It is difficult practically because the only two ways of countering it are to spend a lot of money on artificial or intrusive solutions and to change your entire lifestyle.
We will always advise you to choose the latter option because natural solutions, when successful, are long-lasting and don't have side-effects. Since we've discussed all the natural methods of combating hair loss multiple times on this website, we won't list and explain all of them on this page.
Instead, we'll focus on something very specific and new in the modern world – guava leaves. That's right, the leaves of the fruit you love can help you slow down and even turn back hair loss.
While guava leaves may be quickly becoming a viral trend in the online circles, their ability to deal with hair loss is still not commonly known. As a result, you won't find a lot of information about guava leaves on the internet.
Don't worry, though. We have you covered. On this page, you'll not only find out why guava leaves can help you counter hair loss but also how you should tap into their true potential.
In fact, we'll even help you get guava leaves in various forms by reviewing some popular options. Here is everything you will learn in this guava leaves guide against hair loss, arranged in a neat, easy-to-click navigation panel.
Raw Leaf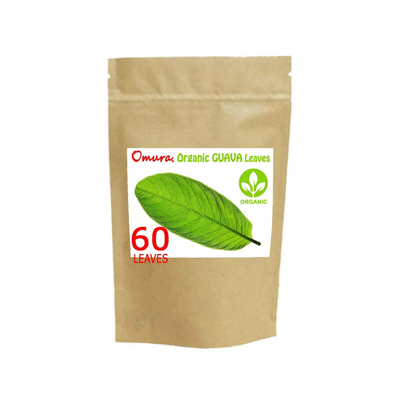 Omura ORGANIC GUAVA LEAF
4.5/5.0
Product Type: Raw Guava Leaves
Weight: 2.88 ounces
Cost per ounce: $3.81
Omura is a highly versatile source of guava leaves since it offers them in all forms including dried, fresh-cut, fresh whole, and even liquid infusion.
Check Amazon
Leaf Tea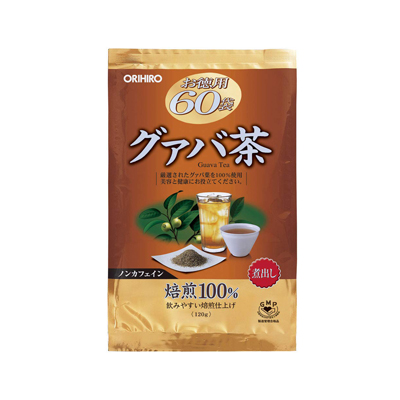 ORIHIRO Guava Tea
4.5/5.0
Product Type: Guava Leaf Tea
Weight: 5.3 ounces
Cost per ounce: $1.67
An incredibly pocket-friendly option for people who want to drink guava leaves tea in addition to using them for treating their hair in either solution or mask format.
Check Amazon
Can Guava Leaves Really Help Against Hair Loss?
Even though guava leaves are gaining popularity as a natural treatment for hair loss, how can you know that all the stories about their effectiveness are true? After all, it could be just another one of those natural remedies without any solid footing in science that people recommend to each other.
While your skepticism is valid, we can tell you that guava leaves are good for dealing with hair loss provided the problem is not severe. In fact, even if your particular case of hair loss is severe, guava leaves can still facilitate the beneficial action of other anti-hair loss treatments and solutions.
Even though no research has proven the benefits of guava leaves against hair loss, we're still saying this because of the kind of nutrients found in guava leaves. Major components of guava leaves have all been researched by the scientific community in terms of their benefits against hair loss and towards hair growth.
For example, in this study, the scientists managed to extract phenolic compounds from guava seeds that offered significant antioxidant benefits. Antioxidants can neutralize free radicals which are widely known to damage the scalp, the hair follicles, and the hair strands.
In another study, researchers focused on the "antimicrobial activities" of guava on bacteria and found it to be quite effective. The study, of course, focused on several other properties of guava leaves too.
Therefore, you can safely deduce that guava leaves are, indeed, quite effective at countering hair loss. However, this is a broad conclusion. Let's go deeper into it and explore how guava leaves help against hair loss.
How Do Guava Leaves Help Against Hair Loss?
There are mainly two ways through which guava leaves help against hair loss. The first is by boosting growth processes in the scalp and the other is by reducing inflammation related repercussions in the scalp.
While most natural treatments and remedies help against hair loss by performing one or two of these functions, there are very few that can manage all three at once.
This is the main reason why guava leaves have suddenly exploded onto the scene as such an effective counter to hair loss. Because guava leaves achieve these results in various ways and due to various nutrients, we'll approach each of these anti-hair loss benefits one by one.
Guava Leaves Encourage New Hair Growth
Guava leaves contain several different types of nutrients that nourish the hair. These include various vitamins, minerals, and flavonoids. However, the two most important vitamins you'll find in guava leaves are vitamins B2 and B6.
Plenty of research has been done into the benefits of these two vitamins with focus on not only hair, skin, and nails but also critical bodily processes. One study stands out because of its conclusive results pertaining to the benefits of vitamin B6 towards hair growth.
In the study, rats were given high doses of doxorubicin. Doxorubicin is a drug used in chemotherapy that is known to be responsible for hair loss. As can be expected, the rats lost hair due to doxorubicin. The scientists then administered a blend of vitamin B6 and L-cysteine to the rats.
As per the findings of the study, the rats that received the highest doses of the vitamin B6 and L-cysteine blend showed the most hair growth. L-cysteine, in case you didn't know, is an amino acid found in protein-rich food items like beef, chicken, tuna, lentils, eggs, and yogurt amongst others.
The previously mentioned study, however, isn't the only one that has had success in finding positive connections between vitamin B6 and hair health. Another study, this time conducted on human beings, came to the same conclusion.
The only reason this study isn't the definitive proof of the efficacy of vitamin B6 for hair growth is that it was injected into the subjects as opposed to being applied topically. However, this study is quite definitive if you're wondering about the benefits of guava leaf teas.
We should also add that vitamin B6 is beneficial for cellular development all over the body too. It is a critical component in the enzymatic processes in the body, especially when it comes to enzymes that boost cellular growth.
Vitamin B6, however, is virtually useless in the body without sufficient vitamin B2. The reason for this is that the body cannot convert vitamin B6 into usable compounds without vitamin B2. Apart from facilitating the absorption and processing of vitamin B6 in the body, vitamin B2 has other benefits too.
The foremost of these is that it is essential when it comes to the body's immune system and energy production. Specifically, speaking vitamin B2 helps the body process fats and proteins to produce amino acids and energy sorely needed by hair follicles in the scalp.
Guava Leaves Counter Inflammation
Both vitamins B2 and B6 play an important role in neutralizing free radicals in the body too. Free radicals, as you may well know already, cause inflammation in the body. Therefore, the fact that guava leaves contain vitamins B2 and B6 means that they can counter inflammation in the body.
Most people don't realize it, but inflammation can cause hair loss in addition to numerous other health problems. For instance, new research is now proving that chronic inflammation could be a precursor to cancer since it affects the DNA structure over time.
Inflammation is the body's response to the damage being caused by foreign substances. This includes everything from free radicals and dihydrotestosterone (DHT) to infection caused by microorganisms. However, if you have chronic inflammation in the scalp, you will start losing hair and may even lose the ability to regrow lost hair altogether.
Further, chronic inflammation will also make you more sensitive to DHT. Since DHT inhibits the hair follicles' ability to grow hair, increased sensitivity to it means more impact on the hair follicles.
The anti-inflammatory properties of guava leaves have actually been studied in detail. In one study, researchers evaluated the extent to which ethanolic extracts from guava leaves could inhibit various inflammation-causing substances in the body.
The study focused on multiple pro-inflammation markers in the body and found the ethanolic extracts from guava leaves to be very effective in inhibiting them. However, the standout finding was guava leaves' ability to counter the effects of lipopolysaccharide (LPS).
LPS causes septic shock that can lead to death. This study found that extracts from guava leaves could reduce the chances of LPS-induced death by a whopping 67 percent in mice.
Guava leaves counter inflammation in one other way, i.e. by reducing blood sugar levels. It is a scientifically proven fact that people with high blood sugar levels or even with huge fluctuations in blood sugar levels develop inflammation. Further, these blood sugar-related problems have also been closely associated with hair loss.
Combined with the hugely positive finding against other pro-inflammation markers in the body of guava leaves as well as their ability to reduce blood sugar levels, it can be concluded that guava leaves are hugely successful against inflammation in the scalp and the rest of the body.
Are There Other Benefits of Guava Leaves?
Note: Always consult with a doctor before using guava leaves if you have allergies, are pregnant, or have other preexisting conditions.
The same nutrients that help guava leaves counter hair loss also make them hugely beneficial to other parts of the body. More importantly, guava leaves contain other nutrients that may not be beneficial for hair but can improve your overall health considerably. Here's a quick view of all the benefits of guava leaves beyond hair.
Heart: We've already explained how effective guava leaves are at managing blood sugar levels in the body and how they negate the harmful effects of free radicals. These two benefits of guava leaves combine to take the stress off your heart. In a nutshell, guava leaves improve cardiovascular health.
Menstruation: Studies have found that guava leaves can reduce pain during menstruation in women. In one randomized clinical trial, 197 women with a history of painful menstruation took guava leaf extract daily. The findings state that they experienced reduced pain and in some cases, the guava leaf extract was even more effective than common painkillers.
Immunity: By canceling out free radicals, countering inflammation, and providing the body with vitamin C, guava leaves can boost its immune system.
Anti-Cancer: As mentioned earlier on this page, by neutralizing free radicals and reducing inflammation in the body, guava leaves can reduce the chances of cancer.
How to Make and Use Guava Leaf Solution / Tea
The easiest ways of getting the hair benefits of guava leaves are to either apply it as a solution or drink it in the form of tea. To do either, however, you'll have to create a solution of guava leaves first. Both, creating and applying guava leaf solution, are fairly straightforward and simple. Consider.
Creating the Guava Leaf Solution / Tea
To create a guava leaf solution, you'll need a handful of guava leaves. You'll need a minimum of six leaves, but the more leaves you get, the stronger the solution will be. Along with the leaves, you should collect a pot, a strainer, and some water.
Wash the guava leaves thoroughly and put them in the pan.
Pour the water into the pan and bring it to a boil.
Let the guava leaves and the water boil for a minimum of 20 minutes.
Strain the solution to separate the leaves from the liquid.
Let the solution cool.
You can drink this solution as tea with the addition of honey or other flavors. Further, you can apply it into your hair. Drinking it as tea will allow your whole body to benefit from guava leaves while applying it to the hair will focus its benefits on your hair.
Applying the Guava Leaf Solution
You apply the guava leaf solution in the same way that you would apply any other hair treatment. Here is the process.
Shampoo your hair to get dust and hair product out. This is an important step as any coating on your hair will prevent the guava leaf solution from being absorbed properly.
After shampooing your hair, let it dry to close to 90 percent.
You can now apply the guava leaf solution into your hair.
Apply it like oil, i.e. take individual sections of your hair and rub the solution from root outwards.
Pay special attention to the roots and the tips of your hair. These two regions will need the most nutrition. You'll also see increased absorption from the ends of your hair.
Once your hair is saturated with the guava leaf solution, wrap it in a towel.
You should let the guava leaf solution sit in your hair for at least 20 minutes. However, if possible, we recommend leaving it in your hair for the whole night.
You shouldn't have any trouble sleeping with it in your hair since it is neither too greasy nor smelly. Moreover, with a towel turban or even a hair cap, there will be no risk of a mess.
Regardless of how long you leave the guava leaf solution in your hair, once you're ready to remove it, simply rinse your hair with lukewarm water. You don't need to use a shampoo or put in any extra effort rubbing it out of your hair. A simple rinse should see the solution come out with ease.
How to Make and Use Guava Leaf Mask
You can also get the anti-hair loss benefits of guava leaves by converting them into a mask. The primary difference between using guava leaves in the mask form and solution form is that the former also gives you the benefits of exfoliation.
The main flaw of using guava leaves in the mask form is that it will be much messier when compared to the solution form. Here's how you can make the mask.
Take a handful of guava leaves (minimum six) and wash them thoroughly.
Put them in a small amount of water and grind the leaves.
The longer you grind, the finer the leaves will get. If you want to exfoliate your scalp with the mask, make sure you don't grind the leaves too much.
You apply the mask in the same way as the solution. However, you can massage it for a longer period to get maximum exfoliation.
As in the case of the guava leaf solution, you should leave the mask in your hair for a minimum of 20 minutes but can let it be for the whole night.
When you're ready to remove it, simply rinse your hair with lukewarm water.
What Can You Blend Guava Leaves With?
You can mix anything with the guava leaf solution or mask. All naturally occurring substances can be combined with this treatment. Consider.
If you want to condition your hair while availing the anti-hair loss benefits of guava leaves, you can mix the solution with shea butter, coconut oil, or even castor oil.
If you want to nourish your hair along, you can mix the solution with avocado paste or oil, almond oil, or argan oil.
If you want to augment the anti-hair loss properties of guava leaves, you can add naturally occurring DHT blockers like cedarwood oil, rosemary oil, or saw palmetto to the solution.
You can even make the guava leaf solution fragrant by adding the right essential oils such as lavender oil and peppermint oil.
How Often Can You Use Guava Leaves for Hair Loss?
There's no real limit to how often you can apply guava leaf treatment for your hair. However, we would suggest refraining from applying it every day since too much of even a good thing can backfire.
As to how much you should apply to get its benefits, the answer depends on you and your specific condition or requirement.
If your particular hair loss problem is severe, then we suggest using the guava leaf treatment at least three to four times a week. If it isn't very severe, then you can reduce this to two to three times a week.
Similarly, if you don't have any hair loss problem and want to use guava leaves to boost the growth rate of your hair, you should see results by only using it once or twice a week.
If you're going to use guava leaves in a tea, you can have it as many times as you want. Even so, we recommend not going above once or twice a day.
Just remember, you're using guava leaves as close to their natural form as possible. These kinds of treatments take slightly longer to show results than treatments with artificially processed ingredients.
How to Get Guava Leaves for Treating Hair Loss?
Guava, in case you didn't know, is a tropical or subtropical fruit. This means that it is found in regions like South America and South East Asia. However, it can be grown in specific pockets of other parts of the world too.
There are many variations of this fruit too. In fact, you can find 20 different edible strands of this fruit. While you can probably get packaged guava fruit from exotic stores, finding guava leaves is more difficult unless you have a fresh produce market nearby.
How difficult depends on where you live, but most people do struggle to find guava leaves in their neighborhoods. Fortunately, some plantation owners sell fresh, dry, and processed guava leaves to buyers interested in their inherent benefits against hair loss.
If you're only interested in drinking guava leaves in tea form to avail their anti-hair loss benefits, you can always get guava leaf teas available in the market. We've found the best of both – raw guava leaves and guava leaf teas – and reviewed them for your comfort here.
5 Best Guava Leaf Options for Hair Loss: At a Glance
Top Guava Leaf Packs for Hair Loss: Detailed Reviews
Editor's Rating: 4.5/5.0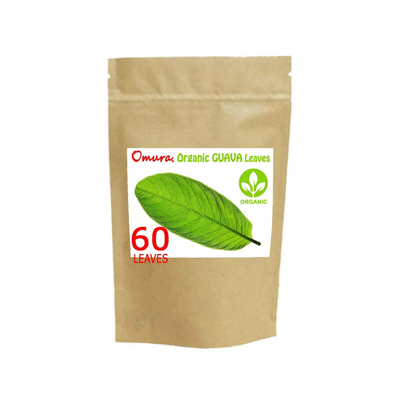 View on Amazon
Guava leaves enjoy a special status in Japan. Guava leaf products have specific approvals from the Japanese authorities for treating particular health problems. As a result, the country boasts of a thriving guava leaves industry.
Omura is a Japanese company that offers multiple herbal products and guava leaves-based products are one type. This particular pack contains dried guava leaf, but the company offers guava leaves in other forms as well.
You can get fresh guava leaves in a similar pack from the same company. You'll even have the option of choosing between whole leaves or cut leaves. The leaves come packed in resealable vacuum packs. The resealable, vacuum packs are very useful and convenient. Each pack will contain 60 guava leaves.
Additionally, they even offer guava leaf infusions in fully sealed juice boxes. Again, you'll have two options to choose from, but in this case, the variation is in size. There's a pack with 12 juice boxes and one with 24 juice boxes.
Each box, incidentally, will contain close to seven ounces of the infusion. In case you're wondering, the guava leaf infusion in the box, while edible, will not contain any added sugar. In fact, it will taste a little bitter, according to the company.
All guava leaf products offered by this company are completely organic. This means that they're free of all artificial chemicals and compounds such as pesticides, fungicides, other similar sprays or even preservatives.
While all guava leaf products from this company are incredibly beneficial and easy to use, the products aren't without flaws. For instance, when you order fresh or dried leaves more than once, you'll see differences in quality.
This could bother some of you, especially when you get a batch where some leaves don't look healthy. However, this is bound to happen because you're ordering a completely natural and organic product.
Even though it may not spend many days in transit, it is possible for the leaves to dry up or develop some sort of rot. While we feel this inconsistency in quality should be tolerated, you may not want to when you see the cost of these products. They're on the expensive side and this could be a concern.
These problems, of course, are nonexistent with guava leaf infusions. Therefore, one way to avoid the risk of damaged guava leaves and the hassle of processing them at home is to go for the infusion directly.
Who's it for: If you want to try guava leaves in different forms such as dried, fresh, or even infusions and can spend for it, try these Japanese products from Omura.
Tech Specs
Product Type: Raw Guava Leaves
Quantity: 2.88 ounces
The Pros
Organic guava leaves
Can be used in a wide variety of ways
Japanese product
Available in multiple forms
Comes in a very useful resealable vacuum pack
The Cons
Quality control is suspect
Costly
Editor's Rating: 4.25/5.0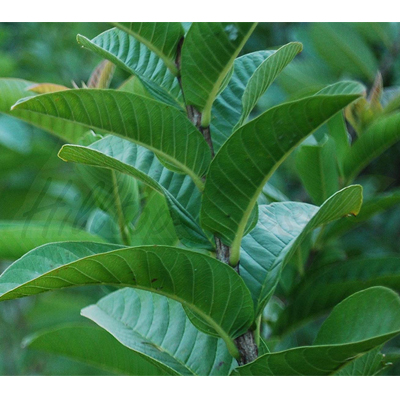 View on Amazon
When ordering fresh, organic products without any preservatives, you have to keep the distance in mind. When organic products travel over longer distances, there is a greater chance for them to spoil.
Therefore, if you can get organic guava leaves from the US itself, you'll be ensuring their freshness even further. We've found two guava leaf products that originate within the country and this is the first one.
This is a set of fresh guava leaves offered by Hilltop Fresh, a company based in Florida. According to the company, the leaves are picked fresh for every single order to ensure their freshness. They're then sealed into packs designed to keep the leaves fresh. The packs are so good that, when refrigerated in the same bag, the leaves can stay fresh for as long as eight weeks.
Each pack weighs approximately four ounces and contains anything between 50 to 95 leaves, depending on their size. However, you can get a smaller pack too. The smaller pack will weigh one ounce and will contain anything between 10 to 25 leaves.
However, the number of leaves each pack contains is where the most concerns are. The majority of users complain that the number of leaves in the pack is always closer to the bottom end of the range. However, we can tell you that the number of leaves is irrelevant since the weight of the pack remains constant. So, you shouldn't let this keep you from getting this product.
The other concern is the cost. This product is a little on the expensive side, which could put some of you off. However, this is expected since these are organic leaves and organic products tend to be more expensive because they require more care and effort than produce grown with artificial help.
Who's it for: If you want quick delivery of your guava leaves and value things from the US more than other countries, get these guava leaves.
Tech Specs
Product Type: Raw Guava Leaves
Quantity: 4 ounces
The Pros
Organic guava leaves
Fresh guava leaves
Available in two sizes
Grown in Florida
Last a long time when refrigerated
The Cons
Contains fewer leaves than expected
Costly
Editor's Rating: 4.25/5.0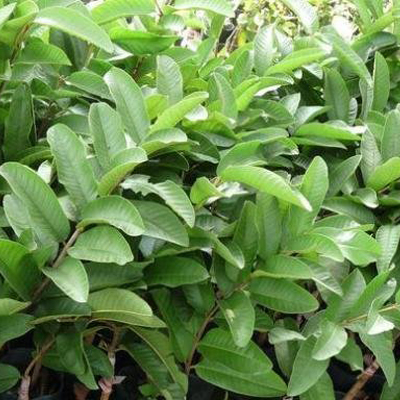 View on Amazon
Guavas are grown in the Southern Californian region of the country too. If the Southern Californian region is closer to where you live than other sources of guava leaves in the country, you should choose that option. This will ensure that you receive freshest possible guava leaves.
One of the primary sellers of fresh guava leaves in the Southern Californian region is Tang Store. They sell guava leaves picked straight from organically-grown trees. This means that their leaves are free of additives, preservatives, and chemicals such as pesticides and insecticides.
They sell guava leaves in larger packets than most other sellers though. Their packs weigh eight ounces each. This means that you'll get twice the number of leaves with Tang Store when compared to other guava leaf products.
This is crucial because it makes their offering affordable instead of costly. In fact, their packets are downright economical, especially if you plan on using guava leaves for the foreseeable future.
At the same time, you have to remember that there is always a cost of saving money. In this scenario, the cost is package quality. These leaves don't come in any special type of sealed packing. They're simply put inside a large envelope which is then put inside another large envelope.
This is why we recommend immediately transferring them to a sealed container or bag as soon as you receive them. In fact, finding proper storage for these leaves is important because they're very prone to molding.
Ideally, we would recommend washing all the leaves you get, drying them of excess water and sealing them in a container. If you want to go even further, we suggest making your infusion, tea, or mask with all the leaves. You can keep some for daily use and freeze the rest for when you need it again.
Who's it for: If you want to save tons of money but still want fresh guava leaves, get this eight-ounce pack from Tang Store.
Tech Specs
Product Type: Raw Guava Leaves
Quantity: 8 ounces
The Pros
Organic guava leaves
Fresh guava leaves
Grown in South Carolina
Fairly affordable
The Cons
Poor packaging
Can mold if not stored properly
Top Guava Leaf Teas for Hair Loss: Detailed Reviews
Editor's Rating: 4.5/5.0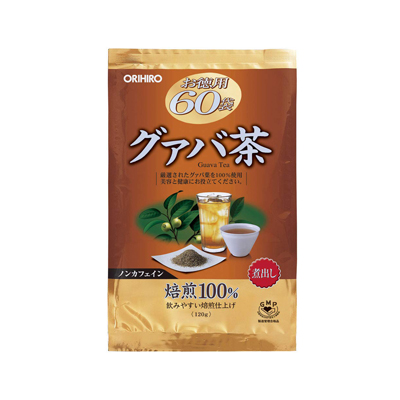 View on Amazon
While applying guava leaves topically onto your hair will help against hair loss, ingesting guava leaves is beneficial for the entire body. More importantly, if you can have guava leaf tea regularly along with applying guava leaf topically onto your hair, you'll be doubling their anti-hair loss benefits for yourself.
Since there is a thriving and successful industry based around guava leaves in Japan, products from the Asian country tend to be far more refined than what you'll find from other sources. One of the more established companies in Japan when it comes to guava leaf teas is ORIHIRO.
While they source their guava leaves from China, they process and pack the tea in Japan itself. One of the qualities of their tea bags is that they're significantly larger than other competing products.
As a result, when you brew your tea with their bags, you get a more concentrated guava leaf tea. This is especially true since each tea bag contains pure guava leaves and are not blended or mixed with any other ingredients.
They offer their guava leaf tea in two sizes. The bigger one is called the economy pack because it weighs 5.3 ounces and contains 60 tea bags. The smaller one weighs about 3.5 ounces and contains 25 tea bags only.
Needless to say, the bigger pack is significantly more affordable than the smaller one. In fact, the bigger pack is the cheapest option across the board, if you're looking to leverage the anti-hair loss goodness of guava leaves. It is even cheaper than buying fresh or dried guava leaves and brewing your own tea.
The only concern, and it is a minor one, is that the tea isn't very strong. Some people even find it a bit too mild. However, since the bags are big, we feel this may be happening because people are not leaving the bags in the water for a long enough period.
Moreover, if you find the tea too mild even after leaving the bag in the water for a long time, we suggest tearing the bag and boiling the water with the guava leaves in it. That should strengthen the tea considerably.
Who's it for: If you just want the anti-hair loss properties of guava leaves and don't have preferences about the mode of delivery, especially if you save tons of money, get this Japanese guava leaf tea.
Tech Specs
Product Type: Guava Leaf Tea
Quantity: 5.3 ounces
The Pros
Tea bags easier to use
Each bag is large
Japanese product
Available in two sizes
Very affordable
The Cons
Maybe too mild for some people
Editor's Rating: 4.25/5.0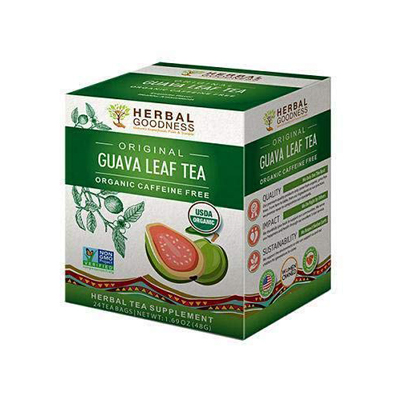 View on Amazon
The majority of alternative, organic, and natural solutions come from the Asian region because they have a history of relying on such treatments. Moreover, because of their century-long expertise, you'll find their products to be significantly more potent than similar products made closer to home.
At the same time, though, Asian standards of quality are considerably lower than what the western world expects from its products. Therefore, if you're looking for a guava leaf tea made in the US, this one from Herbal Goodness is definitely worth considering.
This tea is not only USDA certified organic but also kosher, which should appeal to the Jew community. The tea, itself, is 100 percent pure. This means that it is made of guava leaves only and doesn't contain any other ingredient, natural or otherwise.
The product comes in individual packs with each one containing 24 tea bags and weighing 1.7 ounces. You get to choose how many packs you want with two options available. The first option is a single pack of 24 tea bags, while the other is a set of six packs containing 24 tea bags each.
Each tea bag is individually wrapped, which should maintain the freshness of the tea, even if you open the bag. This also makes it easier to carry one or more tea bags with you while you travel.
You could take these bags to your office or even outstation trips. Since you'll only need hot water to brew your own tea, this way you won't have to go without the benefits of guava leaves for long.
While the most important aspect of this product is that it is made in the US, there are other standout qualities worth considering too. For instance, this company is owned and operated fully by women.
Further, they're socially responsible and divert 10 percent of their profits towards educating girls in Africa. Also, they adhere to fair trade practices so as to support their farmers.
The biggest problem with this guava leaf tea is that it is incredibly expensive. Even if you buy the set of six packs, you'll end up paying over the top. In fact, each tea bag will cost you about $2. This will amount to approximately $7 per ounce!
Whether this is value enough for you, we'll leave to your discretion. However, we do feel that this guava leaf tea is worth a try because the company offers a 100 percent money-back guarantee. If you feel that it isn't worth the money you've spent to get it after trying it, you can always choose to avail their guarantee and return the product.
Who's it for: If money is not a concern for you and you favor socially responsible American companies, get this guava leaf tea from Herbal Goodness.
Tech Specs
Product Type: Guava Leaf Tea
Quantity: 1.7 x 6 ounces
The Pros
Tea bags easier to use
Organic guava leaf tea
Manufactured in the US
Available in two sizes
Supported by a 100 percent money-back guarantee
10 percent of the profits go towards educating African girls
Fairtrade practices
Completely owned and operated by women
The Cons
Unbelievably expensive