When it comes to removing unwanted hair, we are always looking for the quickest, easiest, and cost-effective way to get rid of the hair, without taking the skin with it. In recent years there has been an interesting rise in the number of people switching to using an epilator for removing unwanted hair.
This has resulted in an ongoing debate to determine which hair removal method provides the best results. The problem is that everyone has unique hair removal needs, including the time they can commit to the process, their pain tolerance, and how permanent they want the removal to be. In this guide, we will compare two of the most popular hair removal methods. Stick around for this head to head battle to see which one destroys hair better… for you.
Epilators Revealed
Epilators are suddenly all the rage, and many people have no idea what they are, let alone how to use them. So, let's take an in-depth look at this mystery device, what it is, the good, the bad, and what types there are.
What is an Epilator?
An epilator is a complicated word to describe anything that traps and removes hair. Epilators remove the entire hair, including the root bulb from the hair follicle. The result is a smooth skin surface that stays that way much longer than hair removal methods that remove only the visible part of the hair.
Advantages of Using an Epilator
Using an epilator to remove unwanted hair has some perks, some of them include:
Lasts longer than shaving – The biggest advantage by far is that when you use an epilator you are removing the entire hair shaft and root. This means that it will be some time before the hair grows to even reach the surface of the skin, let alone be visible or felt. Some people can go weeks between removal, while others are a little less. In general epilating hair removal provides 4x long hair free days then shaving.
Less painful than some methods – Depending on who you ask, epilators are either excruciatingly painful or nearly painless. The truth is we all have different levels of pain tolerance. Over time though, the pain you feel with epilating will decrease as you become accustomed to the sensations. You can also take steps to reduce the pain (see Tips for Epilating below).
Reduced growth, thickness, and rate, over time – Because epilators continually pull the hair from the follicle, root and all, over time this signals the hair follicle to work slower. You will notice that the hair gets thinner, softer and grows much slower. This means you will be able to go even longer between epilating treatments.
Completely removes the hair – Many individuals, especially those of us with fair skin and darker hair hate the speckled look of hair left just under the skin with shaving. Epilating removes the entire hair shaft and root, leaving no trace behind. This means no ugly dots that make the skin look dirty or darker than it actually is.
Can be Used for All Body Hair – You can use an epilator to remove hair from anywhere on the body, as long as you are willing to stand any potential pain. You should always be sure to follow the proper epilating method to allow for the safest hair removal, particularly in extremely sensitive areas.
A few other advantages that are fairly self-explanatory are:

No extra products are necessary
Can be used on all skin and hair types
Works great for sensitive skin
No skin irritation
Disadvantages of Using an Epilator
Unfortunately, just like everything else, using an epilator has some drawbacks, they include:
Pain, especially at first, but decreases over time. Varies by individuals
May cause ingrown hairs (see Tips for Epilating)
Causes redness and inflammation – temporary
May take longer than shaving
Types of Epilators
Many people may be familiar with older versions of epilators that use a spring to grasp and pull the hair from the root. Most modern epilators feature rotating disks that are angled. As the disks rotate, they grab the hair and release the hair as the disks move apart again.
The big advantage to the newer design is the combination of automatic grasp/release of the hair and faster motors. Like super speed tweezing, using an epilator can be very effective in hair removal with less risk of skin irritation, necessary for facial hair removal.
There are several types of epilators, they have been around for some time. However, most epilators these days are going to fall into these two main categories.
Coil/ Spring Epilators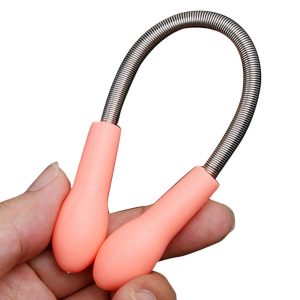 The earlies epilators used tightly coiled springs that rotated and flexed. As they did so, they would trap the hair, pull it out, and release it. As technology advanced the metal coils were replaced with rubber in electric versions, though these are hard to find these days.
Manual epilators that utilize the spring method are still available and have maintained popularity since they are inexpensive, easy to operate, and super quiet; a great quick touch up option for many people.
Electric Tweezer Epilators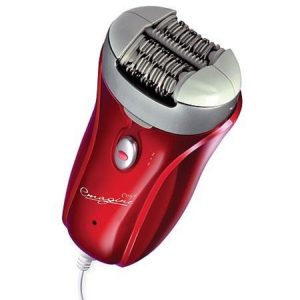 Most modern epilators use a tweezer-like motion to grab and pull the hairs. These electric epilators can have several discs, depending on the size of the epilator that traps several hairs with each rotation. Some even have adaptors allowing you to use them in a wide range of areas for small precise hair removal and larger areas like the chest or legs.
Most Common Issues with Epilators
In some circles, epilators are getting a bad rap. Some people swear that using an epilator is just not worth it. Here are some of the issues that are commonly discussed.
Pain
Yes, there may be a pain, after all, you are quickly removing not only the entire hair but the root as well. However, most people experience less pain with repeated use as the skin gets used to epilating. Also, some people claim that epilating causes very little pain. Guess it is all a matter of perspective.
Ingrown Hairs
Ingrown hairs are the bane of existence for those that fight them. The truth is, all types of hair removal can lead to ingrown hairs, but if you take the steps to prevent them, an epilator will no more cause them than any other method (see Tips for Epilating below).
How Permanent is Epilating
With repeated use, you will probably notice that the hair that regrows will become softer and finer. This will allow you to go longer between sessions and may seem nearly permanent. This is why you should only use an epilator on areas where you would rather never regrow hair.
Tips for Epilating
There are some tried and true methods for achieving better, less painful results when using an epilator, here are a few tips to help you out.
Plan Ahead – Shaving a few days before you use an epilator for the first time is a great way to get rid of any excess length of the hairs. It also allows you to check out your skin, in case there are any issues that need to be addressed before epilating, such as ingrown hairs, damage, or irritation.
Exfoliating is easier and less painful when hairs are shorter. Shaving a few days before allows just the right amount of growth to achieve the best epilator results with less pain. Epilating longer hairs will hurt!
Exfoliate – The day before you plan to exfoliate you need to take the time to gently exfoliate the entire area you want to remove hair. Not only will this remove any dead skin cells and increase circulation, but it is the best way to remove any ingrown hairs that may be present before using the epilator.
Epilate at Night for Less Pain – Epilating at night has a few advantages. Not only can it reduce pain since you can be more relaxed and take your time, but by morning any redness and inflammation will be long gone.
Tylenol or Advilfor Pain (30 minutes before) – If you can safely take either of the over the counter pain reducers, it may help to alleviate the pain you may experience while using an epilator.
How to Epilate – Step by Step
Step 1. Pull the skin taut – Epilators work best when the skin is tight and as flat as possible. Pulling the skin in the opposite direction of the epilator will allow it to work more efficiently, removing hair easier with less irritation and missed hairs.
Step 2. Hold the epilator straight (90 degrees) against the skin. Many epilators have two rotating tweezer heads that turn in opposite directions. By holding the epilator upright, both heads are able to work correctly, allows for more efficient hair removal. Always refer to the manufacturer's instructions on how to operate your specific model.
Step 3. Most epilators can be used in any direction. For the best results, you should move in the direction opposite of hair growth, this allows the hairs to be lifted slightly increasing the number of hairs removed with each pass. Also, moving in small circles with help catch any hairs that grow in different directions.
Step 4. Start with tougher skin. You may be tempted to start at the ankles if you are working on your legs for example. The problem is that the ankles are actually pretty sensitive. Starting in an area where you can take it a bit more will give you a chance to get used to the plucking sensation way before heading to more sensitive areas.
Step 5. Moisturize immediately after and keep it up. Making you're your skin stays hydrated will help keep your skin less irritated. Hydrated skin is also more flexible, and the hair will be easier to remove the next time you epilate.
When NOT to Epilate
While there are no hard and fast rules that say if you have something going on, you absolutely cannot epilate, there are times when it may not be the best choice for hair removal.
The Day-Of a Big Event – As mentioned above redness and inflammation are common after using an epilator.
When You Are Cold – Cold temperatures cause our body and skin to do some weird things. If you must use an epilator when you are cold, take a moment to apply a warm cloth to the area first to help reduce any of these effects.
When Your Skin is Damaged – The last, and probably most important, thing you should avoid is when your skin is damaged. Epilators can be cleaned, however, unless you have found a way to sterilize it you are not going to want to take it anywhere near an open scratch or wound on your skin. Not only do you risk infection, but unless your skin is intact and smooth, you risk the epilator pinch the skin, or worse, further damage.
Shaving Revealed
Most people are familiar with one or more types of shaving, but when comparing shaving to using an epilator, there still may be a few surprises, so let's see where this road goes…
Types of Shavers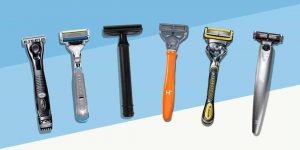 There are a surprising number of shaving options, including getting a professional shave. In general, when it comes to shaving yourself, you will use one of the following types of razors.
Straight Razors
The oldest type of razor still used all over the world, straight razors are generally only used for removing facial hair, though they can be used all over the body if you are gutsy enough. A straight razor is a single, very sharp blade with a handle. They resemble a folding knife in many ways. Most straight razor users will contest they provide the closest shave possible.
Double-Edged Safety Razors
Double-Edge safety razors were the next evolution in razors still used today. They were th4 earliest version of what we know as a disposal razors. Safety razors usually feature a single double-edged blade mounted onto a solid handle. Like straight razors, these razors can provide a very close shave. However, they can also cause more nicks and cuts and offer little skin protection beyond the skills of the operator.
Disposable Razor
You would probably have to be living under a rock to not know what a disposable razor is these days. They are those plastic things available all over that can have anywhere from a single blade up to six and are designed to be used a couple of times and then thrown away. The quality of a disposable razor can vary between a simple plain razor to a premium, high-glide razor with skin-protecting lubrication built into the razor. The downside of disposable razors is that they actually end up costing you more over time.
Electric Razor
Perhaps the most popular form of shaving today is done using an electric razor. Electric razors come in several different types; from rotary shavers to trimmers and foil razors; all providing a fairly close shave in a very short time. Some electric razors can even be used while you are in the shower making them extremely convenient and flexible. And as far as shaving goes, depending on the model, an electric razor can provide a great shave.
Advantages of Shaving
Since we've all likely shaved at some point, maybe even this morning, we are likely aware of how shaving works, but you may be surprised at some of the benefits shaving does provide. Here are the main advantages of shaving:
Fast and easy hair removal – in fact, shaving can often be done in 10 minutes or less.
Modern razors provide an excellent glide making using razors almost painless.
Perfect for large areas of hair removal.
Disadvantages of Shaving
The downsides to shaving include:
Hair grows back faster and then any other hair removal method with shaving.
Doesn't remove the entire hair
Skin irritation
Razor burn
Nicks and cuts
Ingrown hairs
Costly overtime
Head to Head Comparison
| Feature | Epilating | Shaving |
| --- | --- | --- |
| Pain Level | Painful, at first | Almost Painless |
| Ingrown Hairs | Only if no exfoliation is done | Greater risk of ingrown hairs |
| Time before Regrowth | May last up to 4 weeks | 1 to 3 days (if you are lucky) |
| Time Commitment | Slower than other methods | Quick and Easy |
| Initial Cost | Depends on the model, higher | Cost less (disposables) |
| Ongoing Cost | None, a one-time investment | Up to several hundred dollars |
Which Method Works for You?
Now that we have laid out the major differences between each method of hair removal, it is time for you to decide which one is right for your unique needs. Truth be told many individuals use both methods to remove hair on different parts of their body.
When to Use an Epilator:
There are a few scenarios that an epilator is a perfect choice, whether you have never epilated before, or are a regular pro:
Individuals with sensitive skin – Using an epilator is a great option for individuals with extremely sensitive skin. Since epilating does not damage the skin it is less likely to cause any irritation at all for those with skin sensitivities.
When you want more permanent hair removal – As we've mentioned, overtime and with repeated epilation the hair will grow finer, softer, and will take longer to grow; eventually becoming almost like permanent hair removal.
Those that want softer or finer hair – Some individuals use epilating as a way to have thinner and finer hair. If you are an individual whose hair grows very coarse and thick, this may be a great option for you to change the hair you currently have.
When to use a Shaver:
Unlike using an epilator, shaving takes a commitment to upkeep. However, there are advantages to shaving, you should use a shaver if these fit you:
Scared of the pain of epilators – While we would challenge you to give epilating a try to see if it is as painful as you suspect, some people just cannot even handle the idea, and that is fine, keep shaving.
DO NOT want semi-permanent hair removal. Epilating and waxing both provide near-permanent hair removal if used continuously for most people. If this is not what you want, then skip the epilator.
You don't have the time – Epilating takes time. Individuals who need a fast and easy hair removal method will find shaving a lot faster. Although faster, you have to do it more often, so that maybe something to consider.
Don't Choose, Get a Two-in-One
You do not have to decide with this combo from Panasonic:
Editor's Rating: 4.1/5.0

View on Amazon
This epilator and shaver combo from Panasonic is a versatile hair removal tool for both men and women. The epilator includes two epilator heads for removing hair from larger areas or precision hair removal. And as an added bonus, it features attachments for trimming hair and fine line contours. The head pivots to allow it to follow the contours of the face, or anywhere on the body you wish to remove the unwanted head.
This epilator is rechargeable and can be used wet or dry for versatility and flexibility. Men who wish to remove beard or mustache hairs should trim the hair to a length of no more than 1/8th inch for best results. The included trimmer head attachment can do this job perfectly.
Tech Specs
Product weight: 9.6 oz.
The Pros
Wet/dry epilator
Rechargeable
6 attachments
Pivoting head
2 Epilator sizes for more control
Dual speed
The Cons
May not work on especially fine/thin hairs
Attachments are not included in the product warranty
Conclusion
We have covered a lot of information. We've discussed in detail exactly what epilating is and what shaving is, as well as the different types of each that are available. We've looked at the advantages and disadvantages and what all of it boils down to is which hair removal method works best for you. We hope that this article has provided you with some information that may help you choose which hair removal method best fits your unique needs. Until next time, here's to your best hair day!