The beauty-sphere is filled with articles about going from brunette to blond. But when you're over your blonde hair and ready to go back to your natural hair color, there's few information and advice to be found.
Perhaps its because people are under the impression that you can simply dump some brown hair dye on your head and call it a brunette-day. Unfortunately, those who have tried to dye their lighter locks dark again know that it's not that easy. Not only is finding the right color that compromises your natural color and the lighter locks difficult, within a few washes the blonde is shining right through again.
Here we will discuss common mistakes of going blonde to brown and provide some helpful tips.
Common Mistakes of Blonde to Brown
Mistake #1: Avoiding colors with warmth. When you're going blonde you often stay clear of warmth because of the potential brassy-color. However, when you're going darker, embrace inner warmer hues.
Mistake #2: Wanting the same color from roots to tips. Wouldn't that be nice? You're going to have differences throughout your hair so rather than trying for one color, embrace a few different shades. You'll have a more dynamic brunette color too!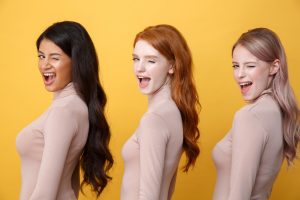 Mistake #3: Not using non-sulphate shampoos. Sulphate shampoos will rinse your hair color out faster than the blonde is already trying too. Non-sulphate shampoos will keep the color in, regardless if its at-home or in-salon dyes.
Helpful Tips for the Blonde to Brunette Transition 
Choose the right technique: Your stylist should use balayage color technique to add lowlights (or midlights) in a color close to your natural hair. They should be placed through the interior of your tresses. Ask to use a soft dark blonde on the top and sides to prevent a too-dramatic change.
Choose the right color: We don't have to tell you that you should choose a color that flatters you. However, when you go t the stylist or choose a box, think of words like "soft" and "subtle" and "warm tones" This will avoid a dull finish and give you a more natural color.
It's not always a one-time process: Unfortunately, like going blonde, the transition back to brunette is a process. It might take 2-3 visits to get to the color you want. Going slow will protect your manes health.
Get the right haircut: Choose a haircut that has lots of movement to show off the dimensions of your color. This might be long beachy layers or a wispy long bob.
Find the right products: Opt for color conserving shampoo, conditioner and protective products when you are transitioning.
Switch up your makeup: You don't want to look washed out as a new brunette. You might need to donate your old makeup to a blonde friend and find warmer shades like coral, sunny browns, natural flush and berry.
If you plan on doing it at home, check out these helpful tutorials.