A good shave takes a lot more than a simple razor. A good shave is a multi-step process with a variety of tools and several steps.
Don't worry, it's not as tedious as it sounds, and the results are more than worth it.
Even if you've already got the razor, be it a straight razor or a safety razor, you need more for a true old-fashioned shaving kit. Not only will we present some of the best complete old-fashioned shave kits on the market, with their pros and cons, we'll also talk about what you need to build a custom old fashioned shave kit of your own.
Armed with this knowledge, we're confident that you'll be shaving, looking, and feeling better in no time. Even if it is a bit old-fashioned.
Budget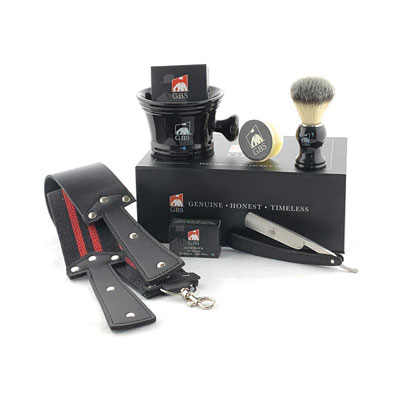 GBS "Shave Ready" Complete Beard/Shaving Set
4.5/5.0
No of Pieces: 6 Items
Do They Include a Razor?: Yes – Stainless Steel Straight Razor
Designed for clean shaving or maintaining the edges of facial hair.
Check Amazon
Best Value

Luxury Safety Razor Shaving Kit
4.8/5.0
No of Pieces: 8 Items
Do They Include a Razor?: Yes – Stainless Steel Safety Razor
Designed for men with facial hair and men without, works on all hair types.
Check Amazon
Top Pick

Amazing Straight Razor Shaving Kit
4.9/5.0
No of Pieces: 6 Items
Do They Include a Razor?: Yes – Japanese Stainless Steel Straight Razor
Suitable for men at all levels of skill/investment in shaving.
Check Amazon
What Do You Need in Your Old-Fashioned Shaving Kit?
There are many things passing themselves off as old-fashioned shaving kits. But, there are a few things you need to look for to know that you're getting the real thing.
Most kits won't have all of these things, so you may find yourself picking up a few additional bits and bobs if you go with one of the pre-built shaving kits above. Or, you can pick the products that are most important to you and either build your own kit or pick from the list above based on what comes closest.
Shaving Soap
Shaving soap, also sometimes knows as shaving cream bars is one of the most basic items for shaving, and thus for old-fashioned shave kits.
A true old-fashioned kit will almost always have their shaving soap in bar form if they include a soap. While there are some good alternatives that used tubed shaving soap, similar to a tube of paint or toothpaste, aerosol cans aren't a good option.
The convenience of aerosol cans can't be denied. But, the quality of the product is significantly lower. That kind of shaving cream is usually thinner, less moisturizing, and less likely to prevent razor burn.
Soap bars, on the other hand, allow you to build a lather of the desired thickness, usually contain lots of moisturizing ingredients, and give you a lot more control. All that helps fight ingrown hairs and razor burn both.
Pre-Shave Oil
Pre-Shave oil is one of the rarer items to find in shaving kits. That doesn't mean it's not a good idea to have one on hand, though. Pre-shave oils are one of the most important ways to prevent razor burn. They can be more effective than shaving soaps and are a potent combination.
Pre-shave oils usually contain a mix of natural plant and nut oils, and many also contain essential oils. The essential oils can boost its effectiveness, and also provide scent.
Some people also just use a beard oil as their pre-shave oil, especially if they aren't completely removing their facial hair.
Whatever kind of oil you use, it should have a thick texture but should also be quick to absorb. The oil does work to increase glide and reduce friction between your skin and the razor. But the biggest benefits are internal, boosting the natural protective barrier in your skin.
Shaving Brush
A good shaving brush is key to getting a good lather from your shave soap. Inferior brushes won't produce the right texture or volume of lather. A poor shape will make it difficult to control where the lather goes.
Good shaving brushes are usually made from either badger bristles or synthetic fibers. Badger is chosen for its texture, moisture retention, and superior control. The finest badger fibers are rated Silvertip, which refers to the color that naturally occurs at the end of the fibers.
Silvertip can be faked, simply by bleaching the ends. While that doesn't mean that it's a bad brush, it's worth carefully washing your brush before you use it the first time.
Synthetic fibers have come a long way in recent years. Once synthetics were noticeably lower quality than any grade of natural badger fibers.
Now, the biggest difference is that the natural fibers retain a little more moisture than their synthetic cousins. The texture is similar, and neither type of fiber is more likely to break or shed than the other.
Stand
Stands are less important than most of the other items on this list. Most of them are made of steel or aluminum, but some do have a wooden base or decorative acrylic.
The two things you should look for in a stand are aesthetics and durability. They work for cartridge razors and safety razors but aren't suitable for straight razors.
Your stand helps keep your brush and razor clean and works to prevent falls and other sources of damage.
While this is one of the least important products, you should still pick with care if you have the option. Look for a stand that's very stable and has a fair amount of weight to it. That way, you'll have to worry less about what will happen if someone accidentally bumps it.
Scuttle
Your scuttle makes all the difference when it comes to a good wet shave. Metal and ceramic scuttles are standard, but there are some plastic and wooden versions out there. Wood works but won't retain heat the way a metal or ceramic scuttle can.
Generally, we recommend avoiding plastic. That's a matter of preference, though. There are textured plastic scuttles that work, they just don't have the weight or aesthetic appeal we prefer.
If you opt for a plastic scuttle, look and see if it retains heat at all, is microwave safe, and whether the manufacturer has any cleaning recommendations.
Ceramic scuttles have the advantage of usually being microwave-safe, holding a significant amount of heat, and generally having good texture and depth for lathering your soap.
Metal scuttles are often the easiest to use, can be heated by resting them in warm water, are easy to clean, and almost always come textured for easy lathering.
Razor
There are three razor types that you can choose to go with your old-fashioned shave kit. We're intentionally excluding electric razors since they are a completely different type of shaving.
The least expensive option, in the short term, will usually be a cartridge razor. While convenient and easy to use, cartridge razors are worse for your skin and are generally considered the worst of the manual shaver options. Suitable for beginners and men on a tight budget.
The middle ground, and the most popular option, is the safety razor. The safety razor uses disposable razor blades but is made of metal and produces much less waste than disposable cartridge razors. These offer a close shave, quite a bit of maneuverability.
Safety razors are generally suitable for most men, all hair types, and are more cost-effective and less wasteful.
The last option are the true old-fashioned razors. Straight razors are more expensive upfront, but they are also the most sanitary and most cost-effective option in the long term. These blades require a reasonable amount of upkeep and maintenance.
But, in exchange for a little additional care, straight razors will last for years. They offer an incredibly close shave and the real experience of an old-fashioned shave.
Shave Balm
The last item we're going to highlight, and one that very much should be in your old-fashioned shave kit, is the aftershave balm.
These balms restore moisture, help heal and soothe irritated skin, and generally improve your complexion. They also work to help moisturize the new hair growing in, so you won't go prickly between shaves.
Trust us, this may not mean much to you, but your partner will appreciate it!
Good shave balms are waxy in texture, include natural oils, absorb relatively quickly, and are either unscented or only have a mild scent.
You should avoid balms that have high alcohol content. We also generally recommend avoiding petroleum products in your shave balms. Petroleum products can irritate some people's skin and lead to breakouts. Not to mention that they are less environmentally friendly than their natural alternatives.
Many shave balms also contain a blend of essential oils. These can boost the effectiveness of the oils, provide scent, and improve the texture and absorption of the oils.
Top 5 Old Fashioned Shaving Kits Comparison Table
5 Best Pre-Build Old Fashioned Shaving Kits: Detailed Reviews
Editor's Rating: 4.9/5.0

View on Amazon
This is what we'd call a very complete old-fashioned shaving kit. That's not to say that there aren't a few things we'd add, but rather that this shaving kit provides everything you need to start shaving with a straight razor. Including the razor!
In this kit you'll get the travel/storage case it comes in, a Japanese stainless-steel razor, a strop, sharpening cream, a badger shave brush and a tin of shaving soap. That's the basic kit to start shaving and maintain your razor.
If we could add to this kit, we'd add a balm or oil to use before/after shaving and a scuttle. Additional products, like beard care, depend so much on the consumer that we understand not including them in this kit.
After all, an old-fashioned shave kit is about keeping your cheeks clean, not just maintaining your facial hair. The best kits do both, which is part of why we've included this one.
It's made our top pick because it's one of the most complete kits. It's also a full-size set, no bothering with travel-sized sample products. If you're alright with using a basic setup, this gives you what you need more than a month of clean shaving.
It made our top pick choice for three reasons, it gives you everything you need to shave, it's reasonably priced, and it's versatile enough to work for men who want a clean-shaven look and men who are looking to groom and care for some amount of facial hair.
Tech Specs
This kit includes: Wooden travel case, japanese Stainless-steel razor, badger-friendly shave brush, 1 tin of sharpening cream, 1 leather strop, 1 tin of shaving soap
The Pros
Comes with its own razor
Comes with strop and sharpening cream for maintaining the razor
Soap and brush are designed for a clean, close, comfortable shave
Attractive leather travel/storage case included
Suitable for men at all levels of skill/investment in shaving
Reasonably priced
The Cons
No moisturizing or post-shave soothing oils/balms
Straight razor has a learning curve
Note: This is as close to a perfect score as we are likely to give. The kit itself isn't perfect, but it's a well-balanced set that closely fulfills a need.
Editor's Rating: 4.8/5.0

View on Amazon
This is another very complete set, with the addition of moisturizing and soothing products that we appreciate. It's a little more geared toward men who have facial hair they're working to keep trimmed contained and neat, but it's also suitable for men who prefer the clean-shaven look.
This kit is also a little more affordable than our top pick option.
You'll get 7 items with this kit, including a safety razor, stand, scuttle, 10 replacement razors, and shaving soap.
The preshave oil and aftershave balm really put this kit over the top for us. These two additions are really important for men with sensitive skin, or who want the closest possible shave. They protect your skin, moisturize your skin and your facial hair, and help your razor do its job.
We also appreciated that this kit comes with full-sized products. You have enough for a month of shaving, maybe a little more, before needing to but additional razors. The other supplies should last much longer.
This made our best value pick because it's more affordable, but still offers a lot of supplies for your money. The safety razor is a more affordable option than the straight razors, which is part of the cost difference.
The one major downside of this kit is that Viking Revolution's products may be too strongly scented for some users.
Tech Specs
This kit includes: Safety razor and brush stand, shave brush, scuttle, shaving soap, 10 replacement razors, pre-shave oil, aftershave balm
The Pros
Lots of products to keep your skin well-moisturized
Safety razors have less of a learning curve than straight razors
Suitable for men with facial hair
Works on all skin and hair types
Designed for men with facial hair and men without
The Cons
Can be too strongly scented for some men
Safety razor requires regular blade replacement
Editor's Rating: 4.5/5.0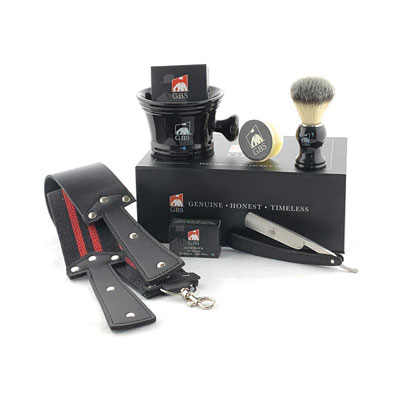 View on Amazon
Another straight razor set, this is one of the most affordable options for men who are interested in shaving with a straight razor but who don't want to drop hundreds of dollars on a new kit.
The razor itself is made from stainless steel. It's easy to care for and maintain and holds a good edge for most hair types and thicknesses.
It also comes with the strop and the other supplies you'll need to keep this razor-sharp, clean, and working it's best.
This affordable set doesn't quite go all the way with a badger hair brush, but the synthetic fibers are a close second. It whips up a good lather, is comfortable against your face, and is each to clean and dry. The biggest downside of the synthetic fibers is that they don't hold water quite as well as real badger hair. (Some hair shedding is normal.)
The traditionally shaped scuttle is deeper than many. That means it's a good design for men who like a thicker, richer lather. It gives you the space you need really whip up a good layer for shaving.
The included alum bar also helps soothe any post-shave irritation and clear up the look and discomfort of razor burn.
Tech Specs
This kit includes: Strop, stainless steel razor, synthetic hair brush, scuttle, shaving soap, alum bar
The Pros
Highly affordable
Complete kit with everything you need to shave
Includes scuttle, shave soap, and brush
Designed for clean shaving or maintaining the edges of facial hair
The Cons
Some people may be sensitive to Alum bar
No travel or storage solutions included
Editor's Rating: 4.5/5.0

View on Amazon
This set is a little simpler. Put together for men who are looking to upgrade from an existing set, or who already have some preferred grooming products, it doesn't come with quite everything you need to start shaving. Namely, there is no pre-shave treatment or aftershave ointment.
That said, this is still a great option if you don't need everything and are looking for shaving tools that are a little more personalized for you.
We do have one other disclaimer on this set. While it counts as an old-fashioned shaving set thanks to the shave stand and brush, it's a modern cartridge razor. The personalized handle looks great and matches the rest of the set well.
But, if you're looking for a true old-fashioned shaving experience, you may want to upgrade to a different razor.
It won a place on our list, however, thanks to a particularly nice goats milk shaving soap. This soap lathers well feels fantastic and does a lot of heavy lifting to moisturize and protect your skin.
So, while we'd consider this somewhere in the middle of the road between old-fashioned shave kits and modern kits with a luxurious twist, it's still a solid set.
Tech Specs
This kit includes: Cartridge razor, razor and brush stand, badger brush, scuttle, goats milk shave soap
The Pros
Shave ready
Little or no razor maintenance required
Superior goats milk shaving soap
Matching set adds style and character to your bathroom
The Cons
Cartridge Razor isn't as good for your skin
No storage solutions included
Editor's Rating: 4.7/5.0

View on Amazon
Gentleman Jon lays claim to be the original shave kit. Whether that's true is probably up for debate, but there is one thing that's certain. This kit is very complete, very old fashioned, and a good option for men of all ages and shaving needs.
The safety razor in this kit performs reliably and well. It's compatible with Astra razors, which tend to be sharper and last longer than much of the competition. This is an easy step up to make from cartridge razors, and even outperforms some other safety razors.
You also get a scuttle, shaving soap, and an alum bar. That makes for a comfortable shaving combination, though a pre-shave oil would be a good addition to this kit.
The shave soap has a mild sandalwood scent. It's warm and masculine without being overpowering or unpleasant.
Gentlemen Jon's alum block is also well-known for being one of the most effective versions for reducing shaving irritation and razor burn.
The canvas and leather storage and traveling bag is a good bonus as well. Designed to be effective, and perfect for packing up your shave kit to take it on the go, it's also durable and hard-wearing.
Tech Specs
This kit includes: Stainless steel safety razor, stainless steel scuttle, badger bristle brush, razor and brush stand, 1 bar shave soap, 1 alum bar, canvas and Leather Dopp kit, 5 replacement Astra blades
The Pros
Comes with its own travel bag
One of the best Alum bars
Shave soap has a pleasant scent
Comes with everything you need to start shaving
The Cons
Takes some getting used to the stainless-steel scuttle
Not everyone can use the alum bar, may cause skin reactions in some
Final Thoughts
Hopefully, now that you've read this article, you not only know what some of the best old-fashioned shave kits are but also why they are the best.
We're confident in the kit we've chosen, and while no one kit is perfect, each will improve your shave experience each and every time you use them.