You're standing at the drug store, in front of you is hundreds of hair colors and brands – and you have to decide what box you should choose based on a few color suggestions on the side of the box and some vague color descriptions like "chocolate" brown and "natural medium blonde".
We all want to avoid the hair catastrophe that can happen with at-home hair dying and avoid that expensive salon "please fix this!" visit. Here's some tips for choosing an at home hair color.
Determine Your Hair Color Goals
When you're looking at the box, ask yourself: "am I willing to commit to this hair color?" Determine what shade you want but also be realistic about your hair color goals – also are you going to commit to keeping your roots colors?
Don't Trust The Box Color
You need to be a little creative when determining how the color is actually going to look. The box is designed to make you think that the model on the front is the shade you're going to have. The color photos on the side can help give you a general idea. Think about your exisiting color and add it to that artificial color on the box and try to imagine the two colors combined.
Box Dye Hair Color is Only Accurate on Virgin Hair
If you've never dyed your hair before and your hair is lighter than the color that you're choosing, then there's a good chance that it will look close to the box color but if you have virgin roots and the rest of your hair is still colored then the dye will show the difference.
Permanent Color Will Not Lift Previous Dyes
Permanent dye will not cover up previously covered hair or lift the previous color. It usually results in a darker shade than intended. If you just need to touch-up your roots then buy the same color and brand as before and just dye your roots. Use a gloss to boost your previous color.
Choose an Application Type
If you're dying your entire head, then opt for a mousse applicator, but if you're just doing a root-touch up then a bottle is preferred.
How Long is Your Hair?
If you've got long or thick hair, then buy two boxes – just in case!
Wash Your Hair the Night Before
Give your hair a good cleansing the night before you decide to use a box dye. This will help the hair dye stick to your hair better.
Mix Shades
If you want a color with more depth such as red to a brunette, then mix shades! Just make sure that it's the same brand and applicator type.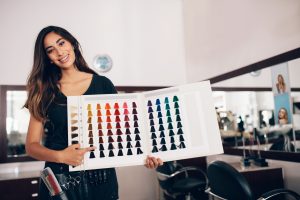 Shade Guide:
Ash: Cool undertones. Will cancel out any brassy or red color.
Auburn: Deep copper brown with orange-red undertones.
Bronzed: Warm with coppery-red undertones.
Burgundy: Deep, red with violet-blue (cool) undertones.
Caramel: Dark blonde with yellow undertones.
Chestnut Brown: Soft brown
Chocolate Brown: Rich brown
Golden: Warm yellow undertones.
Mahogany: Deep red