Men have embraced the need to add style and personality to their look with the help of styling aids. Two of the most common hair styling products are pomades and waxes. The problem arises when you try to decide between the two, and even if you do decide, then there are several options.
We're here to help. We've considered the advantages and disadvantages of both types of products and taken an in-depth look at what they have to offer in order help you decide which type of product is the right styling aid for your hair. As if that weren't enough, we've even provided you with our top picks for both products to make the entire process simple and easy.
First, we'll take a look at what these products actually are… so read on for a detailed look at these popular hair styling aids.
What is Pomade?
Ever seen a movie set in the 1950s? You know those slicked back hairstyles seen by men and young adults, and even Elvis Presley, that was achieved using a pomade. Pomade is a creamy substance that when applied to the hair gives your hair a high sheen. Pomades can be used to attain many hairstyles, like a quiff or pompadour that involves some aspect of a slicked look.
Pomade can be applied to either damp or dry hair to achieve different styles and looks. You can also use pomade in different amounts to alter the effect slightly. A small amount of pomade can go a long way, especially on damp hair.
Pomade has traditionally been made as a petroleum-based product. That made pomades of the past harder to remove from the hair, often resulting in problems with product buildup. Many modern pomades are water-soluble, meaning they can easily be washed away. The trade-off is that these newer formulas may not provide the same high sheen of the more traditional pomades.
What is Wax?
Unlike pomades, waxes do not make the hair appear, or feel, greasy. Hair waxes are made using actual wax as an ingredient. Waxes provide some of the same style options and control that can be achieved with a pomade with one very significant difference: hair wax dries completely but remains flexible.
Hair waxes can provide several levels of hold depending on the wax content in the formula. Waxes can be used to create very detailed styles or the seemingly random spiked styles that are commonly seen.
Waxes are not a cream-like product, rather they are usually a stiffer putty-like consistency that is pliable. Waxes, when warmed, can be applied to specific areas of the hair or all over depending on the style you want to create.
How are Pomades and Waxes Different?
Feature
Pomade
Wax
Finished Style Appearance
Shiny
Matte
Flexible Hold
Yes
Yes
Petroleum-Based Options
Yes
No
Water-Based Options
Yes
Yes
Moisturizing to Hair and Scalp
Yes
No
Drying
No
Yes
Finished Style Appearance
In general, you will be able to achieve more shine using a pomade than a hair wax. Although some hair waxes can provide a touch of shine to the hair, most dry to a matte finish that more closely resembles the hair without styling products. This is one area where personal style is going to have to guide your choice.
Flexible Hold
Both pomades and hair waxes can provide different levels of hold depending on their formulas. However, waxes can offer a wider range, particularly layered hold, meaning you can adjust the amount of product to achieve different levels of hold depending on your hair type and desired style.
Petroleum-Based
As mentioned above, traditional pomades were all petroleum-based. Today some men still prefer to use the same familiar formulations that our fathers and grandfathers knew. When using a petroleum-based pomade special care will have to be taken to ensure the product is not allowed to build-up in the hair. Petroleum-based products do not wash away easily with regular shampoo.
Water-Based
Modern pomades have come over to the other side. Now you can find pomades made with water-based ingredients, just like hair waxes have always been. The big advantage of water-based products is their increased solubility. This means that they break down in the water and rinse away from the hair easily.
Moisturizing
Pomades, even modern formulas contain oils that provide deep moisture to the hair and scalp. Some pomades can improve hair strength and hydration over time. The important thing to keep in mind, though, is that even modern pomades should not be allowed to build up in the hair. Product build-up can lead to a wide range of issues with your hair and scalp.
Drying
One of the key features of hair waxes is that they dry completely; some take longer than others. This gives the signature matte finish to the hair that waxes are known to provide. The downside to the drying is that most waxes do not provide any moisture or hydration to your hair. Although men with oily hair often find the dryness a huge benefit to their oil issues. The last thing oily hair needs is more oil.
Know Your Personal Needs
Everyone has their own personal styling needs and desires. That also means that each individual is going to find the right product or combination of products to be able to achieve the style they want. Taking the time to consider your unique hair characteristics can go a long way toward wasting time and money on products that do not work for you. Let's consider some areas that may be work thinking about.
Hair Type
There are several hair types, and even similar hair types can have drastically different characteristics. For example, one man may have straight hair and find that they can use most products with ease, while another man with straight hair may find that many products weigh down his hair too much.
Here are some very general hair types, and the most common styling products that MAY work:
Straight Hair – Straight hair types, both thick and thinner hair can usually use almost any styling product with ease as long as they regulate the amount of product they use. Individuals with thin or fine hair may find some styling products, such as a pomade is too heavy for their hair.
Wavy Hair – Those with wavy hair often enjoy the benefits of having texture without the complications that curly hair may present. Similar to straight-haired folks, wavy hair individuals can use either pomade or wax depending on the style they are trying to achieve.
When less texture is desired, then a pomade will lengthen the waves and keep them that way throughout the day. When you want to enhance the natural texture, a wax allows you to add texture and hold to specific areas, such as the hair root for lift and a flexible style.
Curly Hair – People with especially curly hair will have a hard time achieving a slick look that pomades are known for without use a heavy amount of product. For curly hair, it may be easier to use wax. Though neither product will likely produce a perfectly sleek look, it may be better to choose a style that embraces the curl.
Styling Needs
Along with dealing with your individual hair type is understanding your individual styling needs. Your hair may be oil, as mentioned above, you are going to want to avoid products, such as pomades that add oil to your hair. These individuals usually find wax works best.
Waxes can have their own limitations. One involves very thick hair. Waxes do not provide a super level of hold that individuals with thick hair may need. While pomades may provide a bit more hold, those with especially thick hair may have to choose products that provide extra hold, like gels or even hair sprays. The downside of these products is they allow for limited flexibility and often make the hair stiff and hard to touch.
Hair Length
The final aspect to keep in mind is the length of your hair. Men with short to medium-short hair will have more options for styles and styling products than those with longer hair. With long hair comes to weight, which can be a struggle for both pomades and waxes.
However, one common style option for longer haired gentlemen is to use hair wax to provide lift at the hair root. This gives your style more volume and life.
Time to Decide: Pomade or Wax – Maybe Both?
When you break down the options, the choice is going to come down to the style you want to achieve. For slick styles with more shine and hold; choose pomades. When a natural, flexible style is what you are hoping to achieve a wax will work in most cases.
You always have the option of changing up your style, and we encourage it. This means that for a good majority of men, they can enjoy the benefits of both types of products, though not at the same time.
With some trial and error, you will find the perfect blend of style and hold that works for you. Enjoy the fun that can be had trying different looks, textures, and styles.
What To Look For In Pomades and Waxes – A Mini Buying Guide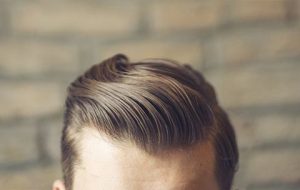 Now that you probably have some idea of whether a pomade or wax will fit your needs, the next step is to find quality products. Sure, you can go to the local market or discount store if you don't care what you are putting in your hair. However, we suggest taking some of the following characteristics into consideration when choosing the right pomade or wax to meet your needs.
Water Soluble
We've covered water solubility a little already, but it begs to repeat. Choose to use a product that is water-soluble will save you from dealing with the struggle that comes from removing other products. The wide range of pomades available in today's market is sure to provide you a very similar experience to the traditional oil-based pomades without the clean-up issues.
Hold Level
Both pomades and waxes are available in several hold levels to meet your styling needs. The advantage to waxes is that you have a bit more flexibility in the hold with one product by using more or less of the product.Pomades generally do not have that flexibility.
Shine Level
The amount of shine you want in your finished style is definitely going to determine the product you choose. High shine can usually only be achieved with a pomade, while some waxes can offer a little bit of shine if you want it. Some men may not even care about the shine level of a product, they will probably lean more toward waxes, since shine is one of the primary reasons for choosing a pomade.
Scent/Fragrance
Pomades and waxes can both come in a wide variety of scents, including both natural and artificial fragrances. Unlike other products that may have a scent that dissipates quickly, the smell can stick around with pomades and waxes. Individuals that are sensitive to scents may want to be sure to find unscented waxes or pomades to avoid a lingering odor.
Stickiness
Sticky, tacky, or whatever term you want to use, refers to how the product feels once it is in your hair and set. Most pomades are going to be at least a little sticky the entire time it is in your hair, and unfortunately, it is not always evident how sticky until you use it.
Waxes on the other hand rarely have issues with being sticky once they dry. However, until they are dry some waxes can be sticky. To speed up drying time, you may want to consider using a blow-drying, or less wax.
Ingredients
Another important aspect of any product that you use on your hair or body is the ingredients. Modern styling products offer a wide variety of ingredients, some that can be harsh on your hair and scalp.
To avoid any potential issues, choose products with all-natural or organic ingredients whenever possible. These claims should be verifiable, especially all-natural, as stating that something is organic has requirements. This refers to products manufactured or sold in the United States; other countries may have different regulations.
Finally – Clearing Up Some Confusion
We wanted to take a moment to clue you in on some misguided information that some companies may provide. Many hair styling manufacturers use the terms wax, clay, and pomade to describe the same products. We want you to be aware of this to avoid purchasing a product that you expect to perform one way, only to find it is not what you thought you were buying.
Best Pomades
Just as promised. here are a few of our favorite pomades from companies that have proven they know how to provide quality products that meet and exceed any expectations. These are definitely not all of the pomades out there that can offer you great style, with the perfect level of shine, but they are a great place to start.
Editor's Rating: 4.6/5.0

View on Amazon
Viking Revolution is one of the premier manufacturers of quality styling and groom products designed for men. Their pomade stands up to the same quality and standards as all of their other products. This pomade offers a firm hold, and a little can go a long way. A bit more flexible than other pomades you can add product if you desire a higher shine without any worry about product build-up; this pomade is water-soluble.
Like all Viking Revolution products, this pomade is made with only natural, chemical-free ingredients, and only a hint of scent. As an added bonus, this pomade comes with a money-back guarantee; love it or get a full refund.
Tech Specs
Product weight: 4.0 ounces
The Pros
Water Soluble
Firm Hold
All-Natural Ingredients
Lightly Scented
The Cons
May require more product to achieve a firm hold for some hair types
Can be quite sticky
Editor's Rating: 4.5/5.0

View on Amazon
Another great men's grooming and styling product company, Rocky Mountain Barber Company has this firm hold pomade. This is a water-based pomade that washes away easily. This pomade provides you with a high level of shine with a light neutral scent.
Handmade in small batches in North America under strict quality control from only natural and plant-based ingredients, including a bit of beeswax for added hold.
Tech Specs
Product weight: 5.0 ounces
The Pros
Water Soluble
Firm Hold
All-Natural/Plant-based Ingredients
Light Neutral Scent
Larger container
The Cons
More like a gel than a true pomade
Editor's Rating: 4.5/5.0

View on Amazon
Suavecito makes their original hold pomade of high-quality ingredients that are completely water-soluble. Though this is a pomade, it offers some benefits more often found in waxes. The pomade adheres to the hair better than traditional pomades but leaves no ugly residue behind.
This pomade is designed to provide most users with a medium level hold and even shine without weighing down the hair. This lightweight formula was inspired by motorcyclists and is proudly made in the USA.
Tech Specs
Product weight: 4.0 ounces
The Pros
Water Soluble
Medium Hold
Moderate Shine
Made in the USA
The Cons
Requires more product to achieve desired results than similar products
The scent may be too much for some users
Best Waxes
Now that we have shared our favorite pomades, here are the best waxes out there to provide a balanced hold and even a little shine if you want it. Just like the pomades, there are other wax options on the market. These waxes provide enough flexibility to your style to give you an idea of the type of wax that works for you even if these aren't the perfect fit.
Editor's Rating: 4.8/5.0

View on Amazon
This medium holds hair wax from Fatboy Tough Guy is a water wax. Designed to provide a perfect balance of shine without leaving hair oily and made of only water-soluble ingredients, this wax washes away easily. This wax has been designed to offer flexible hold and can be layered for even more structure.
This is a heavier wax, so may not work well for thin or fine hair. Though curly hair may handle it just fine. This wax is also free of sulfates and parabens and safe for all hair and skin types.
Tech Specs
Product weight: 2.6 oz
The Pros
Water Soluble
Mild Shine
Medium Hold
Free of harmful Sulfates and Parabens
The Cons
Works best on dry hair
Might be too heavy for thinner hair
Editor's Rating: 4.6/5.0

View on Amazon
Smooth Viking Cream Molding Wax is a fiber wax that provides a matte to low shine in a medium hold formula. This wax remains soft and flexible while in your hair and easily washes away at the end of the day.
This wax is also made with extra moisturizing ingredients to prevent drying your hair out. You can also apply this wax to dry or damp hair and layer it for additional hold.
Tech Specs
Product weight: 2.0 oz
The Pros
Water Soluble
Medium Hold
Added moisturizers
For use on wet or dry hair
The Cons
The thicker formula may be too much for thinner hair
Editor's Rating: 4.6/5.0

View on Amazon
If a strong hold is what you are after, then you will find no better wax than the Gatsby Moving Rubber Spiky Edge, the hardest wax in the Moving Rubber series of waxes. This hair wax provides maximum hold while remaining flexible.
This wax is designed for men looking to achieve a defined edge and made using a proprietary formula that includes unique polymers to achieve the maximum hold in a wax. This wax also has a light green-apple fragrance that is pleasant to most users but dissipates quickly.
Tech Specs
Product weight: 2.8 oz
The Pros
Strongest Hold in a Wax
Mild green apple fragrance
Non-sticky
The Cons
Polymer-based may be hard to clean up than others
Conclusion
In this head to head comparison of pomade versus wax, we've given the advantages of both types of products and even covered where they may fall short. While we cannot make the ultimate decision for you, hopefully, this guide has given you enough insight to find the right product (or products) that work best for you. Here's wishing you the best hair day around!