Hello, Green-eyed lady! The rarest of all eye colors deserve to be admired. You probably already know the best make-up for your eye color, but did you know that hair color can play a major role in how much or how little those green-eyes 'pop'?
There are many hair colors that will complement your green eyes, it's important to not only consider your eye color but also:
Skin tone
Skin complexion
Current hair color
Preferred clothing preference
Let's take a look at the best hair color choices for you considering all of these factors and hopefully narrow down on a few hair color options that make people green with envy over your green eyes.
Eye Color
There are many shades of eye colors and not all greens are created equally. Although some greens are exclusive green, other shades of green are blended with blues, grays and browns. Determine what color green your eyes are and then you can determine if cool or warm undertones in your hair color would be best. If you have hazel / brown undertones then warm colors are a better option, but if you want to bring out the blue / gray undertones then a cooler color is best.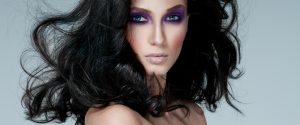 Clothing Colors
Let's be honest, most of us stick within the same color schemes when it comes to our clothing. Determine what colors look best on you and which colors you seem to gravitate towards. If you find that you often opt for blues, greens and purples then a cool hair color like platinum blonde might be better for you, but if you opt for reds and yellows then a warm hair color like burgundy would be best.
Green Eyes with Warm Skin Tones
When your skin has more yellow than pink or blue undertones, then you have a warm toned skin color. This means that colors like yellow, burnt orange and red will make your skin appear bronzed. Here are general guidelines to complimenting a warm skin tone:
Preferred hair colors: Hair colors with red and yellow undertones such as cinnamon, copper, strawberry and ginger, honey, champagne and butter platinum's.
Avoid: Black, dark brown, ash blondes, colors where blue or purple would be the base color.
Green Eyes with Olive Skin Tones
If your skin looks sun kissed or has golden undertones, then it's likely that it's an olive skin tone. This skin tone has a lot of versatility with hair colors that will complement both your skin tone and green eyes.
Preferred hair colors: Rich golden blondes, copped based hair colors, chocolate and dark browns and rich auburn
Avoid: Platinum blonde and hair colors with violet, blue and green bases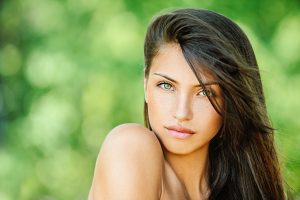 Green Eyes with Cool Skin Tones
Blue (rather than green) veins often indicate that your skin tone has cool undertones. This will leave you with plenty of hair color options because both platinum blonde and darker hair colors plus a bold red will make your green eyes pop.
Preferred hair colors: Strawberry, ash, platinum and pale blonde, reds with purple hues such as burgundy, ash browns and colors with blue or violet base.
Avoid: Black, golden colors with caramel or honey undertones and anything with orange as a base.
Pro Tip: The general rule of thumb is if you have green eyes, then opt for hair colors that complement cool skin tones as they more often than not will complement your green eyes and usually lighter skin complexion.