You might think that, since you're a man, you just have to get used to having a hairy body unless you want to take the time to shave it every single day. Instead, why not use a hair removal cream and enjoy smooth skin all over your body without the hassle of daily shaving?
In this guide, will go over all the best hair removal creams for men so that you can be armed with the best knowledge and find the perfect cream for your needs and body. Let's dive into a quick overview of each of our favorite hair removal creams and how much you'll get with your purchase.
Budget

Men's Permanent Body Hair Removal Cream
4.6/5.0
Weight: 3 oz
Bottles in Purchase: 1
Affordable and Effective.
Check Amazon
Best Value

Nair for Men Hair Removal Body Cream
4.7/5.0
Weight: 13 oz
Bottles in Purchase: 3
Good Value for Money.
Check Amazon
Top Pick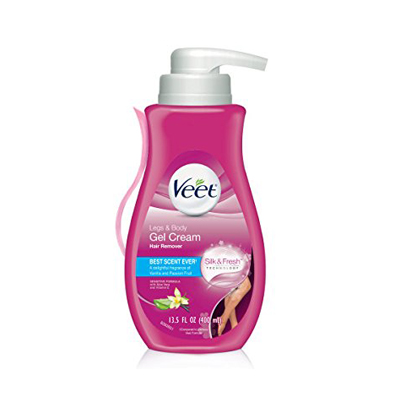 Veet Gel Hair Remover Cream (2 pack)
4.8/5.0
Weight: 13.5 oz
Bottles in Purchase: 2
Smells Good and Acts Quickly.
Check Amazon
Buying Guide
With all the different types of hair removal creams out there, how can you tell which ones are worth your time and money? Let us explain what to look for in the ideal hair removal creams for men and you can better browse for your perfect product.
Sensitivity: The best hair removal creams will pay attention to the fact that some parts of your body are naturally going to be more sensitive than others. For instance, removing hair on the inner thigh or on certain parts of the face might be more painful than removing hair on the forearm. Some formulas use ingredients that allow for the painless removal of hair, while others are rougher and don't care so much about this aspect.
While practically any hair removal cream will get the job done, most men will prefer to find a cream that isn't too painful or that makes removing their hair a chore to avoid. There are many formulas on our list that are specifically rated for their ability to remove hair as painlessly as possible. While a little discomfort is not uncommon, you should definitely try to find a cream that doesn't make you wince every time you apply it to your skin.
Ingredients: Some hair removal creams are made with all-natural ingredients, while others use synthetic chemicals or compounds. Neither type is better than the other, although you may have certain moral or ethical standards that you want to adhere to when finding the ideal hair removal cream.
Hair removal creams with natural ingredients are always great, and might even have a good scent included, but you should make sure that no allergens are included in their ingredient list. If you're allergic to a particular ingredient rub it into your skin, you could have an adverse reaction and really ruin your day.
On the flipside, hair removal creams they use only synthetic chemicals probably won't have anything you'll be allergic to. But they might be made with ingredients that don't smell very good or feel as smooth on your skin.
Amount in Purchase: In terms of value for money, the biggest factor is how many ounces of hair removal cream you'll get per dollar. If you're on a budget for you don't want to spend too much money on something like hair removal cream, you should try to find a product that gives you a good amount of cream for a reasonable amount of money.
There are some bottles that are more expensive and which also don't provide a lot of formula in their package. Then there other hair removal creams that provide tons of formula for decent prices. It's up to you to decide if the more expensive creams, which sometimes have more premium ingredients or better pain relief, is worth the lesser amount of cream per purchase.
Time: How fast the hair removal cream works also matters a great deal, but most good creams can accomplish their task in fewer than 10 minutes. There are some creams that can go as fast as four minutes. In general, many of the creams the pay attention to sensitivity and which aim to be painless will take a few minutes longer than the faster hair removal creams. This is not an ironclad rule, however.
8 Best Hair Removal Creams for Men Comparison Table
8 Best Hair Removal Creams for Men: Detailed Review
Editor's Rating: 4.7/5.0

View on Amazon
The Nair for Men Hair Removal Body Cream provides a lot of bang for your buck, even if the asking price is a little high right off the bat. It's worthwhile, though, because you get three bottles of this excellent hair removal formula, so you'll be well stocked up for many months to come. Each bottle holds 13 ounces of cream, too, furthering the amount of time before you have to buy more.
This hair removal cream uses a fast acting formula that is designed to be applied in the shower. Once applied, removing it is extremely easy with fingers or shaving tool. It's effective enough to be used in coarse hair, regardless of type or thickness. After application, you'll find that your skin is smoother to the touch and looks even greater than before.
Your hairlessness will last for several days before you need to apply again. This makes it a great choice if you're a man that already has a busy morning routine and doesn't want to have to apply hair removal cream every single day. Because you get so much with this purchase, it's a great one time buy take care of your body hair for the foreseeable future.
Tech Specs
Weight: 13 oz per bottle
The Pros
Comes in 3 pack
Lasts for several days
Fast-acting in shower
Editor's Rating: 4.6/5.0

View on Amazon
On the flipside, the Foreverrise Hair Removal Cream is an extremely affordable hair removal cream that costs you very little, but which also only has a few ounces of formula per bottle. This means that you'll have to repurchase relatively frequently, but we're confident that you'll be satisfied enough that this shouldn't be a deal breaker.
The formula uses all-natural ingredients, so you won't be rubbing any kind of synthetic or harmful chemicals into your skin when you apply it. Hair removal happens very quickly, only taking minutes to fully work, and it's applicable on any part of your body, including the chest, arms, legs, or groin.
The formula is extremely gentle despite the fact that it removes hair really close to the root. It softens the hair before removing it, making the process less painful than many competitor hair removal creams. It's an ideal choice for sensitive skin, although you should read the ingredients list carefully to make sure that nothing included in the formula is something that you're allergic to.
Tech Specs
Weight: 3.5 oz
The Pros
Affordable
Natural formula
Removes hair quickly
The Cons
Not much formula in purchase
Editor's Rating: 4.6/5.0

View on Amazon
The PTKOONN Hair Removal Cream is an excellent choice if the potential pain associated with removing your body hair is a key factor in your decision-making. This formula is totally painless once applied and only needs to be left on your skin for between five and 10 minutes. It softens they are beforehand and removes it close to the root, which extends the amount of time between applications since your hair will have to grow back further to reach its previous state.
This formula does require the use of a spatula to remove the cream since it's rather thick and difficult to scrape off with fingers or a washcloth alone. Fortunately, the spatula required is included with your purchase, so you don't have to dig through your kitchen tools to effectively use this cream.
This formula also leaves your skin feeling a little more moisturized than it was beforehand. Not only will you remove your body hair, but your skin will feel better after it's all done.
Tech Specs
Weight: 5.6 oz
The Pros
Totally painless
Fast results in 5-10 minutes
Comes with spatula for removal
The Cons
Difficult to scrub off with just hands
Editor's Rating: 4.5/5.0

View on Amazon
The Koogis Men/Women Hair Removal Cream does another great job of removing hair close to the root while remaining painless when it is applied. It penetrates deep into the skin to dig out your body hair efficiently and effectively. In fact, it goes so deep and its formula is so effective that it retards the growth of future body hair. It won't stop your body from making hair entirely, but it will drastically extend the amount of time between hair removal sessions.
This cream can also improve your skin if it tends to be naturally dry or rough. This is due to its impressive moisturizing effect, which leaves your skin feeling softer and smoother all at the same time.
There is a small downside in that you don't get a lot of cream per purchase. Since you only have to use a little bit at a time, and this cream prevents hair from growing back very quickly, this isn't a huge flaw, but it is something to consider when thinking about the lifetime costs of consistent hair removal cream use.
Tech Specs
Weight: 3.2 oz
The Pros
Slows growth of future hair after removal
Penetrates deeply but painlessly
Improves rough or dry skin
The Cons
Small amount of product in purchase
Editor's Rating: 4.6/5.0

View on Amazon
The Men's Permanent Body Hair Removal Creamis another incredibly affordable pick that's a great choice if you're a man that wants to try hair removal cream but doesn't want to break the bank at the same time. Despite its low cost, it's incredibly effective and easy to apply simply by rubbing it over your skin in small circles with your fingers.
Once it's applied, it both removes hair and repairs any thick pores that your skin might have. Thick pores, in this context, refers to pores that have a lot of gunk or damage which can prevent hair from growing properly or being removed cleanly and painlessly. The repairing effect from this cream greatly boosts its overall value.
Once again, however, you only get a few ounces per purchase, which helps explain its very affordable price. It might be an economic trade-off, though, to buy a few of this affordable hair removal cream instead of a single tube of more expensive hair removal cream, as you might end up with more overall with several tubes of this product.
The Pros
Very affordable
Repairs thick pores
Easy to apply
The Cons
Small amount in purchase
Editor's Rating: 4.8/5.0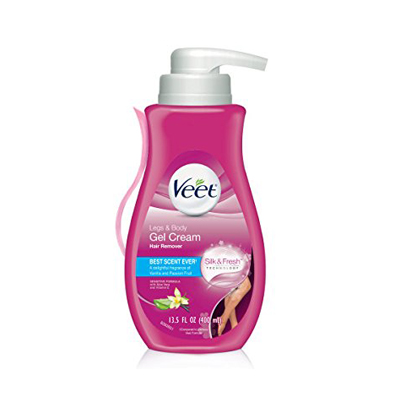 View on Amazon
Don't let the box art or pink color of the Veet Gel Hair Remover Cream stop you from enjoying its excellent effects. While pink isn't the most masculine color, there's no denying the overall quality and attention to sensitivity that this hair removal cream brings to the table.
This cream is actually a gel/cream combination, which helps keep the formula feeling great on your skin and helps it remove body hair in an entirely painless process. In fact, if you have sensitive skin you'll very much appreciate how easy it is to apply this cream and how quickly hair falls away from your body. You'll hardly feel a thing.
It's fast acting, as it only requires about five minutes from start to finish, and you can use it in the shower or outside. Because of the ingredients included in its composition, it even smells great once it's been applied as well.
You get a pack of two with the purchase, and each bottle can hold 13.5 ounces of the gel cream. Given that the asking price is incredibly reasonable, this is easily one of the best choices you can make in terms of value for money. While it might feel odd to use a cream that is explicitly marketed towards the feminine sex, we think that applicability and effectiveness are more important than packaging.
Tech Specs
Weight: 13.5 oz per bottle
The Pros
Lots of formula in purchase
Removes hair in 5 minutes
Painless and good for sensitive skin
Has moisturizing effects
The Cons
Feminine color and packaging
Editor's Rating: 4.5/5.0

View on Amazon
Another great pick in terms of value for money or how much cream you get for your purchase is the Nad's for Men Hair Removal Cream. Each bottle contains 6.8 ounces and there are three included with this purchase, meaning that you won't need to buy anymore for at least several months.
This hair removal cream dissolves the hair on top of your skin, then reaches even lower in dissolves hair just beneath the surface of your skin. This will extend the amount of time for which you can enjoy smooth skin on your body. It even makes your skin feel a little fresher and cleaner since your pores will be totally cleaned out except for the very deepest roots of individual hair follicles.
The formula takes about four minutes from start to finish to remove your hair and be washed off, making it an ideal choice if you're a man that likes efficiency. It's excellent for using on wide sections of your body, such as your entire back or chest. Applying it is incredibly quick and, since it acts very quickly, you can do your whole body in just a few minutes.
However, this formula is a little rougher than many of the other competitors we've looked at. It's nothing to complain too much about, but if you have sensitive skin or if the potential downside of painful hair removal is what is stopping you from already using hair removal cream, you'll probably want to find a different cream that pays more attention to sensitive skin.
Tech Specs
Weight: 6.8 oz per bottle
The Pros
Lots of product in purchase
Dissolves hair beneath skin
Good for wide swaths of skin
Editor's Rating: 4.6/5.0

View on Amazon
Finally, let's take a look at the Lashllo Men's Hair Removal Cream. It's incredibly easy to apply, as you only need to use your fingers for a few minutes to rub it totally into your skin. Once applied, it acts fast in a short as 5 to 10 minutes. When you actually scrape the cream off, hair removal is painless and you're left feeling fresh and rejuvenated.
Due to its ability to remove hair even on sensitive skin, you can safely use this formula on all parts of your body. This includes areas with tougher skin, like your back, and areas with more sensitive skin, such as your thighs or groin.
It also uses natural plant ingredients, so if you're against rubbing synthetic chemicals or compounds to your skin this might be the perfect choice for you. But keep in mind that there are some natural ingredients which are common allergens, so read the back of the box for total ingredients and make sure that you're not allergic to anything included in the formula.
The Pros
Fast and painless
Uses natural plant ingredients
Easy to apply
The Cons
People with allergies should avoid
Tips for Using Hair Removal Cream
Before you get started using your hair removal cream, check out these quick tips to make sure that you are applying everything correctly and that you don't accidentally waste some of the precious ounces included in your bottle.
Don't Overuse: Whatever you do, remember that you only have a handful of ounces each bottle. For most formulas, you don't have to apply too much to get the full hair removal effect. A small drop or two in each major area you want to affect is usually enough. The exact amount will vary from product to product, but remember that you'll be rubbing it into your skin and spreading it around in large circles, so small drops can actually cover more area than you imagine.
Use in Shower: We recommend using hair removal cream in the shower or when your skin has otherwise been exposed to hot water in the recent past. This is because your pores will open up and allow your hair to be removed more easily. It's the same logic that's responsible for the common wisdom that you should shave in the shower or with a hot, wet razor. Obviously, you'll need to stand away from the streaming water when you apply the hair removal cream and when you let it rest and do its work, but applying the cream right after you've washed and rinsed your body in hot water is always superior to using the cream while dry.
Use Instructed Washing Implement: Read the instructions of your given hair removal cream carefully, as they will tell you to use a washcloth, your hands, or a spatula to remove the cream effectively. It's important that you follow these recommendations because with certain formulas, you might end up actually rubbing the cream further into your skin if you don't use the right removal tool or washcloth.
Let Skin Rest: Once your hair has been removed, it's important to let your skin rest for a few minutes and accommodate to its new condition. You don't have to wait very long, but if you immediately start rubbing or washing your skin you'll find that you start feeling sensitive or feel a little pain even if the cream you used is advertised as painless. Be gentle with your skin for a few minutes after hair has been removed and you'll be all set.
Conclusion
There you have it! Using any of these creams, you can remove your body hair and start enjoying totally smooth skin despite your mail genetics. Women aren't the only ones that can benefit from smooth skin, and chances are your girlfriend or significant other will greatly appreciate your new body. Thanks for reading!