Have you ever noticed that your hair seems to change with the seasons? When summer is around your hair is luscious and bright but as the sun goes away and the dreary gray clouds roll in, your hair seems to get a case of the winter-blues. That's because the dry winter air doesn't just dry out our skin – but it also dries up the moisture for your lovely locks and scalp. It could also be because of too much product build-up from the previous months hairstyling.  As the year draws to a end and the winter carries on, it's a good idea to show your hair some extra love and care during the cold months and for the upcoming New Year. Here are some helpful tips to help your hair fight any winter hair problems.
Lifeless Locks
During the summer months you are frustrated with your uncontrollable hair from all of the moisture, but now that all the humidity has gone south for the winter months, your hair tends to look lifeless. Simply spend some extra time adding more volume to your hair by using a large curling iron, hot rollers, or a volumizing product.
Dry Hair During the Winter Months
The chilled winter air and the cozy indoor temperatures result in dryness.  Dry hair is a real drag that can leave your hair looking lifeless and unhealthy. During the winter it is recommended to use a deep conditioning treatment once a week to keep your mane moisturized. You can try deep conditioning treatments that you can do at home such as coconut oil treatments or if you purchase a product from your local beauty store then look for products with these essential ingredients: soy protein, panthenol, essential fatty acids, or humectants.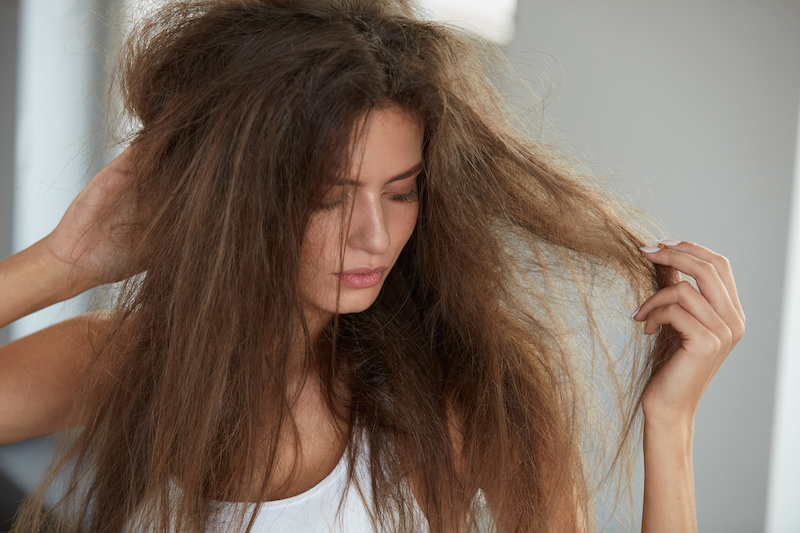 Flaky Scalp
In the winter months your scalp tends to dry out and get chapped – just like your skin and lips. This can result in flakes, itching, dry hair, and white flakes all over your hair that isn't falling from the sky. It's important to note that dandruff and winter flaky scalp is not the same thing so don't immediately rush to the drug store for dandruff shampoos. Rather than purchasing the dandruff shampoo, in the same aisle you can generally find dry scalp shampoos that contain effective ingredients such as tea tree oil, eucalyptus, selenium, etc. which help moisturize your dry winter scalp and help treat itchiness and flakiness.
Dull Hair Color
When winter comes around you might be left reminiscing about the bright hair color you had during the summer months but now you're left with a lackluster color that isn't doing anything for your complexion. You can use a hair glaze to freshen up your hair color, improve shininess, and bring out your highlights. After you have glazed your locks and have a shinier and more desirable hair color help maintain the color by using a color-extending shampoo or conditioner.
How to deal with Flyaway's and Static
As the air gets dryer, our hair become a source of positively charged static that results in flyaways while the rest of your hair sticks to your wool sweaters and knitted hats. There are a few remedies that can help you keep those flyaways in place for the cold season. The quick trick to solving this is using a conditioning serum, especially before and after you blow-dry your hair. A quick trick is to using a drying sheet to kill static – carry one in your purse for emergencies! Of course you can always resort to braiding your locks to hide your positively charged static hair.