Some times it just seems like your hair won't grow fast enough. Perhaps you got a cut that you don't love, or you've had short hair for a while and you're ready for a change or you've seen all of those Pinterest hair photos of long beach waves and you just have to have them! Regardless of your reason for wanting your hair to grow faster, we often find ourselves seeking remedies to help our tresses grow faster.
Get a Trim Every 6-8 Weeks
You're probably thinking, "I want it to grow! Not get it cut!" But when you're growing your hair out, you want to trim the dead ends off. If you don't take care of your split ends, your hair can become unhealthy and result in breakage. Trim about ¼ of an inch every 6-8 weeks. After all, you want your hair to be long and healthy not just long!

Eat Protein
What you eat has a direct impact on your outer appearance. Did you know that your hair is actually made from protein? It's important to eat protein to grow muscles and have a lean physique but protein also helps your hair grow faster by building material that promotes hair growth. So include more eggs, nuts, chicken, fish, etc. in your balanced meals.
Eat Adequate Zinc, Iron, Vitamin B and Vitamin C
Iron is essential for the transmission of oxygen to your cells – including your hair follicles. It also helps protein build strong hair. Sources: lentils, beans, soybeans, tofu
Zinc helps your body repair and grows tissue – including your hair. It also keeps oil glands around your hair working properly. Sources: peanut butter, chicken, crab, pumpkin seeds and chickpeas.
If you have a vitamin C deficiency, your hair will let you know by appearing dry, dull and wear. Vitamin C is used to build collagen, which is essential to the production of new hair cells. Sources: citrus fruits, pineapples, strawberries, broccoli, and peppers.
Vitamin B is essential to prevent hair loss and thinning. Sources: Soybeans, potatoes, bananas, broccoli, lean meats and lentils.
Pro-Tip: You can wash and rinse your hair with potato water to get your vitamins!
Hot Oil Scalp Massage
This is a simple trick but its effective. Invite over your best friend, lover or your sister for a hot oil massage treatment. Ask your partner to massage the warm oil into your hair from roots to tips by massaging in a circular motion for 10-20 minutes. Then wait about 30 minutes and wash the oil out. You might have to wash it twice but when you're done, your hair will feel softer, thicker and shinier. You can buy a store bought oil treatment but homemade hot oil treatments are even better!
Brush Your Hair with Care
Brushing your hair for 1-2 minutes (or follow Marcia Brady's 100 brush strokes) every morning and evening. This will stimulate circulation in your scalp, feed hair follicles with natural oils and promote hair growth. Make sure you brush your hair gently and never brush it when wet because that causes breakage. If you have to brush your hair when it's wet, use a wide-tooth combed and detangling spray.

Hair Care While You Sleep
Helping your hair grow longer is as easy as going to sleep! Never sleep your hair with in a tight ponytail or high bun. This will cause damage and breakage and definitely won't help your hair grow faster. Tie your hair back in a loose ponytail instead. Also try sleeping on a silk pillow because it will create less fiction with your hair.
You can also use a castor oil (or coconut oil) hair treatment over night. Simply massage your hair with castor oil before bed and leave it in over night. Then wash and rinse in the morning as usual. Check out other essential oils that are great for your hair in this article.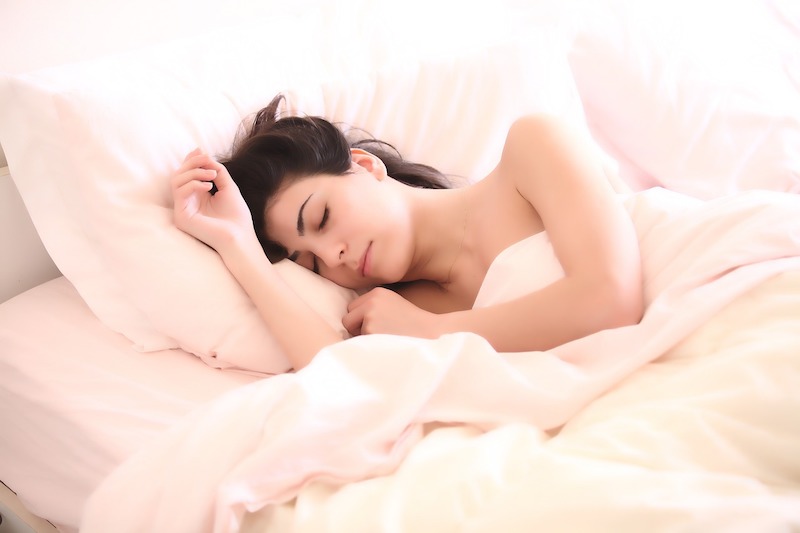 Rinse with Apple Cider Vinegar
All you have to do is dilute the apple cider vinegar by diluting it with water and then rinsing your hair after every shampoo with it. This stimulates hair follicles and promotes quick hair growth! If you notice a smell or you just prefer a smell, add a few drops of an essential oil to the rinse.