Both earrings and hairstyles have a big impact on how you look because they help direct where someone's eyes are immediately drawn. You want your earrings and hairstyle to work together rather than compete. For example, you wouldn't wear statement earrings if you have a small round face and a short hairstyle.
You want your style and accessory choices to compliment each other for a flawless total look. Your face shape and length should ultimately determine both your hairstyles and earrings. Below is a handy diagram that matches different styles of earrings with different face shapes.
Ideas for the Best Earrings for your Hairstyle
There are seemingly end-less possibilities when you're choosing earrings but there are 7 main styles: teardrops, studs, dangles, chandeliers, hoops, clusters and huggies.
Studs, huggies and hoops are the most versatile. Although they might vary in size, they have essentially the same effect on your look. These 3 options work well with almost every hairstyle and face shape so it's a good idea to have a nice selection of them in your jewellery box.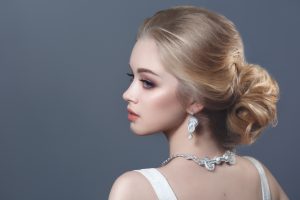 Earrings for Updo and Pixie
If you are wearing an updo or you have a pixie crop cut, the best earrings that will frame your face are dangles, this is because your hair is not available to frame your facial features so you need your earrings to do that. Dangles will elongate your face but also draw eyes upwards and towards your face. And because dangles are so versatile, you can find the right pair for every event and style.
Earrings for Wearing your Hair Down
For a down-do hairstyle and women with long tresses, the best earrings are simple clusters. Clusters are made up of a number of different stones and materials so just because they aren't dangling that doesn't mean they aren't bold. Long hair often becomes tangled in dangling earrings and that is certainly not cute. But something like a flower cluster is perfect.
Braids and Ponytails
Tear drops and chandeliers look great with certain hairstyles such as soft ponytails, braids and slicked back down-do's. Pretty much anything that won't get caught up in the earring and for any hairstyle that elongates the face shape because they provide balance.
Best Earrings for a Bun
A sleek bun is elegant and sophisticated and so your earrings should be too. A great option with his hairstyle is delicate drop down earrings. This is a great look with every face shape. If you like to cover your forehead or frame your face with loose strands, this style of earring will still work perfectly but keep them on the smaller side.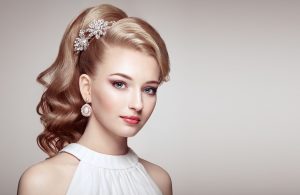 Best Earrings for a Side Braid
You'll see a lot of different style of earrings worn with side-braids because it depends on the event and the look that you are going for. However, if you aren't sure, you can never go wrong with side-braid and minimalist earrings such as diamond-encrusted hoops. However, if your side-braid is more 'boho' then opt for something with a bright colored stone but keep it simple.
Best Earrings for Half-Up Hairstyles
When you opt for half-up half-down hairstyles, you don't need your earrings competing to be the star-of-the-style. Let your hairstyle do all the talking and your earrings take a back seat. Opt for a stud or nothing at all.
Best Earrings for High Updo's
For a high updo like a sleek topknot or high ponytail calls for a special earring because your face is on full display and the earrings should draw the attention of your admirer to your best features such as your cheekbones. A long delicate strand earring or dangling jeweled earrings is the perfect choice. Remember to keep them bold but simple.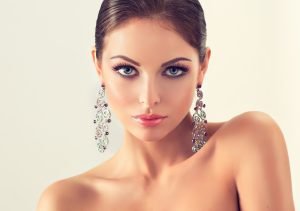 Earrings with Short Hair Ideas
When you have short hair you might feel like you fall short on hairstyle ideas too. Earrings and accessories are the simple answer to styling short hair for a special event, a night on the town and even just for the work place. When you're choosing the best earrings for your short hair, you'll want to look at the trends but more importantly, you have to consider your ears and face shape as well as your hair texture
Tips for Choosing Earrings When You Have Short Hair
1. Avoid big, bulky and overwhelming earrings. Your accessories should add balance to your haircut. You'll probably want to opt for a hoop or stud-style earrings rather than an earring that is overwhelming to your hairstyle.
2. Opt for an earring that compliments your short hair style. For example, if you have a punk-inspired pixie then choose an earring that will enhance that look.
3. Choose an appropriate earring for the event. When you have short hair, the earrings are on display and you don't only want them to compliment your hairstyle and face shape but also the event. Keep flashy, bold earrings for the evening and simple earrings for the daytime.
4. Choose an earring that compliments your hair color. If you have light brown or highlighted hair then the warmth of gold hues is more complimentary than silver but if you have a dark or cool hair color then silver and lighter earrings are better suited.
Choosing Earrings for Your Bob Hair Cut
If you have a bob that is longer than your earlobes then you could opt for long drop or chandelier earrings. Depending on your event, long bright colors or gems are a statement piece that will flatter your hair style. Stud earrings or small hoops won't really be seen with this haircut until you pull your hair back with a headband.
Choosing Earrings For Your Pixie Cut
When it comes to choosing earrings for your pixie cut, you want to consider your face shape first and foremost. You will want to create shape with your earrings. For example, if you have a round face shape, long dangling earrings will add length but if you have a long face, hoops will add width.
Choosing Earrings For Your Asymmetrical Short Hair Cut
The type of hair cut that covers one side of your face more than your other is a fun haircut to play with. You can really wear bold earrings such as cuffs, pearl drops, studs or danglers. You don't have to worry about long hair getting tangled or short hair covering your ears.
Choosing Earrings for Your Longer Bob
If you hair isn't quite a bob but not quite medium length either, then choosing an earring can be tricky. If you wear hoops or dangling earrings you might find that the earrings get lost in your hair or even tangled and pulled. If you want to show off your earrings then you'll have to choose a pulled back hairstyle or a parted-look that tucks your hair behind your ear. Then you can opt for an earring that is appropriate for your face shape and style.