Nobody wants a fake-looking wig, except for Victorian-era judges and extremely hammy stage artists. So, if you're losing hair on your head and considering wigs to cover up the problem, then you want to do it with natural wigs. Luckily, wigs of today are far more natural-looking than their older counterparts.
In fact, the hairpiece industry has become so technologically advanced that they can make even wigs made up of some artificial or synthetic material look natural. What this means is that you have many more options to choose from than you may have had a few years earlier.
This is good because it will make it easier for you to find a solution that is ideal for your specific requirements. At the same time, it is bad because it means that you'll have to put in a lot more work towards finding the right option. This is why we've created this guide on natural wigs for thinning hair.
On this page, you'll find everything you need to know about natural wigs for thinning hair. You'll discover various types of wigs available in the market, how to choose from all the available options, and even maintain the wig you've chosen afterward.
It may seem simple, but there are multiple perspectives to cover and angles to take. So, we've created an easy-to-click panel that you can use to navigate around the page.
Could A Wig Cause More Hair Loss?
Let's be completely forthright here. Wearing a wig can, indeed, increase the rate at which you lose hair. Wigs are similar to headgear in that way. They can cause you to lose hair just like a cap, hat, or scarf can.But then again, tying your hair too tight, using hair products, or even running your fingers through your hair too often can increase hair loss.
It all boils down to maintenance, and we mean the maintenance of both your natural hair and your wig. For example, when they begin wearing wigs, many people start thinking that they don't need to take care of their natural hair. Their logic is that since it isn't visible, they don't need to fuss about it when exactly the opposite is true. Because your natural hair is covered by a wig, it needs even more care and attention.
For instance, unless you've invested in a wig that allows air to pass through, your hair and scalp don't get to breathe. This means that sweat, dust, and dead skin cells collect under the wig. Further, wearing a wig can either cause excess dryness or dampness, depending upon the environment you're in.
With buildup and excess dryness, you could end up with the problem of clogged hair follicles and pores on your scalp. This can, in turn, prevent sufficient nutrition from reaching your follicles and increase hair loss. Similarly, buildup and dampness together create conditions ideal for infections. Infections can also increase the rate of hair loss.
However, if problems like buildup, dryness, and dampness are dealt with, wigs won't lead to increased hair loss. This means taking them off regularly and ensuring that your natural hair is washed and conditioned consistently. There is one other way that wigs can cause you to lose hair faster.
If you wear a wig that is too small for your head, then you may end up putting undue physical pressure on your scalp. This physical stress can not only cause heavy breakage but may also end up damaging your hair follicles.
What Are the Different Types of Wigs Out There?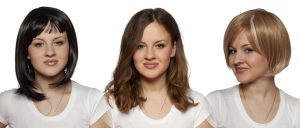 You can classify wigs based on multiple variables, but the most common is material, i.e. synthetic or human hair. The difference between the two is fairly obvious. Synthetic wigs are made with plastic strands such as polyvinyl, acrylic, or polyester. Human hair wigs, on the other hand, are made with real human hair.
This difference automatically leads people to think that human hair wigs are much more natural than their synthetic counterparts. While human hair wigs will always feel more real when touched, in terms of looks, there isn't much difference between the two, and only their quality determines how natural they appear.
In fact, even human hair wigs can end up looking artificial when not manufactured right. Similarly, a higher quality synthetic wig, for instance, will look significantly more natural than a low-quality human hair wig.
In addition to the manufacturing quality, the suitability of the wig will also determine how natural it looks. This is why you need to be very careful when choosing between synthetic and human hair wigs.
You should also know that some wigs are made with animal hair. For instance, yak hair wigs are becoming more common these days, mainly because yak hair's structure is very similar to human hair. Therefore, if you want a human hair wig, make sure that "human" is specified clearly.
It is important to realize that both these types of wigs have their specific strengths and weaknesses. As a result, when deciding between the two, you should always analyze their respective strengths and weaknesses.
Choosing Between Synthetic and Human Hair Wigs
There are multiple variables you need to assess while choosing between synthetic and human hair wigs. These variables are the length of hair you like to keep, the extent of maintenance work you're willing to accept, and the degree of adaptability you expect from your wig. We'll deal with each of these variables one by one.
The Length of Your Hair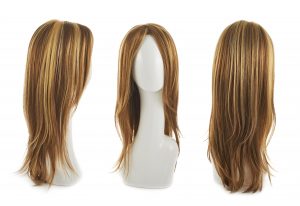 Your choice of hairstyle will be the most important variable when choosing between synthetic and human hair wigs. You see, synthetic wigs are better for shorter hairstyles, while human hair wigs should be chosen for longer hairstyles.The reason for this is twofold.
The first is that the flow and fall of hair tend to be more prominent in long-haired wigs. This makes human hair wigs a much better choice if you want a long hairstyle.
On the other hand, synthetic wigs are better suited for shorter hairstyles. The reason for this is that they require less maintenance. Moreover, over time, they start showing signs of clumping and frizzing at the tips of the hair.
This problem can become particularly visible on longer synthetic wigs as larger portions of the hair start frizzing and clumping. In shorter hairstyles, though, these problems affect a smaller amount of hair, which allows them to remain hidden.
Therefore, if you choose synthetic wigs for longer hairstyles, then there's a chance that others will be able to tell that you're wearing a wig, while longer human hair wigs will offer better drape and fall of the hair.
The Extent of Maintenance Required
If you want a low-maintenance solution, then you should choose synthetic wigs over human hair wigs because the latter's maintenance requires a lot of time and effort. In fact, you'll have to take care of your human hair wig much more than you've been taking care of your natural hair.
To get an understanding of how much maintenance human hair wigs require, imagine people who are very fussy about their hair and increase the amount of time and effort they spend on their hair by at least five times. In fact, human hair wigs require even more conditioning and maintenance treatments than extremely coarse, dry, curly, and thick hair.
Human hair wigs have all the fragility of human hair without the protection of the natural oils produced by the scalp. Since the hair on these wigs isn't rooted in the scalp, they don't receive any natural oil while you're wearing them. As a result, they're more prone to drying, breakage, and frizzing.
Synthetic wigs, on the other hand, are at the opposite end of the spectrum. In fact, in a lot of circles, synthetic wigs are also known as "shake and go" hair solutions because all you need to is shake off the dust on the wig, put them on, and go.
You don't have to worry about conditioning and moisturizing them too much. You don't even have to worry about them becoming frizzy in humid environments. Further, you won't have to bother about maintaining the hairstyle or color of your synthetic wig either because they retain their initial style and color very well.
The Adaptability of Your Wig
Because the style and color of a synthetic wig are fixed, it offers virtually no adaptability. Therefore, if you're one of those individuals who like to change their look from one event to another, then you'll be better off choosing human hair wigs.
Because human hair wigs are made with real human hair, they're more accepting of style changes. You can use curlers and straighteners at home to change the look as per your requirements. Moreover, unlike your natural hair, human hair wigs will hold the style until they get wet or damp.
You can even cut the hair on the human hair wig like you would do with your natural hair to get a different hairstyle. Further, changing the color of human hair wigs is also possible provided it is done by a professional. However, it is important to keep in mind that the adaptability of the human hair wig will depend upon the source of the hair.
Most human hair wigs, these days, are built with hair sourced from Asia with countries like India, China, and Indonesia prominent contributors. Human hair wigs made with European hair are much rarer and considerably more expensive too.
Further, the way the human hair has been processed will also determine how adaptable the wig is going to be. In fact, all human hair wigs aren't built alike, and you'll have multiple categories to choose from too.
Are There Types of Human Hair Too?
Apart from categorizing the human hair wig based on the source of human hair,they can also be categorized on the way the human hair has been processed. From this perspective, there are three types of human hair wigs –Chemically-Treated Hair, Remy Hair, and Virgin Hair.
Chemically-Treated Hair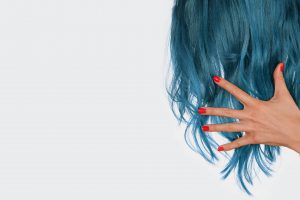 If a wig is based on chemically-treated hair, it means that its hair is heavily processed with one or more chemicals. The chemical treatment they receive performs three functions.
The first is that it sanitizes the human hair, the second is that it neutralizes the color of the human hair, and the third is that it strips away the cuticle layer of the human hair.
The purpose of the cuticle layer of the hair is to protect the core of the hair and provide it with the resilience it needs to cope with changing environmental conditions. The cuticle is also responsible for giving the hair its shine and vibrancy.
Since human hair cannot be left without a cuticle layer, it is layered with sturdy silicones before being put in the wig. The silicones are supposed to perform the same function as the cuticle layer but do need special care since they disappear over time.
Because they use heavily processed human hair, chemically-treated human hair wigs have one big disadvantage and one big advantage.
The disadvantage is that they're prone to damage and breakage. Silicones can never provide the same kind of flexibility and protection that the hair's natural cuticle layer can.
The big advantage is that these types of wigs take to color treatments very easily since it is usually the cuticle that prevents the hair from absorbing dyes. Therefore, without this layer, it becomes very easy to color processed human hair wigs.
Chemically-treated hair is the cheapest option if you want a human hair wig because of the simplicity of the process.
Remy Hair
Remy hair lies on the opposite end of the spectrum from chemically-treated hair. The process of getting Remy human hair is very time, effort, and cost-intensive. This is why it is the most expensive human hair option when it comes to wigs.
Remy human hair is not manufactured but is collectedinstead. The hair is usually taken from a single donor and tied together in the same way that it was arranged on the donor's head. Even though Remy human hair does not involve any chemical processing, it still offers the best durability and shine in wigs.
This is achieved by ensuring all the cuticles in the layer are facing in the same direction. As the cuticles are all aligned in one direction, this allows them to protect the hair better.
Further, since they reflect light in a single direction, they also end up offering a better shine and vibrancy to the wig. Finally, when brushed and styled in the right way, these cuticles get even tighter to the cortex of the hair, causing it to be even better protected and shinier.
Virgin Hair
Virgin human hair can be defined as human hair that hasn't been modified or processed in any way. People and businesses often use the terms "Remy human hair" interchangeably with "virgin human hair". While the two are very similar, they are different in subtle ways too.
For instance, it is possible for virgin human hair not to have cuticles aligned in the same direction. Similarly, it is also possible, although rare, for Remy human hair to be minimally processed. Usually, this minimal processing is done for the sake of sanitizing the human hair for use.
Depending on the quality and the source of the hair, virgin human hair can be even more expensive than Remy human hair.
What Types of Caps Can Natural Wigs Have?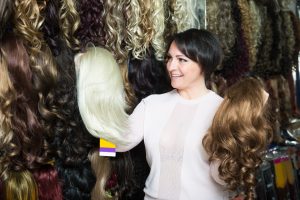 When it comes to wigs, the base to which the hair is attached or tied is called the cap. The difference in the quality and comfort of a wig is often a result of the difference in the type of cap used.
As a result, you can categorize wigs based on caps, as well. You'll find four types of caps to be most common, although some places may offer you custom designs.
Classic Caps
These are the oldest types of caps. As a result, they're the most common type of caps you'll find while searching for natural wigs for thinning hair. These types of caps feature "wefting". Wefting is a term used to describe strips of hair that are sewn together.
Classic caps are often sub-categorized based on the denseness of the wefting. For instance, you can find 20 percent cap-less classic wigs to 75 percent cap-less classic wigs. You'll even come across full cap-less wigs, wherein the denseness of the cap is 90 percent lower than normal.
As is obvious, the more cap-less your classic wig is, the better it will allow your scalp to breathe. More cap-less classic wigs are also more comfortable. Because of these qualities, though, more cap-less wigs tend to be more expensive.
You should also know that because of how classic caps are constructed, they rarely allow the user to create parting. If you try to part a classic cap wig, you'll end up exposing the wefting under the hair. At the same time, depending on the wefting configuration used, it is possible to pull your own hair through the wefting to create a more natural look.
Monofilament Caps
Monofilament caps are modifications of classic caps with one key difference. Here, the hair is hand-tied or machine arranged on a monofilament base. The monofilament base is extremely efficient at imitating the appearance of the scalp.
It is very fine and even has a similar color to the scalp tone of the wearer. It is because of this quality that monofilament caps offer adaptability in terms of your parting.
However, it is still recommended that you choose a monofilament cap that already comes with a parting that suits your preferences. If later, you wish to modify the parting temporarily, you'll still have the option to do so, but the most natural look comes with pre-fixed partings.
The advantages offered by monofilament wigs mean that these tend to be more expensive than classic wigs.
Lace Fronts
Lace fronts are basically monofilament wigs with a lace front. The material used to make the lace front is similar to the one used for monofilament caps. As a result, it blends well with the skin tone of the wearer.
Lace front wigs look even more natural than basic monofilament wigs because they allow a natural transition from the forehead onto the hair as opposed to the seemingly abrupt growth that non-lace front wigs offer.
With this gradual and natural transition, lace front wigs allow various frontal hairline configurations, including bangs and swept-back hair alike. Their ability to make the frontal hairline natural makes lace front wigs the best option for people with receding hairlines.
As can be expected, lace front wigs are even more expensive than the basic monofilament wigs.
Fully Handtied Caps
While we mentioned hand-tying as a technique in the monofilament cap section above, we didn't delve into it because it is significant enough to be put in a separate category.
Fully hand-tied caps have a very fine and soft monofilament base. As their name suggests, they're made with every hair strand being fastidiously tied individually to the monofilament by hand. Because these types of caps are handcrafted, they offer many advantages.
The foremost is that, since every hair strand is individually tied, these wigs offer the most natural look. In fact, when they have lace front wigs, they offer an even more natural appearance. Further, because of the softness of the monofilament and its gentle treatment, the cap is significantly more comfortable to wear.
All these qualities and the elaborateness of the manufacturing process makes fully hand-tied monofilament lace front wigs the most expensive option in the market right now.
The only exception is custom-made wigs, which are even more expensive. However, in the majority of cases, custom-made wigs are also fully hand-tied monofilament lace front wigs.
The only difference is that they're tailored specifically for a user. The professional takes measurements in terms of the scalp shape, skin tone, and hair color before manufacturing a single piece specifically for the user.
What Are the Coverage Options Available to You?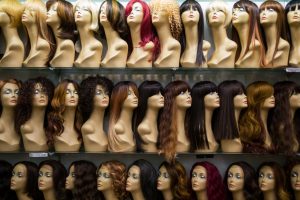 Everyone doesn't need to get a wig that covers the entire head. For instance, you could be in the earlier stages of hair loss and may only be experiencing thinning in the hairline.
On the other hand, you could have a medical condition that is causing you to lose clumps of hair on your head. It is even possible that your front hairline is completely intact, and your hair is thinning at the crown or part of your scalp.
For different types of thinning, there are different coverage options. Consider the following.
Front Coverage Wigs
Front coverage wigs are ideal for people with a receding hairline. Also called halos, fringes, and bangs, these types of wigs give the impression of a full and even hairline.
They're also quite versatile. This means that you'll be able to modify how the hair falling over your hairline looks as and when required. Generally, these types of wigs come in the clip-on format. In other words, they're attached to the natural hairline with the help of clips.
While clip-on front coverage wigs may be more common, monofilament and lace fronts are also gradually becoming more available.
Partial Coverage Wigs
Partial coverage wigs are also known by multiple other names such as wig-lets or hair toppers. These types of wigs will be ideal for you if your hair is only thinning at any one spot on your scalp, while the rest of the scalp is, more or less normal.
Since men normally experience hair thinning at the hairline and crown simultaneously, these types of wigs are usually used by women experiencing female pattern baldness. The reason for this is that female pattern baldness usually manifests in thinning hair around the parting, while the front hairline and the crown remains unaffected.
Full Coverage Wigs
These types of wigs cover the majority of the scalp, which is why they're often called crown toppers. They are proper wigs that are best used by people experiencing severe hair thinning all over the scalp.
Full coverage wigs also offer the most variety of options possible in terms of hair type, cap type, construction type, and even style. In fact, many people, including actors, use these types of wigs to change their appearance and looks.
Since these types of wigs offer the maximum coverage, they're the most expensive when it comes to various coverage types.
How Much Should A Natural Wig Cost?
This question cannot be answered easily because the cost of a wig depends on more than a single variable. In fact, its cost is usually a result of the interaction between many of these variables. What are these variables? Consider
Manufacturing quality: This one is obvious. You'll get what you pay for. If you buy a generic item, it will not cost you a lot. If you go to big shops, it will cost you more. Further, if you go for global brands, the cost will be even higher.
Type of hair: Synthetic wigs will always be more affordable than human hair wigs. Within the human hair wig category, Remy and virgin human hair wigs will be more expensive than chemically-processed human hair wigs.
Type of cap: Classic full coverage or standard caps with maximum wefting will be the cheapest. Wigs with classic caps will progressively become more expensive as the density of their wefting reduces. So, cap-less classic wigs will be considerably more expensive than standard classic wigs. Moreover, monofilament wigs will be more expensive than classic wigs, while lace front monofilament wigs will be more expensive than plain monofilament wigs. Handtied wigs will be the most expensive, except for custom-made wigs.
Coverage area: The more area a wig covers, the more expensive it will be since it will be using more hair. So full coverage wigs or crown toppers will be significantly more expensive than front coverage wigs.
Length of hair: The longer the hair on the wig, the more expensive the wig will be.
Despite the complicated nature of wig pricing, we can still give you a range in which most wigs will fall.
The cheapest wig you can find would cost around $25. In terms of the high mark, a wig can end up costing thousands of dollars if you go for the most premium options. However, the cost generally tops off around the $3,000 mark. If you choose bespoke or custom-made wigs, then the cost can be even higher.
How Should You Choose A Wig for Yourself?
Choosing a wig for yourself can be incredibly easy or incredibly difficult. It all depends on what you're looking for.
Choosing a wig should be a breeze if all you want to do is recapture how you used to look before your hair started thinning. The reason is obvious. If you only want to look like you used to, there's no need for you to go through multiple wig options. Simply get an old photo of yourself before you started losing hair and match potential options.
On the other hand, if you want to experiment and pick out something new, the selection process will become much more involved. Even if you have to put in more work, it should be a fun and exciting exercise so long as the outcome isn't disappointing. We can help you avoid that horrible end. Here is how you should go about choosing a wig for yourself.
Step 1: Determine Your Budget
If you have boundless money, then you don't need us. Just go for a custom-made wig created by one of those celebrity stylists that big fashion and styling magazines feature so frequently.
If you're not one of those high-rollers, then you need to determine your budget. In other words, you need to set a ceiling on how much you're willing to spend on your wig. There's no way around it. Your monetary reach will determine which wig you choose regardless of all other variables.
Step 2: Type of Hair Thinning
The full coverage wig is the default option for most people, especially if they don't know a lot about wigs. However, since you've read through this guide, you're not one of those people.
You now know that you don't need to spend for a whole wig when all you need to do is cover a small thinning patch, a receding hairline, or a problematic parting.
So, spend some time in front of the mirror, comparing old photos with your current look. Involveyour friends and family if you feel comfortable. The idea is to figure out how severe your hair thinning problem is so you can determine how much coverage you need.
Step 3: Focus on your Skin Tone
This step is not relevant for you if you're going for a hair topper or even a wig to cover up your widening part. It is, however, very important if you've chosen to go for either frontal coverage or the full coverage wig.
These types of wigs will border the skin on your forehead and neck. You need the choice of hair color and texture to match your skin tone. For example, blonde hair can look quite odd on someone with very dark skin tone. The same applies to red hair and non-pale skin tone.
Remember, you're looking for natural, not bold. However, if you can pull off the bold or unique look, the world is your oyster, and everything under the sun will work with your attitude.
Step 4: Choose Hair Specifics
You'll, of course, have to make some important decisions about the hair on your wig too. These decisions will also have a bearing on the cost of the wig, so you need to be careful here.
For instance, if you want long hair, then be prepared to pay extra because you'll not only have to pay for more hair but will also be better off choosing human hair wigs. If you're choosing shorter hairstyles, though, you can save a lot of money by going for synthetic wigs.
In both cases, you'll have to decide on the type of hair you want, i.e. curly, straight, wavy, and thick. Similarly, the color of the hair will again need to be matched with your skin tone. However, unless you're going for extreme looks, highlights and minor deviations shouldn't be a problem.
If you do plan to change your hairstyle and color at a later date, you'll again want to choose human hair wigs. Moreover, you'll want to pay attention to the source of the human hair, since that will change the way your hair will respond to stylistic changes.
Step 5: Be Aware of Your Facial Shape
It would also be wise to keep your facial structure and shape in mind if the natural look is very important for you. If the wig you choose doesn't match the shape of your face, then it can end up looking really odd. When deciding what is right for your face, the basic principle remains the same as what experts follow in fashion, i.e. symmetry.
Creating symmetry is all about finding balance. So, if your face tapers near the chin, then you want a style that will reduce the width of your forehead. If the opposite is true and you have a circular or squarish facial shape, then you want your wig to elongate your face by framing it properly.
Of course, if your face is oval or diamond-shaped, then you'll have the most options to pick from. These facial shapes are already balanced and symmetrical. So, they don't need intervention.
Tips and Suggestions to Maintain Your Natural Wig
Synthetic wigs are the easiest to use and require the least maintenance. You'll only need to ensure that you clean them properly and prevent kinks or tangles.
If you've chosen a human hair wig, however, you'll need to be very careful about how you use and keep it. A human hair wig can last much longer than synthetic wigs, but only if they're taken care of with diligence. Here are some maintenance tips.
Washing the Wig
Synthetic wigs can be worn straight out of the box. The same isn't true for human hair wigs. In fact, experts recommend washing a human hair wig before putting it on. If you're buying it from professionals, then they'll automatically do this for you.
However, if you're not, make sure that you wash the human hair wig in the right way. To do this, you'll need the right kind of shampoo. The shampoo will need to either be designed specifically for wigs and hair extensions or be completely organic, i.e. free of artificial compounds like sulfates and parabens. In fact, this should be your guiding principle when it comes to all hair products you plan to use on wigs.
Moreover, when choosing conditioners or hair gels, try to get those that don't contain silicones. Silicones can make the grip of the wig uncertain.
While washing the wig, you should also make sure that you don't use hot water. The water should, at most, be lukewarm. Hot water will harm the structural integrity of wigs and will result in them getting damaged faster.
Styling the Wig
After you've washed and conditioned the wig, you'll be tempted to brush away the tangles right away. Don't. Avoid brushing wet and damp wigs as that can cause breakage in the hair. Wait for it to dry and then detangle the hair.
Similarly, don't use hot tools on wet or damp hair. Wait for it to become dry and then use a heat protectant or natural oil before applying the hot tool. We would suggest avoiding the use of hot tools altogether, if possible. If you have to use such tools, make sure that you buy wigs that can handle the heat.
Coloring the Wig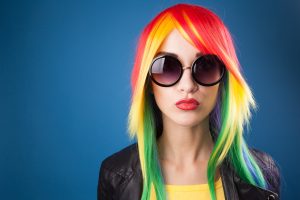 Synthetic wigs don't take to coloring easily, but they do hold the color they come in very well. Humanhair wigs, on the other hand, can be colored like natural hair. If the wig is made with chemically-treated hair, then the coloring process is even easier and smoother.
If you want to change the color of your wig, make sure that you go to a stylist. More importantly, make sure that the stylist you go to is experienced at styling and coloring wigs. Someone who doesn't know how to work with wigs may end up damaging them. This is precisely why you shouldn't color your wig at home.
Storing the Wig
While you may want to prevent others from finding out that you use a wig, we strongly suggest that you avoid hiding the wig in a box that isn't custom made for it.
Storing wigs in generic boxes and drawers can lead to horrible kinks and tangles, which will reduce the life of the wig. It is always better to store a wig on a hanger. Even better yet, get a small bust and place the wig on the head to store it.