Even though receding hairline isn't a gender-specific problem, it has been known to affect men far more than women. So, it isn't all that surprising that men worry about it far more than women. In fact, as per a survey conducted by The Belgravia Center, seven of every ten men worry about losing hair. Their apprehension is justified too.
It is more than an appearance-related problem. Hair loss can affect key elements of daily life in more ways than one. For example, people treat balding individuals differently.
Consider the fact that there have been 45 presidential elections in total and only five have resulted in balding presidents. Since 85 percent of men above 50 suffer from hair loss, the fact that we've only elected 11 percent balding presidents in the history of the country shows the bias against people suffering from hair loss.
It doesn't even compare to balding statistics for men above the age of 35. About 40 percent of men above this age experience hair loss in one form or another. This isn't all either. When men with receding hairlines start seeing a change in people's behavior towards them, it causes emotional damage.
One study conducted by Charité – Universitätsmedizin Berlin, the largest European university clinic, showed that hair loss causes "low self-confidence, impaired quality of life, and even psychological disorders" in men.
Therefore, if someone's telling you not to worry about your receding hairline and just embrace the problem, don't listen to them. However, don't get overwhelmed by it either. There are things you can do to regrow your hairline so long as you're quick and decisive about the entire thing.
In this guide, we'll arm you with everything you need to know about receding hairlines and what you can do to regrow your hairline. Here's everything you'll find on this page laid out in a neat and easy-to-click navigation panel.
Understanding Receding Hairline
The cause for a receding hairline can be attributed to pattern baldness 95 percent of the times. Other problems such as side-effects of medicines, nutritional deficiencies, hormonal imbalances, and environmental concerns combine for the balance five percent.
Pattern baldness, male or female, is a hereditary problem. Certain genes passed down from the parents can cause an individual's hair follicles to become increasingly sensitive to dihydrotestosterone (DHT).
DHT is a hormone derived from the key male hormone testosterone. This is the main reason why pattern baldness is more common in men than women. DHT is produced when there is excess testosterone in the body.
It can bond with hair follicles in a way that stunts their ability to grow hair. This stunting is progressive and grows over time. When it is complete, the hair follicles are completely miniaturized.
This is why pattern baldness almost always starts with shortening and weakening of hair. As individual hair follicles start winking out, hair starts thinning too. A person can start exhibiting signs of pattern baldness when he turns 20 with the progress very slow or at the age of 50 with the problem progressing very fast.
Typically, though, the hair follicles at the frontal hairline get affected first along with those at the crown. This is why a receding hairline is seen as the harbinger of male pattern baldness.
What Are the Typical Characteristics of a Receding Hairline?
When it comes to pattern baldness, the earlier it is detected, the easier it is to counter. Since a receding hairline is one of the earliest tangible symptoms of hair loss, receding hairline treatments can not only help you regrow your hairline but also combat pattern baldness in general.
Agradual increase in the amount of hair you find on your pillow, in your bed, or even on the drain in your bathroom will always precede a receding hairline. Since this early increase in hair loss is very gradual, it is very tough to pinpoint without counting individual hair strands every day.
However, when it progresses to the stage where the hairline starts retracting above the temples, it becomes more evident. This recession eventually causes the entire frontal hairline to start receding in concert.
Initially, the frontal hairline will recede unevenly. However, an M-shape will soon emerge at the front of the head due to the recession, before the center of the M also starts retreating. It is very rare for the hairline at the side and back of the head to start receding.
The sooner you notice and start actively working against your receding hairline, the better your chances will be of slowing it down or even stopping it. This brings us to the crux of this guide, i.e. receding hairline treatments.
We can split these treatments into two categories. The first will focus on natural receding hairline treatments, while the second will include product-based treatments. As can be expected, the latter will be quicker to show results, while the former will be more holistic.
However, the best outcome will be achieved if you can combine both as much as possible. All of these receding hairline treatments are mutually complementary so trying more than one at the same time will be without any side-effects.
Natural Receding Hairline Treatments That Can Regrow Hairline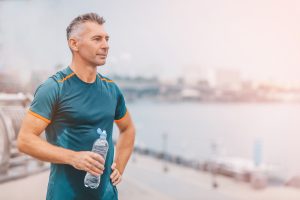 The only thing consistent about male pattern baldness is how the hairlines start receding and pattern of hair loss. Apart from this, male pattern baldness is fairly inconsistent.
It starts at varying ages and proceeds with varying speeds. In some people, it doesn't even show up, despite strong family history. Scientists have debated this variation over the years without results.
While there's no way to prove it, a lot of people believe that these variations are a result of differing lifestyles, dietary habits, and other similar variables. Someone who has lived a healthy life will have a better chance of never having to deal with a receding hairline, even if his antecedents did.
Therefore, even if your hairline has started receding, you can stop or, at least, slow it down through natural methods and treatments that don't involve buying products and using medications.
Resolving Medical Conditions
While not common, medical conditions and even medicines causing a receding hairline isn't completely unheard of.
For example, women's hairlines can travel upwards during pregnancies, which is why they're almost always prescribed multiple supplements. Similarly, chemotherapy, one of the treatments for cancer, always causes massive hair loss starting with a receding hairline. Several other medications can have the same effect too.
Therefore, if you want to regrow your hairline, then the very first thing you should do is eliminate medical conditions and side-effects as causes. If you're unable to decide on your own, then we suggest consulting a doctor.
Making Lifestyle and Dietary Improvements
Our lifestyle and dietary habits affect the state of our bodies deeply. Our daily routines determine the things we expose ourselves to and the foods we eat become a part of our bodies.
By moving towards a more balanced lifestyle and foods, you can make a huge difference to the speed with which your hairline retreats. With sufficient changes, you can even stop it.
Ceasing Smoking and Alcohol Consumption
Everybody in the world knows that smoking is harmful to the body. However, most people don't realize that smoking can also lead to receding hairline. This isn't conjectured either. The association between smoking and hair loss is well established through various studies, including this one.
Smoking boosts hair loss and receding hairline through multiple factors. Some of these factors include the way the smoke affects the microvasculature (the network of minute blood vessels) under the scalp, the way it affects the hormonal balance in the hair follicles, the way it increases inflammation, the way it boosts testosterone production, and the way it changes the individual's DNA.
Alcohol consumption, on the other hand, works differently in the way that it promotes hair loss indirectly. The human body always prioritizes digesting alcohol over the absorption of key nutrients.
As a result, people who drink excessively often have nutrition problems. Since nutrition is key to hair growth, this leads to the hair follicles weakening and, in effect, hair loss.
Excess alcohol consumption creates other problems too, such as dehydration, sleep disruption causing stress, hormonal imbalances, and blood sugar spikes which lead to increased inflammation.
Both smoking and excess alcohol consumption must be avoided if your hairline has started receding and you're looking to revert the process.
Avoiding Contamination and Pollutants
Our bodily systems and processes are well-balanced. Therefore, when chemicals and compounds that are common in modern civilization enter our bodily systems, they create an inherent hormonal and enzymatic imbalance that can end up causing hair loss.
The most common example of this is drinking water. In many regions, the tap water isn't as pure as the people think it is. It contains fluoride or chlorine that can create havoc with our bodies' natural biome.
Such chemicals are added to the water to clear it of various microbes. However, when we drink this water, these chemicals accumulate in our bodies over time until they start affecting the natural balance in our bodies.
The air we breathe and the food we eat can similarly be laced with harmful chemicals and compounds. Exposure to chemicals and compounds can even be an occupational hazard for some people.
Contaminants, whether from water, food, or the air, can weaken our immune systems, giving rise to various autoimmune-related disorders. Autoimmune disorders, though, can also make hair follicles more sensitive to dihydrotestosterone resulting in hair loss.
Therefore, if you want to regrow your hairline, then avoiding contaminants of all types should be at the top of your priority list.
Dealing with Stress
Most people don't take it seriously enough, but stress is closely related to hair loss and a receding hairline. Even the scientific community has taken this association seriously. A clinical trial conducted in 2017 found tangible evidence of this connection between hair loss and stress.
The trial focused on comparing "healthy young women under exam stress" with women not under such stress. The stressed group showed an increased rate of hair loss.
Stress can alter multiple processes in the body. For example, it encourages neurogenic inflammation and causes hormonal imbalance which leads to hair loss.
Therefore, one of the easiest, most natural, and most enjoyable treatments you can use to regrow your hairline is to de-stress. This could be anything from avoiding stressful situations altogether or just managing it properly.
Consuming More Water
Another simple solution for a receding hairline is to increase your water intake. Water is critical not only to hair health but the general health of the body. After all, since we're 60 percent water, it is a core component of every bodily process.
Water makes hair more elastic and flexible. Without sufficient water, hair becomes scrunchy, dry, very brittle, and prone to breaking. For instance, if your hair is dehydrated, it will break off at the slightest sign of trouble such as too much moisture in the hair, too much heat, or even too much brushing.
There is no special receding hairline treatment if your main problem is dehydration. You just need to increase your water intake to match the amount recommended by medical professionals. It's a simple 8 x 8 rule where you're supposed to have eight eight-ounce glasses every day. This is equivalent to about half a gallon of water.
Using a more hydrating shampoo or conditioner along with hair masks can also be helpful.
Avoiding Greasy and Processed Foods
In terms of dietary improvements, the very first thing you should do to regrow your hairline is start avoiding excessively greasy and over-processed foods.
Greasy foods tend to encourage inflammation in the body. This, in turn, increases its sensitivity to DHT. Moreover, if you make greasy foods a regular part of your diet then you'll notice an increase in oil and fat buildup in your scalp. This can keep the hair follicles in your scalp from functioning normally, leading to a receding hairline.
Over processed foods, on the other hand, need to be avoided because they contain preservatives, additives, and loads of sugar in one form or another. Artificial preservatives and additives can create imbalances in the body, while added sugar will lead to insulin resistance.
The relationship between insulin resistance and hair loss is well-established in the scientific community on the back of multiple studies and trials.
Therefore, another simple receding hairline treatment is to favor natural foods over greasy and processed foods.
Getting the Right Nutrients
Even if you have natural foods regularly, it may not be enough. Most people tend to gravitate towards certain types of foods when the best thing would be to have a balanced diet.
While a balanced diet will help you regrow your hairline, the progress will be slow enough to be negligible. To speed it up, you'll have to focus on specific nutrients known to boost hair growth. The following are the nutrients you should look to incorporate into your daily meals.
Proteins
When you eat proteins, you give your body access to amino acids. Amino acids are the basic building blocks that can be used to form various types of proteins. One of these proteins is keratin, which is the basic building block of hair.
With regular access to amino acids, your body will be better able to produce keratin. This will not only strengthen your existing hair but also boost new hair growth.
While you can get protein from vegetarian food as well, nonvegetarian food will always be the best source. This means food items like eggs, chicken, turkey, and other different types of meats.
Animal proteins are especially beneficial when it comes to hair growth because they contain zinc. Zinc is a natural DHT blocker that can be instrumental in reversing a receding hairline.
Iron
In the majority of cases, protein-rich foods are also rich in iron. Iron is important for the body because it plays a major role in its circulatory system. Iron forms the core of red blood cells, which are responsible for transporting oxygen all over the body along with other nutrients.
A lower red blood cell count or anemia means that the hair follicles don't receive sufficient oxygen and nourishment. Since malnourished hair follicles are unable to grow hair, iron deficiency can lead to a receding hairline as well.
Animal protein is a great source of iron along with other food items like legumes, pumpkin seeds, spinach, and broccoli.
Magnesium
Magnesium is another micronutrient that could be crucial in helping you regrow your hairline. Magnesium deficiency, unfortunately, is very difficult to identify because magnesium is a key part of more than 700+ different types of functions in the body. Two of these standout in the context of hair growth.
The first is protein synthesis. You can eat as much protein as you want to gain access to amino acids, but you won't be able to create essential proteins out of them without sufficient magnesium in your system.
Magnesium deficiency will also cause a sudden increase in the calcium content in your body since it is responsible for keeping a check on the calcium content in the body.
Lack of sufficient magnesium will lead to calcium deposits all over the body. The scalp is prime real estate when it comes to calcium deposits, and this can end up clogging hair follicles. As a result, hair follicles become unable to grow hair.
Typically, magnesium can be found in large quantities in foods that are also rich in fiber. This means that you should incorporate food items like nuts, seeds, beans, and leafy vegetables into your daily diet.
Omega Fatty Acids
Unless you're making special efforts, it is unlikely that you're getting enough omega fatty acids into your body. Don't worry, though. You aren't alone. Most people don't get sufficient omega fatty acids in their diets. However, if you wish to regrow your hairline, you'll have to ensure that you do.
Omega fatty acids are important because they strengthen the hair follicles and the hair shafts. While stronger hair follicles grip and hold hair better, stronger and more elastic hair shafts are better able to handle various stresses of daily life. Omega fatty acids, of course, also give hair more volume and make them bouncier, shinier, and vibrant.
Omega fatty acids can be found in small amounts in food items such as carrots, eggs, avocados, flaxseeds, nuts, kale, sprouts, and fish.
Vitamins
Vitamin deficiency can sometimes also be the cause for a receding hairline. Even if it isn't the cause, it still has the potential to be part of the solution. All vitamins ranging from A to E contribute to hair growth in various ways.
Vitamin A: This vitamin participates and even enables many cellular functions in the body. As a result, its presence or absence determines the strength and capabilities of hair follicles. Further, it also plays a role in the production of oils in the scalp. Therefore, vitamin A deficiency doesn't only make hair follicles significantly weaker but also takes away the scalp's ability to moisturize the hair. The effect is hair that is more prone to breakage and being uprooted. Vitamin A can be had through food items such as carrots, leafy vegetables, kale, and pumpkins.
Vitamin B: This is actually a group of vitamins. Every member of the vitamins B complex is significant to the body with many being extremely important to critical bodily processes such as red blood cell production. Even though all of them have some significance, vitamin B7 or biotin is the most relevant when it comes to hair health. Most nutritious food items contain one or more vitamins of this type, including legumes, meats, and various vegetables.
Vitamin C: Vitamin C is one of the best antioxidants in nature. Antioxidants are beneficial against a receding hairline because they counter free radicals in the scalp. Free radicals encourage inflammation in the scalp, which can push hair follicles to become more sensitive to DHT. Therefore, vitamin C will help you regrow your hairline, especially if it is receding because of inflammation. All citrus food items tend to be rich in vitamin C such as lemons, limes, and oranges along with vegetables such as broccoli, Brussel sprouts, and cauliflower.
Vitamin D: Even though this vitamin is available in food items such as mushrooms and seafood, there's an even more convenient source – sunlight. If you spend some time in the sun, your body would be able to produce all the vitamin D it needs. Vitamin D is especially important if you're trying to regrow your hairline because it is known to help in the revival and growth of hair follicles. This automatically means re-growing a receding hairline.
Vitamin E: As per a study, vitamin E can boost hair growth by an amazing 35 percent. This makes this vitamin an incredibly effective solution for someone trying to regrow their hairline. Vitamin E also has benefits similar to vitamin C, i.e. it is a great antioxidant. As a result, this vitamin will not only slow down your receding hairline but will even help it regrow. You can get vitamin E by consuming more of almonds, spinach, sunflower seeds, and avocados.
Learning Daily Hair Maintenance Techniques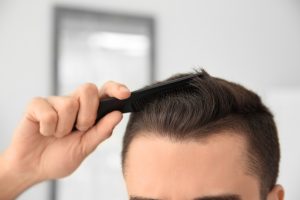 If your hairline is receding, you may be contributing to the loss of hair by your decisions and actions.
For instance, most people don't follow the right procedures for taking care of their hair. Moreover, most people don't even understand the price their hair pays for their styling decisions.
With some knowledge and a little bit of adjustment to how you manage your hair, you could boost your efforts to regrow your hairline. Consider.
Avoid Hot Tools
Hot tools such as curling wands, flat irons, and even hairdryers dry hair from the inside out, especially if you use them too often or at higher settings. When hair becomes too dry, it becomes incredibly susceptible to breakage.
Therefore, just by avoiding hot tools, you'll see a huge improvement in your hair. The rate of recession of the hairline will drop significantly.
Even if you can't go without styling tools, we suggest sticking to healthier options such as the Dyson Supersonic Hair Dryer. We recommend this hairdryer simply because it minimizes heat exposure and dries hair by using high-speed airflow instead.
Don't Color Your Hair
Like hot tools, coloring or chemically treating your hair will also make them excessively dry. These treatments do this because they weaken the structure of the hair.
This, in turn, increases the rate at which the hair starts breaking. The damage caused by these treatments also tends to be cumulative and long-lasting, making it much harder for you to regrow your hairline.
Therefore, the best thing to do would be to avoid these kinds of treatments. Alternatively, you can try natural alternatives for your desired goals.
Wash Your Hair Less
Excessive moisture is as damaging to hair as excessive dryness. This is why people who wash their hair everyday tend to see more hair loss.
Even if you don't use a shampoo and just rinse your hair, your hair will become very susceptible to damage. Therefore, if you want to regrow your hairline, you need to reduce how often you wash your hair. Ideally, you should make it a once or twice a week event.
Dry Your Hair Properly
Most people dry their hair by rubbing and jostling it aggressively with generic cotton towels. However, this technique is damaging to the hair because of the mechanical stress it creates.
It isn't only the rough treatment that causes breakage, but also the cotton towels found in most bathrooms. Cotton can catch and pull hair out. It is much healthier for the hair to be dabbed and squeezed gently with a microfiber towel.
Further, in place of normal brushes and combs, using wide-toothed combs can reduce mechanical stress too.
Essential Oils and Home Remedies
Whether your hairline is receding due to lack of sufficient nutrition or the inherent action of DHT, one of the ways of countering the problem is to oil your hair.
If you can use the right blend of oils, you'll see drastic improvements over the next few months. After all, natural oils contain a staggering amount and variety of nutrients known for boosting hair health.
Finding the right blend, however, is easier said than done. The first thing you'll have to do is figure out what your hair needs. This means figuring out everything from your hair type and its current condition to what is causing your hairline to recede.
The second step will be to match your requirements with the right oils. This includes both carrier oils and essential oils.
Carrier oils are great at penetrating deep into the hair shaft and the scalp. Essential oils, on the other hand, have unique and very specific properties that can counter multiple problems. Here is a quick primer on the most commonly used carrier and essential oils.
Castor Oil
Castor oil is a great carrier oil with strong anti-hair loss, anti-microbial, nourishing, and moisturizing properties. Its ricinoleic acid content is its greatest attribute because ricinoleic acid inhibits prostaglandin D2, which is known for causing hair loss.
There are different types of castor oil, but the most beneficial is Jamaican black castor oil. Jamaican black castor oil is purer and stronger than other types of castor oil. One of the best Jamaican black castor oil products available in the market right now is Tropic Isle Living Black Castor Oil.
The only problem with Jamaican black castor oil is that it is very expensive. In fact, if you plan to oil your hair regularly, then Jamaican black castor oil may even become financially unfeasible.
In such a scenario, we suggest using organic castor oil products such as Sky Organics Castor Oil. It is not only a USDA organic certified product but also very affordable. While it may not be as strong as Jamaican black castor oil or contain as many nutrients, it will still contribute hugely as a part of your homemade receding hairline treatment.
Coconut Oil
Many people don't like the smell of castor oil, which, admittedly, isn't the best. If castor oil's smell is a problem for you as well, you can choose coconut oil as your carrier oil instead.
The greatest quality of coconut oil is that it prevents hair damage by reducing protein loss. This quality is a result of its lauric acid content, which is scientifically proven to reduce protein loss.
Therefore, coconut oil is particularly good for people with a receding hairline and extremely damaged hair. However, coconut oil is multifaceted and can be used on all types of hair and all types of problems.
It possesses excellent moisturizing qualities along with the ability to seal off hair shafts from adverse external influences. Further, it is an anti-microbial agent that contains multiple nutrients that can go a long way in boosting hair health.
Coconut oil can be divided into multiple categories depending upon how it is obtained. The most beneficial type of coconut oil is organic since it is the purest and contains the most nourishment. For the same reasons, cold-pressed coconut oil should be preferred over processed coconut oils. One product that qualifies under both these categories is Viva Naturals Organic Extra Virgin Coconut Oil.
A much cheaper option if you want to use coconut oil as your carrier oil is to go for fractionated coconut oil. Fractionated coconut oil is much lighter, which makes it more suitable oily-haired people too. Invivo Essential Fractionated Coconut is one of the best and most economically priced fractionated coconut oil products in the market right now.
Olive Oil
Olive oil offers a good balance between castor and coconut oil. It is good at repairing extremely damaged hair, protecting hair from adverse external influences, and moisturizing it. This makes it good for dry and damaged hair.
Olive oil can be used as a carrier oil, but you should make sure that you only get organic olive oil. One of the best olive oil products you can get in the market is Sky Organics' Organic Greek Extra Virgin Olive Oil mainly because of its 100 percent purity.
As always, there are cheaper options available too. The best them from the budget market segment is Okay 100% Pure Olive Oil.
Argan Oil
Argan oil is often referred to as "liquid gold" owing to how beneficial it is for hair health. The best argan oil is sourced from Morocco because it is produced from kernels found inside argan trees which are native to their country.
The two main benefits of using argan oil as carrier oil come from the fact that it is one of the strongest moisturizers in the world and that it can coat the hair shaft incredibly well.
While a strong moisturizer, argan oil isn't as viscous as coconut or castor oil. This means that it can be used more frequently than those oils. It is perfect if you've lost hair due to damage caused by extensive styling.
Argan oil can be used as a carrier or essential oil. The biggest problem with using argan oil as carrier oil is cost. The best argan oil will be imported from Morocco, which will make it quite expensive.
The Pura D'Or Organic Moroccan Oil is the best example of this. It is the purest Moroccan argan oil you'll get in the market precisely because it is imported from Morocco. As a result, it is better to add this oil into another carrier oil.
Avocado Oil
Avocado oil is easily one of the most nutrient-rich oils, making it quite similar to argan oil. This oil, like argan oil, is a bit expensive, making it a better choice as an additive to another carrier oil rather than a full carrier oil.
However, if you can afford it, we do suggest using avocado oil as a carrier oil. This is especially true if the lack of nourishment is one of the major reasons why your hairline is receding.
The best part is that avocado oil, like coconut oil, is also edible. Therefore, by using it in your food and topically, you'll be supplying your hair with nutrients internally and externally.
Avocado Oil from Now Foods is quite popular in the country because of two reasons. The first is that it is exceptionally well-priced and the other is that it is 100 percent pure.
Essential Oils
Essential oils are best used for their very specific qualities. They're added to a carrier oil in very small quantities but deliver massive results. If you choose wisely and carefully, very few receding hairline treatments will be able to match the results of a good oil blend.
Here are the most commonly used essential oils and their respective benefits. Even so, don't shy away from researching more if you feel inclined. There is no dearth of essential oils that you can use to augment the core benefits of your chosen carrier oil.
Peppermint Oil: This oil is excellent if your hairline is receding because of the loss of hair follicles. As per a study conducted on mice, this oil doesn't only increase the number of hair follicles, but also how deep they're located in the scalp. It also boosts hair growth from existing hair follicles.
Rosemary Oil: Rosemary oil is an excellent natural DHT blocker. This means that it prevents hair follicles from going dormant. Therefore, by using this oil in your oil-based receding hairline treatment, you'll be directly countering the effects of DHT.
Lavender Oil: Like rosemary oil, lavender oil was also found to improve the rate of growth of hair in mice in a study by increasing the number of follicles, improving their depths, and thickening the dermal layer. Additionally, this oil is a brilliant antimicrobial agent.
Tea Tree Oil: Tea tree oil is a great cleanser with amazing antimicrobial properties. It is also known for augmenting the inherent qualities of other substances. For instance, a study conducted in 2013 found the combination of tea tree oil and minoxidil to be significantly more effective than just minoxidil. Therefore, if your hairline is receding due to buildup of scalp's oils, tea tree oil can be of great help.
Cedarwood Oil: Cedarwood oil is not only antimicrobial but also a great DHT blocker. While less commonly available than rosemary oil, its core properties dovetail really well with it.
Macadamia Oil: Derived from the macadamia nut, this oil is a very strong moisturizer. Moreover, it is also full of various nutrients hugely beneficial to hair growth. If it weren't for its cost and fact that it isn't easily available, it would've made a wonderful carrier oil. As it is, if your hairline is receding due to over-styling, you can use macadamia oil to counter the damage.
Almond Oil: This is another oil derived from nuts. However, unlike other oils, almond oil is fairly lightweight. It still contains multiple nutrients ranging from proteins and fatty acids to vitamins and antioxidants. It also contains a healthy amount of magnesium. This will help you if your hairline is receding due to calcium buildup or poor keratin infrastructure.
Jojoba Oil: Jojoba oil isn't only a great moisturizer which is helpful against damaged and excessively dry hair, but also a great source of zinc. Zinc is one of the more effective natural DHT blockers found in nature. Therefore, whether your hairline is receding due to pattern baldness or excessive dryness and over styling, jojoba oil can benefit you greatly.
Product-Based Receding Hairline Treatments That Can Regrow Hairline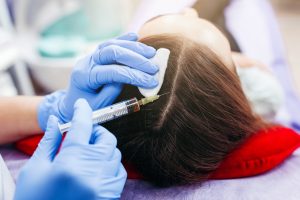 Every nutrient and ingredient we've mentioned in this guide until now can also be found in a variety of commercially manufactured hair products. In fact, most good quality hair care products are well-researched in terms of how well their ingredients gel together.
In this section, we'll be focusing on every hair care product type and sharing our recommendations with you based on years of study and analysis. However, before that, we'll talk about two drugs that are globally recognized to be the most effective anti-hair loss products. As is natural, these two products, along with all the commercial products are great as receding hairline treatments too.
Hair Transplants
This is the most drastic solution for your receding hairline. It also happens to be the most successful anti-hair loss treatment in the world, regardless of whether you wish to regrow your hairline or a bald patch in another part of your scalp.
A hair transplant is a surgical procedure where dead hair follicles are replaced by active hair follicles harvested from another part of the scalp. The process involves taking a patch of skin from the back or side of the head, removing hair follicles and hair strands from it, and surgically placing them in the problem areas.
This is easily the most effective anti-hair loss treatment in the world. Whether it applies to your specific case of receding hairline or not, will depend upon detailed consultation with a practicing doctor.
What you should know about hair transplants is that the process is very expensive and painful. Further, the results are very slow since the transplanted hairs will fall off before new ones grow.
However, if the process sticks, i.e. the follicles are not rejected by the skin, the results are permanent. It will be like your hairline never receded in the first place.
Finasteride
Finasteride is the most effective non-surgical receding hairline treatment you can use to regrow your hairline. The only problem is that everyone doesn't qualify for it. You see, it is an oral drug that can only be purchased with a prescription from a medical practitioner.
Finasteride is so effective because it counters the production of DHT. It does so by bonding with the enzyme responsible for converting excess testosterone into DHT. Since it prevents DHT from even being produced, hair follicles never get miniaturized.
Finasteride is the solution you should look for if you want a receding hairline treatment with the highest success rate. However, you need to remember that it will only work for you if your particular case of hairline recession is being caused by male pattern baldness.
While finasteride will help you regrow your hairline, its effects will only stay till you continue to use it. In other words, you'll have to use this drug indefinitely if you wish to regrow your hairline and keep it intact.
The two most common brands under which finasteride is sold are Proscar and Propecia.
Minoxidil
While finasteride is a prescription-only drug, minoxidil is an Over-The-Counter (OTC) drug. Minoxidil is the most commonly used anti-hair loss treatment simply because it is so easy to get and use.
This drug has a complex history. It was initially developed to treat ulcers and then found to be great for treating hypertension. However, minoxidil's hair growing qualities were soon discovered, and the drug became the go-to option for people with hair loss problems.
Minoxidil helps against receding hairlines for the same reason that it helps against hypertension – vasodilation. It widens the blood vessels in the scalp allowing more oxygen and nutrition to reach the hair follicles and causing the evacuation of excess DHT. Further, it also opens up cellular potassium channels allowing easy access to nutrients and oxygen into hair follicle cells.
The labels on minoxidil products often mention that they're not suited for hairline problems. However, this is a technical disclaimer, and you can disregard it freely because there isn't any difference between the hair follicles in your hairline and the hair follicles at the crown of your head.
The most popular minoxidil brand is Rogaine. Rogaine initially had exclusive rights to sell minoxidil products. It is only recently that the patent has expired and other brands have become available. Rogaine, however, remains the best, especially since they offer minoxidil in foam form.
Foam-based minoxidil is easier to apply and less likely to cause reactions. Rogaine offers different products for men and women, and all of them are highly effective and boast of tremendous success rates.
Men's Rogaine 5% Minoxidil Foam for Hair Loss and Hair Regrowth is an excellent option for males, while women should choose Women's Rogaine 5% Minoxidil Foam for Hair Thinning and Loss. Women's products from Rogaine tend to be less intense than those designed for men.
Finasteride and minoxidil both have tremendous success rates. However, when the two are used together, the results become especially excellent. Therefore, if possible, we suggest using both these drugs together.
You should also know that, like finasteride, minoxidil's results are only available till you're using the drug. The moment you stop, the results will disappear. This is true for the finasteride – minoxidil combo too.
Low-Level Laser Therapy Devices
Low-Level Laser Therapy (LLLT) is a technique that uses light to revive hair follicles and boost hair growth. The light used in LLLT is of a particular wavelength and designed to prevent hair follicle miniaturization due to either inflammation or DHT.
While research into LLLT isn't as extensive as other receding hairline treatments, it is still sufficient to prove efficacy as found in this study. With regular use, LLLT can not only stop hair loss but also regrow hair.
LLLT can be availed from professional experts or through consumer devices. Professional treatments tend to be considerably more expensive than consumer devices, but they offer more surety of success simply because the responsibility lies with the expert rather than you.
Consumer LLLT can be split into two categories – caps and handheld brushes. Handheld LLLT devices are better as a receding hairline treatment because they can be targeted to a small area with more precision.
The best handheld LLLT device available in the market right now is Vinmax Hair Growth Comb. It is not only the most affordable option but the most reliable one.
LLLT Caps, on the other hand, offer greater coverage all over the scalp and better turnaround times. LLLT Caps, though, are more expensive than handheld LLLT brushes.
iRestore Laser Hair Growth System has been the best LLLT cap in the market for quite some time now. It is very effective and delivers great results. It also covers a larger area compared to other laser caps, which means that it is suitable for receding hairlines.
Daily Hair Care Products
In the natural section of this guide, we mentioned various nutrients that can help you regrow your hairline. Further, we also listed numerous oils that can be used as receding hairline treatments because they contain the same nutrients.
Most daily hair care products such as shampoos, conditioners, hair masks, and gels are based around these same ingredients and nutrients too. Effectively, these hair care products offer a third channel through which you can get these ingredients and nutrients.
Shampoos
Most people use shampoos, at least, once or twice a week. So, why not use shampoos that have the nutrients you need to regrow your hairline? You'll have a wide array of options to choose from too.
For example, if you find your hair to be extremely damaged due to styling decisions and want to repair it, you can go for Maple Holistics Biotin Shampoo for Hair Growth and Volume. It is based on biotin, which is scientifically and anecdotally proven to be extremely effective at improving the keratin infrastructure in the scalp.
On the other hand, if you need a receding hairline treatment that can counter excessive dryness, you can go for the PURA D'OR Original Gold Label Anti-Thinning Shampoo. It is based on argan oil with its countless benefits and immense moisturizing powers.
You can even get shampoos designed explicitly to counter DHT in the scalp through various DHT blockers. Consider the Ultrax Labs Hair Surge, for example. It contains one of the strongest DHT blockers in nature in the form of caffeine. This shampoo is so effective against DHT because its caffeine content is very high!
Conditioners
While you should be using oil blends to moisturize your hair after every wash, everyone doesn't have the time and inclination to do this. For such people, conditioners offer a good alternative, especially since some of them can double up as light receding hairline treatments.
For example, if you look at the Pure Biology Premium Hair Growth Conditioner, you'll find it full of every nutrient you'll ever need for your receding hairline and floundering hair follicles. The conditioner contains great ingredients in the form of biotin, coconut oil, multiple vitamins, and even rosemary oil along with other DHT blockers.
This conditioner was developed specifically for people with extremely damaged and dry hair, so if this is the reason your hairline is receding, then this conditioner is ideal for you. The only problem here is that it is very expensive.
If cost is a concern for you, you can always go for the ArtNaturals Argan Hair Growth Conditioner. It is not only very affordable but also based on argan oil, which you already know is extremely beneficial for hair. This conditioner will nourish and block DHT in your scalp.
A good balance between these two extremes, of course, is the BOLDIFY Hair Thickening Conditioner. This is a mid-level conditioner that offers nourishment and repair through its biotin content and counters the receding hairline through its DHT blockers content.
Deep Conditioners / Hair Masks
Deep conditioners and hair masks are similar in nature to each other. They're also similar to oil blends recommended earlier in this guide. Each of these three treatments will give your damaged hair and hair follicles an intense, prolonged treatment.
The treatment could be reparative, strengthening, or simply moisturizing. One thing you need to know, though, is that if your hairline is receding, then you're going to need these intense treatments.
If you don't have time to make and use oil blends, then just buy deep conditioner or hair masks and use them once a week. If you get the Shea Moisture Raw Shea Butter Restorative Conditioner, you won't even have to worry about the side-effects of artificial ingredients in commercial products.
This is an organic, deep conditioner that will not only moisturize your hair and repair existing hair follicles but also boost their revival through multiple nutrients.
In terms of hair masks, you won't find any that will beat the Macadamia Oil Deep Repair Mask. It contains virtually every nutrient and oil we've mentioned in this guide, making it one of the best receding hairline treatments as far as hair care products are concerned. The best bit is that the longer you leave this mask in your hair, the quicker you'll be able to regrow your hairline!
Hair Gels
If you need to regrow your hairline, then you need your hair gels to do more than just give you hold. You need them to double up as receding hairline treatments.
Believe it or not, there are hair gels in the market that specialize in just this kind of requirement. After all, hair gels stay in your hair all day long. It makes sense for them to providea reparative impact along with stylistic support.
The hair gel that best doubles up as a receding hairline treatment is the SheaMoisture Strengthen & Restore Edge Treatment. It contains incredibly moisturizing ingredients such as Jamaican black castor oil and shea butter. However, it also contains immensely nourishing nutrients and even ingredients that counter DHT.
The best part is that this hair gel is amazingly pocket-friendly. Imagine having such an all-rounder in your hair all day long. You'll regrow your hairline in no time, especially if you follow all the other tips in this guide.
An even more powerful hair gel is the ORS HAIRestore Fertilizing Temple Balm, but it is better suited to deal with hair follicle related problems. If your hairline is receding specifically because of undernourished or damaged hair follicles, then you need to get this hair gel. This makes sense too since ORS stands for Original Root Stimulator.