Good hair helps you look and feel good. It's no wonder you want to do everything you can to protect it, make sure it stays healthy, and to encourage your scalp to grow more. It only takes a couple of minutes of searching on the internet to find people recommending B vitamin complex supplements to maintain a gorgeous mane of hair.
But does taking a vitamin B complex supplement really improve your hair's health and appearance?
I'm going to be upfront with you. Scientific studies on vitamin B complex have shown, at best, no benefit, or only slight benefit from taking a B complex vitamin for most people.
Still, the anecdotal evidence, people swearing up and down that taking a B vitamin did wonders for their hair and skin, can be pretty compelling. So, let's talk about what B vitamins are, what they're good for, how you get and process B vitamins, and what the evidence for their use as a hair-boosting supplement really is.
What Are B Vitamins and B Vitamin Complex Supplements?
Most of the time people talk about B vitamins as a singular whole. We now know that B vitamins are eight different chemicals we need in small amounts to have healthy normal body function from top to bottom.
Vitamins are chemicals that are needed in incredibly small amounts, but that cause significant problems if you develop a deficiency.
Some vitamins, like B7 (Biotin) and vitamin D are produced in some amount by the body.
Other vitamins are only available in food. These are called essential vitamins since your body does not produce them in any amount and you must include them in your diet.
Vitamin C is a good example of an essential vitamin, humans, along with all the great apes and most mammals, cannot produce vitamin C.
Most vitamins exist naturally in your food, with some foods providing more of certain vitamins than others. When people talk about 'empty' foods or 'junk' foods, they are typically referring to food that has high-calorie counts with few vitamins or other necessary nutrients.
In the other direction, you have 'super' foods and 'health' foods, which are typically higher in vitamins and nutrients and lower in calories.
All eight B vitamins can be found in food, and most people get plenty of each simply by eating a healthy balanced diet.
The B Vitamins and the Foods that Provide Them
Thiamine, B1

Eggs, fruit, whole grains, fortified cereals, and liver

Riboflavin, B2

Eggs, milk, fortified cereals, and rice

Niacin, B3

Liver, turkey, tuna, whole wheat, mushrooms, potatoes, avocados, and brown rice

Pantothenic Acid, B5

Chicken, beef, eggs, broccoli, and whole grains

Pyridoxine, B6

Milk, peanuts, fish, whole grains, soybeans, and many vegetables

Biotin, B7

Cauliflower, egg yolks, avocado, raspberries, and pork
You also naturally synthesize some Biotin in your intestines as a normal part of digestion.

Folic Acid (folate), B9

Green veggies, chickpeas, fortified cereals, and liver

Cobalamin, B12

Salmon, cod, red meat, cheese, and fortified cereals
This is not the complete list of foods that provide these vitamins, but it's a starting place for each of them.
B Vitamin Supplements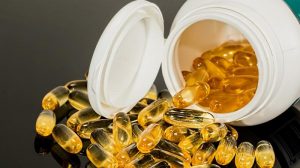 Like most supplements, B vitamin supplements tend to provide far more of each B vitamin than your body needs at any one time.
One way you can tell if your vitamin supplement is going overboard for your individual needs is in the toilet. B vitamins tend to turn urine bright yellow. Think sunflower yellow.
Part of the reason B vitamins change urine's color is that they are water-soluble, making them easy for your body to filter out. There also isn't much reason for your body to hold on to extra B vitamins, unlike some others, since it's highly bio-available in a healthy diet.
However, it's also important to note that the recommended daily intake of every vitamin, not just B vitamins, is designed around the absolute minimum required to avoid negative health consequences. Having more of some vitamins is not necessarily a bad thing.
B vitamins being water-soluble also means it's very difficult to reach toxic concentrations due to supplementation, making B vitamin supplements very safe.
That doesn't mean B vitamins can't concentrate to the point of toxicity, even water is toxic in high enough concentrations, it's just more difficult.
Three of the B vitamins are more likely to reach toxic concentrations than the others, Niacin, Folic Acid, and Pyridoxin (B6), so you need to be more careful with those three.
B vitamin supplements come in two general categories, individual vitamin supplements, and B-complex supplements.
Individual Supplements
Individual supplements are usually labeled with the chemical name for the vitamin, Biotin is a common B vitamin to see in an individual supplement since it's the most directly connected to skin, hair, and nail health.
You might also find B 12 in an individual supplement, and it defies the rule about individual B vitamins going by their chemical names since B 12 is more recognizable than Cobalamin.
Niacin and Riboflavin can also usually be found in individual supplement form, as can Folic Acid (often labeled folate). The others are usually only found in B complex supplements.
We'll talk about what each of the B vitamins does in a minute, first let's talk about the complex supplements.
Complex Supplements
B vitamin complex supplements tend to be clearly labeled, either as B-Complex or simply Vitamin B.
Generally speaking, B vitamin complexes are considered more effective than the individual supplements outside of very specific circumstances. They are also usually easier to find.
The reason B complexes are considered more effective is that each of the B vitamins works best in combination with the others. They're also a good option if you have been tested deficient in any one B vitamin since there is a lot of overlap between dietary sources for B vitamins, so if you're deficient in one it's likely your deficient in some or all of the others.
If you take a multivitamin, you're likely getting some amount of the B vitamins in with the multi. Multivitamins usually contain a slightly less concentrated version of a B vitamin complex, along with other vitamins like vitamin C and D.
Complex vitamins are likely your best bet if you're trying to boost your hair growth and health with B vitamins. Although there is no solid scientific evidence for B vitamins to directly affect hair health, you're more likely to see the benefit of a full complex overtaking 1 or 2 of the B vitamins individually.
The exception is Biotin, which is usually a major component in Hair Skin and Nails supplement formulas since it has been connected to hair health. However, since you produce Biotin naturally, it's one of the B vitamins you are least likely to develop a deficiency of.
From a medical perspective, you probably don't need and shouldn't take a vitamin B supplement unless you've been diagnosed with a vitamin B deficiency or have risk factors for developing one. We'll talk about those risk factors a little later.
What Do the B Vitamins Do?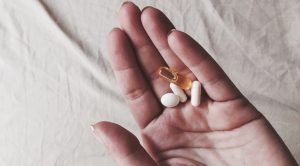 All of the B vitamins are critical for good health, but each individual chemical has a different purpose in the body.
Thiamine, B1, helps support the brain and nervous system, primarily by helping your body turn carbs into usable, bio-accessible energy. The mitochondria are the powerhouse of the cell, and so on.
Riboflavin, B2, also helps support your nervous system, as well as being important for red blood cell health, and eye health. It also helps break down protein.
Niacin, B3, helps fight free radicals and is also involved in creating bio-accessible energy from food.
Pantothenic Acid, B5, is most critical in the production of coenzyme A. Coenzyme A is important in many essential reactions for supporting life, so a B5 deficiency can have a cascade effect on other systems and overall health.
Pyridoxine, B6, is part of hemoglobin production. Hemoglobin is the molecule that carries oxygen through our blood. It also has a role to play in breaking down carbs, like several of the other B vitamins.
Biotin, B7, helps break down all three critical nutrient types, carbs, fats, and protein. You likely only get a very small amount of B7 from your food, but since you synthesize it yourself you don't need as much in your diet.
Folic Acid, B9, is usually referred to as a pre-natal vitamin since it's important for pregnant women to help in fetal development and plays a role in preventing birth defects. Its also used to aid red blood cell production.
Cobalamin, B12, is another vitamin that helps support your nervous system as a whole. It also plays a role in red blood cell production, and the creation of bio-available energy in your cells, like the other B vitamins.
As you can see, none of these vitamins directly plays a role in hair growth. Instead, they all support general health, and many of them help create energy for all of your cells, while some specialize in specific cell types as well.
However, hair follicles aren't exactly critical cells so if your body isn't producing enough hemoglobin to carry oxygen your hair follicles wouldn't be high on the priority list to get enough.
The same can be said of ATP production, ATP is the basic energy molecule your cells use, it's produced by the mitochondria in each cell. But if your body has to prioritize which systems get the building blocks of ATP, hair follicles aren't going to be high on the list.
There's a lot of truth to hair, skin, nails, and eyes being indicators for the overall health of the body. So, while these vitamins aren't necessarily directly involved in hair growth, having enough of them is important for making sure the support systems that do directly affect your hair function properly.
How Does Vitamin B Support Hair?
Okay, to reiterate, there aren't any significant scientific studies that show much hair growth or health benefit from taking a B vitamin.
Any and all benefit from taking a B vitamin complex is individual. The ideas we're going to discuss in this section are just ideas, a result of people having anecdotal success with B complexes and looking into why that might be.
Blood and Oxygen
Many of the B vitamins are important for red blood cell production and hemoglobin production. One factor we know is important in hair loss is good circulation. That's why massaging your scalp can help stimulate hair growth, the massage draws more circulation to the area, increasing nutrient and oxygen availability.
It makes sense, then, that taking supplements that support healthy red blood cells, which promote oxygen transfer, would improve the health of your hair follicles. Healthy hair follicles are more likely to stay in the active growth phase, anagen, for longer.
Interestingly enough, Rogaine, one of the only FDA approved over-the-counter treatments for hair loss, is a vasodilator, meaning it also aids in circulation and opening the capillaries in your scalp for better blood flow.
Energy Production
Another common feature of the B vitamins is that they aid in breaking down food into bio-accessible energy, ATP.
All cells need ATP to function. Your body does store energy for later use if it has a surplus, but efficient processing of energy into ATP is critical for almost all aspects of your health.
If your body is struggling to produce ATP it will prioritize critical systems, your brain, nervous system, and internal organs. It does the same thing when trying to conserve heat, prioritizing blood flow to the most important systems and away from less important cells like hair and skin.
So, similar to how B vitamins help hair by making sure there is plenty of oxygen going to your hair follicles and scalp, they can also help by making sure the mitochondria in your hair follicle cells are getting what they need to produce ATP.
Other Possibilities
Biotin, which has been linked to hair and skin health before, is also showing some promising results in recent studies on nail health.
Hair and nails are made from incredibly similar substances and through a similar process. It's possible that Biotin is more directly involved in hair, skin, and nail production and health than is currently known.
Free radicals damage any cells they come into contact with, and hair follicle cells and the hair cells themselves, are no exception to that.
Niacin may help with overall cell health by reducing the number of free radicals moving through the body at any given time.
Risk Factors that May Mean You Need to Take a B Complex for Your Hair
You have a Family History of Vitamin B Deficiency
Like anything, there are heritable disorders that make it harder for your body to process vitamin B, or that can interfere with your body's production of Biotin.
If you have family members with a known vitamin B deficiency it may be worth it to preemptively take a vitamin B complex supplement to prevent hair damage and the other health consequences that come along with those deficiencies.
Especially since any damage to your hair follicles is hard to come back from, your hair will thank you for being proactive about protecting it in this situation.
You Eat Lots of Egg Whites
Egg whites contain some compounds that bind to B vitamins, reducing their bio-availability and reducing the amount of benefit you can receive from B vitamins in your food.
Egg yolks counteract the effect, but if you eat egg whites for health reasons or personal preference, you may notice your hair starting to go lackluster and patchy.
Especially if you're already experiencing negative effects on your hair, it's time to start supplementing B vitamins back in so that your body has a chance to use them before the egg whites prevent absorption.
You are Vegetarian or Vegan
You may have noticed in the list of vitamins and their food sources that animal protein tends to be a good source of most B vitamins.
Animal protein can be one of the primary ways to get dietary B vitamins, especially in American diets. You don't even need to be truly vegetarian or vegan to be affected, if you avoid red meat you'll have a hard time getting some of the B vitamins in the amount you need too.
Sure, some of them, like Folic Acid, are readily available in vegetables and grains, but many of them aren't. Or, if they are present, they may not be in a bio-accessible form that your body can get to easily.
Vitamin B 12, in particular, is difficult if not impossible to get enough of on a strict vegetarian or vegan diet.
And since the B vitamins tend to work in concert with one another, just supplementing B 12 may not be enough to get the full benefit. Especially if you already suspect that your skin and hair are starting to suffer from a B 12 dietary deficiency, it's a good idea to add a B vitamin complex instead of an individual supplement.
A complex will make sure you have the other B vitamins available in your body at the same time you have the B 12. Since these are water-soluble vitamins it's important not only that you have enough, but that you have enough of them at the same time to get the best results.
You're Concerned You Don't Eat Enough in Your Normal Diet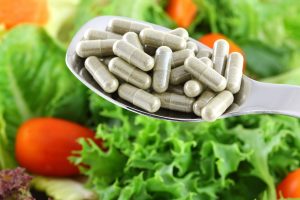 Vegetarians and vegans aren't the only ones who have to worry about getting B vitamins in their diet. If you eat a lot of processed foods, eat everything cooked without raw vegetables or fruits, or are on a highly restricted-calorie diet, you should probably consider taking a B complex vitamin for your hair and your health in general.
This is because B vitamins have to be taken in every day. The majority of the B complex vitamins are essential, meaning that your only source is your food. Since your body quickly processes B vitamins outof your system, you need to make sure you get some every day to make them available for the critical processes they contribute to.
Cooking changes the chemical makeup of food and can reduce concentrations of certain B vitamins, and highly restricted diets usually don't give you the opportunity to get the full complement of dietary vitamins you need.
Highly processed foods can be nutritionally complete, especially if they are fortified with vitamins the way foods marketed to children often are, but they aren't always. The broke college student all-ramen diet, for instance, is highly unlikely to be nutritionally complete, so supplementing is a good idea.
Generally, it's better to get your vitamins from your diet and not through supplementation. Doing so is easier on your digestion, and is typically a more bio-available version of each vitamin, but if that isn't possible, supplements are a good stopgap.
What B Complex Vitamins do to Your Hair
Now that we've gotten through the technical information, let's talk about the direct hair benefits.
B vitamins can help your hair grow thicker. Not only can taking a B vitamin complex help more of your hair follicles actively grow hair, but the hair strands themselves are also usually thicker.
The combination of more hair and thicker individual strands is fuller, more voluminous hair.
B vitamin complexes can also add that healthy glow to your hair. This is distinct from greasy-shiny hair, although you will notice that your hair is shinier in addition to being thicker.
You'll likely notice that your natural hair color comes through more strongly as well. This can mean a brighter blond, a richer brunette, a more vibrant red. Whatever your natural color, your hair will appear to be a more saturated version.
It will also be healthier in general. You'll notice less breakage and fewer split ends as your hair follicles and scalp get healthier over time.
However, it will probably take some patience to see results. Anything you do to boost hair health will take an average of 3-6 months to really have an effect because it takes that long for your hair follicles to move between active and dormant growth phases.