When you're struck with short hair fever, it's hard to cure. It starts by pinning pixies and bobs then it escalates to creating face-framing short hairstyles with your hair and then you start watching YouTube videos on long-to-short transformations. There's only one thing holding you back: you have curly hair.
Why Can't you Cut your Curly Hair Short!
If you've got the curly tresses then you know that your pixie isn't going to fall flawlessly like Emma Watson's or Anne Hathway's – not even close. Your best friends and colleagues have told you that you can't cut your hair short, it's too curly! But, it's time to shrug those opinions off and cut your curly hair off your shoulders. Simply knowing what to expect and how to wear those curly locks will give you the confidence to finally give into that short hair fever. Here are tips for going short with curly hair.
Understand Your Curls
Who doesn't love Ginnifer Goodwin's short pixie cut? Unfortunately, it's not realistic for you to take a picture of her pixie into your salon. Before you find inspiration it's important to understand your curls. Some ladies don't have curls until their hair gets longer while for others, curls start at the root. Some have large ringlets while others shave tight z-shaped coils. Once you understand your curl pattern you can start looking for inspiration from women with similar curls. This will give you the most realistic expectations so you're not disappointed with a short pixie when your curls were calling for a lob.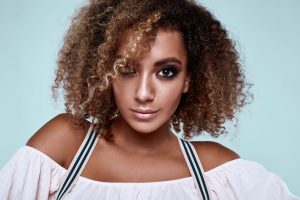 Your Hair Will Probably Get Curlier
Long hair generally stretches out the curl in your hair so once you chop off your tresses you also release the curls from the weight of the length and the curls will pop like they never have before. Once your curls get curlier, your hair will appear shorter than anticipated so make sure that you account for the shrinkage when you're getting a cut. You might even ask your stylist to dry cut to guarantee they are taking the "bounce-factor" into consideration.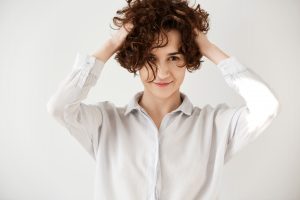 Find the Right Stylist
Cutting your curly hair is a big decision and you want to guarantee that your stylist is experienced with these types of haircuts. If you see women on the street who have a cute sassy short hairdo, ask them who their stylist is! They will love the compliment and you can collect a nice list of potential stylists. Once you call the stylist, ask for a free consultation and if they have experience with cutting short curly hair.
You could also ask a few questions that will give you insight into their experience. For example, using shears or razors on curly hair immediately translated to frizz, you can ask the stylist what they think of cutting your hair with a razor. If they agree to it, it's probably a good idea to keep searching. You can also ask how they intend to style your hair after the cut is complete. If they insist on using a round brush or a flatiron, they probably don't understand curly hair. A little research goes a long way when achieving that cute curly cut!
Consider Your Face Shape
In addition to considering your type of curls, you have to consider your face shape. If you have a round face then you don't want to add width by getting a chin-length bob with thick curly hair. But a long bob with lots of curly volume would be perfect. Or if you have a long face shape you want to get a high pixie cut because that would add more length. Your stylist should be able to help you navigate the cut for your face shape.
Now to inspire your short hair transformat
ion, here are some of our favorite short curly hairstyles!