Medium length hair is perhaps the most desirable length. It has the styling options of long hair without all the costly and time-consuming maintenance but it's not so short that you miss being able to braid your hair or put it up in a messy bun on those bad hair days. Unfortunately, like all lengths, you can grow board of your medium length hair. But by simply styling it differently with simple yet cute looks, you can love your medium length hair for years to come. Until you decide to chop it all off or let it grow. Because, we all need change some time. Here are some ideas!
Triple Stacked Ponytail For Medium Length
A ponytail will always be a loyal look for girls with medium length hair. But your co-workers and friends are probably tired of seeing your low-pulled back ponytail with a few loose strands around your face. Well stun those haters with this new look. It'll give you volume, dimension and a stylish look for work, out on the town or even to the gym. It's super easy too!
How To Do a Braided Bun
Who doesn't love a messy topknot? It's perfect for those lazy days, bad hair days or 'oh-no! I overslept' days. But if you have an extra minute, spice up your bun by braiding it. All you have to do is put your hair up in a ponytail, create two braids, and wrap them around each other, pin and hairspray. Add a hair accessory that matches your outfit and the season too!
How to Do a Braided Swept Back Half-Up Hairstyle
Have you tried the crown braid on both sides? It can be quite difficult. Getting both sides to look equal, to look good and to stay in place. This hairstyle (thanks to MissySue) simplifies everything by just braiding one side but it looks like a coherent hairstyle. A simple three strand French crown braid on your favorite side and then sweep back the other side and twist in the middle and pin.
Headband Half-Up Hairdo Tutorial
Do you have a headband that you've wanted to wear but you're not quite sure the best look? Try this one! Simply place the headband over your head, find that perfect spot. Take a section from your left side just above your ear and wrap towards the right, and then repeat on the other side. Then prepare for all the compliments you're going to receive.
Soft Waves
Soft waves are a simple and stylish way to spice up your daily hairstyle. They will give your hair some bounce and volume without taking up too much your morning routine. What's better than fast and wavy? You can simply recreate these soft beachy waves with your hair straightener.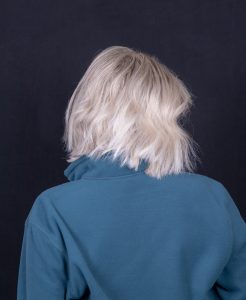 Waterfall Braid Plait
Did you think your hair was too short for fancy braided hairstyles? Think again! A waterfall braid is super easy and it works perfectly for fine hair, thick hair – and of course, medium length hair. It looks even better when you pair this waterfall braid with soft waves.
Half-Up Bouffant Hairstyle
If you're working on day 2 or 3 or even 4 of unwashed hair, then it might be getting a little flat (and sometimes hair is just naturally flat), this look is perfect for that time. All you have to do is tease the back of your hair and then pin directly at the nape of your neck. This stylish look will give you the volume you need. Check out day-2 of this blogger's hairstyles for inspiration.