Women with fine hair are always in 'awe' over thick hair but if you have thick hair then you know that it definitely comes with its inherent flaws. With thick hair comes the challenge of finding a cut that gives your hair plenty of shape, is manageable but still flattering for your lucky thick locks.
The short to shoulder-length bob haircut is a perfect choice for thick hair. A bob is timeless, elegant and vogue hairstyle so you can be sure that your cut won't be 'so-last-year'. But probably the best characteristic of a bob is how easy it is to maintain. The shorter length takes less time to wash, blow dry, flat iron, and curl. While the bob is relatively short there are still endless styling options from curls and beach waves to complimenting blunt bangs and layers. When you're choosing a bob length and style it's important that you choose the right bob your face shape and texture in addition to thickness.
Chin Length and Light Layers
A chin-length bob is going to be easy to manage with your thick hair and the layers will lighten your heavy head of hair and it's also less hair and when you have so much of it – that's a good thing. Style with a side-part to really show off the layers.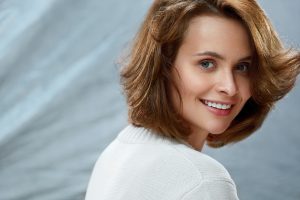 A Textured Bob
There's no better way to show off your thick hair than to big curls or loose waves. A long bob is the perfect length for curling, crimping, or adding beach waves to your hair. It's shorter so it won't take too much time to curl with an iron or hot rollers or heatless-techniques are easier to recreate and they will hold all day with your thick locks and they're perfect for every occasion. Just beware if you have a round face because it will add width.
Long Sleek Bob
A longer bob will show off your thick full hair but it's not so short that it poufs out because of the thickness. But for the days you're not up for curling your hair or if you have naturally straight hair then opt for a long sleek long bob.
A Graduated Cut Bob
The graduated bob is when your hair slowly gets longer from back to front. This is a great way reap the benefits of both short and long hair. The graduated bob is the most popular haircut in Hollywood right now and that's probably because is works well with both thin or thick hair and every face shape. With thick hair the difference can be as dramatic or subtle as you like and stacked layers in the back (thing Victoria Beckham) will show off your hair. Bangs are great choices with a graduated cut just make sure they work for your face shape.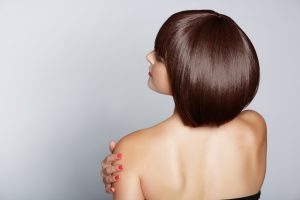 The Shag Bob
Shag is a haircut that has lots of layers and typically gets thinner towards the end. When people think of the shag hairstyle they think of 80s rock music or the 90s with looks like the "Rachel". The shag isn't dated – just that shag style is. The modern shag has fewer layers but still has a choppy look. It's a great cut for every hair texture but works best for thick hair.