Ever admired the luscious locks of Johnny Cash? Wondered how Elvis got his slicked hair to high and his style so consistent? Want to rock an old-school barbershop look from home? Planning a Super-Man cosplay? Hair tonics are the answer.
Once a common and popular hair styling tool for men, hair tonics are only recently coming back into vogue. While some hair tonics have survived from their heyday through to current use, they went out of popularity for a while.
Pomade enthusiasts have always known about hair tonic since the two products are similar. But this is a product making a comeback and it's more than time you knew a little more about this old-school styling tool with major modern applications.
What Is Hair Tonic?
Especially if you're looking at the modern product, this is a really broad question. Hair tonics, generally, are a more liquid form of a pomade. They're usually made from blended oils and a scent, but there are oil-free formulations as well.
Some tried and true formulas have existed continuously since the heyday of hair tonics, like Vaseline 's version of the product.
The originals mostly focused on being a styling aid. Tonics add some body and volume, help your hair hold it's shape, and usually add quite a bit of shine. Greasers, and a lot of the early rock n'roll idols commonly used one version of this product or another.
Even back in the day, when hairstyles were a lot more similar than they are today, hair tonics were a versatile product. They were used as a prep for barbers who wanted to provide clients with a scalp stimulating massage. They were used at home to help style and protect your hair. They could even help avoid hair problems like split ends and breakage.
Today hair tonics are pretty much as varied as any other hair product. They're a quick and easy way to step up your hair game.
Benefits of Using Hair Tonic
Styling
The main benefit of hair tonic is still as a styling aid. The main hesitation people have is that tonics can make their hair greasy looking. Fortunately, modern hair tonics tend to be less oily-looking, even when they're made from an oil blend.
Of course, it's usually identifiable when you're using an oily hair product. People didn't really think that greasers were just that greasy (unless there was BO, let's be real), they knew it was a hair product and a style decision. The same is true today.
If you haven't noticed, Has an Minhaj's tall hair is a bit greasy, but it looks super intentional. Done right, shiny hair looks like good grooming and a style decision, not like you've skipped a few too many showers.
However, some other benefits are general enough to be worth mentioning.
Refreshing
Some hair tonics are called 'refreshers' since that's their main purpose. These are best for summer months when you're likely to be working outside and sweating more often. A refresher hair tonic is something between a dry shampoo and a leave-in conditioner.
They're less helpful for styling, but they will add some body and movement to your hair. They also help take care of other irritants on your scalp. Plus, since most hair tonics have a scent, they help you seem shower-fresh a lot longer.
Some barbers and hair stylists will also still use refresher hair tonics to stimulate your scalp and help boost a hairstyle that relies on movement and volume in your hair. These tonics are often lightly minty or tingly, and many feel best if you keep them in your refrigerator.
Improving Scalp Health (and Hair Growth?)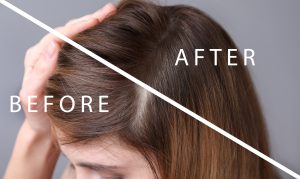 Almost all tonics help provide some moisture to your scalp. Some do claim to help with hair growth, but for the most part, they aren't very effective growth stimulants. While you may notice that your hair is growing faster or feels healthier, that'll mostly be from the side benefits of the hair tonic.
Additional moisture means less dandruff, a scalp that doesn't itch, and healthier hair. The moisture also helps deliver a lot of nutrients to your hair follicles. Your hair follicles need lots of nutrients to promote good hair growth and collagen production, so this benefit might boost your hair growth if you weren't getting enough nutrients to your scalp before.
Lastly, massaging your scalp, often a critical step in styling your hair with a hair tonic stimulates circulation and can also improve hair growth. Regular massage improves the health of your scalp, and, in turn, improves the health of hair follicles.
This is another place were, as an unintentional side benefit of the hair tonic, you may see improved hair growth over time.
Fighting Back Against Dry Scalp
Dry scalp can happen to anyone. But it's especially common for people living in dry climates. If you don't have to think about humidity on a regular basis, you probably should be thinking about what all that dry air is doing to your skin hair and scalp.
Since hair tonics can safely sit on your hair and scalp they are a good option for moisturizing.
Dry scalp may not, on its own, cause dandruff and other problems. But it will leave your scalp more vulnerable to damage, bacteria, and even poor circulation. Each of those can contribute to dandruff, itchiness, hair loss, and breakage.
Resetting Your Hair
Are you someone who wakes up with bed head every morning? Hair tonics are a good product to quickly reset your hair so that it's ready to go in the morning. Whether all you do is massage the hair tonic through your hair and leave, or continue to styling, these products are great for cutting through your hair's mess.
That's also true if you use a lot of other hair products, particularly oil-based pomades. Pomades, and even gels and mousse to come extent, will leave a lasting residue in your hair. Showering may help get rid of the residue, but it isn't enough to reset your hair and let you change your style.
Some hair tonics will help each strand of your hair restore its natural movement and flow. The longer you've been using a pomade or other stiff styling aid the more likely your hair fibers will have developed a memory for that particular shape.
That's great when you want a consistent style. But eventually as the fibers even out and lose their natural shape and texture your style will look less dynamic. No one wants that.
Give your hair a break and the occasional reset with a good hair tonic. Your look will thank you.
Conditioner

The last key benefit of most hair tonics is that they can act as a mild leave-in conditioner. Especially the versions that include natural plant oils, they can have very real benefits for your hair's health and texture.
After stressing your hair with too much styling (or too little) a couple of extra drops of hair tonic can help restore your hair. While most tonics should be washed out before you go to bed, there are a few that are good to wear overnight as a last-minute hair treatment.
But, for the most part, it works best worn throughout the day regularly. If you're prone to split ends and strand breakage wearing a natural oil hair tonic can be a huge help in the overall quality and health of your hair.
Why Did Hair Tonics Ever Go Out of Style?
This is a big question. Especially since, like pomades, hair tonics are making a personal grooming come back, it can be hard to imagine why they went out of fashion in the first place.
The truth is that, while it was an important styling aid for a long time, there were a lot of new products that came out all at once. Things like mousse and gels hit the shelves and tonics found themselves taking second place to the new styling tools.
While most mousse and gels aren't as good for your hair as a standard tonic, they do address different styling needs. Plus, both mousse and gels can be more matte than many tonics, lending themselves to a more natural shine.
They also have a greater variety of textures than the standard tonics, from loose holds to full mohawk grip.
So, since the new styling products offered new types of hairstyles in an affordable and accessible way, tonics tended to take a backseat role.
That didn't mean they went completely out of style. There have always been a few people using hair tonics, but not in the numbers.
Today we see hair tonics, not as the only styling product by the bathroom sink but joining with gels and mousse and other products so that you can wear a wide variety of looks on your day to day.
Ingredients to Look For
Just like any styling product, there are some ingredients you should look for to make sure you're getting a good product. Tonics are no different from most hair products in this regard.
You want to make sure that you're getting a good product the first go around. So pay attention to the ingredients list to make sure you have a good experience with that first product.
Rosemary Oil

Rosemary is becoming more and more common in hair products as its beneficial properties are being re-discovered. It's a good way to stimulate your hair, and also gets fairly deep into your scalp where your hair follicles can access the nutrients.
Since rosemary is stimulating, it will help to improve the circulation in your scalp. If you want your hair tonic to feel as well as look refreshing, rosemary can help with that as well.
Like all circulation-boosting ingredients, rosemary has internal as well as topical benefits. As it brings more blood flow to your scalp it allows your hair follicles to benefit more from the nutrients in your diet. If you take hair or skin-boosting supplements, circulation is also key to receiving those benefits.
Nettle (usually Nettle Extract)
This is another ingredient that is commonly included in hair loss products, but it has plenty of benefits aside from promoting hair growth.
For one thing, it contains a lot of important nutrients, including key vitamins and minerals. We were particularly pleased to see vitamin K. Often overlooked since deficiency is uncommon, vitamin K is still vital for good health. Applying tonics containing nettle ensures that you're getting the benefits of vitamin K, along with vitamins C and D, directly on your scalp.
While the amount is small, you only need a very small amount of each vitamin for them to be effective.
It's also mildly scalp stimulating and serves as a mild astringent. While you don't want something with a lot of nettle, especially if you're sensitive to poison ivy and poison oak, a small amount will restore the shine and luster to your hair.
Nettle is also a good option if you have dandruff. It both helps lift and remove dandruff build-up and attacks the scalp bacteria and fungi that usually cause the problem in the first place.
Witch Hazel
Witch hazel has a ton of benefits for your hair and your skin, but it works best as a balancer. Witch hazel is another astringent and will work to fight dandruff and other common scalp problems. But it's also good for restoring shine and movement to your hair.
Witch hazel will also work to cut through the residues left from other products.
But one of the biggest advantages of this product is for men with naturally oily hair. That oil isn't coming from your hair itself. The hair you can see is composed of dead and inert cells. That's part of why it doesn't hurt to have your hair cut.
The oil comes from your scalp. Witch hazel, and tonics containing witch hazel, not only help wick away excess sebum (your skin's natural oil), it also helps regulate the skin so that it no longer produces the excess.
Why Does My Barber Use Hair Tonic?
You may have noticed that your barber applies a highly liquid product to your hair and scalp while they're cutting your hair. They may even apply the product several times as they work, initially massaging it down into your scalp and then using it through your hair while they trim.
There are a couple of reasons barbers are adding hair tonic back into their normal routine. For one thing, it feels and smells good. A barber want's you to come away with a sense of refreshment and rejuvenation. Filling their barbershop with fresh smelling hair products is a great way to create that atmosphere.
But hair tonics also feel amazing on your hair and scalp. They can vary from lightly cooling to a slight warm tingling sensation. But almost all tonics will help your scalp feel freshly cleaned and healthy. They work because it's true! Tonics boost the health and cleanliness of your skin.
The benefits aren't just for clients, however. Hair tonics are a convenient way to re-wet a client's hair without drying it out or adding a ton of weight. Since they also moisturize, your barber is making their job easier by applying the tonic.
They'll have an easier time parting your hair and pulling our sections for trimming. Tonics make it easier to move scissors and other tools through your hair.
All of that translates to healthier hair, healthier scalp, and a better hair cut for you. Sounds like a pretty slick deal, right?
How Should I Use Hair Tonic?
Most hair tonics are best used as a daily product, but how you use them varies between products. First, pay attention to whether your hair tonic contains oil or is oil-free.
Oil-free tonics are a little better if you're planning to use other grooming products as well. They're lighter and less likely to get in the way when you're working your pomade or mousse through your hair.
Hair tonics that contain oil might be better as a stand-alone product. Otherwise, you might want to use a little less of the tonic so that you aren't layering oil on top of more oil.
Either way, hair tonic tends to work best when it's applied to lightly damp hair. Right after your shower is perfect. Towel off, apply the hair tonic and continue with your grooming routine as normal. Simple, right?
If you are using an oil-based hair tonic, especially as a solo styling aid, it's okay to wait a little longer. Try to apply while your hair is damp if you can, but it is okay to apply the tonic to dry hair. Just make sure you work it into your hair right before you style so that it's at it's most potent while you're styling.
How to Apply Hair Tonic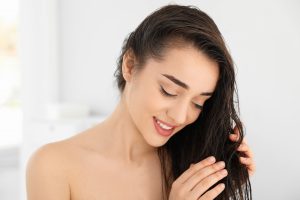 Applying hair tonic is pretty simple. I know, simple is always good news.
Start with a conservative amount of tonic. Most tonics are very liquid, but we're still only talking about a dime-sized amount. Pour it into your palm and then spread over both hands.
Starting at your hairline, run your hands toward the back of your head. Then go back and really massage the tonic through your hair. If your fingers feel dry by the time you reach your scalp, go ahead and repeat step one until you have a thin layer of slick throughout your hair and scalp.
Go ahead and take a minute or two to massage your scalp. The hair tonic is going to do the most good on your skin, not your hair. Plus, the massage itself will help maintain scalp health. And it just feels really good too.
After you've massaged your whole head (seriously, take your time here), you're going to apply one smaller splash of the hair tonic. This time work from the back of your neck up toward your hairline. Doing this helps to make sure you haven't missed any of your scalp.
The back of your head is one of the most commonly missed parts of your head. That goes for all your grooming products, too, not just hair tonic. Make sure you're getting shampoo, conditioner, mousse, everything you use should also be used on the back of your head.
Most men like to wait a minute to let the tonic dry and do its thing before styling. However, if you're using a heavier oil-based 'grooming' tonic, you may have better results if you style immediately after application.
Some Cautions for Using Hair Tonic
Like any product, using hair tonic incorrectly will get in the way of getting good results. This is more than just picking a good product and knowing when and how to use it. You also must have a sense of when hair tonics are useful and when another product might serve better.
Pay Attention to the Directions
This is mistake number one with hair tonics and most other grooming supplies. Since it seems simple, you might not glance at the directions and warnings on your bottle.
This can be a big mistake. While a lot of tonics are designed for daily use and don't need to be washed out before bed, that isn't true of 100% of hair tonic products.
Any time you add a new grooming product to your arsenal, it's important to familiarize yourself with that product's particulars. While online guides like this one can be a good starting place for learning new grooming techniques and product use, they aren't the definitive answer.
More is Not Always Better
There are some things where more is better. More meat at a steak house. More guac on your taco. More toppings for your ice cream. But hair tonic is not one of those things.
Like most grooming products, you'll be better served using a minimum of hair tonic. While hair tonic is, on balance, good for your scalp and hair, too much can become a problem.
Start with a small amount and work your way up. Even once you have a good sense of how much product your hair needs, it's a good idea to stick to this routine. As the health and condition of your hair changes, so will it's needs.
Going slow and using as little product as possible will help your style stay fresh and healthy. It may even help clue you into the changing health of your scalp and hair so you can actively address any problems before they become more serious.
Final Thoughts
Hair tonic might have gone out of fashion for a while, but it's back in a big way. We seriously believe that this should be part of most men's daily routine. If you have hair, hair tonic belongs in your grooming kit.
Even if you don't use it everyday hair tonic can be an important tool for maintaining your look. Hopefully, this guide will help you pick the right tonic for your needs and get you started on using your new grooming tool effectively.