Do you have an uncontrollable mane? Do you have to spend time after every shampoo straightening and applying product and it might still be frizzy and wavy? You're not alone. It can be frustrating not having a mane that does what you want it to do, when you want it to. After months or years of straighteners and serums you might be curious about a more permanent option, such as a chemical straightener.
But before you invest in permanent hair straightening – which can cost anywhere from $150 – $1,000 and another $100 – $200 on maintenance products – you should answer all of your questions. Is it damaging? How long does it last? Is it right for your hair texture? Are all treatments created equal? Here's your guide to permanently straightened hair.
What is Chemical Hair Straightening?
Chemical straighteners work in the same way as a reversed perm. Chemical relaxers break your hairs natural disulfide bonds found in keratin. When the bond is broken is forces your hair to take a new shape and in this case, the curls become straight strands. This can give you confidence, save you time and make your hair more controllable, it can also potentially damage your hair.
How Long Does it Last?
It is really not a permanent but rather temporary. The length depends on the type of treatment. There are different types of chemical treatments for hair straightening. Similar to perms and dye jobs, the effects will grow out as your hair does. Therefore, you will probably have to have your hair treated every 4-8 weeks, depending on how quickly your hair grows.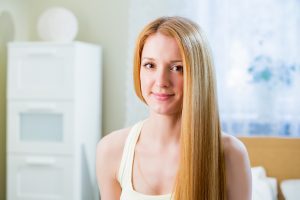 Types of Chemical Straightening and Price
Thermal Reconditioning: This type is designed for loose or medium curls but not tight kinky curls. This typically runs between $500 and $1,500 per treatment.
Keratin Treatment: This type generally lasts for 2-4 months, depending on how fast your hairs texture, how fast it grows and how frequently you wash it. This treatment can run you between $300 and $600.
Relaxing: This treatment is recommended for ladies with tight, kinky curls or course curly hair. The treatment is significantly cheaper at $50 – $250 per treatment.
Common Misconceptions
Many people have the idea that permanently straightening their hair means that they will wake up with flawlessly straight hair every morning. However, there is a lot of frizz associated with chemical straighteners because of the dryness and damage it causes. Also, your hair might not be as poker straight as you had anticipated. Although it will take less time to style and be more manageable, you will probably still have to style daily.
What Are the Risks?
Most straighteners use sodium hydroxide (lye) or its close chemical cousin. So don't be fooled by "no lye" straighteners. When you change your hair from its natural form, whether you're applying color, using a curling iron, blow-drying, etc. there is going to be damage to your hair. Chemical straightening is no different. However, with the right products and proper maintenance, your hair can be replenished and look and feel healthy again.
Potential risks in addition to drying out your hair include include:
Chemical Burns: Since the treatment is applied at the scalp level, if it is done incorrectly, chemical burns are a risk.
Hair Breakage: If left on too long, chemical straighteners can cause hair breakage. Also, the treatment can overstretch the hair shafts leaving it damaged for routine styling.
Go Pro!
This is not a process to do at home with your friends or on your own. A licensed hairdresser should perform a chemical hair straightener. Your hair can seriously be damaged or your scalp severely burned during the process so you need to find someone who knows what they're doing. Also, tell your hairdresser about every chemical treatment you've ever had. It can make the different between a successful hair treatment and a disaster. Finally, your hairdresser should do a strand test to see how your hair reacts to the treatment.
To Permanently Straighten Your Hair or Not?
When you are considering to permanently straightened your hair, you have to weigh the pros and cons. Remember that you are making a commitment. Some ladies have unruly hair that is too difficult to maintain without chemical help. Although there is risk of damage, if you are diligent about conditioners and limiting the use of heat, you can help revive your hairs health moderately quick.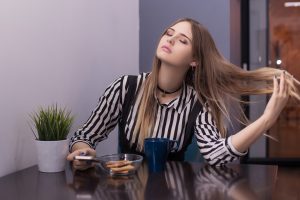 You should also consider the cost. In addition to the chemical treatment itself, you'll have to factor in the cost of conditioning treatments, protein treatments and the maintenance. You may have to switch shampoos and conditioners and invest in other styling products.
In the end, you have to decide if the cost and potential damage is worth it to have controllable hair that you love. It can give you a lot of confidence, save you a lot of styling troubles in the early mornings or evening or even when you're on a summer vacation and you jump in the pool and not have a frizzy mane as a consequence. Hopefully we were able to help navigate your decision to – or not to – permanently straighten your hair.