Most people don't even realize that they're experiencing sebum buildup. This is understandable because it is very easy to mistake the problem of chronic sebum buildup with having oily hair. In other words, you may be dealing with the problems created by sebum buildup but thinking that the problems are a result of you having naturally oily hair.
For that matter, you could even be attributing the problems related to sebum buildup to other causes such as hair product buildup, hard water usage, exposure to too much dust, or even excessive sweating.
However, if you cannot pinpoint the root cause of your hair-related problem accurately, then how can you expect to nullify those problems? Sebum buildup is one of those enabling conditions that can aggravate all other hair-related problems.
In fact, it is insidious enough that if you don't deal with it first, it will defeat all your efforts against other hair-related problems. Therefore, whether your problem is limp and lifeless hair, hair loss, or something else entirely, the first thing you need to do is deal with sebum buildup in your hair.
In this guide, you will learn to do this and more. By the time you're done reading this guide, you'll know everything you'll ever need to know about sebum in general and sebum buildup specifically, including how to prevent and deal with it.
Here's a quick-click navigation panel in case you feel the need to jump around the various sections in the guide.
What Is Sebum?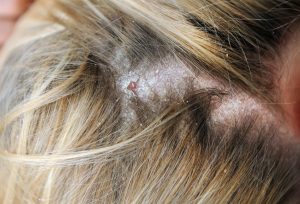 Most people think that the oil they feel in their hair and on their skin is entirely sebum. However, this is not true. Even though sebum is the largest component of the oiliness you feel in your hair and skin, the oil comprises other substances too. These include dead skin cells, sweat, and substances from your surrounding environment such as dust.
Sebum, itself, is composed of different substances including cholesterol, cholesterol esters, squalene, wax esters, triglycerides, and a few free fatty acids. The term 'sebum' is actually Latin and means 'tallow'. Tallow, itself, means animal oil or fat which is very appropriate since sebum is a type of oil or wax produced by the human body.
The primary function of sebum is to help the skin and hair retain moisture. It coats the surface and slows down the evaporation of moisture from the body. By keeping it moisturized, sebum also makes the skin softer and more flexible. This is why dry skin i.e. skin without sebum starts cracking and flaking.
Another lesser-known, and much debated, function of sebum is protection against natural infections. It keeps microbes from taking root on the skin or hair by covering the medium they need to survive i.e. dead skin cells. It does this by combining with the amino acids in our sweat to create our skin's 'acid mantle'.
The acid mantle is an incredibly thin and fine barrier on the surface of the skin that not only prevents moisture from entering and escaping from the skin but also keeps microorganisms such as bacteria and viruses at bay.
It is slightly acidic in contrast to the human blood which is slightly alkaline. Therefore, the acid mantle prevents alkaline-adapted microbes from reaching the skin. Further, when a particular microorganism adapts to the acidic environment of the acid mantle, it becomes incapable of surviving in the alkaline environment of the blood.
Therefore, the acid mantle and by extension sebum contribute significantly to keeping the human body safe from infections.
How Is Sebum Produced?
Sebum is produced by sebaceous glands which are located all over the body. Even though they can be found across the whole body, certain body parts have higher concentrations of sebaceous glands.
For instance, you'll find more sebaceous glands on your scalp and in your groin area because they tend to center around hair follicles. Additionally, most people have a lot of sebaceous glands on their face. The concentration of sebaceous glands on the face can be as high as 900 units per square centimeter.
There are also areas where the concentration of sebaceous glands is nearly zero. These include all smooth surfaces on your body such as the palms of your hand and the soles of your feet.
The sebaceous glands start producing sebum just after birth. However, the glands responsible for producing sebum start working even before birth. While the baby is still in the womb, the sebaceous glands start producing vernix caseosa.
Vernix caseosa has the same function as sebum i.e. moisturizing the skin. After birth, the sebaceous glands stop producing vernix caseosa and start producing sebum instead. The difference is evident because vernix caseosa is white while sebum is light yellow.
Aging affects sebum production too. For example, in the first three to six months after birth, your sebaceous glands produce as much sebum as a full adult. After this period, your body's production of sebum drops consistently until you hit puberty.
At the onset of puberty, the sebaceous glands become enlarged and start producing as much as five times more sebum than ever before. Moreover, boys tend to produce far more sebum than women. This is why oily skin, greasy hair, and acne-prone skin is more common in teenage boys than girls.
After maturity, sebum production starts declining with age. However, hormonal changes in the body, and external influences can often affect this pattern. Hormonal changes can cause overproduction or underproduction of sebum at any age.
The actual process behind sebum production is quite complex and depends on multiple variables. Sebaceous glands contain specialized cells responsible for producing sebum.
When these cells are full of sebum, they burst, releasing sebum. The released sebum then travels outwards until it comes out of the skin either through skin pores or with the hair coming out of the hair follicles. In fact, released sebum meets up with certain unwanted cells from the hair follicles along with sweat before arriving on the skin.
The most important and often the deciding factor affecting sebum production is your body's hormonal balance. We'll explore the relationship between sebum and your hormones in the next section of this guide.
What Causes Sebum Buildup in The Scalp?
If the sebaceous glands in your body, and specifically your scalp, are producing more sebum than they should at your age, then you have a condition called seborrhea. There are two types of seborrhea.
The first is physiological seborrhea. This kind of seborrhea is usually temporary. It occurs infrequently and usually doesn't linger. Moreover, it is not incredibly severe. In most scenarios, physiological seborrhea is caused by temporary factors such as climatic changes or dietary modifications. Generally, physiological seborrhea resolves itself either by the temporary changes being reversed or the body adjusting to the new standard.
If excess sebum production in the body lingers, then the problem is called pathological seborrhea. It is a type of chronic seborrhea that tends to be more severe than physiological seborrhea purely because of the cumulative effect of the problem. The severest cases of pathological seborrhea are usually called hyperseborrhea.
It is important to realize that excess sebum production if left untreated and unmanaged, will usually result in infections. This happens because components of the accumulated sebum such as dead skin cells promote and encourage microbial growth.
As microorganisms grow, the problem compounds into seborrheic dermatitis. In seborrheic dermatitis, the infection is treated before the root cause of excess sebum production and accumulation can be addressed. This is why it is always better to understand the factors that lead to sebum overproduction and try to negate them before they become hard to handle.
As to which factors can cause your sebaceous glands to produce too much sebum, the following is an in-depth explanation.
Hormonal Fluctuation or Imbalance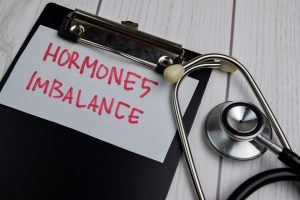 In the previous section, we mentioned how age affects the rate of sebum production in the body. The reason why age has an impact on sebum production is that it affects the hormonal balance of the body. For instance, the human body's production rate of sebum is highest at the onset and during puberty. Puberty also happens to be the time at which most hormonal fluctuation occurs in the body.
Similarly, minor hormonal fluctuations can occur in the first six months of a baby's life for various reasons. Firstly, the baby's body is slowly learning to subsist apart from the mother's body. Secondly, it is undergoing tremendous growth as well. Through this period, the baby also needs increased protection from infections which is provided by a thicker acid mantle.
All these hormone-related reasons contribute to excess sebum production.
Overall Health & Wellbeing
Hormonal imbalance could be a result of external reasons too. For example, certain medications affect the hormonal balance in the body by either reducing the production of a particular hormone or boosting a specific hormone's production rate.
Similarly, many diseases can also create an imbalance in the body's endocrinal system. Since the endocrinal system is responsible for the production and distribution of hormones in the body, any change in the system automatically causes hormonal imbalance. In fact, any change in an individual's overall health and wellbeing will result in hormonal fluctuations.
Further, the hormonal fluctuations correlate directly to the severity of the change. For example, when a person changes his dietary habits drastically, it can result in hormonal fluctuations. This can boost or reduce sebum production. Even indigestion and metabolic disorders can affect sebum production in the body.
One of the most pertinent factors that affect hormonal balance in the body is stress. Happier, satisfied, content, and emotionally stable people are less likely to have the problem of sebum buildup than people who are going through major, traumatic life events with many emotional highs and lows.
Environmental Conditions
Sebum buildup can also occur because of changes in the surrounding environment. This includes everything from sudden, drastic changes in temperatures and humidity. For example, people moving from one place with a specific kind of environment to another place with an opposite environment can expect to experience changes in their sebum production.
Therefore, if you move from a very hot place to a very cold place or vice versa, you'll see a change in how oily your hair feels simply because sebum is a type of oil/wax whose consistency changes with temperature. Similarly, if you move from a very dry place to a very humid place, you'll experience sebum buildup. This is again understandable because your glands are still producing the same amount of sebum but you're not losing moisture as quickly as before.
Even certain contaminants can lead to sebum buildup. If you're living in a place with high pollution levels, then you can expect your hair to feel oilier, greasier, and grimier purely because of chemical deposits in your hair from the surrounding environment.
Improper Hair Maintenance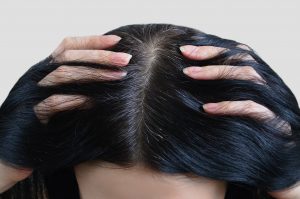 Your hair maintenance regime could be the cause of sebum buildup in your scalp too. In fact, you can err with your hair maintenance regime on both sides of the divide. You can experience sebum buildup if you wash your hair and scalp too little and if you wash them too much. This happens because the human body is adaptable i.e. it adapts to changes very quickly.
If you wash too often, you're stripping your scalp and hair of the sebum it needs. So, your body adapts and tells your sebaceous glands to produce even more sebum. This pushes you to wash your hair even more which causes the glands to produce even more. Thus, the vicious cycle is created.
On the other hand, if you wash your hair too little, then the sebum produced by your sebaceous glands will accumulate in your hair, making you feel like you have sebum buildup. While in the long term, your glands will adjust and produce lesser sebum to adjust to your regime, in the short term you'll still feel like you have sebum buildup.
Using too many hair products or using too many unsuitable hair products can also lead to sebum buildup on the scalp. The mechanism of how you get sebum buildup here varies based on the type of hair product you're overusing or how unsuitable they are to your hair type.
Suffice it to say, you don't need to be off by a lot for your sebaceous glands to react and compensate for the discrepancy. In fact, this is why one of the most common reasons for sebum buildup is improper hair maintenance regime.
Genetic Predisposition
At the end of the day, it is possible that you're doing everything right but still have sebum buildup. This is the most unmanageable scenario because it makes your task of controlling sebum buildupsignificantly more difficult.
Unfortunately, this is another incredibly common scenario, and it usually happens to men. The root cause in this scenario is genetic predisposition. Specifically, we're referring to androgenetic alopecia or male pattern baldness. Male pattern baldness will affect 85 percent of American men by the time they turn 50.
Male pattern baldness is closely associated with sebum buildup for two reasons. The first is that these two problems have a common denominator in an enzyme called 5-alpha reductase. The other is that male pattern baldness often ends up causing sebum buildup.
5-alpha reductase does two things. It converts excess testosterone in the body to dihydrotestosterone or DHT. DHT is directly responsible for male pattern baldness. It causes male pattern baldness by attaching to certain receptors on hair follicles and triggering the hair follicle miniaturization process. Subsequently, the hair follicle miniaturizes and loses its ability to produce hair.
The other thing that 5-alpha reductase does is that it activates sebum production in the body. Therefore, male pattern baldness and sebum buildup usually go hand-in-hand. However, male pattern baldness takes longer to become evident while sebum buildup is visible in a few days.
Male pattern baldness, itself, can cause sebum buildup in the scalp. In male pattern baldness, the hair follicles miniaturize and become really small. This allows the surrounding sebaceous glands to enlarge. Since enlarged sebaceous glands produce more sebum than required, sebum buildup occurs.
How Do You Know That You Have Sebum Buildup?
The clearest sign that you have sebum buildup in your scalp is if you see waxy or oily flakes in your hair. These flakes only show up after prolonged periods of sebum buildup. They're sebum deposits that have had sufficient time to accumulate and coagulate.
In the majority of cases, these oily flakes are caused by hyperproduction of sebaceous glands. They're usually accompanied by inflammation in the scalp too. Further, the inflammation creates irritation and itchiness in the scalp. Also, a persistent and constant sensation of pain may accompany these symptoms.
If the problem of sebum buildup isn't very severe or hasn't been around for a very long time, your symptoms will be easier and less distinct. For instance, the earliest sign of sebum buildup in the scalp is oiliness or greasiness in the hair.In fact, this oiliness is mild enough to be mistaken with natural oiliness in hair.
If the problem is allowed to advance a little, you may see some pimples or bumps in your scalp. It is even possible for these pimples and bumps to be painful. The bumps and pimples are a result of excess sebum blocking off your hair follicles or pores on the scalp.
As the follicles become clogged and the hair tries to push out, it can cause bumps and pimples to form. Further, associated inflammation and trauma to the tissue can result in liquid discharge or pus to gather in the area.
Sebum accumulation can often lead to dandruff as well. Dandruff is caused by a certain fungus taking root in the organic material on the scalp and growing unfettered.
Can Sebum Buildup Cause Hair Loss?
Between dandruff, clogging of hair follicles, excessive oiliness, itchiness, and flakiness, hair growth can take a hit too. Any one of these symptoms can grow to a point where it starts causing hair to fall off.
If untreated, this minor increase in hair fall can lead to major hair loss.The fact that usually, these symptoms come in pairs and groups means that over time hair loss becomes almost inevitable. The mechanism of this kind of hair loss, though, can be quite different.
Here are the three major ways that sebum buildup can cause hair loss.
Sebum Buildup Can Interrupt the Hair Growth Cycle
When sebum buildup takes place, where does the buildup happen? Most people think that the buildup happens in the scalp. In a way, they're right but it doesn't help anyone understand the hair loss mechanism. The scenario changes if you realize that the buildup begins in the hair follicles.
Hair follicles are tube-like in shape and are surrounded by sebaceous glands on all sides. The sebum produced by these glands is released into this tube-like area. Therefore, when it collects, it clogs up space in the tube. This blockage causes two things.
The first is that it prevents sufficient nutrition from reaching the hair follicles and the second is that it takes away the space that hair follicles need to grow. Both these consequences lead to the same outcome i.e. the growth stage of the hair growth cycle is blocked off. As a result, the hair follicle shrinks until it loses its ability to grow healthy hair.
Sebum Buildup Can Cause Infections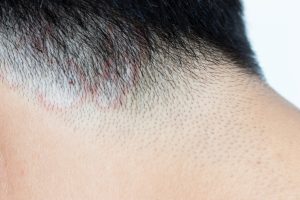 When the hair follicles get clogged due to sebum buildup, it leaves them open to infections. As more sebum accumulates in the pathway between the follicle and the surface of the scalp, the door is left open for various microorganisms.
For instance, the blockage may cause the pore to remain open with sebum sticking out. Therefore, the infection can start at the surface but slowly grow into the follicle since the medium continues from the surface into the tunnel-like space.
Initially, the infection may cause flakiness and dandruff but once it penetrates the hair follicles, the condition is called folliculitis. Folliculitis is a disease of the hair follicles which can become quite uncomfortable over time. It isn't uncommon for folliculitis to cause sores on the scalp that not only cause a lot of pain but also permanent scarring and hair loss.
Apart from being uncomfortable, the infection also prevents hair follicles from producing hair.
Sebum Buildup Can Cause Inflammation
Any kind of infection on the body will usually result in inflammation. Therefore, if sebum buildup in your scalp has already progressed to folliculitis then you can be sure that your follicles and the surrounding tissues are inflamed. Even if you don't have folliculitis and only have clogged hair follicles, the likelihood of inflammation is high.
Inflammation, after all, is the body's response to any kind of threat to its wellbeing. The body perceives both folliculitis and sebum buildup as these threats. Moreover, inflammation is a key component of how the body goes about healing itself.
Inflammation is closely associated with DHT and DHT is closely associated with hair loss. Inflammation will cause the arrival of DHT into the area around the follicles, giving it the chance to bond with the relevant receptors.
Over time, the DHT bonded with the hair follicles will prevent them from growing healthy, new hair. Therefore, if you have inflammation in your hair follicles because of plain sebum buildup or infection, you can expect to start losing hair in the future.
How to Prevent Sebum Buildup?
Before you do anything about sebum buildup on your scalp, you need to know that it is natural for your body to produce sebum. Therefore, while you need to reduce its buildup, you don't have to completely neutralize its production.
Considering all that we've explained already in this guide, the best thing you can do about sebum buildup is to prevent it from occurring in the first place. Also, it is much easier to prevent it than to find ways of stopping it. Preventing sebum buildup is mainly an exercise in healthy living.
If you can improve your lifestyle and find a holistic balance in your body, then you'll automatically prevent sebum buildup. Of course, this includes removing all environmental and artificial triggers such as pollution and medications too. Since these triggers are very person-specific, we will not focus on them.
Instead, we'll suggest some simple and easy changes that you can make in your daily routine. Consider.
Eat the Right Foods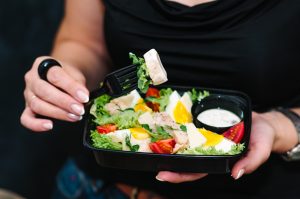 The primary cause of sebum buildup is hormonal imbalance. The good part is that your hormones will almost always respond to what you eat and how much you eat it.
For instance, different organs in the body produce different hormones and all hormones are interdependent either directly or indirectly. The state of all organs and tissues in your body including hormone-producing glands is determined by the nutrients they get. This points directly to your eating habits. If you eat healthily, your body will be quicker in stabilizing any hormonal imbalances that may result in hypersecretion of sebaceous glands.
Eating healthy means eating meals with the right quantities of the right nutrients. Eating healthy also means avoiding harmful foods that put undue pressure on your digestive system.
The most convenient proof of how what you eat affects the production rate of your sebaceous glands is fried and oily foods. If fried foods are a major component of your daily diet, then you're providing your body with more oils than it needs. As a result, it will try to achieve balance by expelling those excess oils.
One of the ways that excess oil is excreted is through your sebaceous glands, leading to sebum buildup. Just like excess oils, the human body also tries to expel harmful fats such as those found in highly-refined vegetable oils. Usually, cheaper, fried fast foods are made with these types of oils. Therefore, too much consumption of junk food also leads to sebum buildup.
Further, you can prevent sebum buildup by eating foods rich in antioxidants. This means lots of colorful, natural food items such as fruits, vegetables, and dry fruit. Antioxidants help because they work against inflammation which is closely associated with sebum buildup.
Learn to Relax
While hormonal imbalance is most affected by the types of foods you eat, the second biggest influencer is your emotional state. Stressed people produce more sebum than relaxed individuals.
Emotional upheavals result in the release of various hormones. For instance, happiness usually translates into increased endorphin levels while stress means increased cortisol levels in the body.
Cortisol, particularly, is crucial when it comes to sebum buildup. It is a proven fact that increased concentrations of cortisol cause the body to produce more sebum. There are even correlations between cortisol and severity of problems like acne.
Therefore, another way through which you can prevent sebum buildup in your scalp is to simply avoid stressful situations. If you can't avoid such situations, countering the stress when you're away from the trigger is known to be helpful.
You can do this by cultivating hobbies and participating in activities such as sports and exercise. Even aromatherapy, yoga, or just chilling with the family at the end of the day can help.
Brush and Wash Your Hair Regularly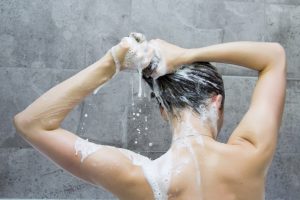 Simple things like brushing and washing your hair can influence sebum buildup too. In fact, they can impact sebum buildup in both ways. If you don't brush and wash your hair regularly enough, you'll get more sebum buildup. You'll even have to deal with sebum buildup if you brush and wash your hair too much. There's a happy balance to be found even in these everyday activities.
Brushing your hair does two things. The first is that it allows sebum deposits on the scalp to be spread all over your hair. This not only prevents excessive accumulation in and around the hair follicles but also helps your hairs by coating them in sebum.
The second benefit of brushing is that it opens the pores and increases circulation in the scalp. This removes stagnancy and creates dynamism in the scalp not only in terms of the arrival of nutrients but also in the removal of waste products.
Bristle brushes, especially boar-bristle brushes, are particularly useful in removing sebum buildup by spreading it from the scalp to the rest of the hair. Consider the high-performance, BOMEIYI Hair Brush. Its 100 percent boar bristles distribute sebum all over the head because of their similar organic texture to human hair.
While brushing is great, you can't do it too much or for too long. If you do, then you can stimulate the scalp a bit too much. Excessively stimulating the scalp also means excessively stimulating the sebaceous glands, resulting in hypersecretion of sebum.
Washing your hair with very hot or very cold water will cause the sebaceous glands to become overstimulated as well. This is why it is always best to wash your hair with lukewarm hair.
When it comes to washing your hair, not doing it enough will result in sebum to accumulate in the scalp. The accumulated sebum will then block off the newly produced sebum, resulting in buildup.
On the other hand, doing it too much will result in your scalp being stripped of the sebum it needs to stay protected. As a result, the sebaceous glands will go into overdrive in your body's bid to compensate. Gradually, the average production of sebum in your scalp will increase until you start experiencing sebum buildup.
Make Right Styling Choices
Making the right styling choices can help prevent sebum buildup as well. When it comes to your styling decisions, the basic thumb rule you need to follow to avoid sebum buildup is to keep it as natural as you can. The more you change your hair from its natural state, the more you're likely to trigger sebum buildup.
For example, most experts advise against touching your hair repeatedly. This causes the sebum from your fingers to transfer to your hair where it only adds to the sebum already produced by your scalp.
Another great way to see how your styling decisions affect sebum buildup is the use of hot tools. Women who straighten or curl their hair very frequently tend to complain of buildup far more than women who don't. Similarly, women who put their hair through various styling treatments see more sebum buildup than women who keep their hair natural.
This happens because every time you treat your hair with hot tools, chemicals, or dyes, you're introducing elements that dry your hair excessively. Your scalp will automatically try to compensate for your actions by producing more sebum. The more you dry your hair, the more sebum your scalp will produce over time and the higher its average production rate will go.
How to Get Rid of Sebum Buildup?
Everything you can do to prevent sebum buildup will also help you get rid of it. Even though all the prevention tactics we've explained above deliver long-lasting results, they're still very slow.
What they won't offer is an immediate solution. For short term relief, you'll have to take more aggressive steps. There are two ways through which you can do this – natural and manmade.
The natural method is to use homemade remedies consisting entirely of naturally occurring ingredients. The manmade solution, of course, is to use cleansing or clarifying hair products. We'll talk about both these solutions below.
Try Natural Remedies
Unlike manmade solutions that will only resolve sebum buildup through cleansing the scalp, natural remedies can perform the task in two different ways. They can exfoliate your scalp and they can absorb excess sebum. It all depends on the natural remedy, which in turn, depends on the types of ingredients used.
For instance, a natural remedy can take the form of deep massage treatment or a simple wash. You can use several different ingredients to create a natural remedy. This means that if one particular ingredient doesn't suit you, you can use another. Sometimes, it is also possible to use an ingredient in two different ways.
Here is a list of ingredients that we think offer the most when it comes to countering sebum buildup.
Baking Soda
Of all the substances we'll be listing here, baking soda is probably the easiest to get. In fact, it is highly likely that you already have it in your kitchen.
Baking soda is useful as a type of a scalp exfoliant or cleanser. The best part is that you can use it in several different ways. You can use it for dry cleansing, wet cleansing, and even mix it with a shampoo.
The dry cleansing process is very easy and particularly fast. This makes it useful when you're either not in a mood for an elaborate treatment or short on time. To use baking soda for dry cleansing, all you need to do is sprinkle some onto your hair, massage it in, and then comb it out. This method is best suited to people with light-colored hair such as blondes. If you have darker hair, we suggest mixing baking soda with some cocoa powder.
For wet cleansing, you need to put baking soda in water in a ratio of 1:2, wherein the water is twice as much as baking soda. Simply apply this liquid into your hair, leave it in for a few minutes, and rinse it out. You can leave it in your hair for anything between ten to 20 minutes.
If liquid baking soda isn't doing enough for you, you can up the ante by mixing it in your everyday shampoo in a ratio of 1:1 i.e. equal part. If you can leave the shampoo in your hair for five minutes, you'll see better results.
You can use the wet and shampoo baking soda remedies once or two times a week. Even though the dry baking soda technique can be used freely, we still recommend not going beyond two times per week.
Oatmeal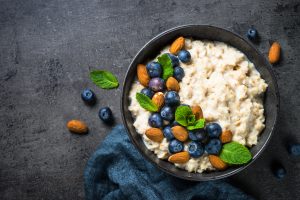 Oatmeal is another ingredient commonly found in people's kitchens. It also happens to be as easy to use as baking soda and equally affordable too. However, there's no quick way of using oatmeal.
You'll have to leave it in your hair for a minimum of 20 minutes to get the right results. It will offer benefits other than just removing sebum buildup though. For instance, it will soothe your scalp and neutralize inflammation, irritation, and itching.
To apply oatmeal, you begin by simply cooking it in water the way you normally do. Let it cool or at least become lukewarm, before applying it to your hair like a hair mask. Let it sit for 20 minutes and wash it off with cold water.
The oatmeal in your hair will absorb excess sebum in your hair and leave your hair moisturized to boot!
Apple Cider Vinegar
Apple cider vinegar contains acetic acid, which makes it slightly acidic. Despite being slightly acidic, apple cider vinegar has a very mild action on the hair. This is mainly because their pH values are very similar. This similarity means that apple cider vinegar can rebalance your scalp and hair's pH levels.
Apple cider vinegar's acidic nature allows it to break up sebum and other types of buildup in the scalp. Its acidic properties also make it antimicrobial. Therefore, if you have mild infections due to sebum buildup, apple cider vinegar will take care of that too.
Apple cider vinegar can be used in two different ways – as a quick wash and as a deep massage treatment.
If you create a mix of apple cider vinegar and water in the 1:2 ratio, you'll get the quick wash solution. Put this mix in a spray bottle and spritz all over your hair and scalp. Leave the mix in your hair for up to ten minutes before rinsing it off with lukewarm water. It will leave your hair clean, shiny, and healthier looking.
For deep massage treatment, you'll need to warm the apple cider vinegar. To use it, apply it to your hair like an oil. Massage it into your scalp thoroughly without going overboard. Let it rest for about half an hour before rinsing it out with cold water.
You can use the quick wash technique for up to two times a week in the shower. Don't do more than that as you may end up with excessively dry hair and scalp. The deep massage treatment also needs to be minimal i.e. once in one or two weeks.
Aloe Vera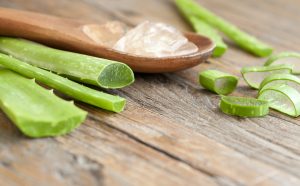 Aloe vera is a go-to ingredient when it comes to haircare. In fact, it is considered to be nature's cleanser. Not only that, but it also has strong moisturizing and antimicrobial properties. This means that it will remove sebum buildup in your scalp, halt any infections, and do it without leaving your hair very dry. It will even balance your scalp's pH levels.
The best way to use aloe vera to remove sebum buildup is as a mask. You'll need aloe vera gel for this. You can buy it or make it yourself since aloe vera plants are quite common in people's homes. You'll need the aloe vera gel to be blended for proper consistency.
You can use the gel directly after blending it or mix in some essential oils such as peppermint oil, tea tree oil, rosemary oil, etc. Make sure to choose the essential oils based on their benefits for your specific type of hair.
Apply the mix to your hair, massage it in, and let it rest for 20 to 30 minutes before rinsing it off with cold water. This deep massage treatment can be used up to four times per week.
Other Natural Substances
The above list is, by no means, complete. It is just populated by the most commonly used naturally occurring substances that have properties to counter sebum buildup. There is a slew of other naturally occurring ingredients that can be used against sebum buildup.
Take beer for example. If you massage your scalp with de-fizzed beer and allow it to stay in your hair for about 15 minutes, you get great anti-sebum buildup benefits. This is due to the hops, malts, and yeast present in the beer.
Green tea is another great solution to consider against sebum buildup. All you need is strong green tea. Make it in a ratio of 2:5 with water being the greater component. Massage the tea into your scalp for 15 minutes and then wrap your head in a towel for another 15 minutes. This will give the antioxidants in green tea time to work on loosening sebum buildup and tighten the pores in your scalp.
Use Clarifying Hair Products
If you don't have time for natural remedies, you can always buy clarifying hair products. Most clarifying products will have the same ingredients we've listed above anyway. Take note that even though these ingredients can be used in a wide variety of hair products, you're more likely to find shampoos and conditioners.
More importantly, the products you'll find will be created for specific types of hair. You need to be extremely cautious about their suitability for your hair. Choosing the wrong hair product can actually worsen the sebum buildup problem in your hair.
Apart from paying attention to your hair type, we also suggest looking at the ingredients list and brand history closely. You want to avoid products with harsh ingredients and favor reliable brands with a good track record. To start you off, here are some suggestions.
Shampoos
Conditioners, Masks & Scrubs