If you're reading this article, you've probably looked in the mirror recently and wondered if you were starting to go bald. The good news is that a receding hairline doesn't have to mean you're destined to go bald. The bad news is, a receding hairline can be one of the first signals of hair loss.
When you first notice changes in your hairline, it's important to keep a cool head. Realistically evaluating the progress of your receding hairline takes time, and you may even want to enlist the help of a friend or family member.
You should also know that the progression from one form of receding hairline to another can be slow, unpredictable, and seem to progress and pause at random intervals.
Your receding hairline might even be temporary. In this article, we'll cover the statistics for receding hairlines, the most common types of receding hairline in men. We'll also talk about the difference between a true receding hairline and a mature hairline, and how you can spot receding hair early.
Statistics
Before we get into the statistics about hair loss, you should remember that stats are just numbers. They don't predict anything about you as an individual, and only hold true across large populations.
We also want to clarify that when we talk about the statistical presence of hair loss, that doesn't indicate the severity of that hair loss. You can have hair loss without having any visible changes to the density or appearance of your hair.
That said, it's also important to remember that roughly 80% of men will experience some level of hair loss, often including a receding hairline, by the time they are 50.
Only 16% of men will experience significant hair loss while they are young men (18-29), while that number increased to 53% of men in their 40's. In this case, significant means only that there has been some visible change to your hairline or hair density.
Roughly 12% of men with hair loss have primarily frontal hair loss (no bald spot on the crown of their head). However, that form of hair loss still progresses to similar severity as traditional hair loss.
Hair loss continues to get more common as you age. Hair loss is also likely to get more severe as you age, leading to a higher proportion of men with severe forms of hair loss in each successive decade of life.
Different types of Receding Hairlines
No two hairlines are exactly the same. But most hairlines do fall into one of several common hairline types. A natural, healthy hairline should be a smooth line in a rough arch across the top of your forehead.
As you develop a receding hairline, it will likely fall into one of a couple of patterns. If you notice that your hair loss, or receding hairline, varies quite a bit from the standard "types" we describe, especially if your hair loss is patchy or uneven as well, it's worth a trip to your doctor to make sure there isn't some underlying cause contributing to your hair loss.
Widows Peak (Thinning Temples)
A widow's peak is one of the most common features of a receding hairline in men. You might have had a slight widow's peak even in childhood, where the very middle of your hairline drifted down your forehead to form a point, without it being a sign of hair loss.
However, if your widow's peak is getting more pronounced, or you didn't have one before, that's a good sign of the beginning of a receding hairline.
Another common sign of a receding hairline, if you already had a widow's peak, is if the point of your hair starts to soften into more of a horseshoe shape, or retreats further up your hair while maintaining the same general shape.
You should also look to see if the hair directly above your temples, and drawing back in a straight line to your crown, appears thinner than the hair around it. Since the hair above your temples is more sensitive to androgens and DHT it's often some of the first hair to show signs of hair thinning. You may notice that the hair above your temples is thinning before your hairline starts to recede.
The Difference Between a Widow's Peak and a Mature Hairline
It's easy, especially if you are in your twenties or thirties, to think that any changes in your hairline are a sign that it's beginning to recede.
If you're in your 40's or older, and don't already have a receding hairline, you're one of the lucky ones.
Fortunately, just because your hairline has changed, doesn't mean it's actively receding. Your face will naturally grow and change as you age, just like the rest of your body. Your hairline will change to match your new face.
Your hairline will likely square off some as you reach your mature face and hair. This can resemble your hair pulling back at your temples as it would with a widow's peak or in the early stages of a receding hairline but is a much smaller change.
Only if your hair continues to pull back after squaring off should you be concerned, or if the initial period of change seems to involve more than an inch or so of hair at the corners of your hairline.
One disclaimer. Your hair changing and settling into a mature hairline does not mean that that is the last time your hair will shift or change. A mature hairline does not mean that you will not develop a receding hairline or other forms of hair loss at some point. It just means that you don't have true hair loss right now.
Norwood-Hamilton Hairline Types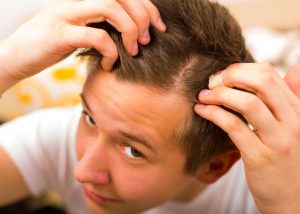 In men, the most common receding hairline and hair loss scale is the Norwood-Hamilton. The different types on the Norwood-Hamilton follow the most common form of hair loss in men.
There are other forms of hair loss. Diffuse hair loss, usually more common in women than men, affects your whole head and doesn't usually follow any set pattern.
You can also develop a receding hairline, or changes in your hairline as a result of traction alopecia, or hair loss resulting from too much pulling, styling, or pressure on your hair and hair follicles. Traction alopecia will not necessarily follow the same pattern as other forms of hair loss, so it can't be tracked accurately on the Norwood-Hamilton hair type scale.
Hair loss as a result of stress may still follow the Norwood-Hamilton, but it also may not. Fortunately, hair loss resulting from stress is usually temporary and highly reversible.
You're also more likely to see your receding hairline follow the Norwood-Hamilton types if you have relatives with androgenic alopecia or male-pattern baldness.
Type 1
Type one doesn't show up on most images of the Norwood-Hamilton hair progression because it's a normal, healthy hairline.
Most men have a type 1 hairline into their 20's. A type 1 hairline can be both a youthful and a mature hairline, depending on the extent of the change as you transition into a mature hairline.
Type 1 hair is thick, with a smooth, clean hairline. You shouldn't have many baby hairs or bumps in your hairline with type 1 hair.
Few men keep type 1 hair their whole lives, so don't be surprised if you find a better description of your hair further down the list. It's uncommon for men to make it to their 30's with true type 1 hair.
Type 2
Type 2 hair is only slightly different from type 1. Visibly there is usually no distinction between these two types.
However, if you look closely at the hair around your temples you may notice very slight differences in the amount of hair you have there vs the surrounding areas.
This should not be enough hair loss to be visible from a foot or two away, so your friends, family, and coworkers are unlikely to be able to tell the difference between type 1 and type 2 hair.
It's common for your hair to transition from type 1 to type 2 hair when you hit the final stage of puberty. No, most men won't suddenly turn spotty with adult acne or have their voice break and crack like you did as a teen, but you're technically still in puberty until your mid 20's.
Your hair type will likely switch at the very end of this period, or just after puberty has technically ended. Most commonly, you'll change to type 2 hair sometime between 25-27.
Many mature hairlines fall into type 2. So, your type 2 hair will help you look confident, not balding.
Type 3
Type 3 on the Norwood-Hamilton scale is the first type with any true form of hair loss.
Type 3 is characterized by slight, but visible, thinning of the hair above your temples. This is the first stage that can show the characteristic horseshoe at the top of your forehead.
Type 3 is also still very much a normal hairline and is common in men in their 30's and 40's.
This is the first type where treatment is a viable option. Many men start minoxidil or finasteride treatments at this stage. While your existing hair loss may be reversible at this stage, treatment at this point is more geared toward maintaining your existing hair rather than restoring your hair.
Fortunately, type 3 is common enough that many people don't even realize that this is a form of hair loss and not simply a mature hairline.
Type 4
Type 4 is often when friends and family will begin to notice your hair loss. It's also when you should start treatment for hair loss if you intend to treat it at all.
Type 4 is characterized by more thinning of the hair above your temples along with thinning of the hair at the vertex of your head. You may see some thinning of the hair at the center of your forehead in this stage.
More commonly, you'll continue to have hair at the top of your forehead but will begin to develop a noticeable bald spot in the back.
One way to track and stay on the lookout for a type 4 receding hairline is to use a hand mirror and a regular mirror to see the crown of your head. Otherwise, you can enlist a friend or family member to take photos of the back of your head so you can compare the density and appearance of your hair over time.
Once there is a nickel to a quarter-sized gap in the back of your head you are firmly in the type 4 stage of hair loss.
If you are interested in a hair transplant, this is the first stage where you are potentially available for a hair transplant. Fortunately, the quality of the hair transplant process has improved quite a bit in recent years. The plug and play look of the original hair plugs is long gone, replaced by a more natural look.
Type 5
Type five hair is a further progression from type 4. At this stage, you should still have some hair between the receding forehead and the bald spot on the crown of your head. The hair may be thinning or sparse, especially visually, but there must still be hair present.
At this stage, you should have already begun treatment for your hair loss if you are interested in treatment. If you do begin treatment for the first time with type 5 hair loss, you shouldn't expect
Type 6
By the time you've reached type 6 hair loss or receding hairline, very little of the hair on the top of your head is left. Type 6 is typically characterized by a smooth, or nearly smooth, crown of the head with a fringe of hair at about ear level and along the back of your head, near the base of your skull.
Type 7
Type 7 is similar to type 6, but with additional thinning and loss in the remaining hair around the head. Total hair loss is very rare but possible. If not caused by other underlying conditions or medications, even total baldness would be considered a type 7.
Norwood-Hamilton A Hair Loss Progression Variant
The Norwood-Hamilton scale has one receding hairline variant. Instead of a combination of a receding hairline and a spreading bald spot at your head, the type A variant is characterized by hair loss from the forehead back alone.
Type A variants can be just as severe as standard hair loss and often progress just as quickly.
How to Spot a Receding Hairline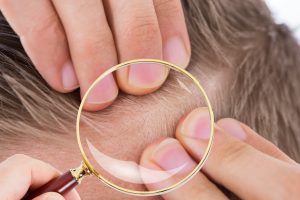 Spotting a receding hairline early will help you get the best treatment results. If you choose not to go with treatment, spotting the problem early will also give you more time to choose a more flattering haircut.
Watch for Changes in Your Hairline Shape
One of the first indications of a receding hairline can be alterations in the shape of your hairline.
In addition to the widow's peak hairline we've already talked about, with characteristic thinning of the hair above your temple, there are several other shapes your hair loss can take.
Among the more common forms of a receding hairline is a growing forehead. This can be an indicator of A-type hair loss, and usually starts at the top of your forehead and progress down toward your ears instead of starting above the temples.
Look for Changes in the Texture of Your Hair
If you have very straight hair, and notice that the hair along your hairline is developing more wave and curl than usual, that can be a sign of damage and incoming hair loss along your hairline.
The opposite is also true. If you have curly hair and notice that the hair along your hairline is straighter than normal, that is also a sign of damage.
You should also watch for individual strands of hair getting thicker or thinner along your hairline. This can also happen with stress-related hair loss but can be an early indicator of most forms of hair loss.
Watch for Smaller Baby Hairs Along Your Hairline
Smaller hairs, called vellus hairs by dermatologists, or baby hairs, are an early indicator of hair follicle miniaturization.
One reaction common to your hair follicles when they are being damaged or under stress, like the hormonal changes that cause hair loss, is that they begin to miniaturize or shrink. The smaller your hair follicle is, the thinner and more delicate the resulting hair coming from the follicle will be.
The smaller baby hairs are usually also shorter than normal healthy hair.
Since miniaturization is the first step in hair loss and can lead to the hair follicle ceasing to grow hair at all, catching this early sign can help warn you that a receding hairline is soon to follow.
Common Treatment Options
Of course, if you have a receding hairline, or suspect that you are starting to get one, you want to know what the treatment options might be. Making an informed decision is important, so you should take some time to weigh, and further research, the options before you choose one.
Your doctor or dermatologist will likely also be able to advise you on which treatment options are most likely to give you good results. They'll evaluate your hair and receding hairline in order to make customized recommendations.
Minoxidil Treatments (aka, Rogaine)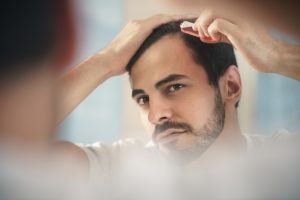 The most common treatment for hair loss is available over the counter. It's the only topical treatment for hair loss that has been approved by the FDA. Minoxidil often sold under the brand name Rogaine, is a one to two times a day treatment for hair loss applied directly to your scalp.
It's effective for most men, and typically easy to apply.
You should be careful if you have cats, however, since the active ingredient is toxic to cats and can transfer from your hands to their fur.
Rogaine usually takes 3-4 months to begin showing results. You also need to continue using Rogaine, consistently, every day in order to maintain your results.
If you stop using Rogaine, you should expect that all you have because of the Rogaine will fall out within 6 months of stopping the product.
Finasteride (aka, Propecia)
Finasteride does require a doctor's prescription since the medication was originally formulated to help treat prostate issues. However, if applying a topical solution is not a good fit for your day or routine, Finasteride, also sold under the brand name Propecia, may be a good option.
Finasteride is only approved for use in men. Women, especially pregnant women, and children should not handle the pills directly.
Because even low-dose Finasteride can cause changes in your hormone levels, your prostate, and other commonly tested blood ratios, you must tell all your doctors that you take Finasteride before they perform any tests. That way they can take the Finasteride into account when they read your results.
Like Rogaine, Finasteride takes 3-4 months to work. And, like Rogaine, Finasteride isn't a cure. The hair that you have because of the Finasteride will fall out within 12 months of stopping treatment.
You can use Rogaine and Finasteride in conjunction, and they may be recommended as an ongoing treatment after receiving a hair transplant.
Hair Transplants
Another, slightly less common, treatment for hair loss is a hair transplant. Most hair transplants currently are done with your own hair follicles.
While some hair transplants can be done with donor follicles, donors are rare.
Recovery from a hair transplant is quick. Most patients are back at work within three days of the surgery, and primarily take over the counter pain medication for scalp irritation.
There are two methods of transplants. Your doctor may take a small section of donor skin off your scalp to create hair follicle plugs without having to shave your hair. Or they can shave a section of your hair in order to find the follicles to create plus without removing a section of skin.
Either way, the plugs are then inserted directly into your skin in the thinning areas of your scalp.
It will still take 3-4 months for the hair to grow in after a transplant since your hair follicles need to get back to the growth phase naturally before they can begin producing hair.