If you're looking to grow a luxuriously thick beard, you're in the right place.
Well-cared-for beards can be a joy to have. A good beard can make you look distinguished. They can even make you look like you're in the prime of your life, even if you haven't hit your prime yet, or a well past it.
But a thick, well-groomed, distinguished beard doesn't come out of now here. It takes work. It takes dedication. It takes patience.
If you have those things, and you're looking for thicker, healthier facial hair, we're here to help.
The Difference Between a Thick Beard and a Scraggly Mess
You may think that the difference between a thick beard and a patchy and thin beard is genetic. It's just a matter of how much hair you have on your chin and little more. Wrong.
While genetics do have a part to play, they aren't the end of the road. Indeed, some men won't be able to rock a truly thick and glorious beard. But, most men can. And even a thinner beard can be improved with good care, proper diet, and exercise, plus a little know-how.
The real difference between a thick beard and a scraggly mess is time and dedication. Some men can grow and craft an enviable beard in only a few months. For others, it can take years of dedication to grow a beard that's not only fantastic but that also suites the face and personality behind it.
So, the first thing you're going to need is dedication. Dedication to the goal. Dedication that it's worth the time and energy you're going to spend. Dedication to the idea of getting not just a good beard, but the best beard for you.
When Genetics Are Against You

If you're reading this article you've probably already experienced the struggle of wanting good facial hair while your chin stubbornly insists on growing an uneven, patchy, mess.
Your facial hair may be very thin, inconsistent, or seem to grow in all the wrong places.
Relax.
One thing not many know about beards is that they take time. Some men start growing respectable facial hair in their teens. Others may not come into the full growth of their beards until their 30's.
There are pros and cons to both genetic types. If you started growing substantial facial hair early in life, you're also slightly more likely to lose the hair that grows on top of your head.
That's because DHT, or dihydrotestosterone, affects both types of hair the opposite way. Too much DHT, or a high level of DHT sensitivity, causes hair loss and balding. It also causes fuller beard growth.
While a good beard isn't an automatic indicator of too much DHT or high sensitivity to DHT, it's one factor.
But, your levels of DHT will naturally grow as you get older. Just because you couldn't grow a beard 5 years ago, doesn't mean you can't grow a beard now.
Bad beard genetics may simply be a matter of playing the waiting game until your facial hair is ready to come in more fully.
If you can't or don't want to wait, there are some things you can do to get a slight boost to your beard growing abilities. We'll talk about the specifics of these methods a little later. For now, just remember that diet, exercise, and supplements are the best friend of men with lackluster natural beards.
You Already Have a Beard, But It Isn't Where You Want It to Be

If you already have a beard, but it doesn't look like the beards you see on men's magazines and movie stars, there's good and bad news.
The Good News
If you can already grow a beard that's reasonably thick and more than an inch long, you can probably grow a longer, thicker, and more luxurious beard.
The Bad News
Unfortunately, if you already have a beard, but it's in rough shape, you may be better off starting over.
That's right.
One of the fastest and most effective ways to grow a thicker, healthier, beard is to chop off the old poorly tended beast.
It's not the only option, don't get us wrong. Beard rehab is very much a thing. But the worse off your current beard is, the harder it will be to rehab it. If thickness is your goal, that will be the very last trait your beard will re-gain if it's not doing so well now.
We recommend either starting over with a clean shave or going down to a minimal level of stubble. That way, the new hair growing in will be taken care of from day one.
Shaving also allows you to address the skin problems that often come with a bad beard. Dry, flaky skin, acne, and other skin problems all get in the way of beard thickness. Taking good care of your beard also means taking good care of the skin underneath.
How to Grow a Thicker Beard
From here on we're going to assume that you are growing a beard from a freshly shaven face and trying to get a thicker beard than your last attempt. Our other assumption is that you have an existing beard in reasonable shape, but that isn't as thick or long as you'd like.
We'll talk about beard rehab a little as we go, but it isn't our major focus. That's simply because beard rehab takes even more time and dedication than growing a good beard from scratch. The good news: if you've decided to go the beard rehab route, pretty much all of our advice still applies. Beard rehab is more difficult, but not substantially different than growing in a healthier beard fresh.
Starting Off: How to Lay the Groundwork for a Thick Beard
Week 0-2
If you're starting with a clean-shaven face, this is one of the most important periods of beard growth. At this early phase, your stubble and scruff won't need much beard-specific help. But your skin will. Don't even think about reaching for the trimmer.
In this early stage, you'll want to let your beard grow in naturally. That may mean looking a little scruffy or patchy for a couple of days, but the pay off will be worth it.
You'll primarily need three things in your beard and face care routine at this point. A good cleanser, a good moisturizer, and an exfoliator.
Let's start with the last:
Exfoliating for Beard Growth:
The skin under your beard needs care every bit as much as your beard does. While your facial hair is short, it's relatively easy to get underneath it to take care of your skin. Exfoliating, using friction to lift dead skin cells, dirt, and other contaminants off your skin, is a big part of that.
You may be able to find an exfoliating cleanser. We don't tend to prefer these because chemical exfoliators are usually pretty harsh. They'll strip moisture out of both your skin and your beard. That doesn't sound like a good way to start, does it?
The better option is to use a washcloth or facial brush to thoroughly clean the area. This is called manual exfoliation. Simply massage the skin under your beard in small circles. The cloth or brush will take care of the exfoliating.
It can also be done with sugar or salt scrubs, and some other exfoliating tools. We advise caution with these products. Scrubs are great, but it's easy to be overzealous and irritate the healthy skin exposed by exfoliating.
Cleanser
You probably think of cleanser as something you use to get rid of acne. But, a milder cleanser is a good thing to use every day, whether or not you're prone to breakouts.
Cleansers help prevent bacteria from making a home on your face. They also work to lift dried oils and other irritants off your skin.
Go ahead and use the cleanser on your whole face in this phase. Later, when your beard is grown out a little more, you won't use the cleanser directly on your chin. At that point, your beard and beard care products will help protect your skin.
But you need to have clean skin before you get to that point. Otherwise, the bacteria and irritations will make a home in your beard just like they made a home on your skin.
Like exfoliating, it's important not to go overboard in this step. Too harsh a cleanser, or using cleanser too often, can irritate your skin and leave it vulnerable, itchy, and uncomfortable.
Moisturizer
This is going to come up a lot as we go. Moisturizer is one of the most important things you can use to boost the health and thickness of your beard.
In this early stage, you can use the same moisturizer for your face and your beard. We recommend going with a natural oil like olive oil, coconut oil, or jojoba oil, simply because they will be absorbed further into your skin and hair than most alternatives.
But a commercially made moisturizer can also be effective. Look for something that's sulfate-free, and only a moisturizer. You don't want a moisturizing cleanser, you want a moisturizer.
Moisturizers work to keep your beard and skin healthy. You'll probably end up using a combination of moisturizing products in the next phase of beard growth.
Even here it's valuable. If you have a partner, using a moisturizer on your skin and growing beard will help prevent complaints of prickles and discomfort during early beard growth.
You'll also just generally look and feel better. That's important for building your confidence for the next phase.
The Test: Everything Itches!
Week 3-6, possibly up to week 8:
For most men, the first couple weeks of new beard growth aren't too bad. It's after it's starting to get a little longer that you run into issues.
At this stage, your beard is probably showing you it's worst side. Most men will have uneven patches, and many will notice radically different rates of growth in different areas of their face. Pay attention to these details, they'll help you decide on a shaping and grooming routine later.
Don't start grooming yet!
This stage is frustrating but shaving or even trimming your beard in this phase will make it take longer. You don't want to start shaping your beard in this phase either. It's neither as thick nor as long as your true beard will eventually be, and you'll struggle to change to a more fitting shape later if you choose one now.
The real challenge of these early weeks? The itch.
This is where many men give up and go back to a clean-shaven or stubble look.
Fortunately, there are some things you can do to get through this uncomfortable stage. Most of these options will also help decrease the itch you're experiencing.
Get Some Good Beard Oil

Beard oil will be your best friend in this phase. You don't want to start using a beard wax or other heavier styling products yet, but beard oil is light enough to be used this early.
If you've struggled with this phase in the past or are worried that your beard isn't growing thick enough, you can even buy medicated beard oils that help stimulate your skin and keep the itch to a minimum.
If you can't find a medicated beard oil you like, it is okay to upgrade to a beard cream. Cremo offers a good medicated anti-itch beard cream that won't slow your beard growth and helps with moisturizing as well.
Beard oils with ingredients like rosemary, mint, cinnamon, or eucalyptus can also help stimulate your skin and hair follicles. More stimulation means better circulation and can lead to thicker beard growth.
(Pro Tip: eating rosemary, mint, and cinnamon will also help stimulate thicker beard and hair growth. Ginger too. Look for ways to include these spices in your regular diet.)
If during this phase, your beard gets long enough to comb, you should start building that habit. A comb is a gentler de-tangling and styling tool than a beard brush. Brushes are usually made of natural boar bristle and can be prickly until you get used to them.
We ultimately recommend getting on of each, a comb to style (later down the road) and a brush to de-tangle and help distribute product.
At this stage, however, you want to be as gentle with your beard as you can. You can get a beard comb for detangling and to help reduce itchiness, but you should use it sparingly. Avoid touching your beard, scratching at it, or twisting the hairs together.
We recommend avoiding touching your beard mostly because it can make the itching worse. Limit yourself to the occasionally comb and use your beard oil and/or cream at least once a day.
You should also make sure you're washing your beard thoroughly when you shower. Make sure you're getting shampoo all the way through your beard to the skin. You can even buy a special beard and face shampoo to make sure you're getting the right combination of cleansing ingredients and moisturizers.
While you don't need all these products right away, they can help you get through the itchy phase. You should keep them in mind for later.
Truly thick, luxurious beard wearers usually have a grooming regimen for their beards that includes several specialty beard products like the ones we've mentioned.
The Pay Off: When Your Beard Starts to Get Positive Attention, It's Time to Shape and Groom!
Week 6 – Approximately 6 months:
Technically this phase is what many beard enthusiasts would call an adolescent beard. Ironic, since this is when your beard leaves it's awkward and irritating phase and starts to come into its own.
Early in this phase, you'll notice that the patches you had in the itching phase are starting to fill in. You'll also notice that the itchiness of your beard is much less, and it may go away entirely. Your beard will also start filling out and developing its natural shape.
This isn't the end goal, but it may feel like it when you first reach this phase. Your beard is starting to look good. You can start brushing and combing it regularly. You've likely found a beard oil you like and have started adding more beard-specific grooming products to your kit.
Now is when you can take the next big step of shaping and developing a regular grooming routine for your beard. You can opt to shape your beard yourself, but we recommend seeing a professional barber at least the first time you get it shaped.
A barber will be able to give you advice based on your beard's hairline, the shape of your face and frame, and your hair's natural hairline. They'll probably have several ideas of attractive shapes and can even tell you how much work each will take to maintain.
Finding a good shape is a matter of matching your style to your physique and how much time you're willing to give the final look.
We also recommend looking into beard balms at this stage. Balms act like oils, in that they protect your beard and the skin underneath, deliver moisture and contain helpful nutrients. But, they're heavier and can weigh down a shorter beard, which makes it look greasy.
Now that your beard is longer, thicker, and ready for shaping and maintenance, balm will be your best friend.
The Beard: You've Reached Your Beard's Prime
6 months on:
You made it! You have the beard of your dreams. It's thick, it's long, it's well-shaped and complements your face instead of hiding it.
At this stage, you should be brushing your beard every day and using beard oils and beard balms to keep it healthy. You probably manage basic shaping and trimming yourself, but you may still see a barber for more serious maintenance every couple of months.
If you want to keep your beard thick, it's important to stick to your routine. If you've added a beard wash, stick to it. If you've found it helpful to brush your beard before you go to bed as well as in the morning, stick to it.
This is the maintenance phase. It can last however long you want it to and trust us, most men don't ever want to see chin again. You already know most of what you need to maintain this beard, but we want to give you a few more quick tips to get you here.
Beard Boosting Habits – Grow More Beard, Grow Healthier Beard
Beards are just like the hair on your head in one key respect. They are an indicator of your overall health.
If you're not in great health, your beard will probably reflect that. You don't have to have muscles like superman to have a great beard, but taking care of your total health will help your beard.
Diet and Exercise
If you're truly committed to growing a thick beard, you should also be committed to eating well and hitting the gym (or working out at home) at least once a week.
Eating well means getting a balanced diet of carbs, healthy fats, and complete proteins.
Your carbs should come from whole grains, vegetables, and fruits. Healthy fats are usually plant-based fats like olive oil and avocado. But, dairy products can also offer important nutritional value. Complete proteins are common, things like beans, lean red meat, and fish.
Testosterone-boosting exercises are usually not cardio, although cardio is an important part of your complete workout. Try to mix cardio with weight lifting and total-body exercise (think rowing machines, yoga, tai-chi, swimming, and martial arts).
Supplements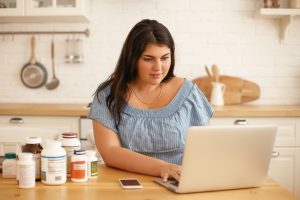 While you should be getting most of your nutrients from your diet, there is a place for supplements in growing and supporting a thick and luxurious beard.
Start with a men's multi-vitamin. Multi-vitamins have more scientific backing than most supplements. It's worth asking your doctor if there is a multi-vitamin, they trust more than others since the industry isn't yet well regulated.
Supplements can also be a way of getting beard boosting herbs and spices, like cinnamon and ginger, that might be difficult to incorporate into your daily diet.
Biotin, vitamin D, Hair Skin and Nails complexes, and B vitamin complexes are also useful. These compose some of the most important nutrients for healthy hair growth, along with nutrients that are often lacking. Vitamin D deficiency is common enough that many doctors include a vitamin D panel in their recommended annual blood tests.
Again, we recommend talking with your doctor before you add these supplements. They'll be able to advise you whether they think each supplement is worth your time. Some doctors will offer brand recommendations, others leave supplements alone.
A dermatologist or nutritionist may also be able to make recommendations based on your situation.